Here's where to go for Arabic food and a wide range of Middle Eastern favourites from Falafel, Fattoush, Hummus and Shawarmas all made from carefully sourced fresh ingredients, quality spices and Middle Eastern herbs.
Located on Galle Road, Colombo 3, close to 5th Lane, this restaurant which has been in operation for a while has a whole new menu now.
We dropped by one evening to check out their new menu.
---
Ambience
The interior is painted in shades of dull orange and browns to give it the typical rustic ambience. Arabic lanterns and ornaments frame the walls.

They have a little play area for children with lots of toys, little cars and a rocking horse. A little unusual but very practical I would think, as the parents could watch the children play while enjoying their meal.

They have a seating capacity of 60 and also what is called a lower seating facility, which is a low table and seating arranged on mats or cushions. This is enough for 15 pax.

Food and drinks

Their menu has a wide range of mocktails, smoothies, shakes, fruit juices, laban - the Arab world's popular salty refresher which is good for digestion, soups, salads, cold starters, hot starters, shawarmas, grills, Arabic grills, burgers and subs, rice and couscous.

To start off the evening we were served a popular fruit juice which has been their fast moving signature drink from the inception, the Lemon Mint Soda (Rs 380/-). I've had this drink in many restaurants but I must say this was the best drink of fresh lemon infused with mint, I have tasted.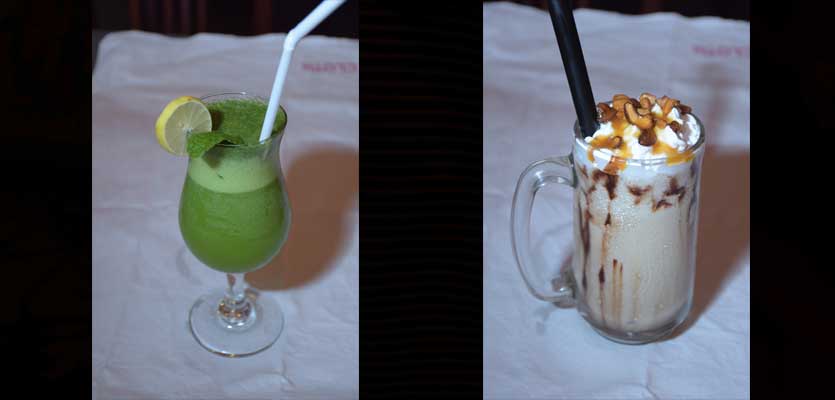 Lemon Mint Soda and Banofe Shake

Then from the smoothies and shakes section we tried out the Banofe Shake (Rs 460/-). This was a combination of caramel, fresh banana and butter scotch ice cream come together to make a rich and filling shake.

We tried out two of the starters. The 3 Way Hummus (Rs. 490/-) was a creamy hummus served with three different toppings - balila, chillies and meat and it comes with Saj bread. Then we tried out the Samosas which come in two types. Both were delicious. The Chicken Samosa (Rs 430/-) comes with 5 pieces and Cheese Samosa (Rs 680/-) which comes with 4 pieces has a generous amount of cheese. It's served with a garlic and homemade dip.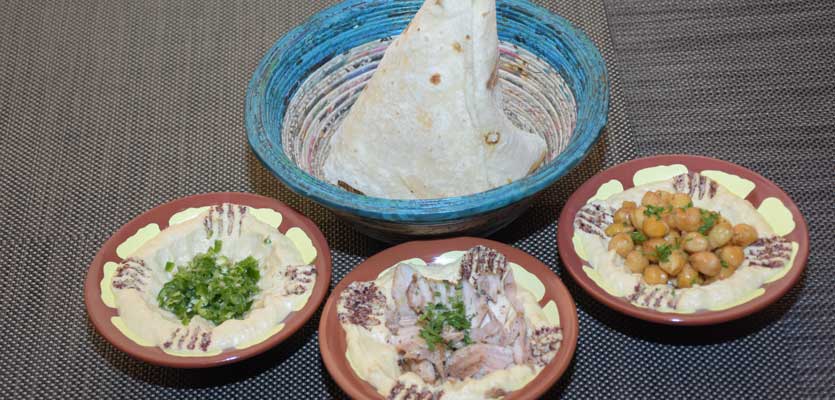 3 Way Hummus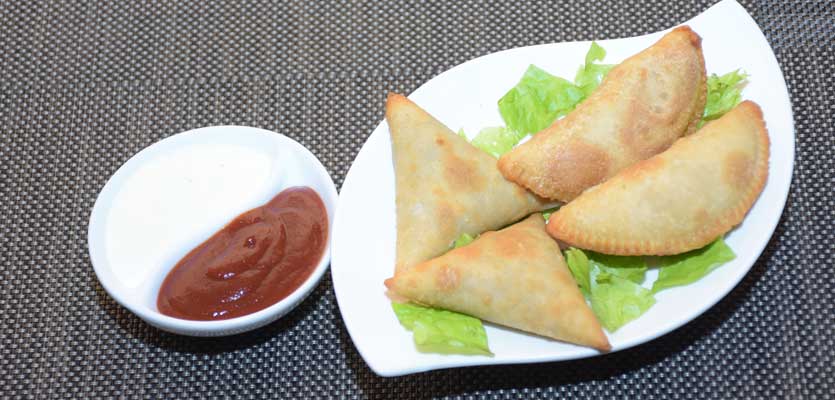 Samosas
For mains we tried out what they call a Mixed Grill Plate (Rs 930/-). This is a plate of three different preparations of meats in strips. That is the Sheesh Tawouk, chicken tikka and Orfali kebab and on either side there were two rotis. What we were served had two strips of chicken pieces and one strip of beef. You could choose what meats you like. It included a tasty dip and French fries.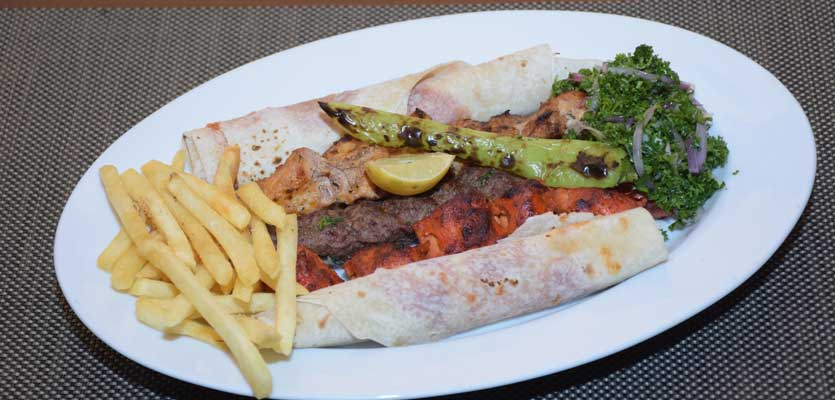 Mixed Grill Plate

The second main we tried out the Beef Tajine with Couscous (Rs. 680/-). The beef is sourced locally, marinated with Moroccan spices and slow cooked in a Moroccan clay tagine. It was probably this mix of spices that gave it an unfamiliar flavour. The meat was amazingly soft.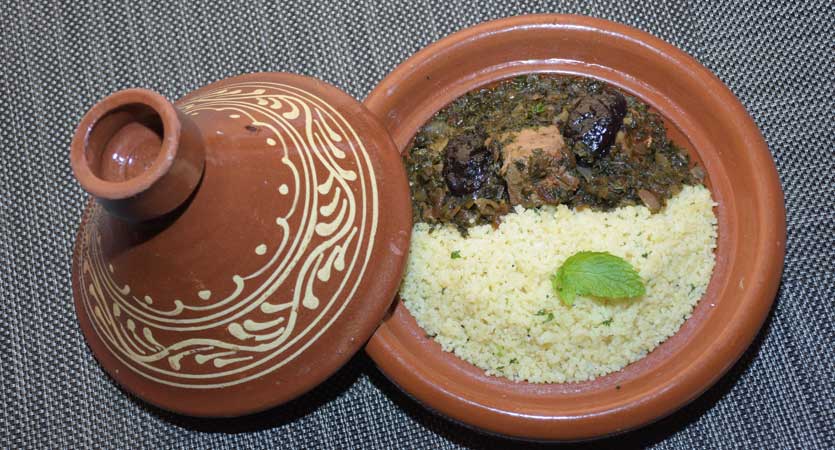 Beef Tajine with Couscous
Then of course the much in demand shawarma also had to be tasted. That was a real treat. They have a variety of shawarmas of which we tried the Dubai Style Shawarma (Rs. 490/-). This comes in chicken or beef and is garnished with greens, pickles and salad. The tomato and chillie gave it that desirable hot and tangy zing.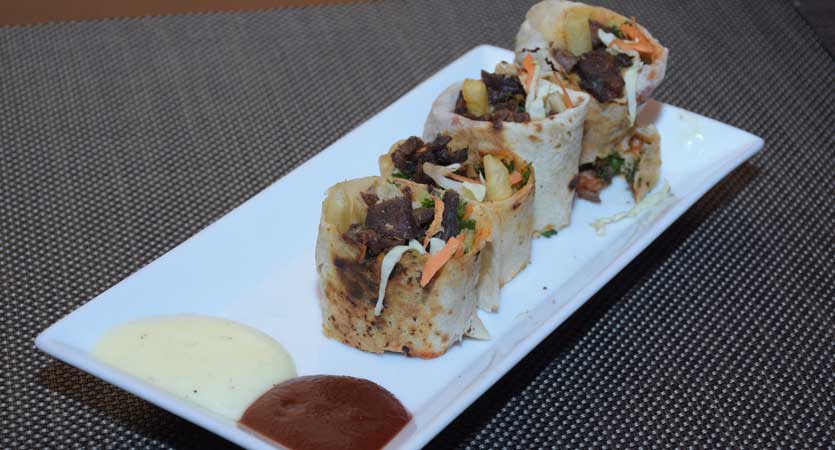 Dubai Style Shawarma
Then for dessert we tried the Muhalibia (Rs 440/-) which was custard like sweet delicacy of which we could only have a teaspoonful to taste, as it was very rich. And the Umm Ali (Rs 580/-) an Arabic flavoured bread pudding we tasted was a lighter choice of desserts to have after a heavy meal.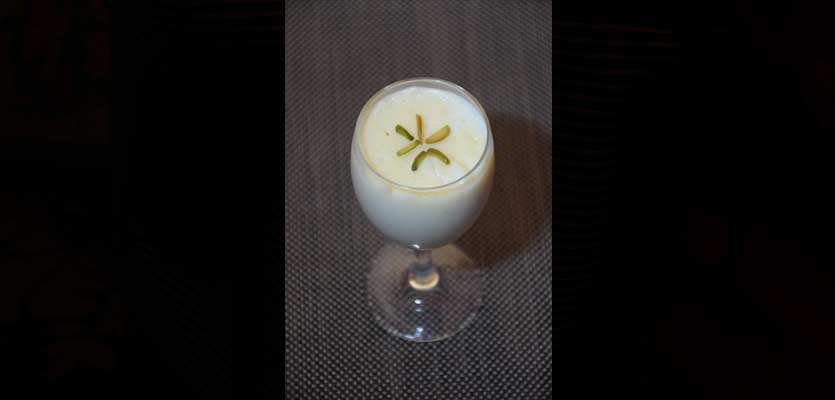 Muhalibia

Service
Manager Riskan, Chef Imran and the rest of the crew went out of their way to offer us a pleasing service.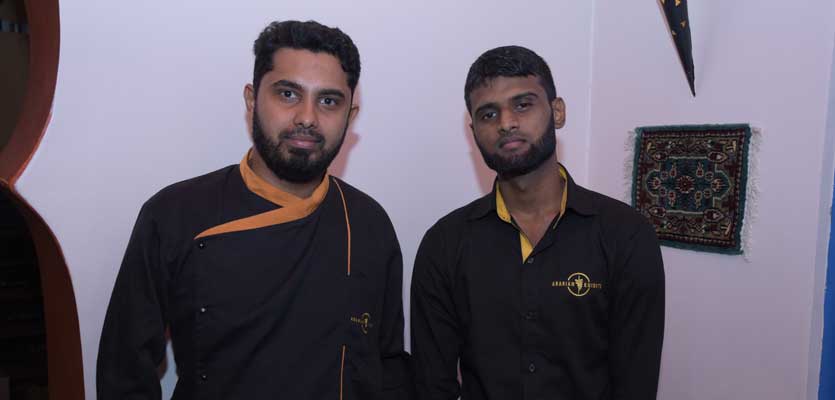 Manager Riskan & Chef Imran
---
Open
Saturday – Thursday – 12pm – 11pm
Friday 1.30m – 11pm
377 Galle Road. Colombo 3
0112 301 031 / 0112 310 032
Facebook - www.facebook.com/arabianknightslk
---

Pics by Kushan Pathiraja