Spiritual bliss and vibrant décor adorn the isle this Vesak
As Sri Lanka celebrates the thrice-blessed day of Vesak, this year's celebrations will take an entirely different turn. Thus in this 2561st year of the Passing Away of Buddha, Sri Lanka will host the UN Day of Vesak. As a predominantly Buddhist country, people have always referred to the teachings of the Buddha to carve their lives in to a spiritual one. But with the introduction of commercial aspects such as social media and other attractive forces, people have developed a sense of craving towards such materialistic rewards. Although The Buddha himself sacrificed his life while going in search of the truth, He preached that human beings should direct themselves towards the Middle Path. In view of this important day in the Buddhist calendar, Life Online sheds some light on the importance of the UN Day of Vesak and how the teachings of The Buddha should be preserved and followed.
United Nations Day of Vesak
As a religion practiced by an estimated 550 million people in the world as of 2010 statistics, the teachings of the Buddha has reached out to all countries in Asia and many others. As such, this globally accepted religion/philosophy needed much attention than what it usually received, country-wise. The declaration of the United Nations Day of Vesak which we celebrate today wouldn't have been possible, if not for the efforts of a great local personality. The late Minister of Foreign Affairs, Dr. Lakshman Kadirgamar is identified as the architect of this global celebration who convinced the United Nations to accept the Vesak Day as a day of Buddhist Observance. Based on a recommendation made at the World Buddhist Conference held in Colombo in 1998, the late Foreign Minister sought support and obtained the support from other Buddhist nations and presented his proposal to the UN General Assembly. At its 54th session held in 1999, the UN General Assembly declared it as a Day of Vesak Observance. Since then, Vesak was commemorated at the UN Headquarters in New York and other offices.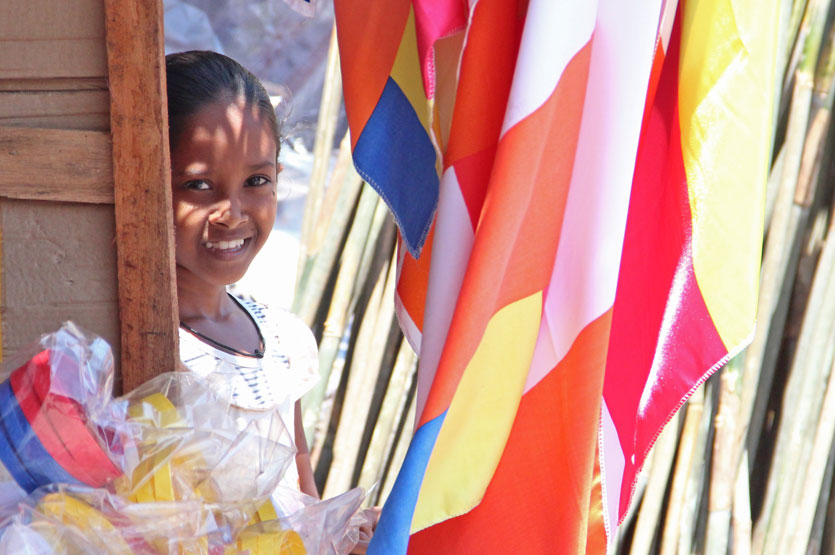 Following a request made by the Minister of Buddhist Affairs, it was agreed that Sri Lanka will host the celebrations this year. The commemoration of the United Nations Day of Vesak was given to Thailand and Vietnam during eleven times and twice respectively. The late Foreign Minister has immensely contributed in spreading the word about Sri Lanka as a country that has practised Theravada Buddhism for 2500 years and that it is still the original form of Buddhism practised here.
Vesak shouldn't be celebrated like a carnival: Ven. Dr. Kirinde Assaji Thera
At an era when everything has become very much commercialised, be it Avurudu or any other traditional celebration, Vesak too has been influenced in not one but many ways. Every time Vesak celebrations deviated from its primary objective the Maha Sangha has always played a pivotal role to inculcate discipline in devotees and convey the teachings of The Buddha, thus highlighting the importance of this day. Speaking to Life Online, Venerable Dr. Kirinde Assaji Thera elaborated on why Vesak should be celebrated with much respect to the religion.
"Vesak is not just any celebration but it's an event of religious significance. Therefore it shouldn't be celebrated like a carnival by any means. It in fact needs to be as charm and peaceful as possible. There was a time when people wore masks and took canes by hand when going to watch Vesak. But we were able to get rid of this culture. Parents have a big role to play in introducing good values to their children. Why not ask your child to carry a flower instead of wearing a mask? Parents very well know the importance of this day but why can't they at least teach that bit to their children?"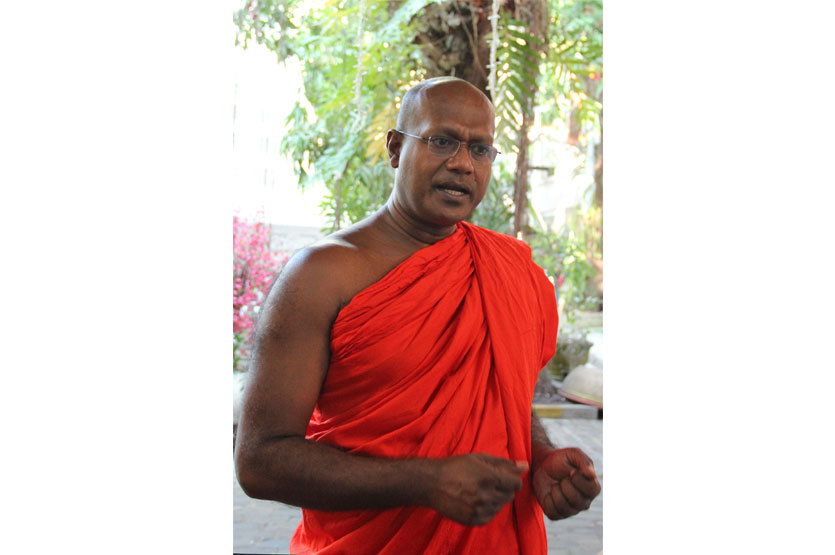 Speaking further Ven. Assaji Thera said that pandols too need to be mentioned at this point of time. "Irrespective of who invented the light bulb or electricity or a piece of wire, it is the 'baassunahe' of our country who put in his creativity to construct gigantic pandols. Such a pandol culture doesn't exist anywhere else in this world and therefore it is a unique feature during Vesak celebrations. Constructing a pandol is not easy because each and every piece of drawing is done by hand. It doesn't look good when done in digital print and therefore our talented craftsmen put in their expertise to produce this symbol of vibrant colours and sophisticated illumination. As such we need to give them due credits."
"There is one point in life when you are determined to change certain things in your life," says Venerable Assaji Thera in his concluding remarks. "In most instances it is a special occasion in a person's life such as the birthday, 31st night, first wedding anniversary etc. But I would like to request from all our people to determine such thoughts on the Vesak full moon poya day. It definitely will be a life-changing experience. It is not hope that will help you reach a certain goal but it is the determination and courage that drives you towards success."
---
We then took a ride around Colombo to see how locals are getting ready for this important religious event. Quite strangely we did notice a reduction in the number of stalls selling Vesak items this year. We stopped by at some of these stalls to speak to the vendors. This is what they had to say: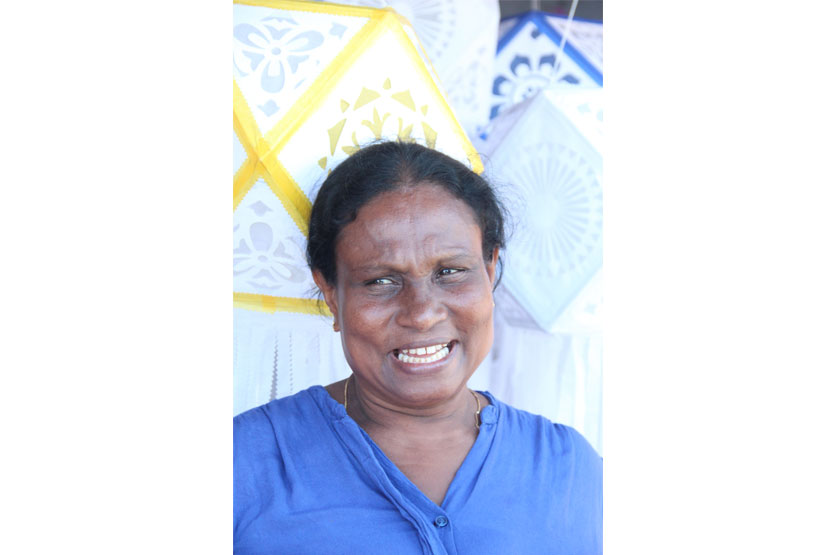 Nandani is a pre-school teacher who is looking after the Vesak kuudu stall based in Havelock Town. She says that compared to previous Vesak seasons, this time the prices of kuudu have increased. "We sell a fully completed, medium sized lantern at Rs. 350. Most of the completed kuudus are brought down. In addition to that my two sons also make fresh kuudu and sell here as well. We have been having this stall for a long time."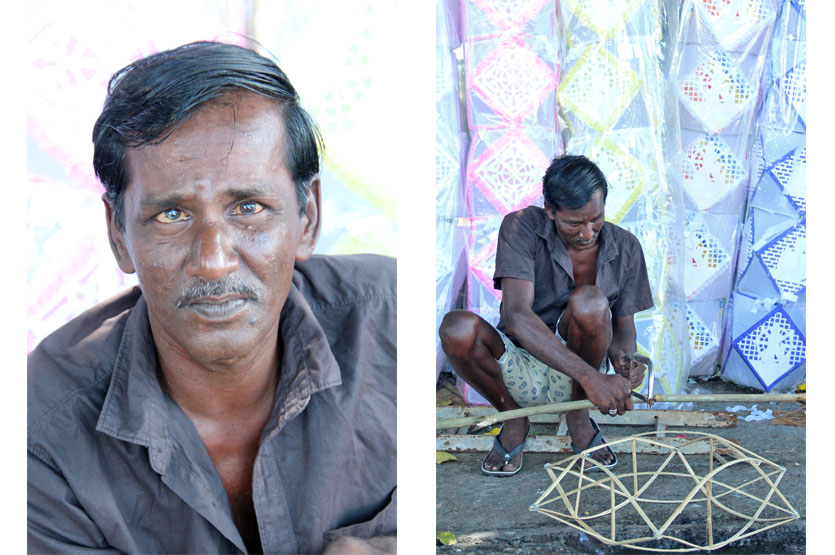 A few blocks away, Santhanampillai is busy attaching a bamboo stick to a newly crafted lotus frame. "We have been continuing to have this stall for a long time. During the next two to three days we will be able to see if sales have been successful or not. But so far there is a reduction in buying kuudu. During the rest of the year I work as a coolie and at this time I sell some kuudu to earn a living."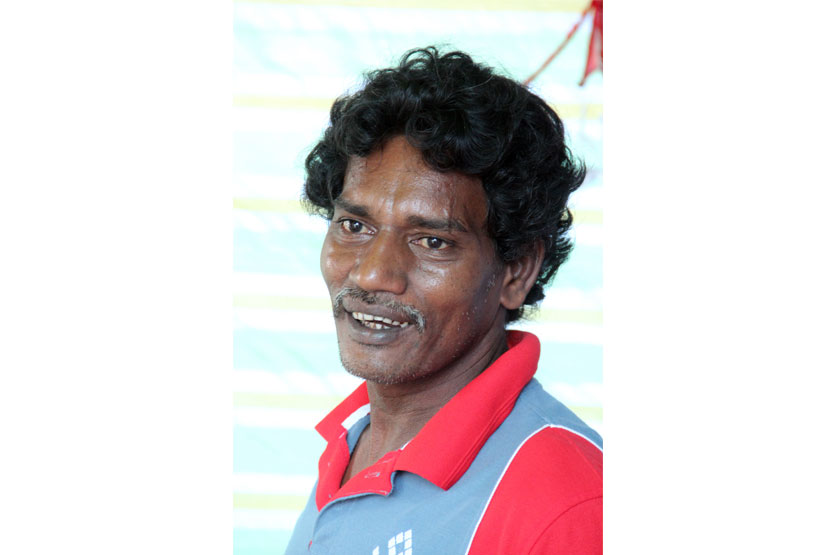 Sivakumar has a relatively larger stall selling bigger lanterns in Kirulapana. "I am doing this stall with my wife. We usually give customised kuudu to those who request from us, especially in the corporate sector." Pointing at a large kuuduwa sitting elegantly at the entrance to his shop, Sivakumar says that such lanterns are of higher demand. My wife is giving a tremendous support otherwise I cannot manage all these. Usually smaller kuudu are priced from Rs. 150 upwards. If we get requests for bulk orders we sometimes reduce the price. So far we have had good business and hope it will continue in the coming days."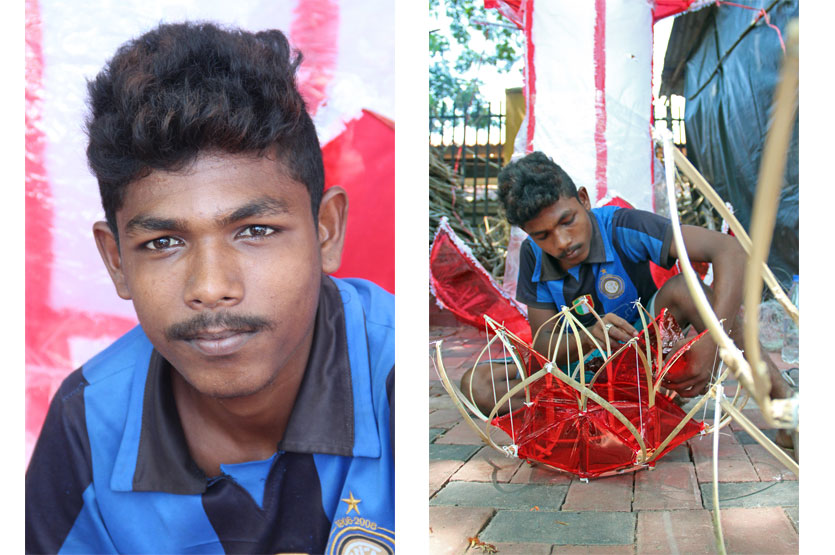 Right outside Sivakumar's shop, a teenage boy who identifies himself as Indika, is busy pasting petals on a lotus frame. "I always help them during the Vesak season. We get down materials from Pettah and make lanterns here. It's fun because I get to work with my friends. At other times of the year I do odd jobs to make a living but during Vesak I can earn a living by making kuudu."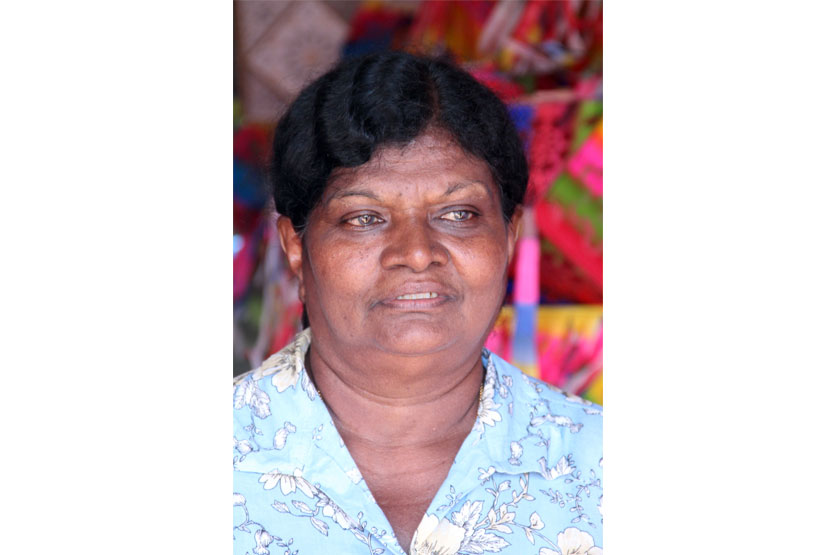 We also stepped in to Siriyalatha's stall which was filled to the brim with masks, attractive Chinese lanterns, traditional kuudu and other electrical equipment such as light bulbs. "There's a huge competition this time. People don't visit our stall because there are other stalls at the front. Business this year has still not been successful but I'm hoping for the best. We have been having this stall for 25 odd years and have always had good sales. It's difficult to survive in this period of time with the high cost of living so we had to increase the prices of kuudu as well."
---
The UN International Vesak Festival will be held till May 13, 2017 and a host of national and international delegates including Indian President Narendra Modi will grace this occasion. Cultural events, colourful decorations and discussions on Buddhism and other religious events will be part of the 14th UN Day of Vesak. Over 70 countries have confirmed their participation while Pakistan and Seychelles will experience their first UN Vesak day festival. The opening ceremony will be held at the BMICH with President Modi as the Chief Guest, while the closing ceremony will be held at the Dalada Maligawa which will be attended by the Nepali President Bidhya Devi Bhandari.
---
"Thousands of candles can be lighted from a single candle, and the life of the candle will not be shortened. Happiness never decreases by being shared." - Gautama Buddha
PHOTOGRAPHS by Damith Wickramasinghe
VIDEO by Zeeshan Akram Jabeer