Theatre geeks are in for an absolute treat this September as Indu Dharmasena's newest comedy 'Love, Lies and Diamonds' takes the stage on the 1st, 2nd, and 3rd of September at the Lionel Wendt theatre.
The play marks a milestone in Indu Dharmasena's career being his 65th original script written, directed and produced by Indu himself and is sure to have everyone rolling in fits of laughter.
The plot is woven around a moneyed businessman, Kusal Kukulawala who is quite the ladies' man (as his name suggests) and an expensive diamond necklace that leads to all the trouble and chaos. With his wife, Deepika and girlfriend Priyanka on either side Kukulawala's desperate attempts to save an almost broken marriage while carrying on with the girlfriend will surely give you all the belly laughs you possibly need.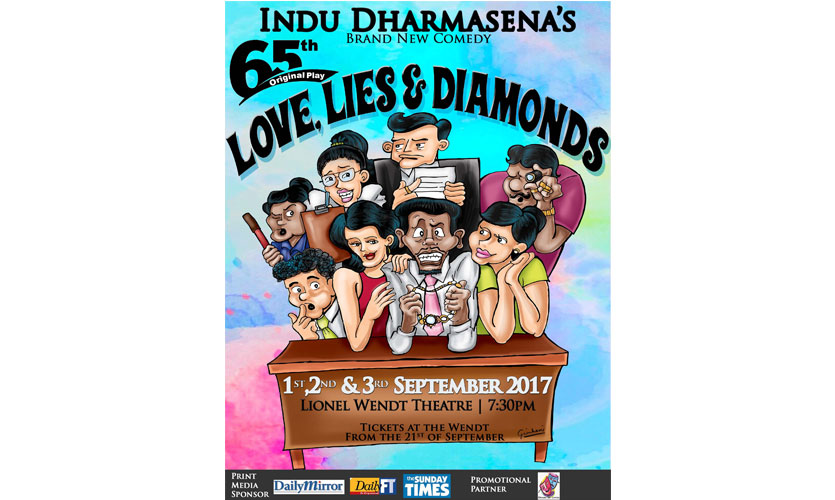 Indu Dharmasena will play Kusal Kukulawala while Sanawada Dharmasena takes on the role of the wife and Saneesha Ramanayake will play the girlfriend. The cast also includes Sulo Perera, Jaliya Wijewardena, Abbasali Rozais, Anushan Selvarajah and Priyanka Holsinger.
The shows on the 1st and 2nd of September are presented by the Kingswood Union Colombo Branch in aid of their ongoing development projects. The organisers added that the funds raised will finance a multitude of projects ranging from sports to theatre at college.
Tickets priced at Rs.2000/=, Rs.1500/=, Rs.1000/=, Rs.500/= (balcony-unreserved) are available at the Wendt or online www.lionelwendt.org
Print media sponsors for the event will be Wijeya Publications – Daily Mirror, The Daily FT & The Sunday Times and Drama Sri Lanka joins as promotional partners.
What better way to start a brand new month!
Grab your tickets before it's too late to catch 'Love, Lies and Diamonds' opening on the 1st of September at the Lionel Wendt theatre.
Stay tuned as Life Online is set to give you more updates including an exclusive "Meet the Cast" interview!