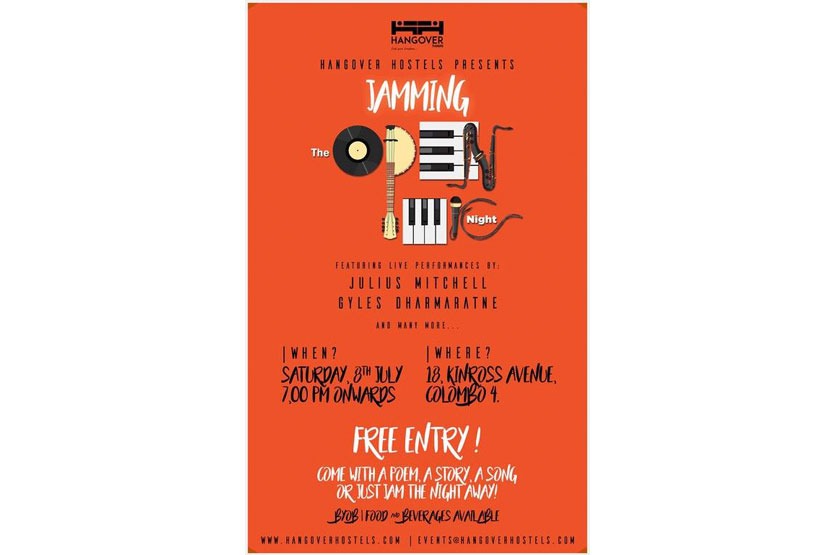 Jamming is the first Open Mic evening organized by Hangover Hostels. The event will take the form of an evening of art, music, poetry and fun under the stars at Hangover Hostel Kinross Avenue, Colombo on Saturday 8th July. Dinara Punchihewa, a drama graduate from Queen Mary, University of London is the curator of the event. "This event is all about getting young people to perform together in once space. There is so much of talent amongst us and these type of events are perfect for showcasing young artistes," said Dinara.
Over 18 different artistes are expected to perform at Jamming. Shonel, a singer, beatboxer, instrumentalist and actor has been performing for over ten years. Considered as one of the pioneers in beatboxing in Sri Lanka, Shonel began his music career though coral and acapella works and transitioned into pop and other music categories. He is passionate on building a solo music career as a singer and a beatboxer.
Chamel, an audio engineer who has worked closely with award winning music director and playback singer Sachith Pietris will also be performing at Jamming.
Another noteworthy act at the event will be Britney who is an excellent guitarist. Inspired by Adele, Amy Winehouse and Whitney Houston, Adele will also be showcasing her repertoire of music. Another act to look out for are Chandali and Suchith who will also be performing a selection of their music.
Sultry singer Diarra who gave a memorable performance at Revo 2015 is also expected to take the stage and is expected to strum a few numbers on her ukulele which she believes makes her music more sweeter.
Also performing at Jamming are Julius Mitchell and Gyles Dharmaratne of The Bakery. The Odd Lot will also be holding a stall which will have their art on display. There will also be various food and drink stalls.
"This promises to be a great evening. It is a good platform for aspiring artistes and what better way to spend a Saturday evening than listening to these young people perform," added Dinara.
For more information, visit the event page on Facebook.