Day 3 of Fairway Galle Literary Festival 2018
Austenistan is the land of Austen in modern Pakistan.
Laaleen Sukhera is a Pakistani journalist and media professional whose latest book, Austenistan, a Jane Austen inspired anthology set in Pakistani society, is set to be published. She is the founder of the Jane Austen Society of Pakistan and is a professional advisor at the Jane Austen Literacy Foundation.
Molecular biologist and writer Dr. Gayathri Warnasuriya is also the author of "The Autumn Ball" one of the seven stories in the Jane Austen inspired anthology "Austenistan", which pays homage to the world's favourite author.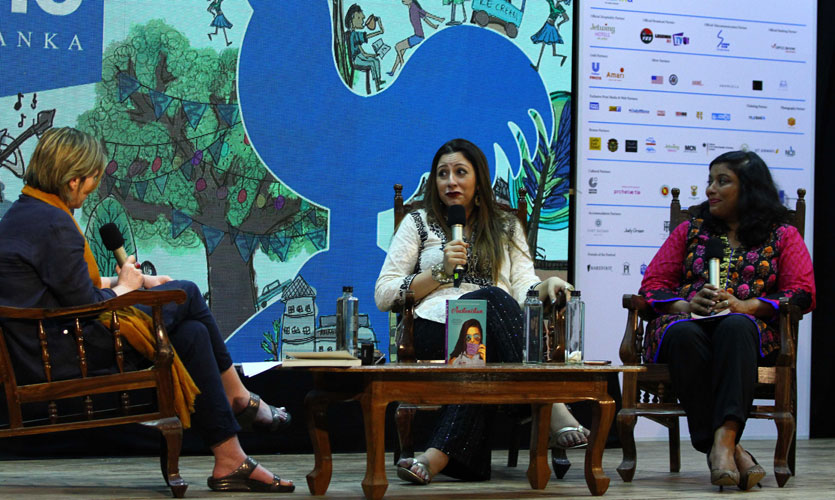 The session started off with an introduction by Caroline Langrishe and Adrian Lukis who are both known for their performances in UK and Adrian for having played the part of Mr. Wickham in the 1995 adaptation of Pride and Prejudice.
Later both Laaleen and Gayathri spoke about Austen and the beginning of the book Austenistan.
"Austen was so special to us because England back in the day is so very much like modern Pakistan today! We have a season, we are constantly asked when we will get married, we sometimes even have similar costumes and family and class still remains very important in Pakistan"
says Laaleen.
We spoke to some of the audience members after the session for their comments;
"I think the session brought out a lot of interesting facts about Austen and the period and I really liked the story of how Austen inspired authors to start writing today and I think it just inspired me and many others in the audience" – Nikila

"The author tried to merge her life in Pakistan which was very orthodox and conservative with Jane Austen's portrayal of life in her novels and I really enjoyed how she compared the two and showed both the similarities and the differences" –Aadhes

"The session was one of my favourites for sure. It was collision of the 18th and 21st centuries. The authors were so passionate when talking about their reasons for writing austenistan. Their Jane Austen Society of Pakistan is what got me hyped up because to have a society running with an ideology from the 18th century is very interesting and challenging. Overall the session was a great learning experience for all Austen lovers!" – Michelle