After its successful inauguration at the Colombo Fashion Week in March 2017, 'ART CONNECT' took place for its second consecutive time on Tuesday evening at Trace City Maradana to launch Swim Week Colombo 2018. The location of regenerated railway warehouses lent itself well to the occasion.
This year, Swim Week Colombo has introduced a new global position for themselves under the theme 'Green Conscious and Earth Sensitive'. This new position was then seeped in this edition of Art Connect under the theme 'Revive' as artists focused on expressing their ideas on green conscious and sustainability.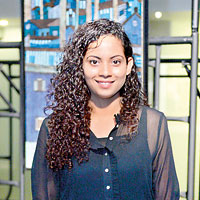 Speaking to the CEO of Swim Week Colombo, Fazeena Rajabdeen, she tells us "There is a deep relationship between art and fashion. Both are an expression of creativity but the canvases of expression are different. There are times when both come together too. This season of Art Connect has 6 important artists express the main theme "Green Conscious and Earth Sensitive" through their sensibility thereby giving this cause another dimension of expression. Also during this week we want to showcase related creative industries and their connection with fashion."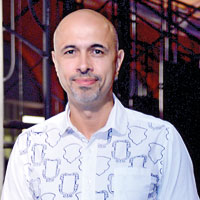 Founder and President of Colombo Fashion Week, Ajai Vir Singh was thrilled to be hosting this platform for the second time, "The artists have taken it upon themselves to interpret the main theme of Swim Week Colombo, expressing it through their eyes, mind and heart. It always becomes more meaningful when the collaboration is way deeper than the surface. It should from the heart and that is what is happening with this exhibitition. It's always amazing to showcase the creative industries and their collaborations."
Chathurika Jayani
Having completed her Bachelor of Fine Arts at the University of Visual and Performing Arts in Colombo, Jayani has taken part in numerous group exhibitions locally and internationally. Her use of mixed media to create a layered three dimensional visual on canvas establishes a story in both dimension and texture. She is known for her intricate detailing and creative methodology in her art.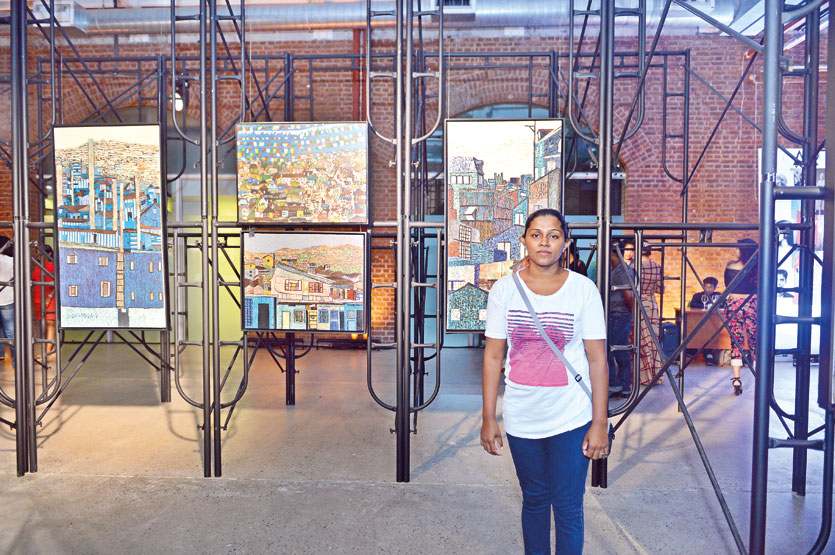 Her work for Art Connect is titled 'Escape' and is a continuation of her previous exhibition 'Slums'. Here, she attempted to capture bolts of freedom in the lives of people living in slums of Colombo with the use of recycled corrugated sheets and burnt wood. A splash of colour was used to depict that despite the lack of facilities, luxuries and wealth their lives are still full of colour.
"I believe fashion and art can be two separate entities but there are occasions when they join together. My art is all made out of recycled items and sits well with the theme of the exhibition"
Mahen Perera
Trained in multi-disciplinary design at the National Design Centre in Colombo, Mahen later received his BA in Fine Arts from Lasalle College of Arts (Singapore) in affliation with the Open University, UK. In 2007 he was awarded the prestigious Winston Oh Travel Award which led him to take a month long residency in Prague. He has hosted exhibitions internationally in both Singapore and Vietnam. His work centers on issues of identity and representation with the use of objects and material detritus.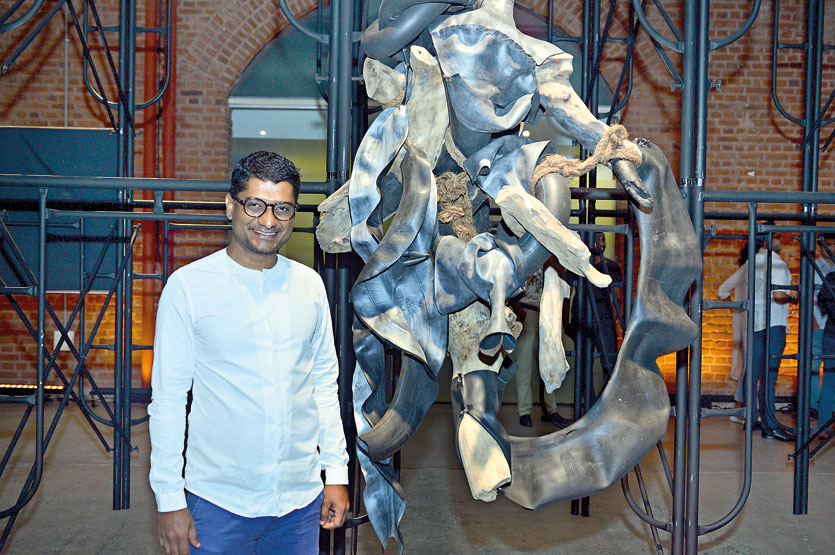 His collection for Art Connect explored the in-between aspects of materiality and the realm of detritus in society. With a variety of material such as drift wood, rubber tubes, used cloth, newspapers and food dyes, his art built up narratives referencing history, sexuality, time and memory.
"Colombo Fashion Week always lends an exciting and an engaging "Space" that provokes to celebrate one's creative sensibilities while re-adresing contemporaneity in new perspectives. It has always been a great joy to be a part of this ever-evolving journey".
Vajira Gunawardena
A visiting lecturer at the University of the Visual and Performing Arts-Sri Lanka, he is a Fine Arts graduate of the Institute of Aesthetic Studies (University of Kelaniya) and holds a Diploma on product design from the Designing Department with the Cottage and Textile Industries Department - Sri Lanka. His work has been in galleries in Sri Lanka and abroad. His work concentrates largely on politics, culture and history using figurative forms, assemblage and stencil techniques.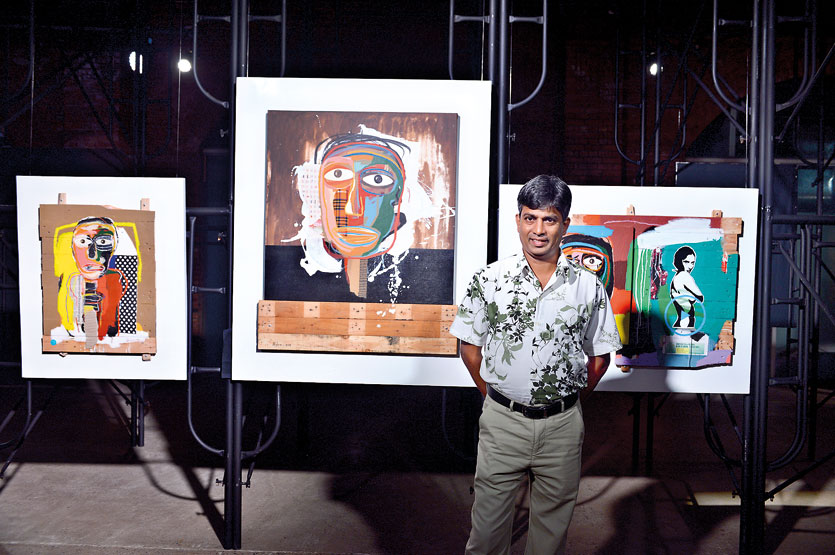 His pieces for Art Connect was made with recycled timber together with images from discarded magazines, children's books, brochures to draw urban graphics related to conscious fashion.
"This exhibition has afforded me a great platform to explore fashion and art using recycled materials such as wooden pallets, newspaper and textiles"
Ajith Susantha
Having completed his Bachelor of Fine Arts at the Institute of Aesthetic Studies, University of Kelaniya, and his work were exhibited in the UK, Sweden and Sri Lanka. He specializes in abstract art and installation art collages with paper mediums and uses recycle paper in his work.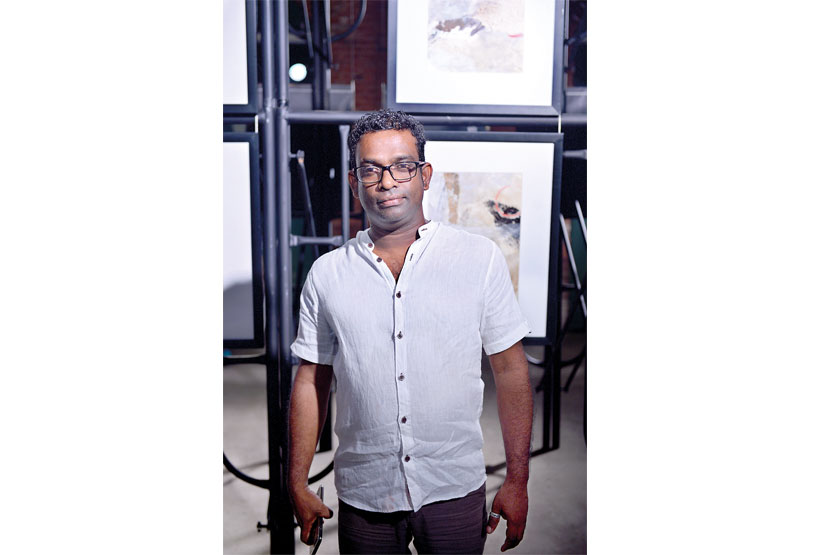 At Art Connect, he showcased his talents at abstract art and installation art with the use of recycled mixed media in light of the Green Conscious theme.
"Opportunities like these are excellent for artists like myself to showcase my work. In keeping with the theme I have used recycled paper, coffee, charcoal and some acrylics to create my work"
Banadu Manamperi
One of Sri Lanka's first performance artists, Banadu holds a Bachelor of Fine Arts in Sculpture, is a lecturer and a core member of Colombo's Theertha Artists' Collective. His work is based largely on sculpture, drawing, painting and installation art. He is known for connecting his performances with his drawing with the use of print techniques such as screen printing, mono prints and other unorthodox methods.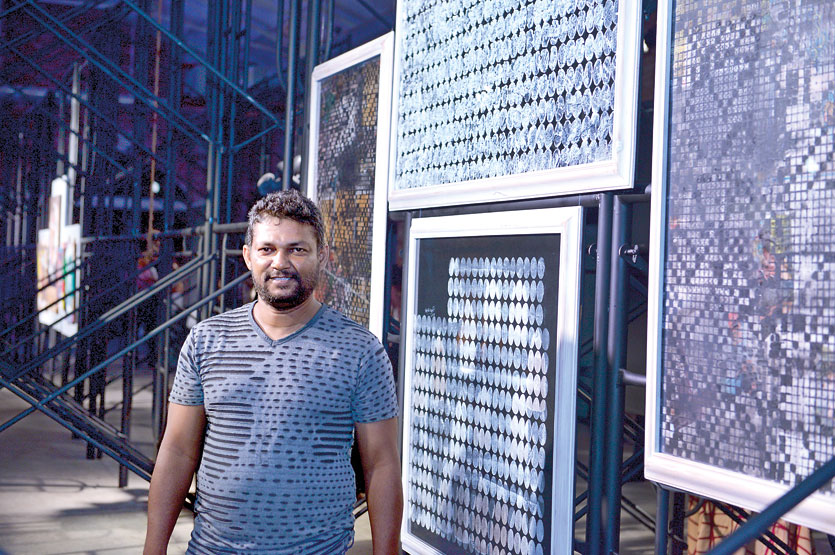 At Art Connect, Banadu exhibited two themes, 'Dirty Cloths' and '6 Months Off a Diary'. His exhibition 'Dirty Cloths' used an old piece of his clothing along with other textiles to make screen and relief prints on them. The other exhibition presented a collage made with recycled paper from a personal journal.
"Fashion is a form of art. These painting have an abstract element relating to fashion which give different interpretations"
Anoma Wijewardene
An alumna of Central St Martin's College, University of the Arts, London, she has exhibited extensively locally and internationally in Sotheby's Gallery, Hong Kong; The Affordable Art Fair, London, The Colombo Art Biennale and at a solo show at the Fairway Galle Literary Festival to name a few. She has lectured at several British art colleges and having worked with clients such as Yves St Laurent, Calvin Klein, John Paul Gautier, Pierre Cardin and Ralph Lauren, her designs have been featured in several international publications including British Vogue. Her paintings invite multiple interpretations and reflect man's existential anxieties, the human condition and the state of the planet.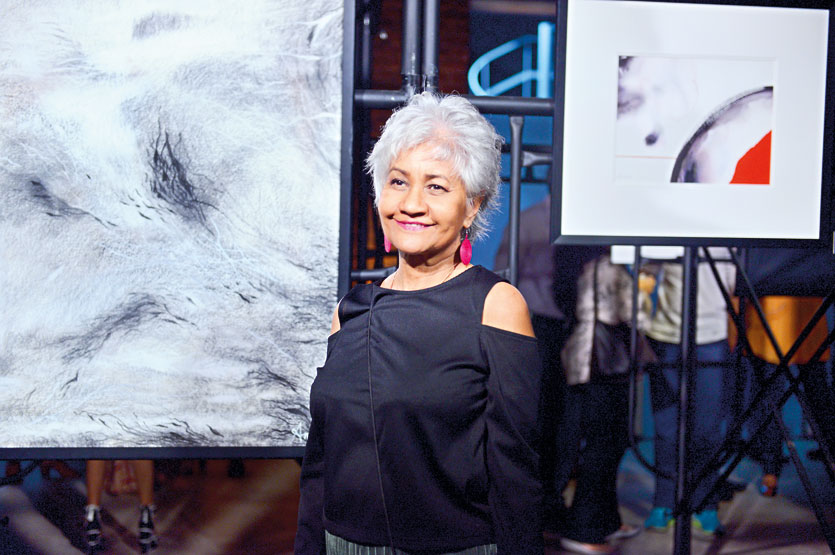 Her collection at Art Connect was a multimedia trilingual exhibition on climate change, sustainability, inclusivity and reconciliation.
"While it has always informed each other, it is ever more the case that Art and Fashion are closely linked. Artists walk catwalks, as did BRIT bad girl artist Tracey Emin; Japan's great hot artist Kusama Yayoi designed for Marc Jacobs, and Jeff Koons the American artist, has this season designed Louis Vuitton bags with iconic images from Leonardo Da Vinci and Vincent Van Gogh. Art is of course a pure form of expression in that it serves no purpose whatsoever, except itself, and the nurturing of the soul. In contrast Fashion is applied Art designed specifically with a market in mind. But they are intrinsically connected within the domain of creativity. Art can be used in fashion and informs fashion and good innovative fashion design truly is a vital and accessible expression of art"
---
TEXT by Tina Edward Gunawardhana and Panchali Illankoon
PHOTOGRAPHS by Manoj Ratnayake and Kushan Pathiraja