Spice up your weekend with this exciting line-up of events from movies to parties and outbound hikes. If you still haven't got any plans, here are a few suggestions.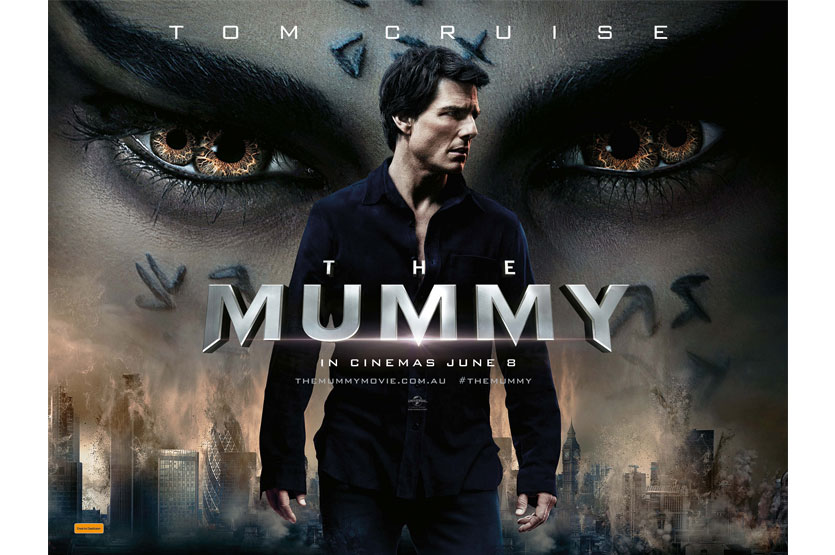 The Mummy
'The Mummy' is a 2017 American 3D action-adventure horror film directed by Alex Kurtzman and written by David Koepp, Christopher McQuarrie and Dylan Kussman, with a story by Kurtzman, Jon Spaihts and Jenny Lumet. It is a reboot of The Mummy franchise and the first instalment in the Dark Universe film series. The film stars Tom Cruise, Sofia Boutella, Annabelle Wallis, Jake Johnson, Courtney B. Vance, Marwan Kenzari and Russell Crowe.
Though safely entombed in a crypt deep beneath the unforgiving desert, an ancient queen (Sofia Boutella of Kingsman: The Secret Service and Star Trek Beyond) whose destiny was unjustly taken from her, is awakened in our current day, bringing with her malevolence grown over millennia and terrors that defy human comprehension. From the sweeping sands of the Middle East through hidden labyrinths under modern-day London, 'The Mummy' brings a surprising intensity and balance of wonder and thrills in an imaginative new take that ushers in a new world of gods and monsters.
Nick Morton is a soldier of fortune who plunders ancient sites for timeless artifacts and sells them to the highest bidder. Morton must now stop the resurrected monster as she embarks on a furious rampage through the streets of London. Russel Crowe plays a Dr. Jekyll and Mr. Hyde-like character.
The screening times for 'The Mummy' at Majestic Cineplex and Empire Cineplex is as follows:
Majestic Cineplex: 10:15AM, 1:15PM, 4:15PM, 7:15PM, Fri/Sat 10:15PM
Empire Cineplex: 1:30PM, 4:30PM, 7:30PM, Fri/Sat 10:30PM, Sat/Sun 10:30AM
Events (in Colombo)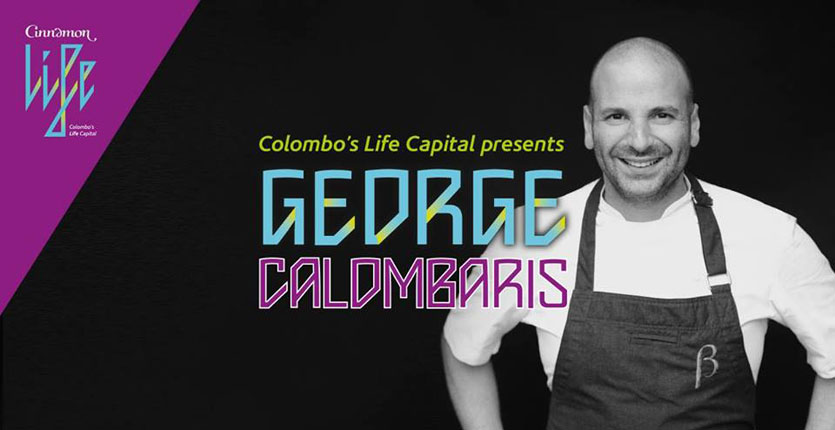 Cinnamon Life presents George Calombaris @ Cinnamon Grand Colombo
Following the success of Celebrity chef Marco Pierre White's visit and series of events organized in Sri Lanka during January 2016, Cinnamon will be hosting the world renowned TV personality and judge of MasterChef Australia - George Calombaris for a four day tour of Sri Lanka. During his visit he will introduce you to an exciting culinary experience.
Reserve your experience on +94 71 711 8111. For more info click here.
When: June 8 - 11, 2017
Where: Cinnamon Grand Colombo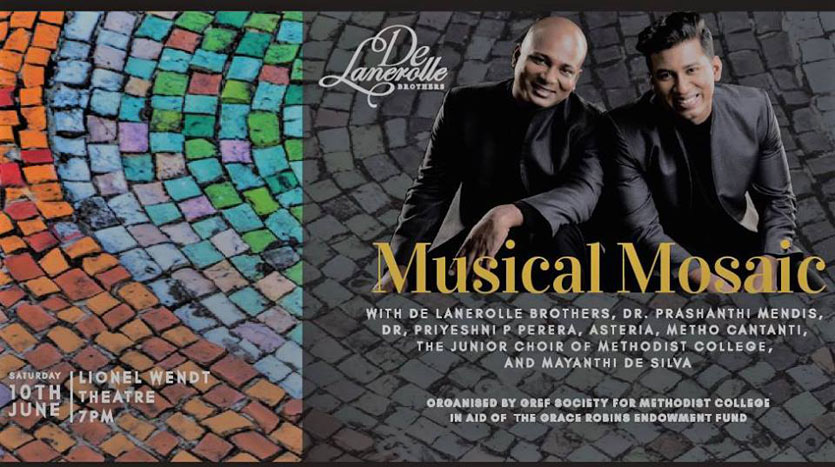 Musical Mosaic @ Lionel Wendt
The GREF Society of Methodist College is proud to announce 'Musical Mosaic' a musical extravaganza showcasing some great talents on stage. The proceeds of this event will be in aid of the Grace Robins Endowment Fund which has been established to provide financial assistance to deserving students in the school. The concert will also feature the De Lanerolle Brothers who will sing along with the Junior Choir.
When: June 10, 2017
Where: Lionel Wendt Theatre
Time: 7:00PM onwards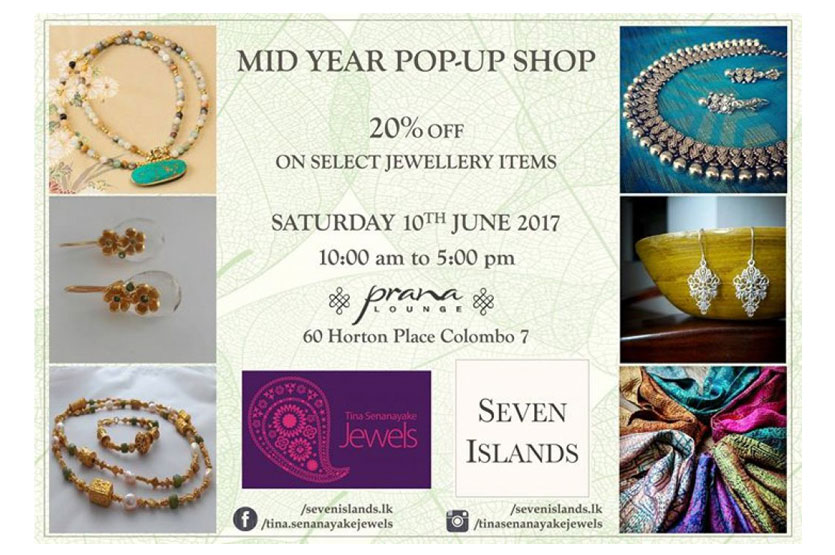 Mid-Year Pop-Up Sale and Shop @ Prana Lounge
If you are a jewelry fan this call is for you! A handmade collection of artisan jewelry by Tina Senanayake and semi-precious jewelry, vintage silk, block print beach wraps and many other items by Seven Islands with attractive discounts await you at Prana Lounge this Saturday.
When: June 10, 2017
Where: Prana Lounge Colombo, 60, Horton Place, 7
Time: 10:00AM - 5:00PM

World Education Fair @ Hilton Colombo
Meet Representatives from top international universities in Australia, UK, Ireland, New Zealand, USA, Canada, Singapore and Malaysia. Visit the fair for spot admissions, free visa guidance, scholarships and much more.
When: June 10, 2017
Where: Hilton Colombo
Time: 11:00AM - 5:00PM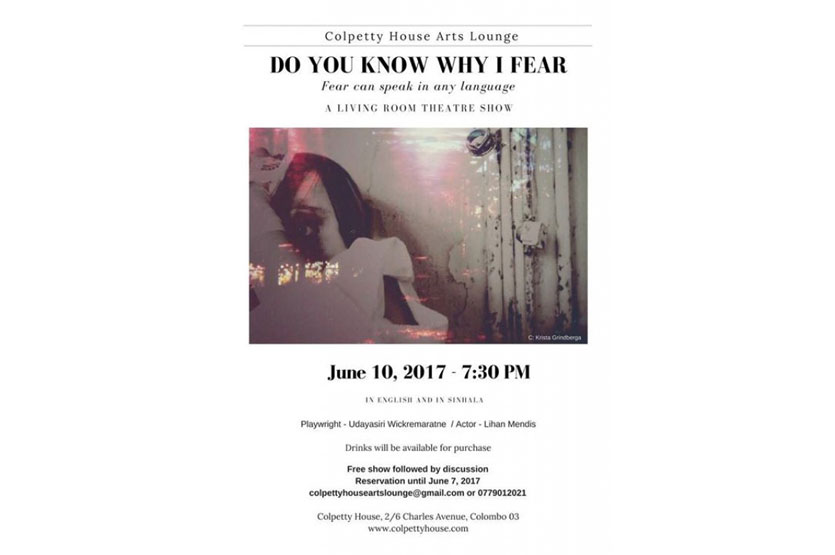 Do You Know Why I Fear @ Colpetty House
Do You Know Why I Fear? a living room theatre show by Udayasri Wickramaratne will come alive this weekend at the Colpetty House. The play will be conducted in English and Sinhala languages and will be performed by Lihan Mendis.
For more details, email colpettyhouseartslounge@gmail.com or call on 0779012021.
When: June 10, 2017
Where: Colpetty House, 2/6 Charles Avenue, Colombo 03
Time: 7:30PM onwards
Events (out of Colombo)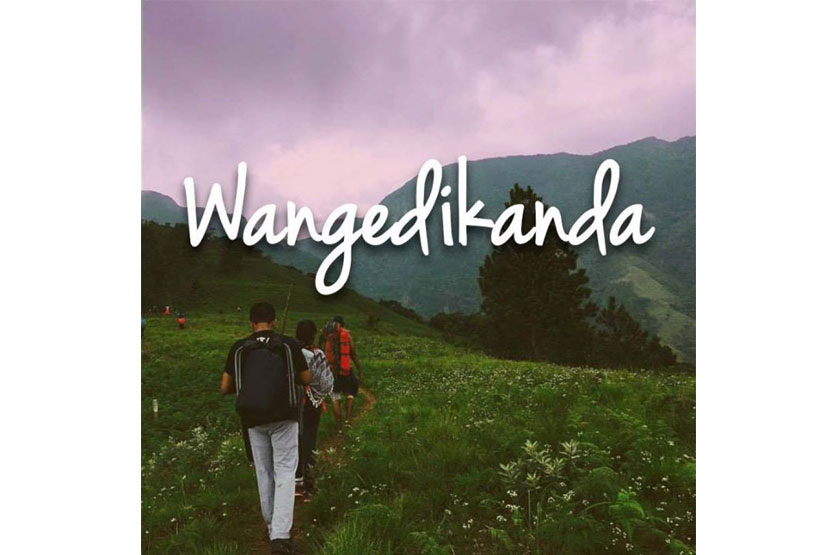 CRC Camping @ Wangedikanda
How about some camping and hiking to get your adrenaline juices rushing? The Ceylon Ramblers' Club (CRC) is all set to give you yet another experience, this time at Wangedikanda. Some of its highlights hiking through a pine forest, Wangedikanda mountain, Bambarakanda Falls etc.
Non-members: Rs. 7900 (nett)
Members: Rs. 6900 (nett)
Contact 0777339489 for more details.
When: June 10 - 11, 2017
Where: Wangedikanda (Departure from Nugegoda)
Time: 1:00AM (June 10)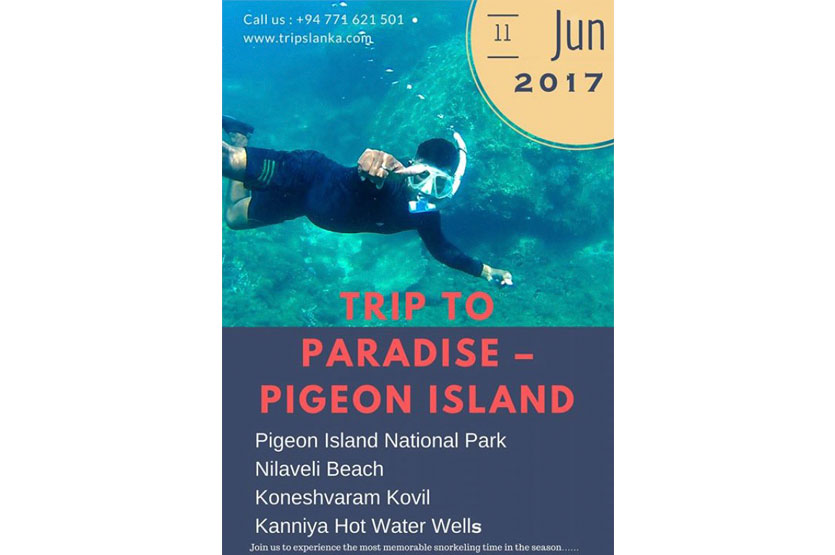 Trip to Paradise @ Pigeon Island
A day full of excitement awaits those who join this adventurous journey to Trinco. Snorkelling, photography, sightseeing and many more activities are lined up for you.
Cost per person is Rs. 5500.
Contact (+94) 771 621 501 for more details.
When: June 11, 2017
Time: 2:00AM - 10:00PM
Where: Pigeon Island National Park