Day 3 of Fairway Galle Literary Festival 2018
Dame Maggie Smith is everything you've imagined and everything you haven't.
Dame Maggie Smith is an acclaimed award-winning actress who has experienced a varied career on stage, film and television spanning over sixty-six years. She has appeared in over 50 films including 'Harry Potter' and TV – series 'Downton Abbey' and is one of Britain's most recognizable actresses.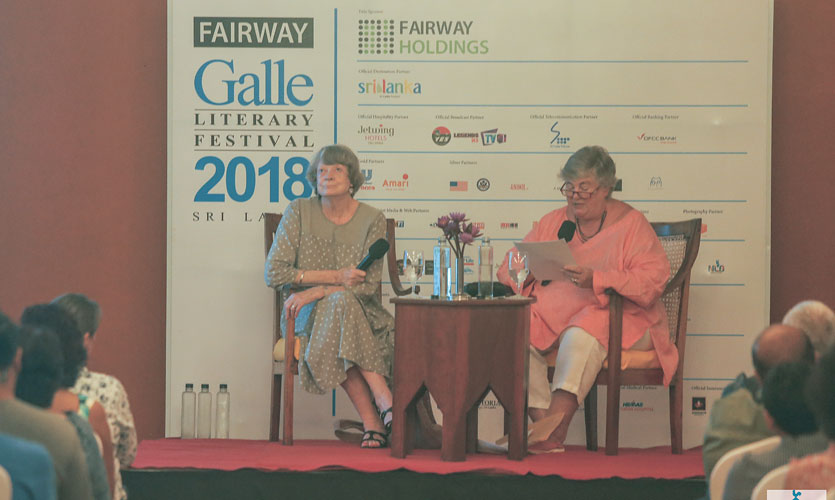 Her session brought in a full house, with tickets sold just minutes after release and still bought people waiting outside the hall in hopes of catching a spare ticket or so for a glimpse of one of Britain's most adored actresses.
Dame Maggie Smith's entrance brings the crowd to their feet with thundering applause ringing in the hall. She starts the session with a small monologue dubbed 'Going Round' and watching her bring the piece alive was surreal.
Speaking about her experience acting at popular series 'Downton Abbey' and wearing period costumes, she joked that
"wearing a hat is like wearing the Albert Hall on your head!"
She then proceeded to talk about her experience as an actress and how best she tries to get into character.
"You just play your part as honestly as you can. There is no need to amp your character up!"
When asked whether she has ever rejected a role offered to her, Maggie replies that she normally doesn't reject roles as so.
"I did, however, reject the part of Lady Cavendish in Vanity Fair because the script read Lady Cavendish limps starkly from the bath and I thought 'no, not this lady!"

Her session was full of wit and humour and she had the crowds laughing at her every sentence.
We also spoke to some of the audience members who attended the session to gather a few comments;
"It was good. I'm such a big fan of her" – Akila

"Oh, it was fabulous! So happy to have her here in Sri Lanka and just watching her perform" – Aline




"It went so well. It definitely came up to my expectations. I'm a big fan!" –Shamani




"Really enjoyed it. She has such a great personality" – Menaka




"Extremely witty! She knows how to keep you on your toes" – Tasneem


"It was good. The last reading was great" – Vindya




"I loved everything!" – Anne

"We were really surprised by how witty and extremely sharp she was!" – Anosha

"It was very good. She has a really good wit and sense ofhumour" – Sham

"It was fantastic! A great conversation and her comic sense of humour was really amazing" – Shyam




"It was fabulous and very humorous" – Geraldine

"It was very funny and very insightful. Got to learn a lot about her history" – Aritha


"It was wonderful to see Maggie here in Sri Lanka. Such a fantastic sense of humour" – Mr. James Dauris


"It was a great session. It's very important for the Festival to have someone of her standing attend" –Sallyane