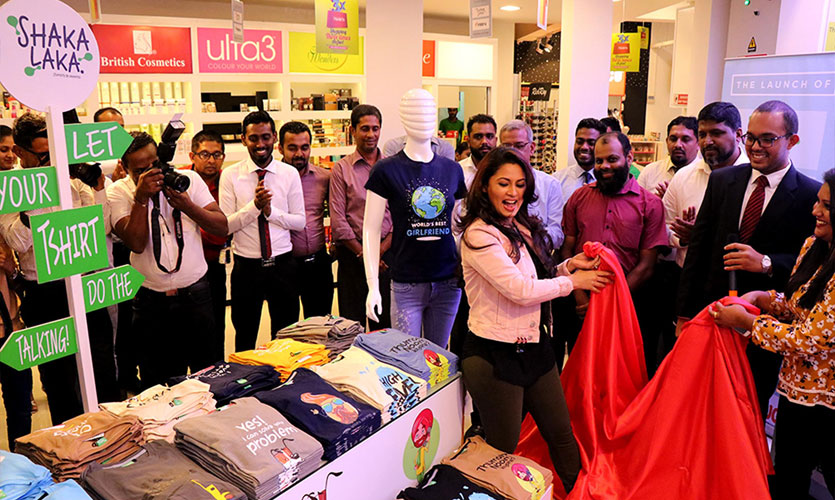 Pooja Umashankar unveiling the Shakalaka brand
Colombo, 29th September 2017:
Sri Lanka's leading fashion destinations, Fashion Bug launched two divers fashion ranges, RBN and Shakalaka at their latest outlet in Wellawatte. The two collections with their own character and concepts, cater to the sporty, young and trendy fashion enthusiasts. The event was attended by Sri Lanka's rugby legend Fazil Marija and popular actress Pooja Umashankar, along with several renowned sports personalities and other key Fashion Bug customers.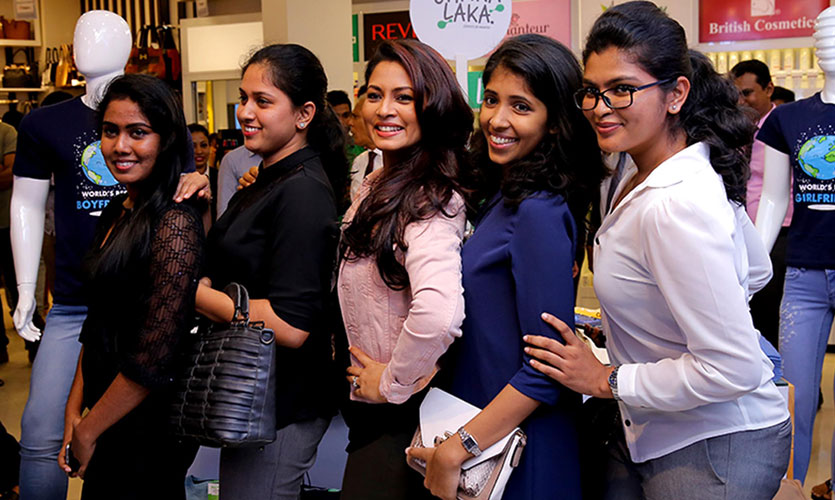 Sri Lanka is currently undergoing a fitness revolution and thus, heralding performance wear into Sri Lanka's fashion industry, RBN launched their line for men and women, for the first time through Fashion Bug. The brand focuses on producing active wear with high quality at an affordable price. Each design is created with the Sri Lankan athlete in mind, and to suit the local climate and user conditions. RBN is set to be the prime home-grown sportswear, which combines fashion and performance for the professional as well as the amateur athlete.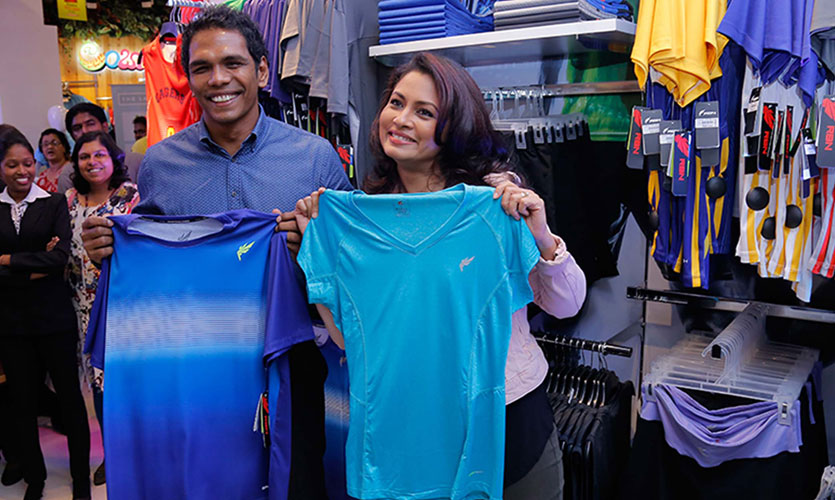 Fazil Marija & Pooja Umashankar with Shakalaka Tshirts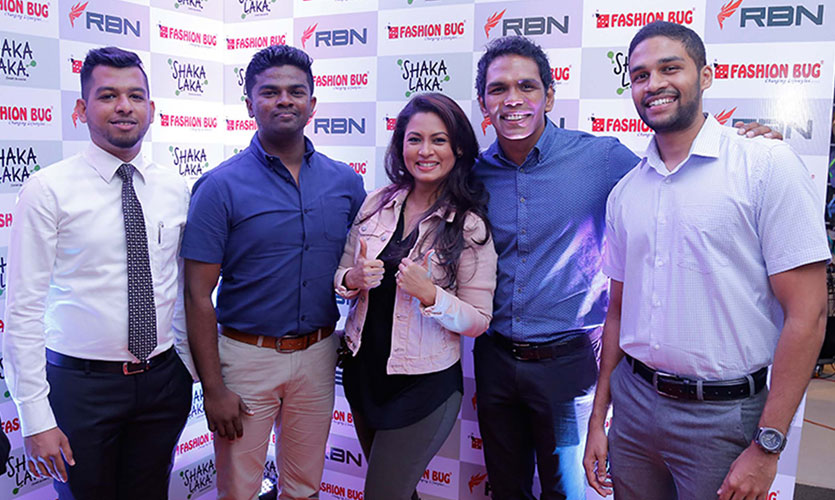 (L-R) Shabier Subian – Director of Fashion Bug, Shadeeshan Shanmugavel – Owner of Shakalaka, Pooja Umashankar, Fazil Marija and Dhananjaya Weerakoon – Business Head of RBN
The attention grabbing Shakalaka range, made for the teenage and youth, was launched by the trendy fashion label ChaThak; a name synonymous for colourful t-shirts with catchy lines. The collection joins the list of creative ranges by ChaThak like 'Swag Baby', 'Big Boss Forever', 'Sniper Sleeves' and 'Lyrical Tees'. Shakalaka launched exclusively for Fashion Bug and will be available at all the branches.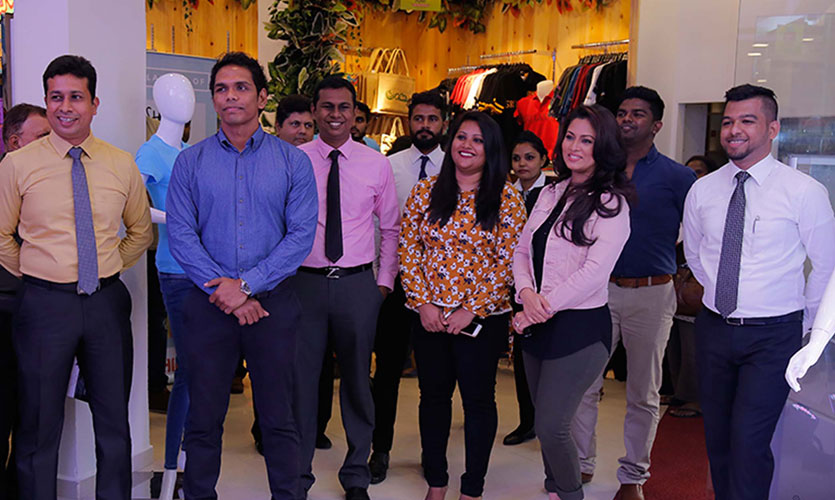 Commenting at the launch, Shabier Subian, Director of Fashion Bug stated,
"This launch is an important milestone for us, and reiterates Fashion Bug's commitment to uplift local fashion brands. We are a retail chain which houses a wide range of choices for men, women and kids; be it formal, casual, party or office wear. Fashion Bug is also about catering to the fashion needs of the time, and we see an increase in the demand for health and fitness. Therefore it is appropriate for us, as the leading fashion destination and advocate of local designers, to have brands such as RBN & Shakalaka in our collection. Our latest branch in Wellawatte is fast becoming a hot-spot for the fashion conscious as we have an amazing collection to cater to all demands."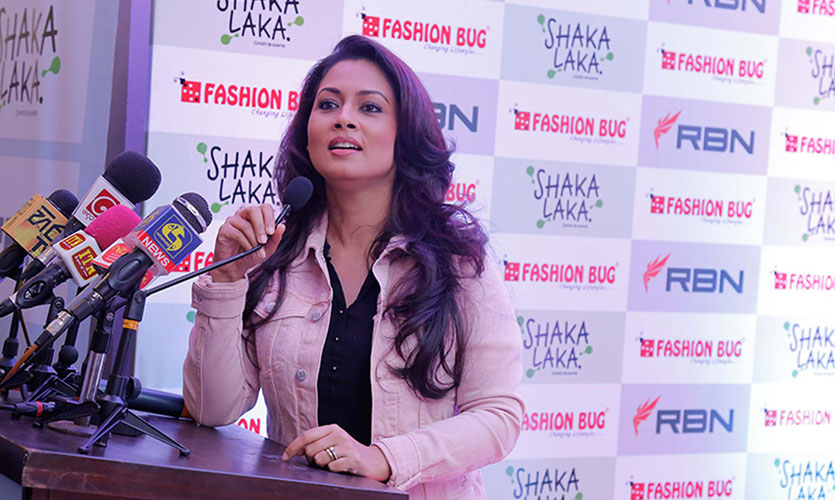 Pooja Umashankar addressing the guests
Fashion Bug was founded in 1994 in Bandarawela with a 7 member team, the first shop being a mere 500 square feet in Bandarawela town. Today it has evolved into a household brand that boasts of 16 outlets island wide. Fashion Bug currently numbers over 1250 Sri Lankans amongst its staff, who hail from diverse backgrounds and ethnicities; hence they constitute a truly Sri Lankan corporate entity. Very high on the Company's list of priorities is the preservation of racial and ethnic harmony and unity which is evidenced by the fact that all communities and religions work side by side at Fashion Bug's outlets and factories.
All outlets currently stock ladies, gents and children's clothing, as well as household linen. Both Eastern as well as Western wear is on sale, while a range of designer saris, kurthis and shalwars, together with accessories, handbags, shoes, etc. in a range of designs and colours to suit all tastes are available.
In addition to the array of its own brands such as Givo, Amazing Lanka, Hush, Jobbs, Bigg Boss, Amy and Bug Junior, Fashion Bug also features international brands such as Disney, Crocodile, Triumph, Puma and USPA to name a few.
Media Contact
Name/Designation: Champika Thalgodapitiya/ PR Director
Email Address: champika@proteanpr.lk