Perhaps Colombo's most visually stunning restaurant, Flamingo House is steeped in a rich background, rich décor and rich cuisine. 'Post-colonial mayhem' and 'eclectic' are two words that aptly describe the place and over the years they have created a name for themselves with a stunning interior based on the love story of Sir Alfred Clarke and Satyavati and delicious cuisine.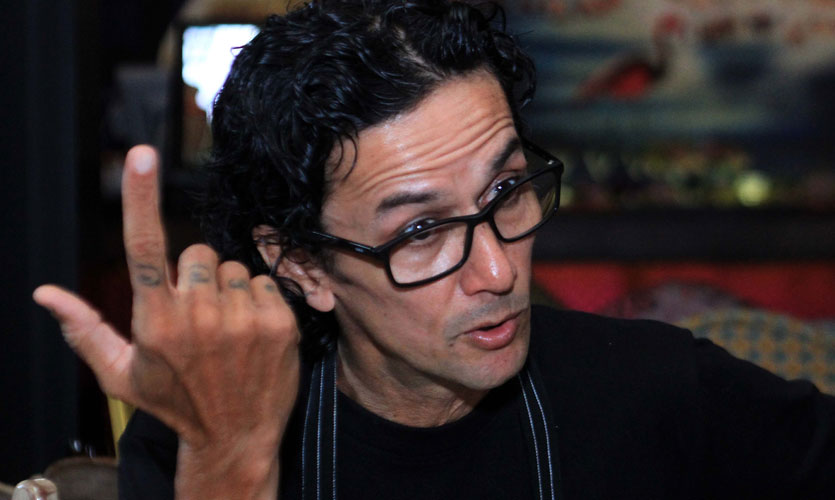 Elevating the culinary experience at Flamingo House is its new Head Chef Mark Smith, Sri Lanka born and trained chef who has worked internationally in several countries. Having lived abroad for a large part of his young life, Smith returned to Sri Lanka in his early 20's and trained at the Ceylon Hotel School and then worked as a Kitchen Executive at Hilton Colombo.
"I just didn't see myself behind a desk,"
explained Smith,
"being a Chef was more my style. Everything is black or white, either you know how to do it or you don't."
From there, it's a string of international opportunities to Smith. From Australia to Dubai, from Calcutta to Kerala, from Goa to Chennai; the years passed as Chef Smith explored cuisine after cuisine, working as an Executive Chef in 5-star hotels, resorts and spas and fine dining restaurants. Amidst this, Smith also returned to Sri Lanka and opened and worked at several restaurants and resorts such as Havelock Place Bungalow, Taru Villas, the Spice Trail, and Number 18.
Chef Smith leans heavily on Italian cuisine but is also biased towards Mediterranean and progressive food.
"I'm a very hands-on chef. I love small menus, good ingredients and keeping it simple. You can't go wrong."
This is the very philosophy he adopts for revamping the menu at Flamingo House.
Downsizing the menu significantly for a fewer number of starters and mains, Smith wants to focus on the quality than the quantity and create signature dishes full of flavour using local produce. The menu will retain a number of old favourites such as the seafood kottu, the Galle Face isso wade, the Flamingo rice and the Irish Whiskey Blue Cheeseburger for the regular customer but will largely feature new, exciting dishes that are both simple and innovative.
Starters from the new menu include the delicious Prawn Nori Tempura with wasabi mayonnaise. We had ours with seared tuna, packed with fresh vegetables, rolled in seaweed and batter fried served with a fresh salad. Crispy on the outside and soft on the inside, the contrasting flavours of this simple dish blew us away.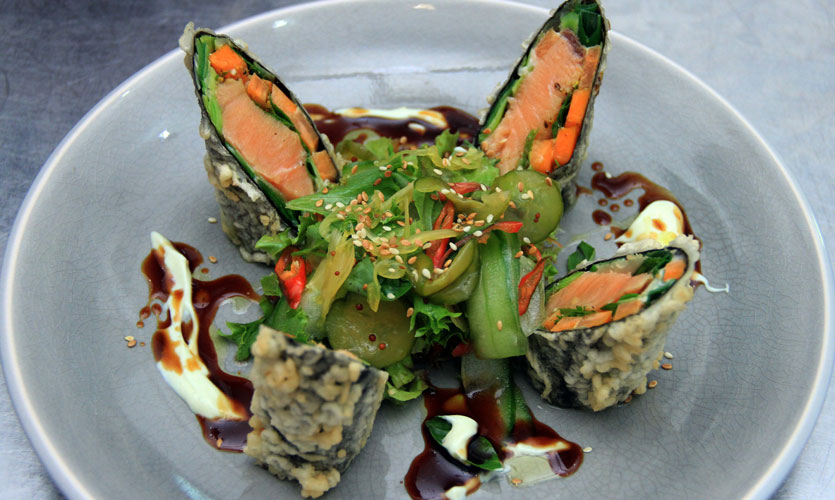 Mains include a range of signature dishes such as turmeric root risotto, slow cooked beef short ribs in arrack, squid ink pasta with prawns, crispy skin chicken with a Moroccan spice mix and coriander crabmeat noodles to name a few. Their Coriander Crabmeat Noodles is a visually stunning, 5 ingredient dish. Homemade just a few hours before cooking, the coriander pasta just screams 'fresh!' when it's served. Drizzled in olive oil and tossed in chunky pieces of crab meat, the flavours of this dish are divine. We cleaned ours right off the plate and kept it on our list to try again!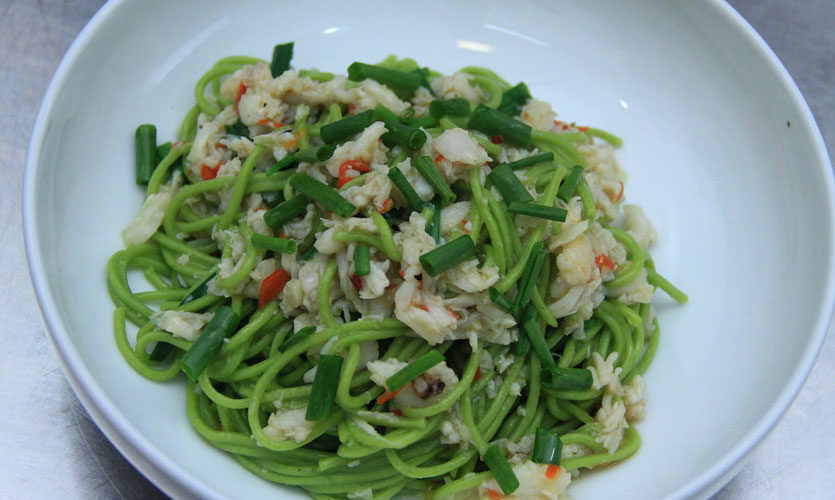 Desert is a simple affair. Homemade ice-creams, chocolate pudding, passion fruit pavlova and crème Brulee are the options offered. We tried their take on Fresh Strawberry and Cream which is warm strawberries in orange caramel and balsamic served with homemade vanilla bean ice-cream with homemade honeycomb. This made to order dessert was just right with the warm of the strawberries being cut through by the coldness of the ice cream.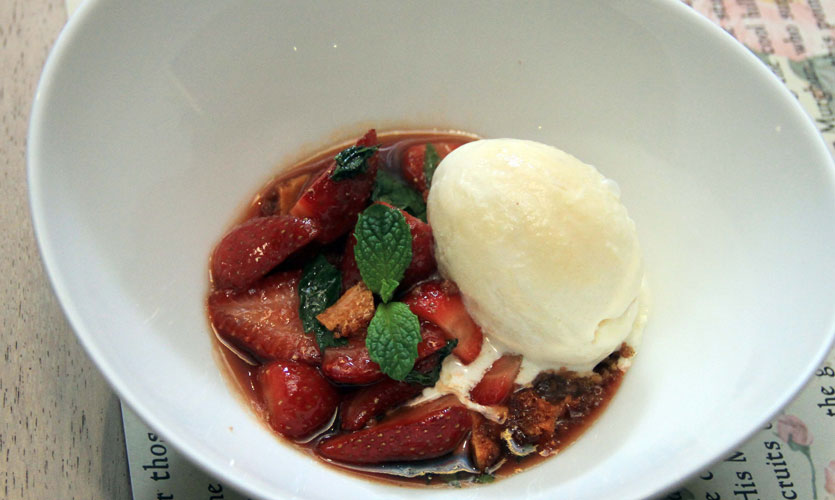 The menu then is a concentration of a lot of flavours.
"I want people to feel like they have gone to someone's house"
comments Chef.
"We are in the business of bringing pleasure to people and that's why we need to have flavour and taste on the plate so that you get that smile when you taste something good for the first time and that is what the new menu is about."
The menu will change routinely every 3 months and Flamingo House will introduce daily specials for those looking for a surprise when they dine.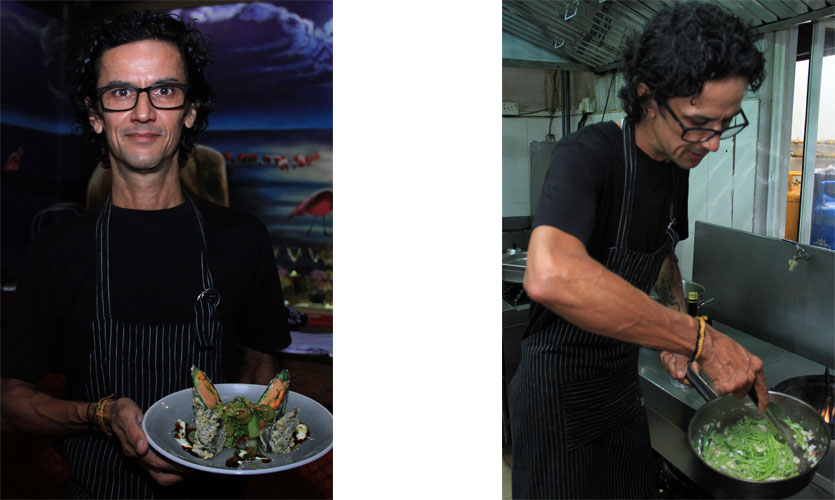 Overall, the new menu at Flamingo House is promising. It brings international flavours with a local twist and their homemade ingredients, from the pasta to the chutneys, ensure that your dish looks and tastes fresh. We definitely enjoyed our sneak peek into the new menu and we liked what we saw (and tasted!). Smith's extensive experience in the industry ensures that he delivers food that's cooked well, with panache and passion.
Pictures by Pradeep Dilrukshana