Founded in 2003 and now on the eve of celebrating its 15th anniversary, HSBC Colombo Fashion Week 2018 will host its annual show under the theme of "Celebrate Colombo" from the 19th -25 March at various venues across Colombo, with the main fashion shows being held at the Hilton Colombo.
The brainchild of Ajai Vir Singh, it is widely accepted that Colombo Fashion Week, has fathered the fashion development in Sri Lanka. It has impacted every aspect of the fashion design industry and is now on its way to taking Sri Lankan fashion to the next strata.
For the past 15 years HSBC Colombo Fashion Week has contributed to the expansion and growth of the Sri Lankan fashion industry by providing local designers with a platform and international exposure while contributing to a multitude of facts that makes up the industry including fashion education, fashion retail and designer development.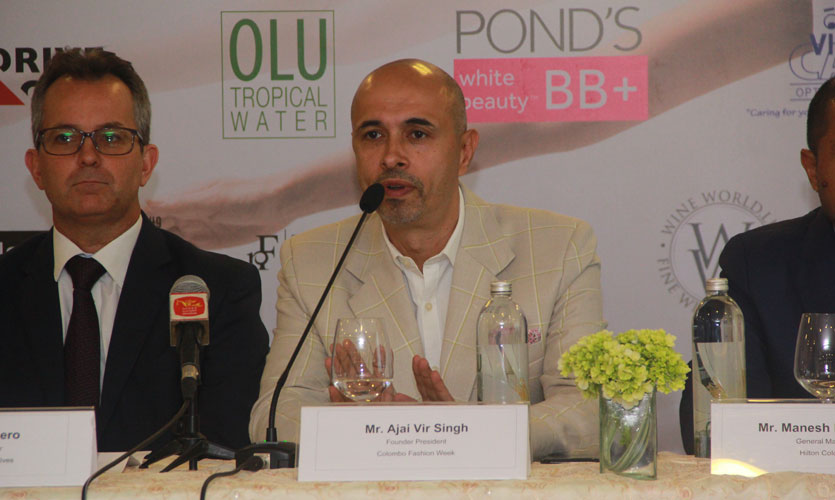 One of the most unique achievements of this event is that 90% of Sri Lankan designers are products of HSBC Colombo Fashion Week which has been a pivotal platform for fashion development in the country. This year will also see the 12 high potential designers present their collections at The Emerging Designer Showcase, a much vaunted event as it showcases the next generation of Sri Lankan fashion design talent. These designers have been mentored and guided through the CFW process.
This year HSBC Colombo Fashion Week will bring the city of Colombo alive through the eyes of fashion and related industries, under the theme of "Celebrate Colombo". This also aims to showcase Colombo as a hub of tourism and as a city that is vibrant and creative. From the 19-25th March there will be collaborations with art, film, food, music and includes knowledge workshops, ethical fashion , designer showcases and the emerging designer showcase.
"Celebrate Colombo" is created as a tourism product, even though no support from Tourism, to position Colombo as a vibrant city through various creative streams coming together during the week of Colombo fashion week. Food, Art, Music, Film. Fashion.
"We want to expand this more, So anyone visiting Colombo should plan to visit during that time"
said Ajai Vir Singh the founder of HSBC Colombo Fashion Week.
Speaking on the role of ethical fashion at HSBC Colombo Fashion Week, Ajai said
" A Responsible Fashion Conference is planned at the beginning of the week to bring forth knowledge and awareness to designers about eco ethical fashion. This will increase knowledge to act to make fashion clean. Eco ethical is at the base of what we do."
As this is a milestone achievement in the run of HSBC Colombo Fashion Week, Ajai and his team have planned a few different elements to this year's show.
"We are trying different formats of fashion presentations. We are doing a unique show format of fashion presentation with Tarun Tahiliani on the 25th. Bibi Russell who is such a global powerhouse of fashion comes with another powerful cause behind her collection. Emerging designers and their development is of very high priority to me. And this year that number had doubled to 12 and we are investing more in them. We urge more corporates to join hand in supporting us."

HSBC Colombo Fashion Week 2018 will present Art Connect on 19-20th March at the Laksala Building.
This event will showcase the compositions of Pala Pothupitiya, Mahen Perera, Sujeewa Kumari, Pradeep Chandrasiri, Koralagedera Pushpakumara and Kaavan Balasuriya who will bring together two aesthetic streams of fashion under the theme of 'Co-liberate'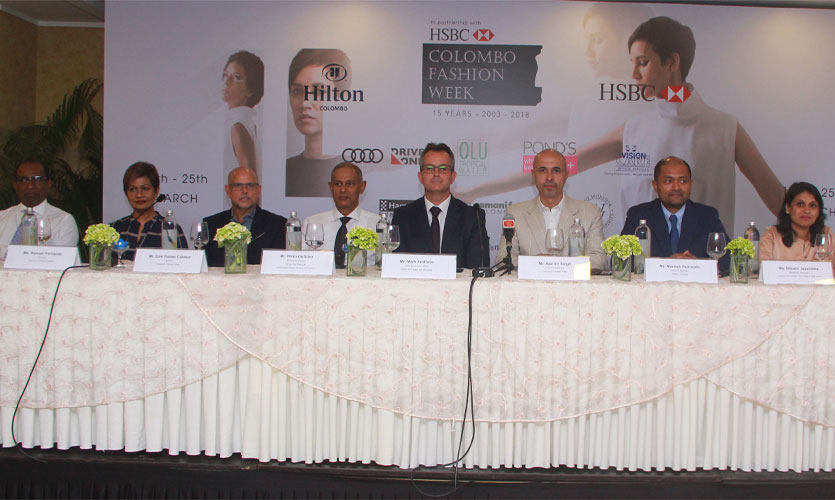 The Responsible Fashion Summit will take place on 19th March at the Hilton Colombo with a panel of local and international experts addressing the subject.
Music Designed will take place on 20th March at Sooriya Village where CFW launches the collaboration of music with fashion.
The CFW Knowledge Workshop will take place on 21st March at the Hilton, Colombo. This season CFW will conduct a workshop on Fashion and Lifestyle in Social Media and Blogging.
Colombo Fashion Week will also partner with some of Colombo's leading restaurants, to create limited edition menus which are expected to give participants an unparalleled gastronomical adventure during fashion week. LAB Hilton, Iko Tei by Hilton, Rare by Uga Residence, Café Francais, Il Ponte at Hilton will host a series of Fashion Capital menus with a series of themed events.