Day 1 of the HSBC Colombo Fashion Week (CFW) for Spring/Summer '19 kicked off yesterday at Hilton Colombo. Celebrating 15 years of CFW, the all Sri Lankan lineup for Day 1 presented a grand opening of stellar proportions as colours burst on the runway in flowly silhouettes and stunning designs.
"Day 1 was exciting and interesting. Aslam Hussein was amazing. He only started with us last year. It is a proud moment when I spend 6-7 months with them and they come back with a collection like this. Can't wait for the 3 more days of fashion!"
says Founder and President of Colombo Fashion Week, Ajai Vir Singh.
CEO of CFW , Fazeena Rajabdeen shares similar sentiments as she tells us
"it's a great start to the runway shows celebrating 15 years! Happy to have kicked off Day 1 with Upeksha, Meraki, Jai and Aslam Hussein highlighting the key trends."

U by Upeksha Hager
Having begun her fashion journey back in 2011 with her first show at CFW, Upeksha's label is one that offers fresh designs with an eye for detail and finish. A whimsical brand with a love for classic silhouettes and fine finish, this year's collection was inspired by the café culture and the feminine flair of European cities. Various prints in box shapes and loose silhouette added an ethereal touch to the ensemble. The collection was made complete by flared frills and elaborate bows with a signature floral motif running in each design.
"This collection is for the girl that puts on her best dress to walk down the promenade just because she can!"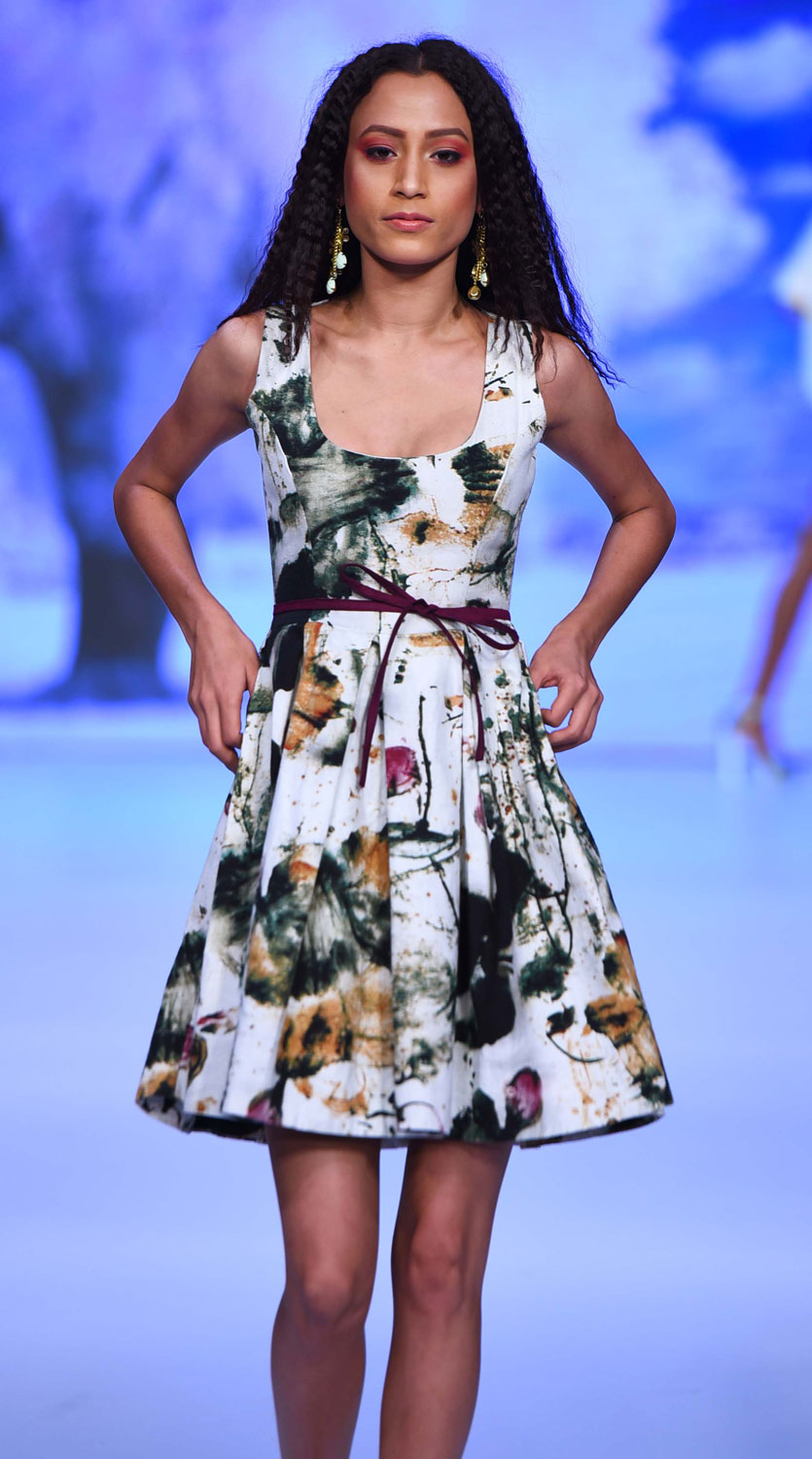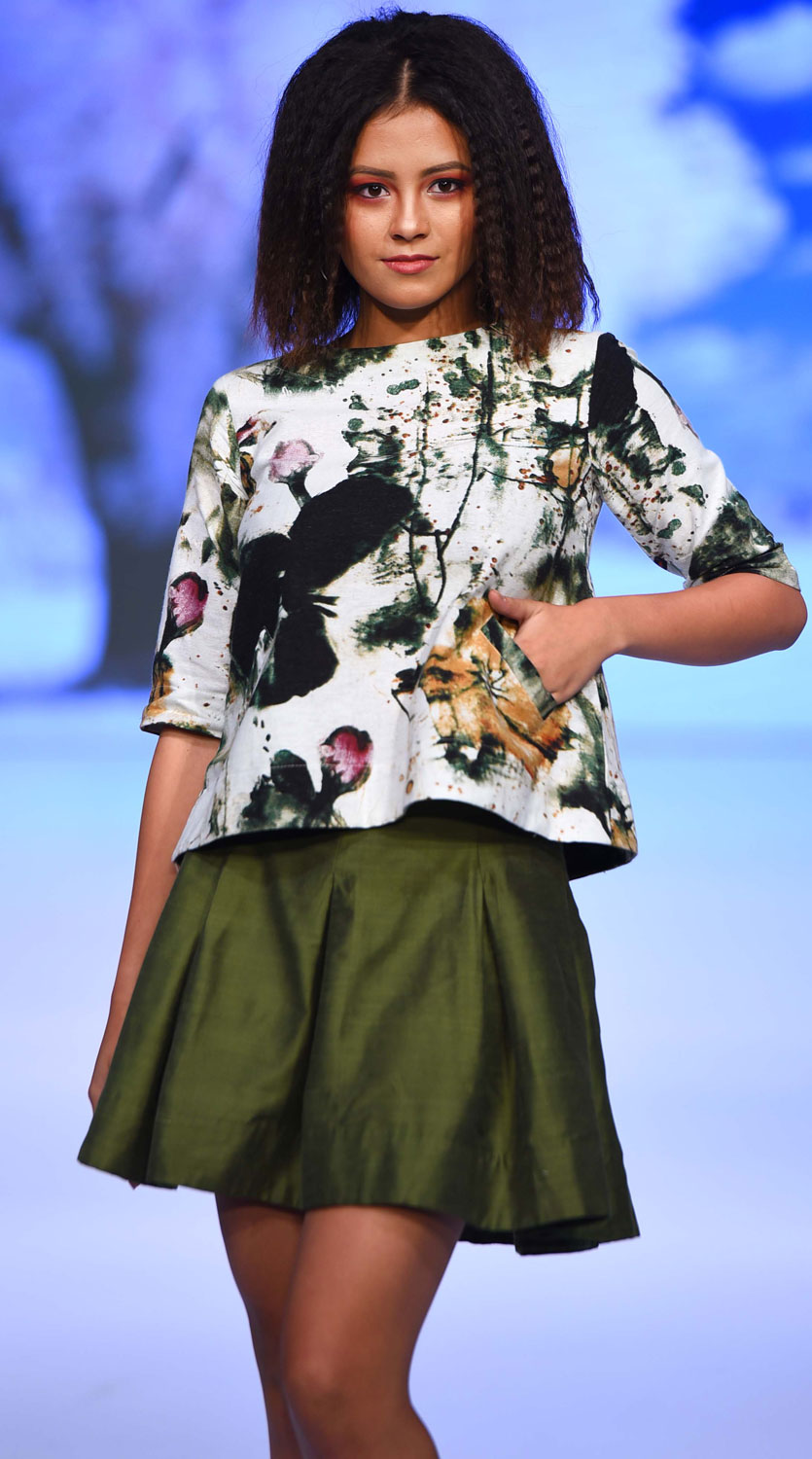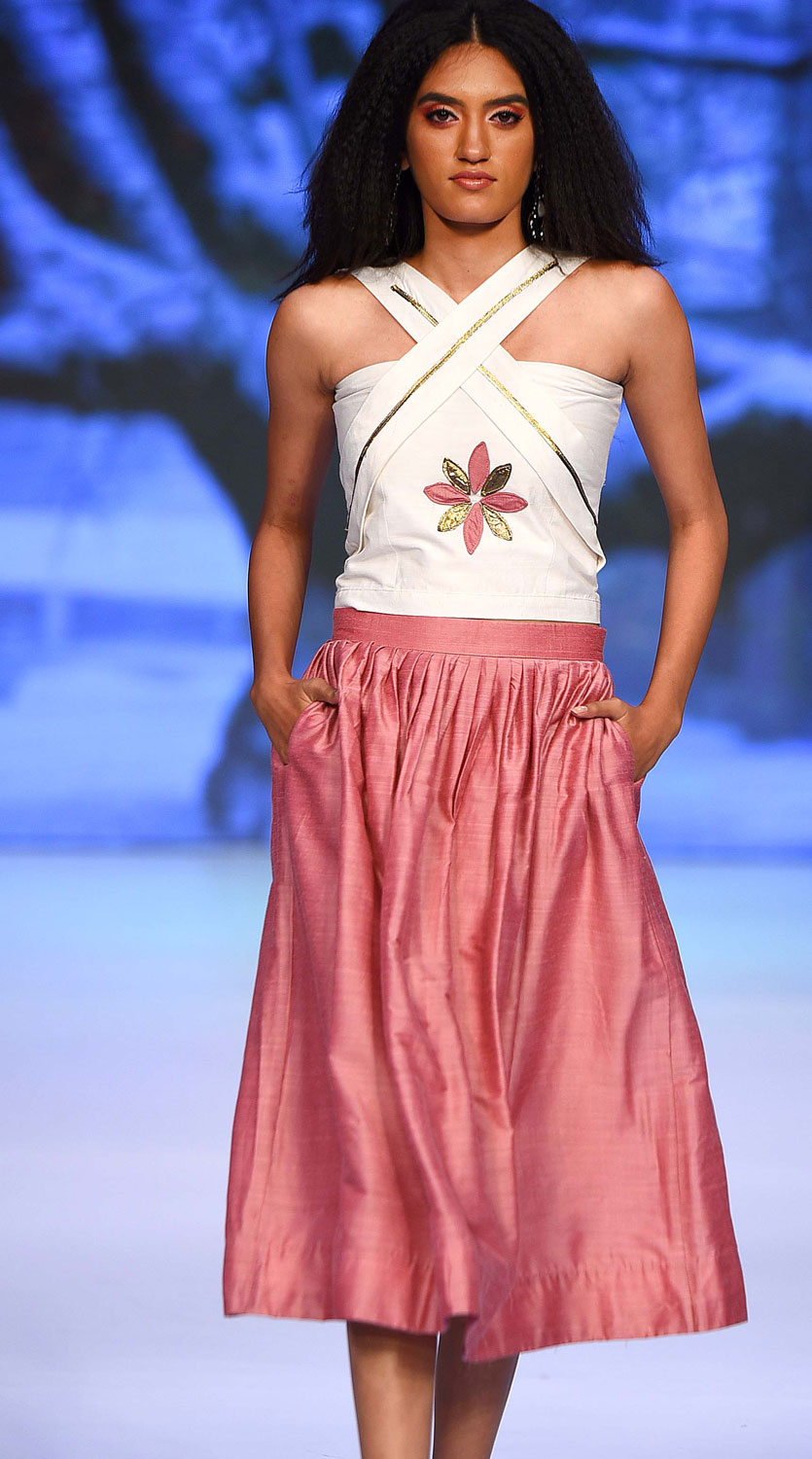 La' Sari by Nilanka Silva
A brand that initially started off as a hobby is now a thriving business. Her tagline being "individuality celebrated", her design aesthetic is inspired by her day to day observations and the beauty she feels. Inspired by the bright and untamed colours of the 'Holi' Festival, this collection was a whirl of vivid colours in handcrafted silks, chiffons and cotton. Transferring casual clothing into chic, La'Sari wowed the audience with the ombre upscale wear collection in vibrant hues of the sunset, flora and the ocean.
"This is my second time doing a collection with CFW and I am looking forward to doing more with them. The collection really puts focus on the flowy silhouettes"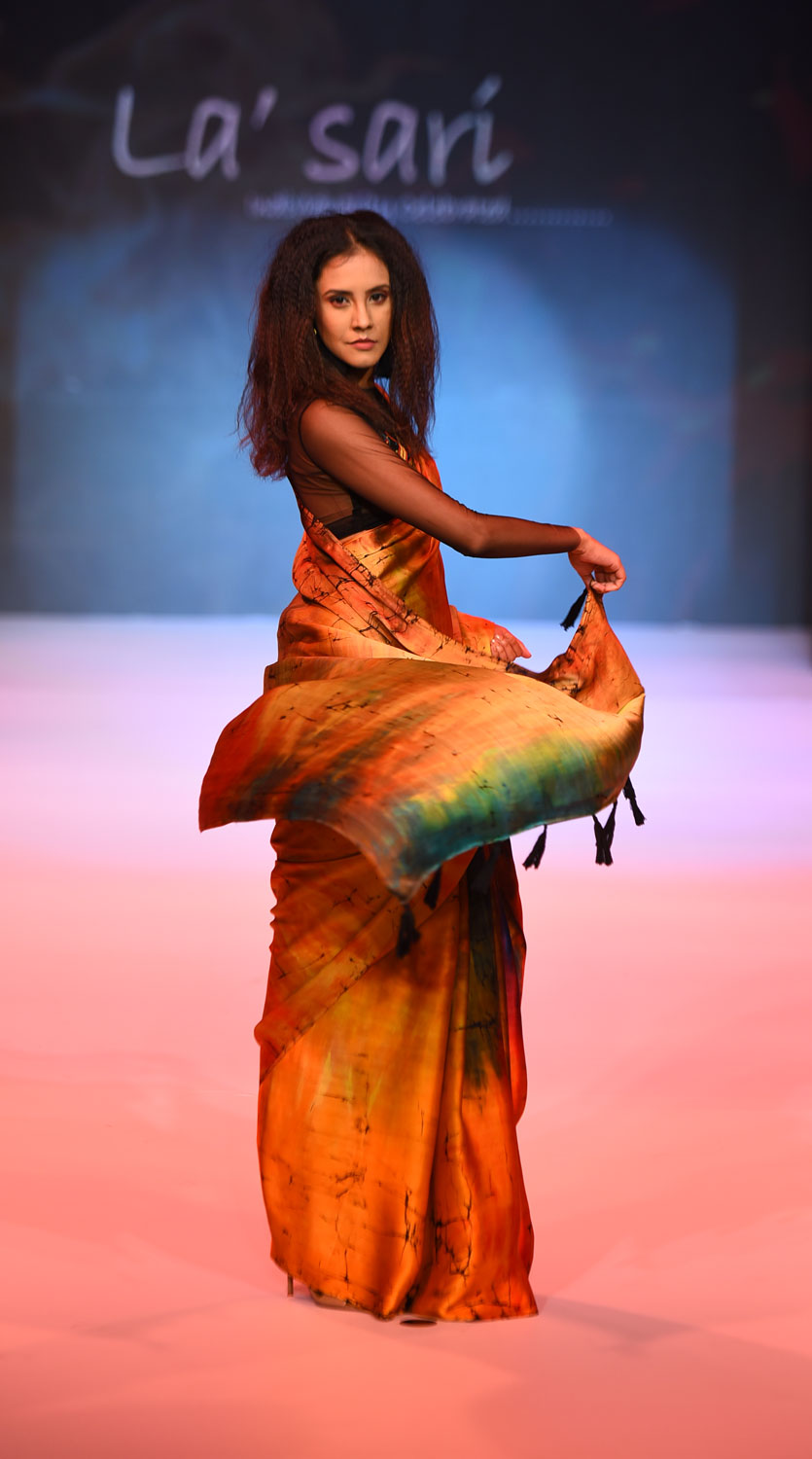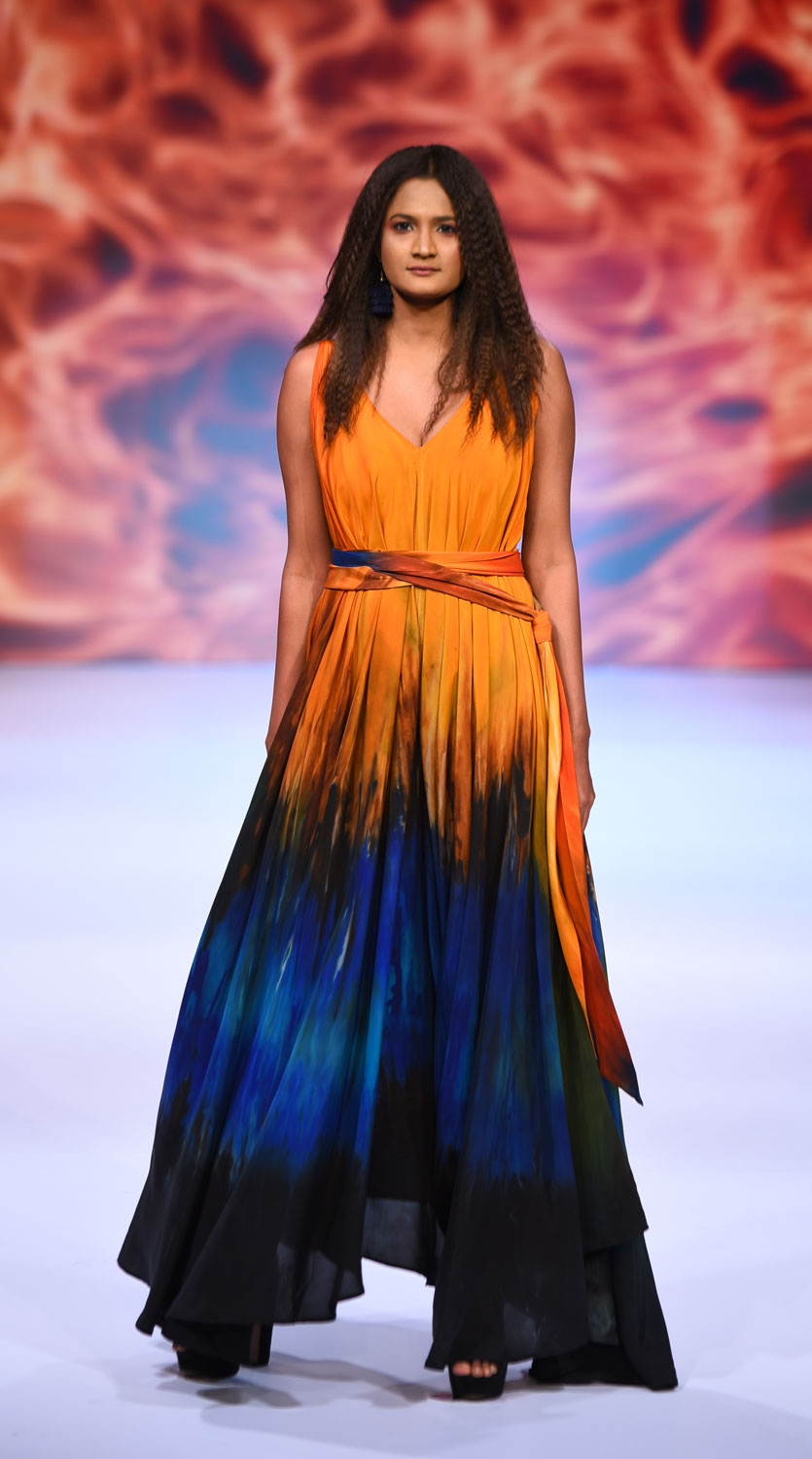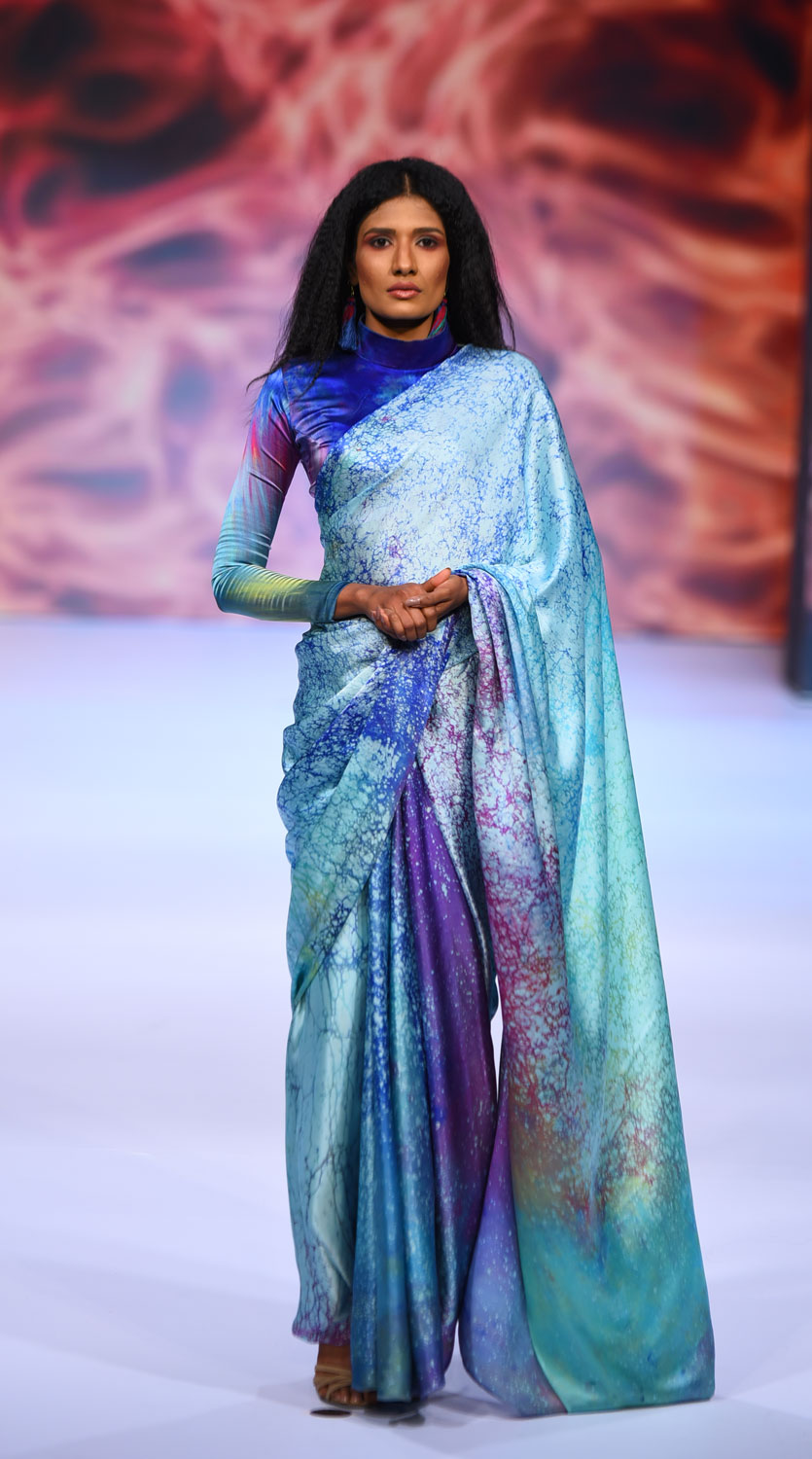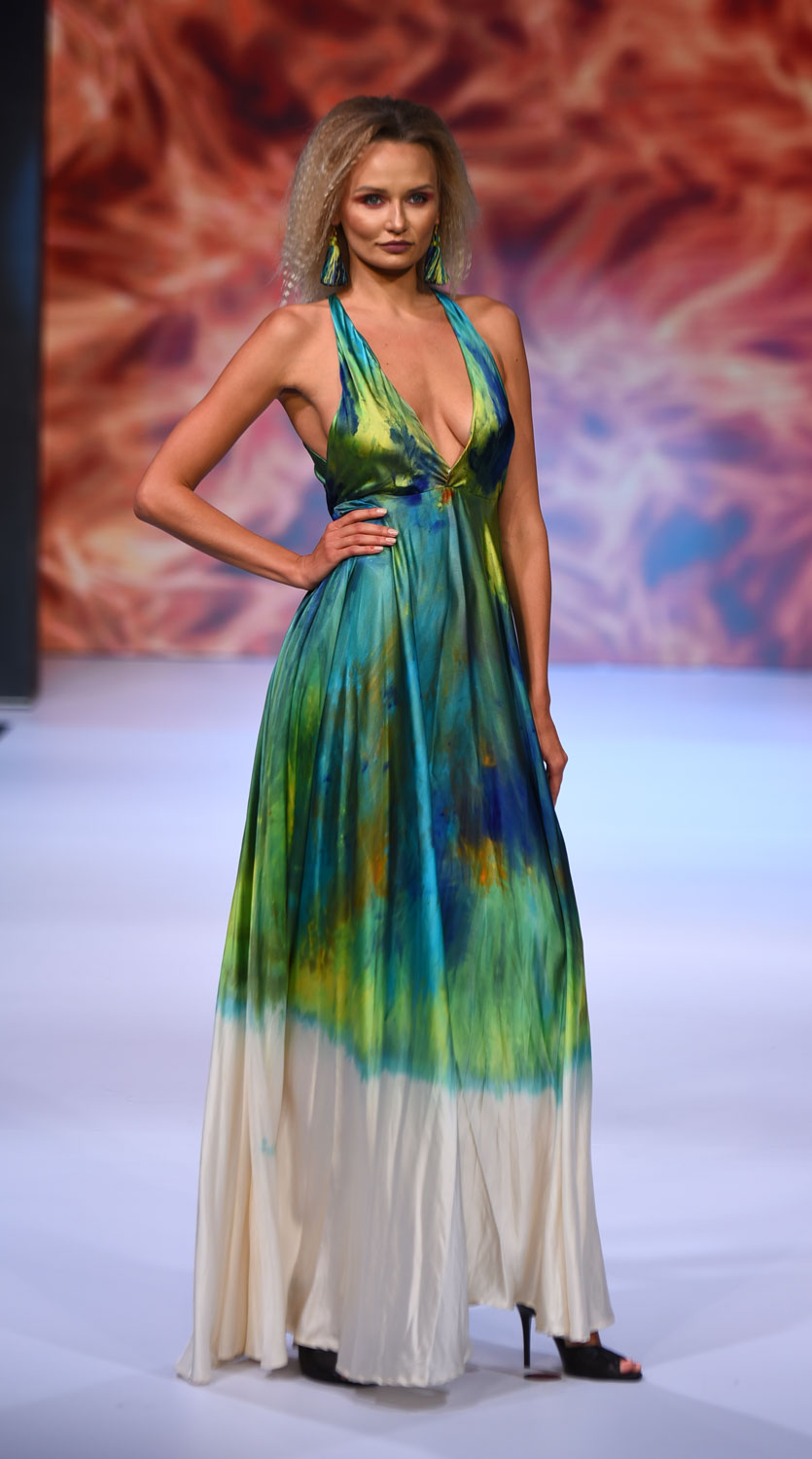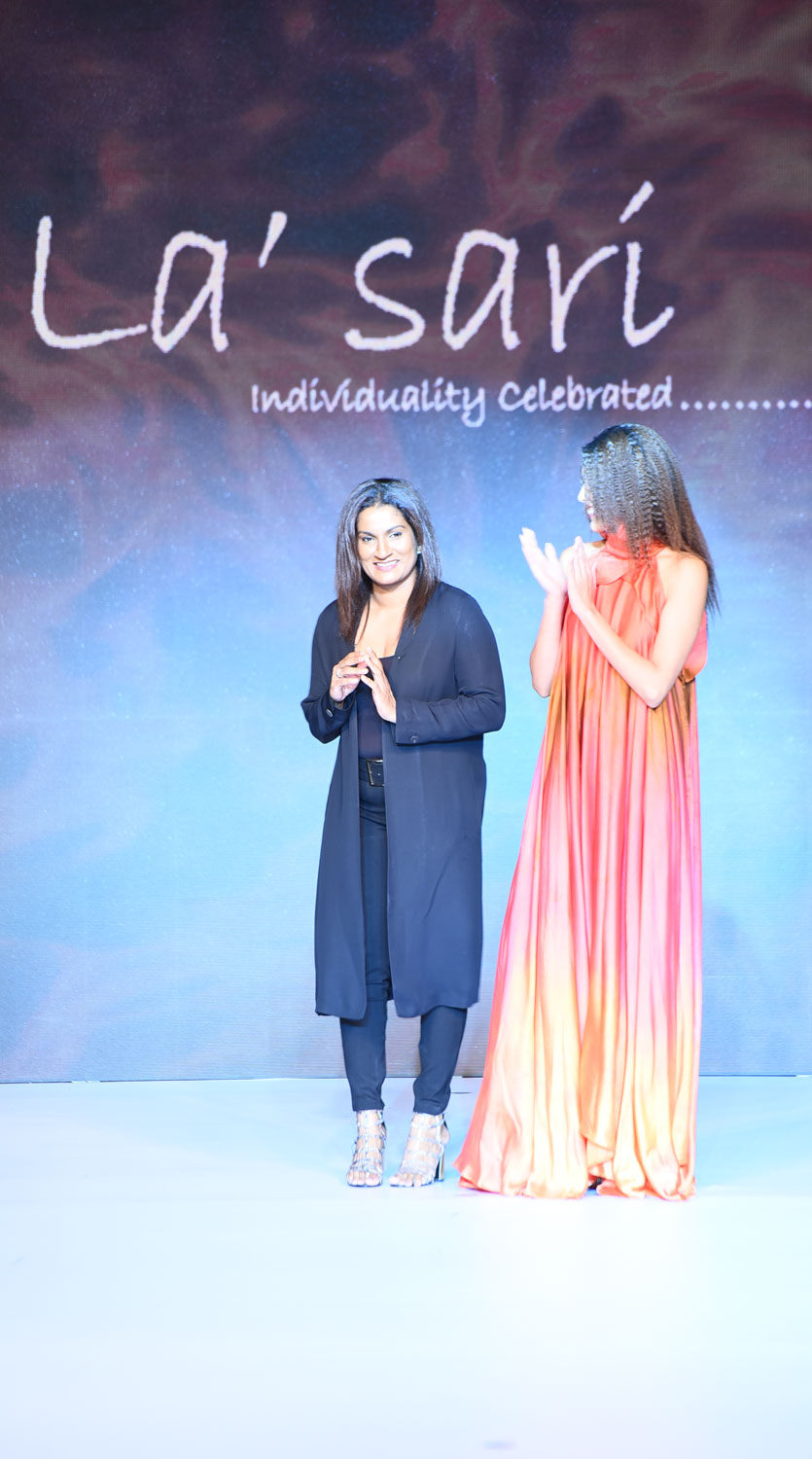 Merkai by Sharmila Ruberu
Where elegance meets comfort, Meraki stayed true to its style ethos of minimalism in its collection. Inspired by the architect Tadao Ando, Meraki presented an ensemble of muted colours of white, black and grey. All designs were made using a mid-weight satin fabric with a special focus on minimum wastage cutting. Her steel framed handbags in geometric patterns were a hit!
"As usual, it's great to be a part of CFW. I really liked Tadao Ando's minimalist and futuristic style and that inspired me to make this collection."
Amilani Perera
Amilani Perera is a ready-to-wear luxury fashion brand that juxtaposes chic styles with traditional Sri Lankan cultural motifs. Her brand is 100% cruelty-free and she uses premium vegan materials in her designs, making her brand a unique bespoke designer wear label in Sri Lanka. Her collection embodied the brand's signature look with the use of Sri Lanka's national bird 'Jungle Fowl' in geometric forms. The eveningwear collection featured lush silhouettes with pixilated prints and embroidery in earthy hues along military lines.
"This collection is designed to portray the strong yet sensitive side of the modern woman and the majestic jungle fowl symbolizes the resilience of the persevering Sri Lankan woman. I will also be donating the proceeds of this collection to projects supporting women lead households in areas directly affected by the war."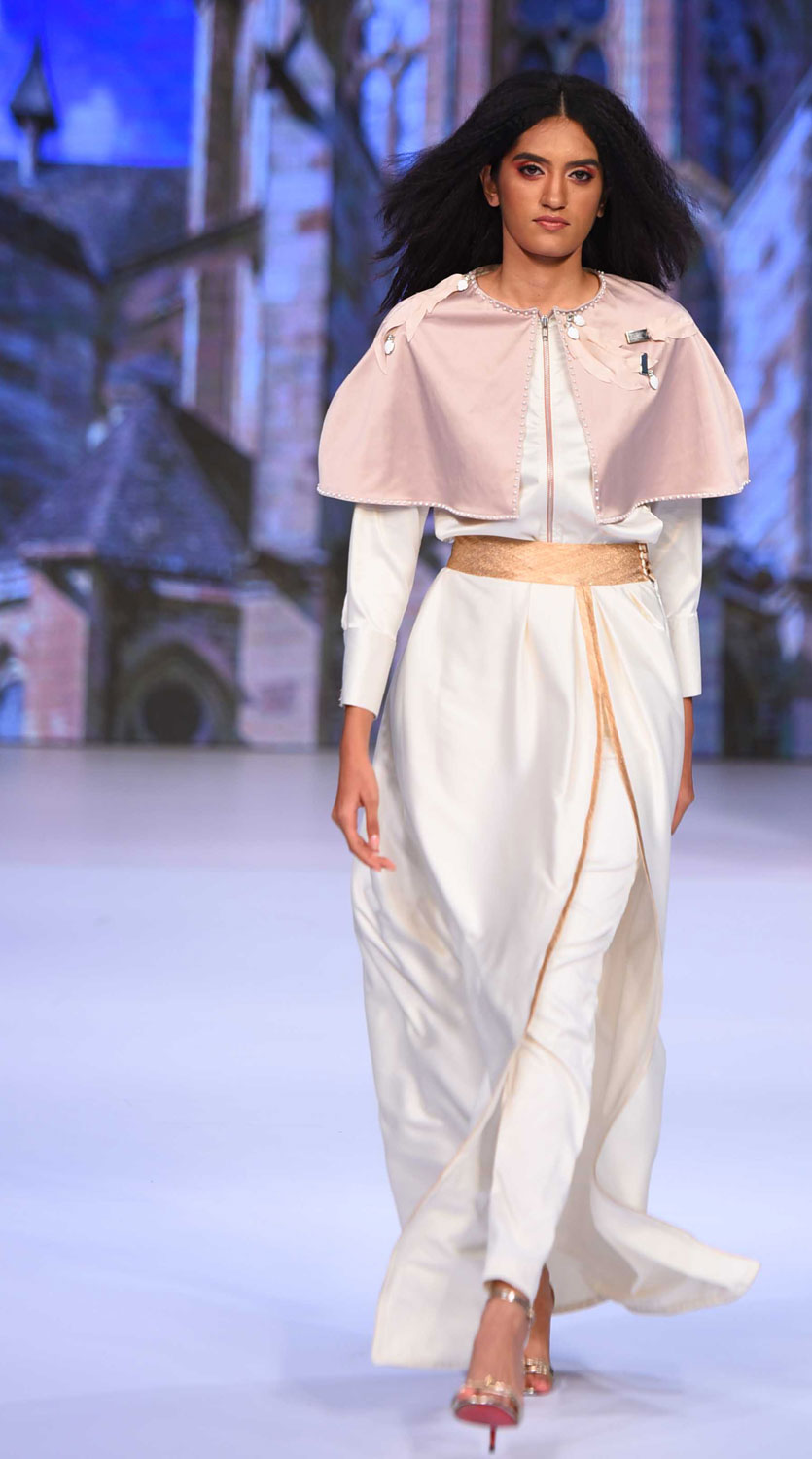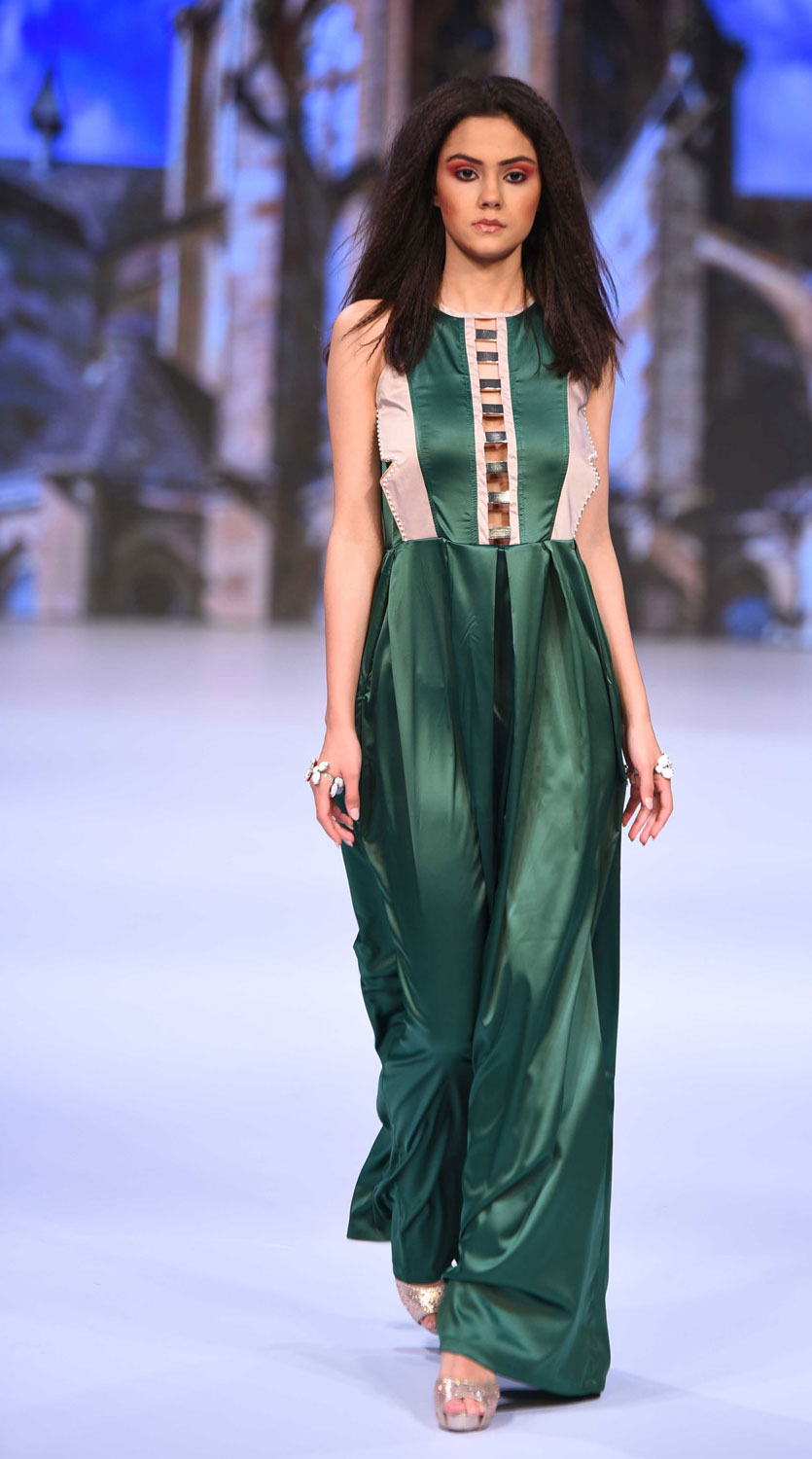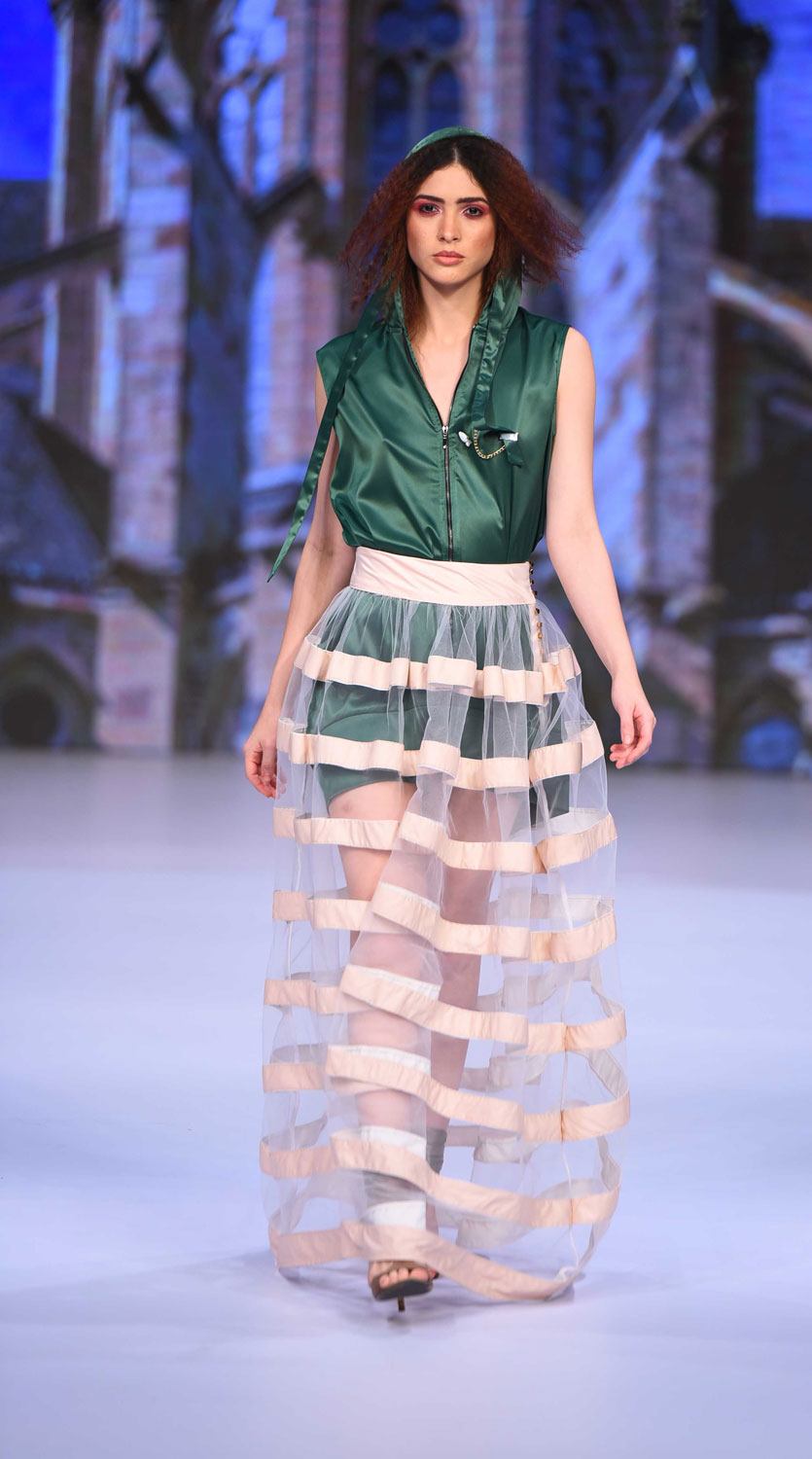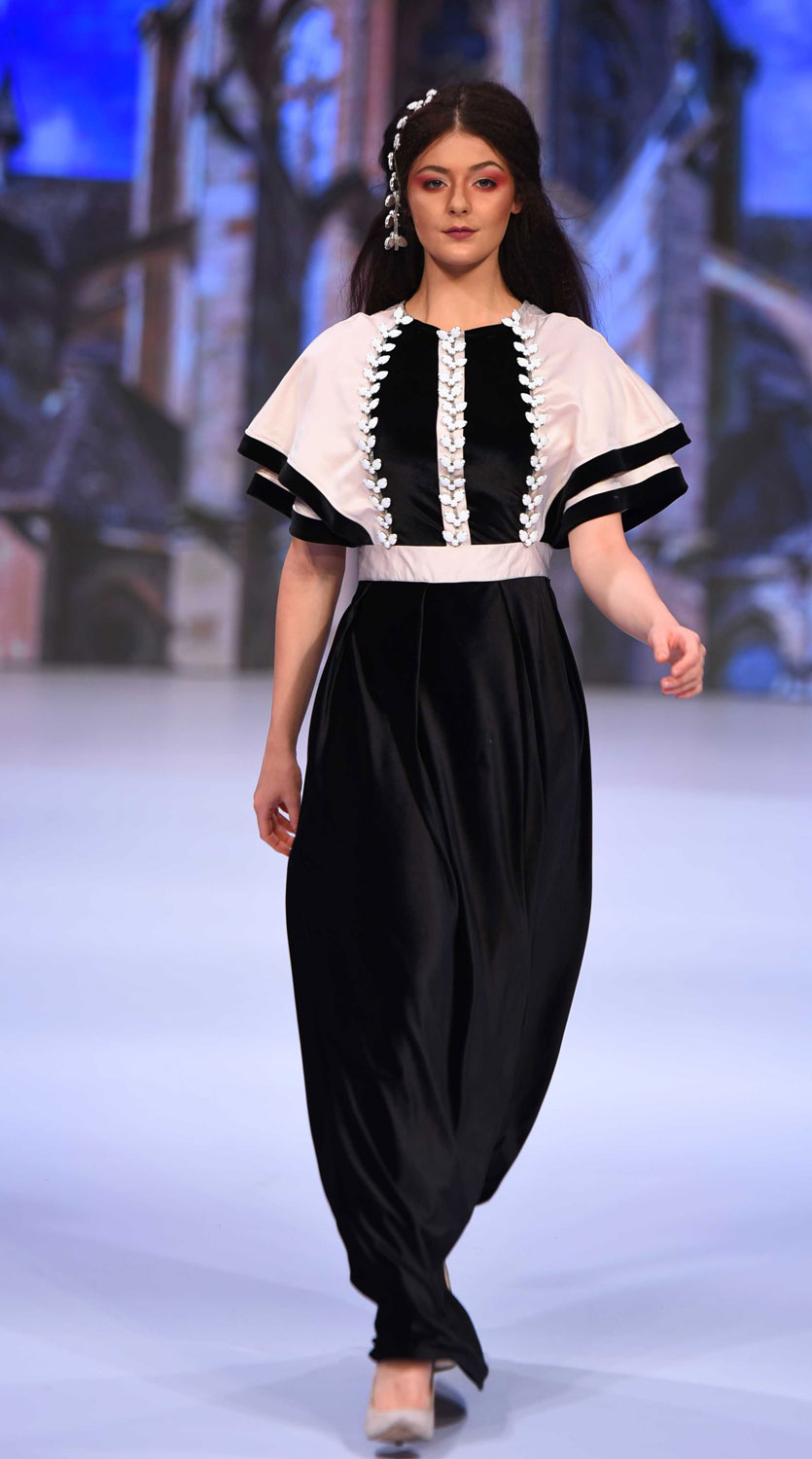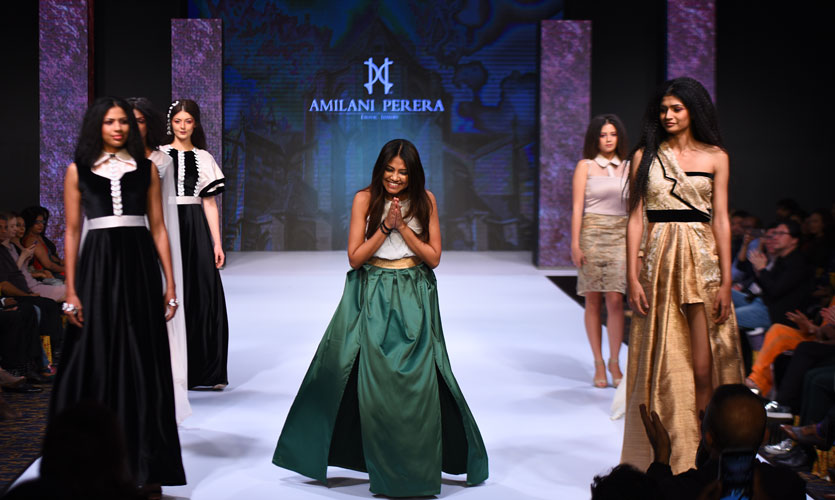 Jai by Jaish Jayasinghe
Launched in 2012 from the House of Aashkii, Jai is a brand that derives inspiration from Jaish's unique life experiences which are a reflection of nature's aesthetic. Her collection 'Rafiki' was inspired by her travels in Africa, transferring the wild into design. From feather patterns of the Congolese peafowl to the peacocks and the cheetahs roaming the jungles, Africa came alive on the runway through her creative use of prints, fabrics, and silhouettes.
"It was awesome! I feel so happy because everyone loved the collection and I worked hard on this beautiful collection. It was a fusion collection and I used camouflage prints to really highlight the theme behind the collection."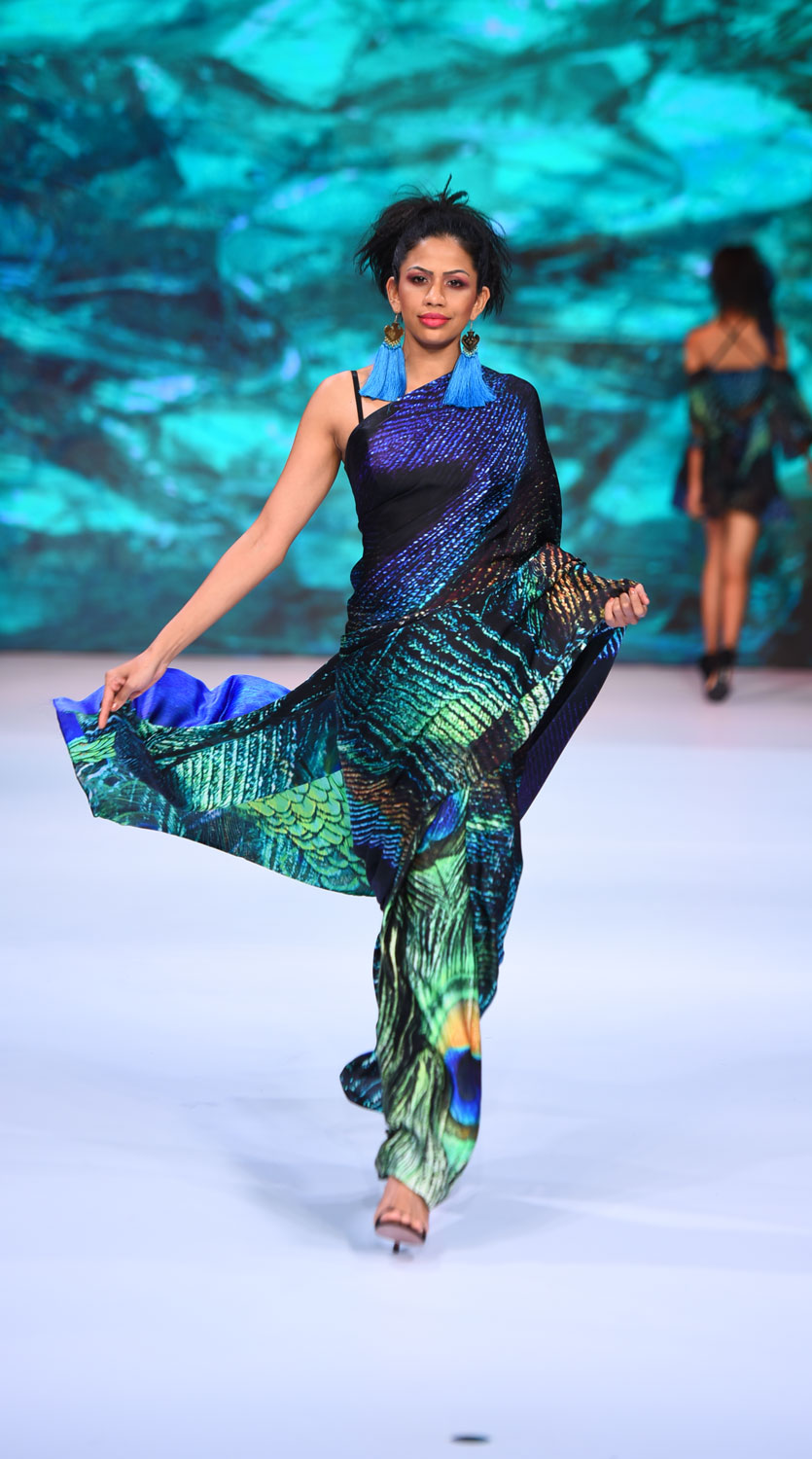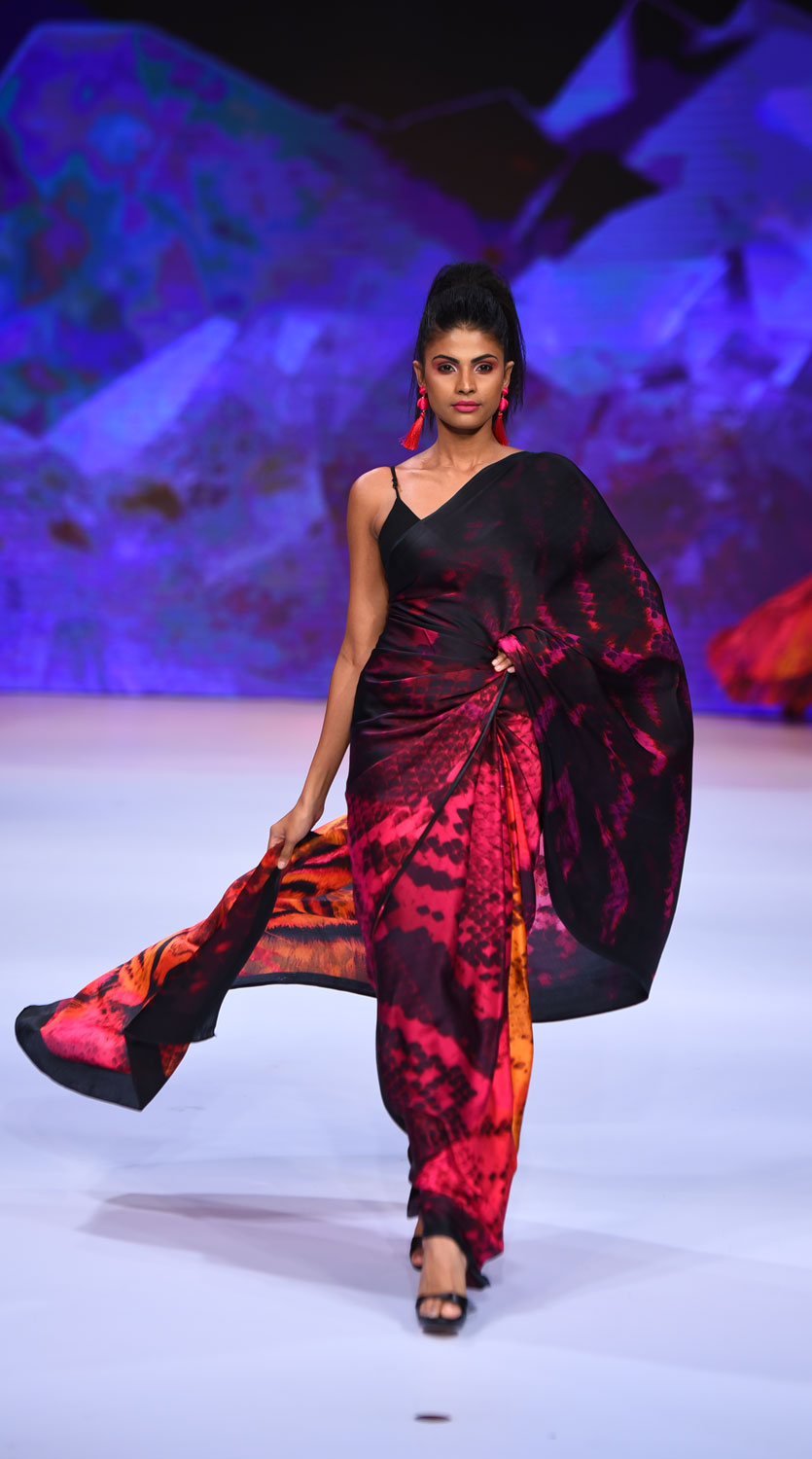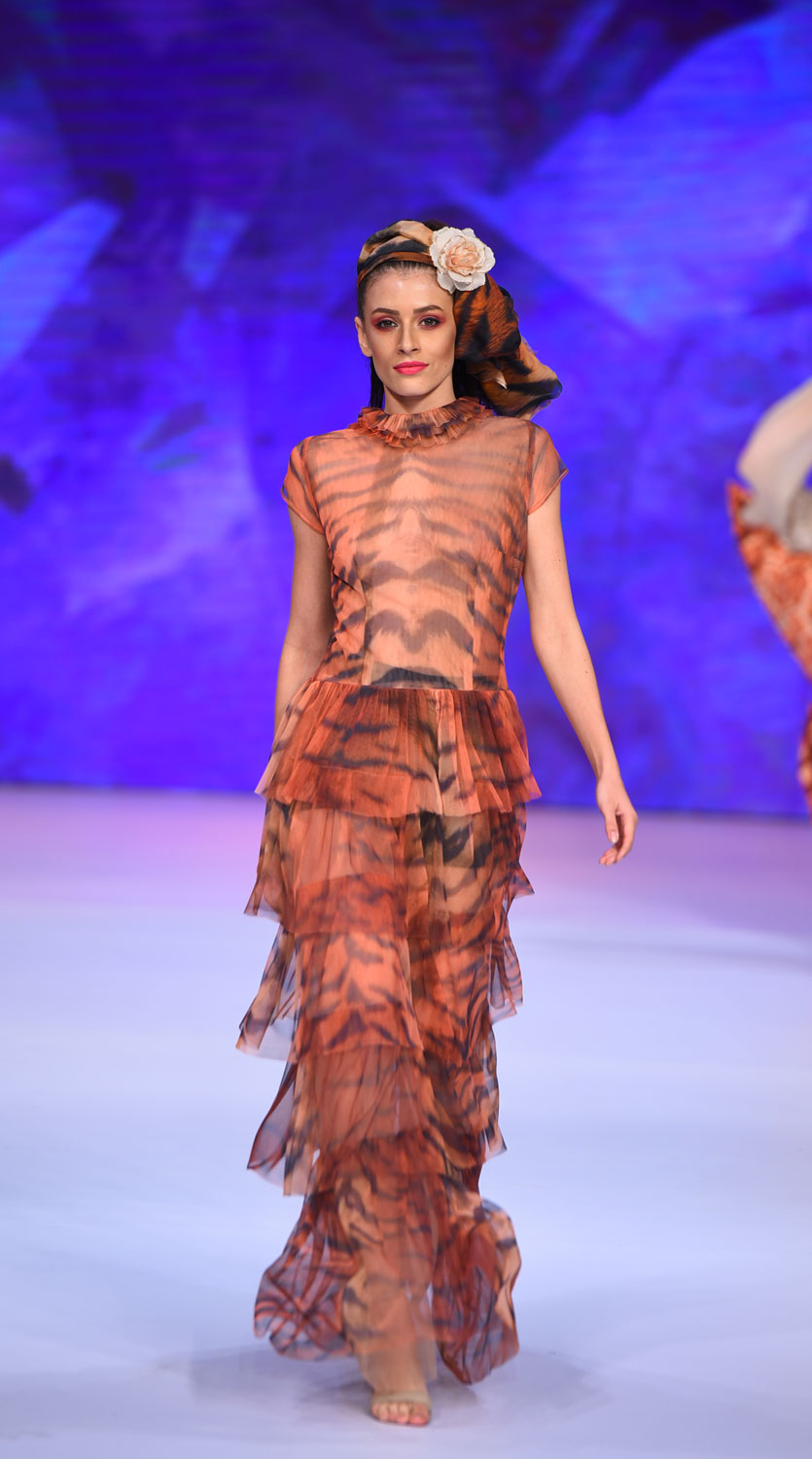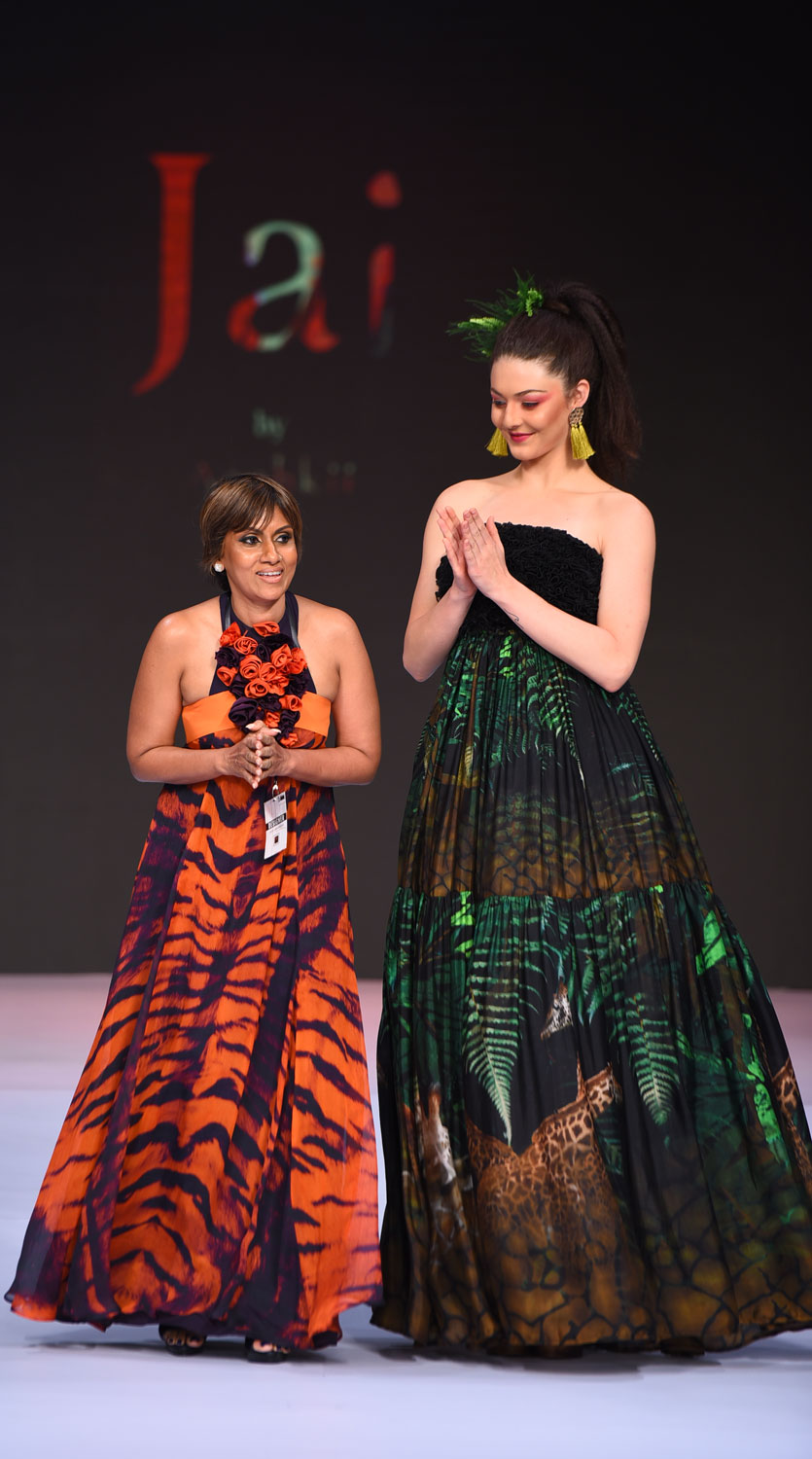 G by Gihan Ediriweera
A freelance fashion designer specializing in tie and dye art, he has been a part of CFW since 2012 and this collection marks his 7th for CFW. This year's collection drew inspiration from the movie adaptation of the fairy tale 'Cinderella' with colour palettes picked from different segments in the movie. Soft cotton blends met refined rayons as the runway explored in an ever-changing colour palette in off shoulder silhouettes. The pastel colours of yellow, pink and blue spun a fairytale on the runway!
"I'm excited. I really liked the collection; it was one of my dreams that became a reality. I wanted to make it simple, girly yet colourful."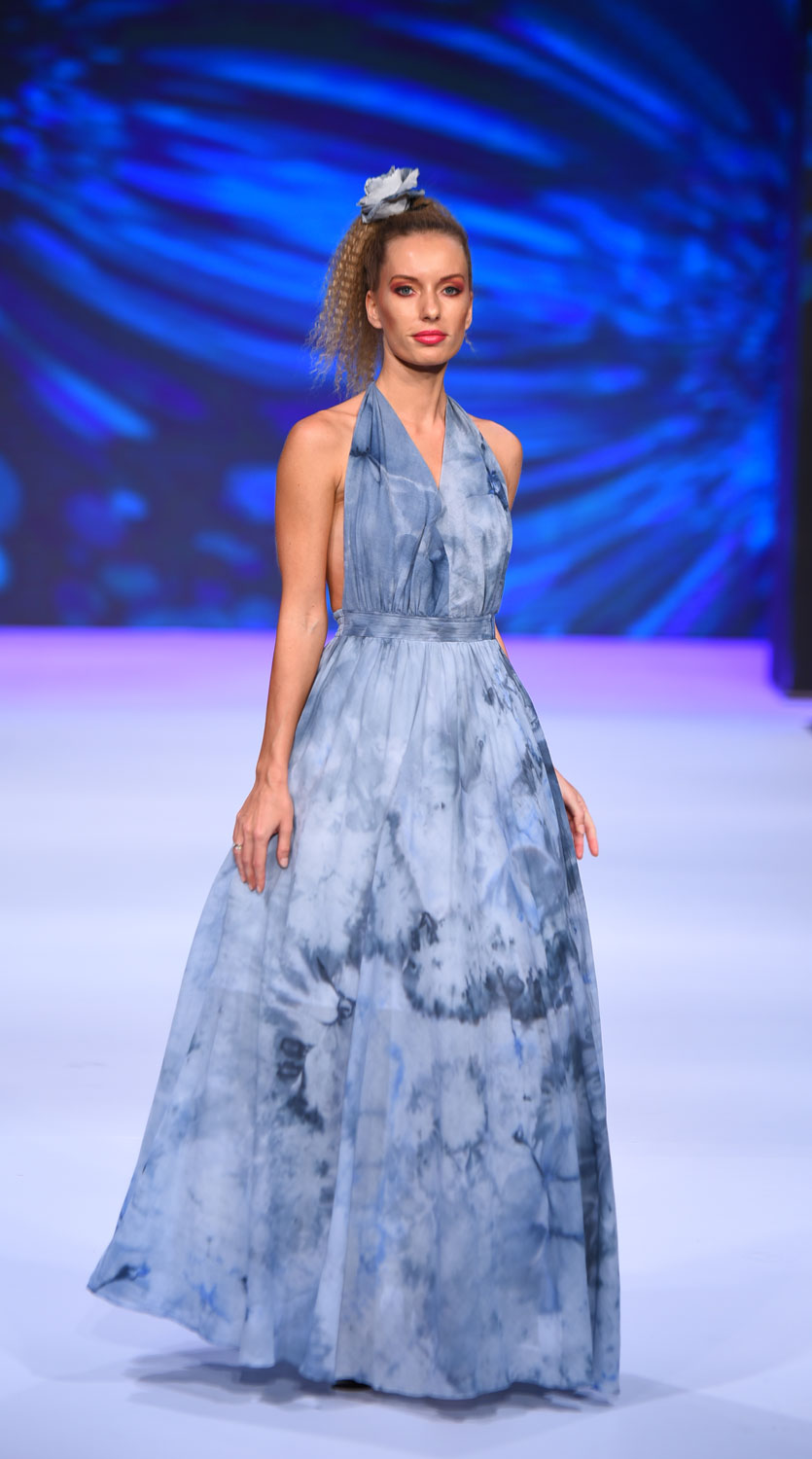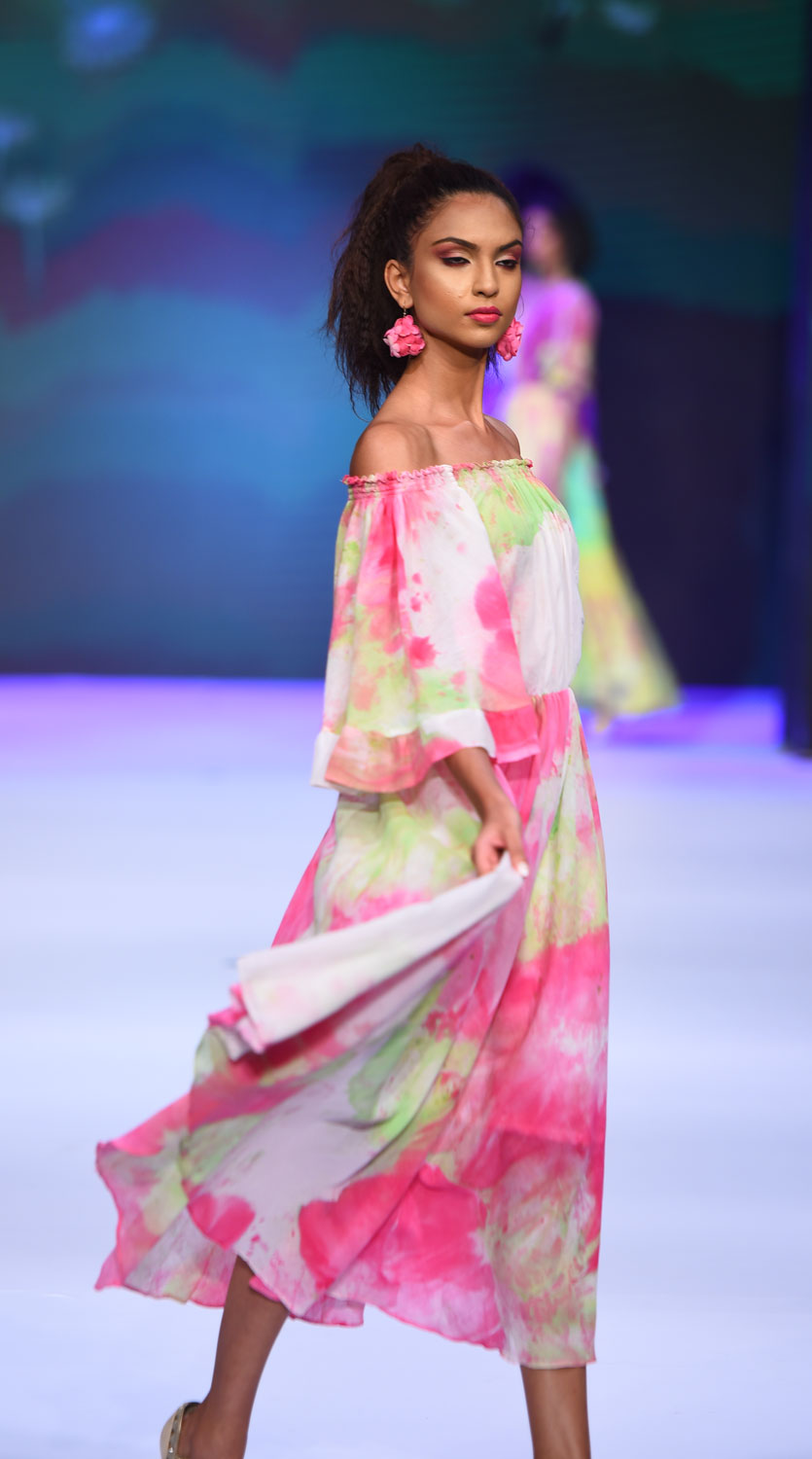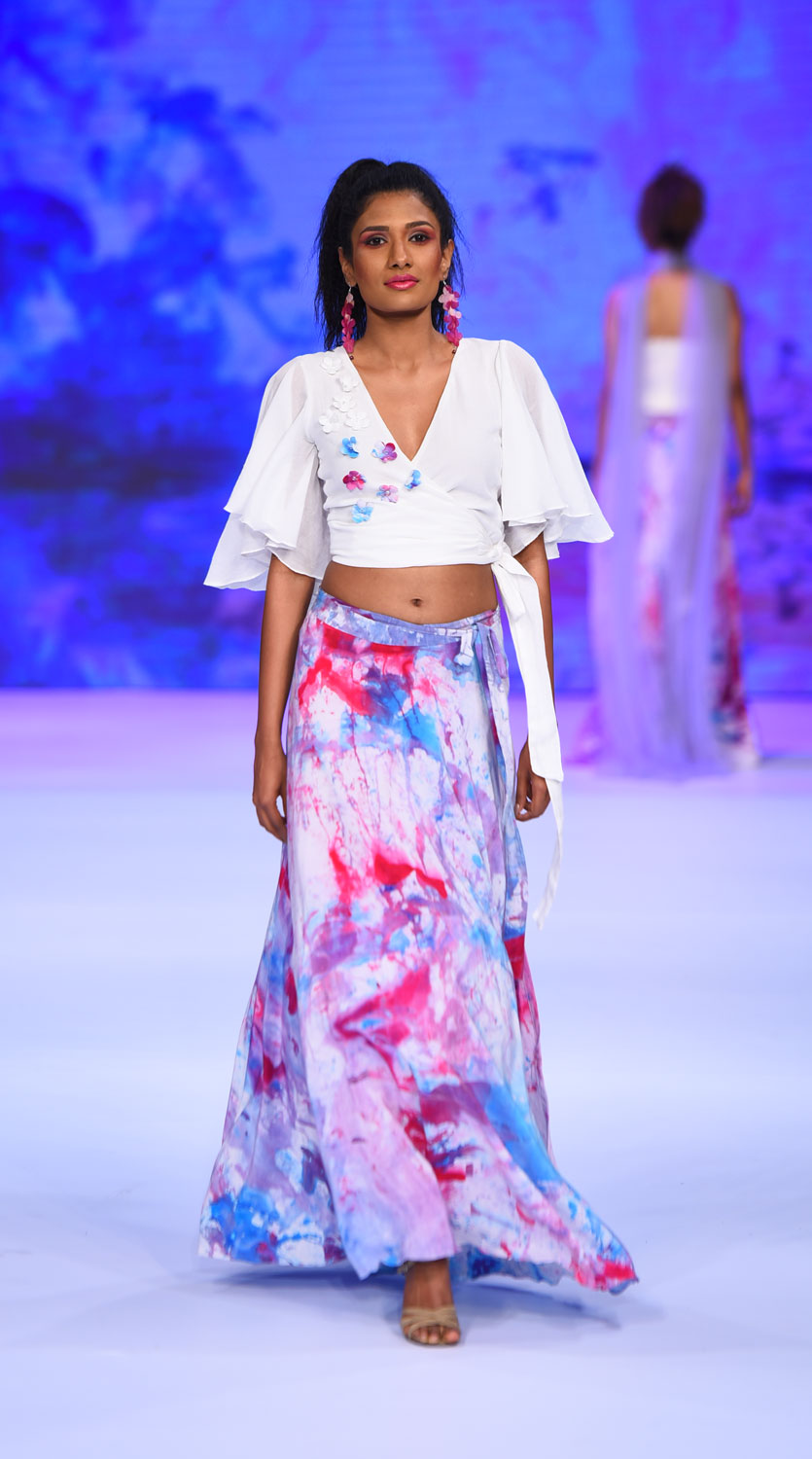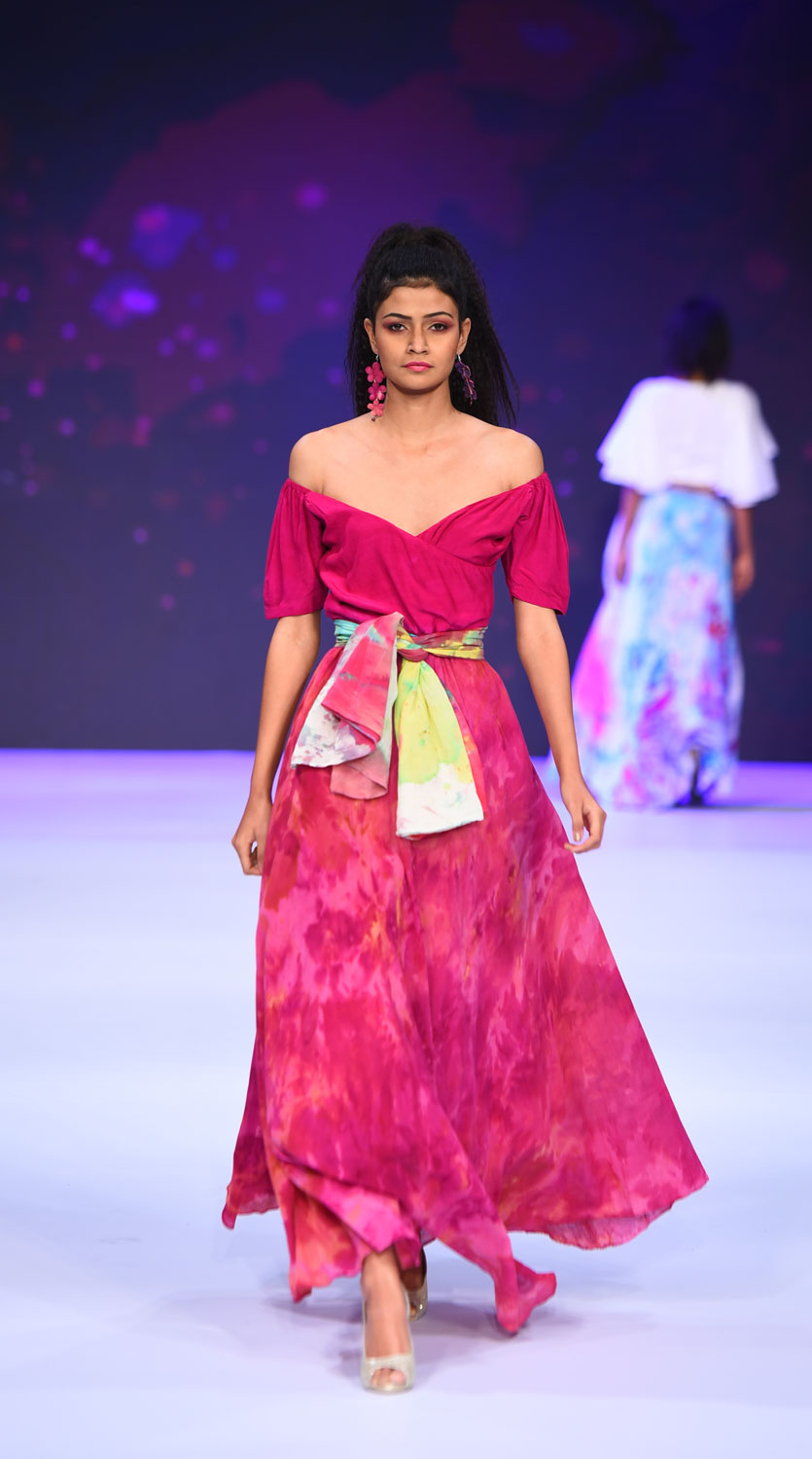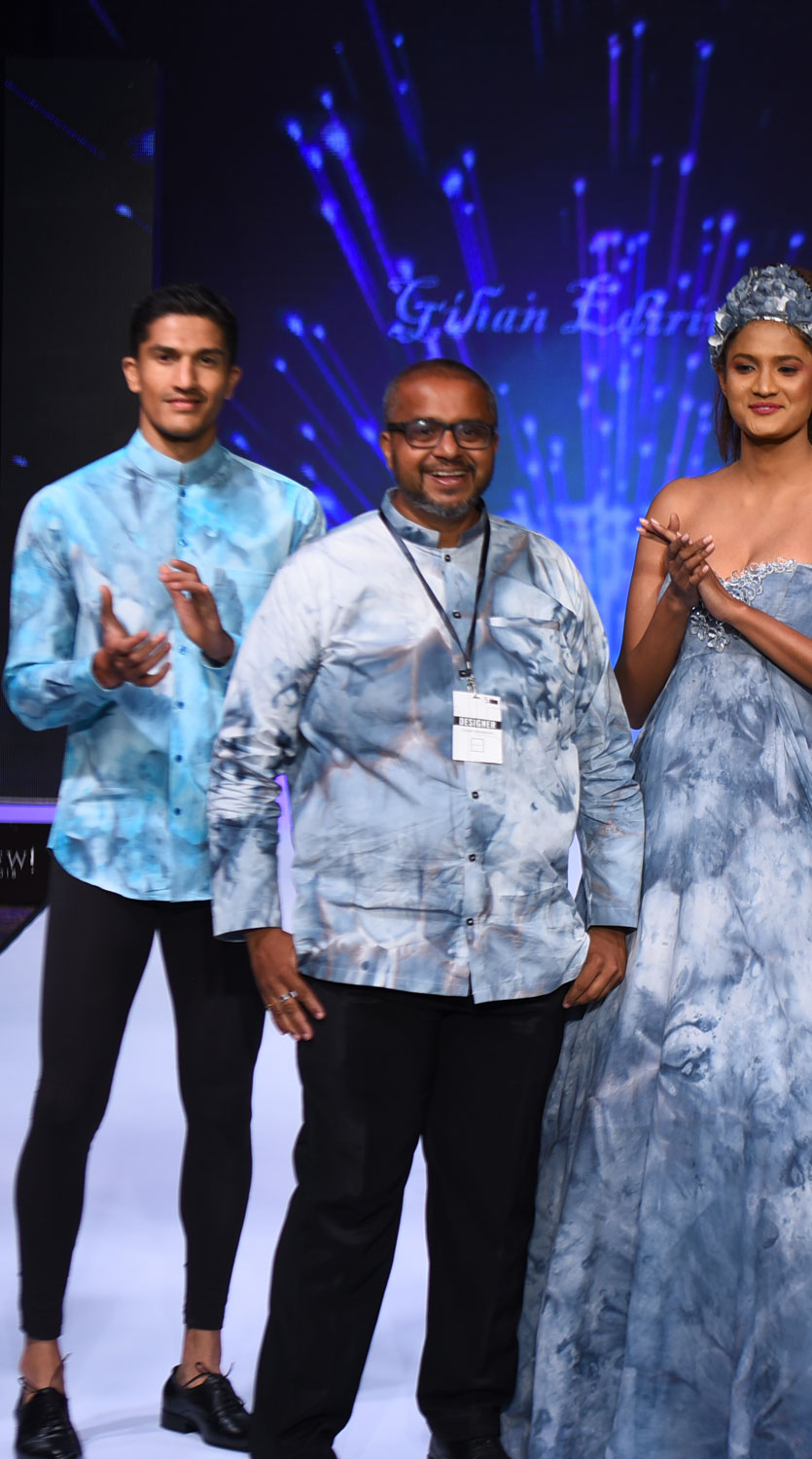 Aslam Hussein
Celebrating over 25 years of fashion, Aslam Hussein is the creative force behind Gee
Bees Designer Studio and is reputed to be among the best for creating stunning couture. His collection followed a white on white theme using luxe fabrics sourced from his travels overseas. Silks, organza, and brocade embroidered with dainty floral motifs have been transformed into fabulous haute couture dresses. Aslam's collection showed off the unique engineering skills he employs to create such fine structural gowns with features such as pleats, folds, exaggerated sleeves and asymmetrical hemlines.
"I'm really happy to have created some wonderful designs to impress the audience. I always believe in giving a brilliant first impression and I'm so happy to have presented the grand finale for Day 1"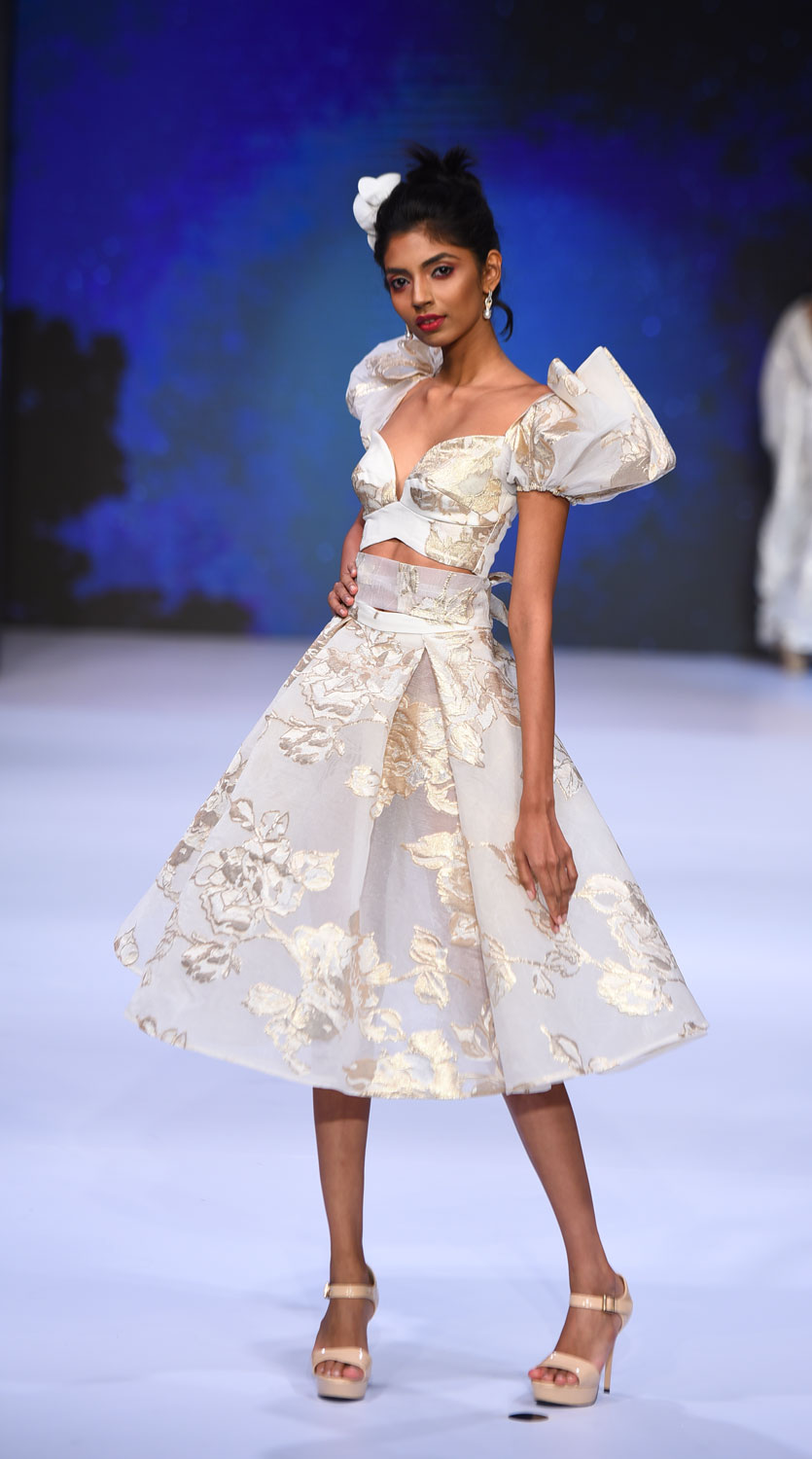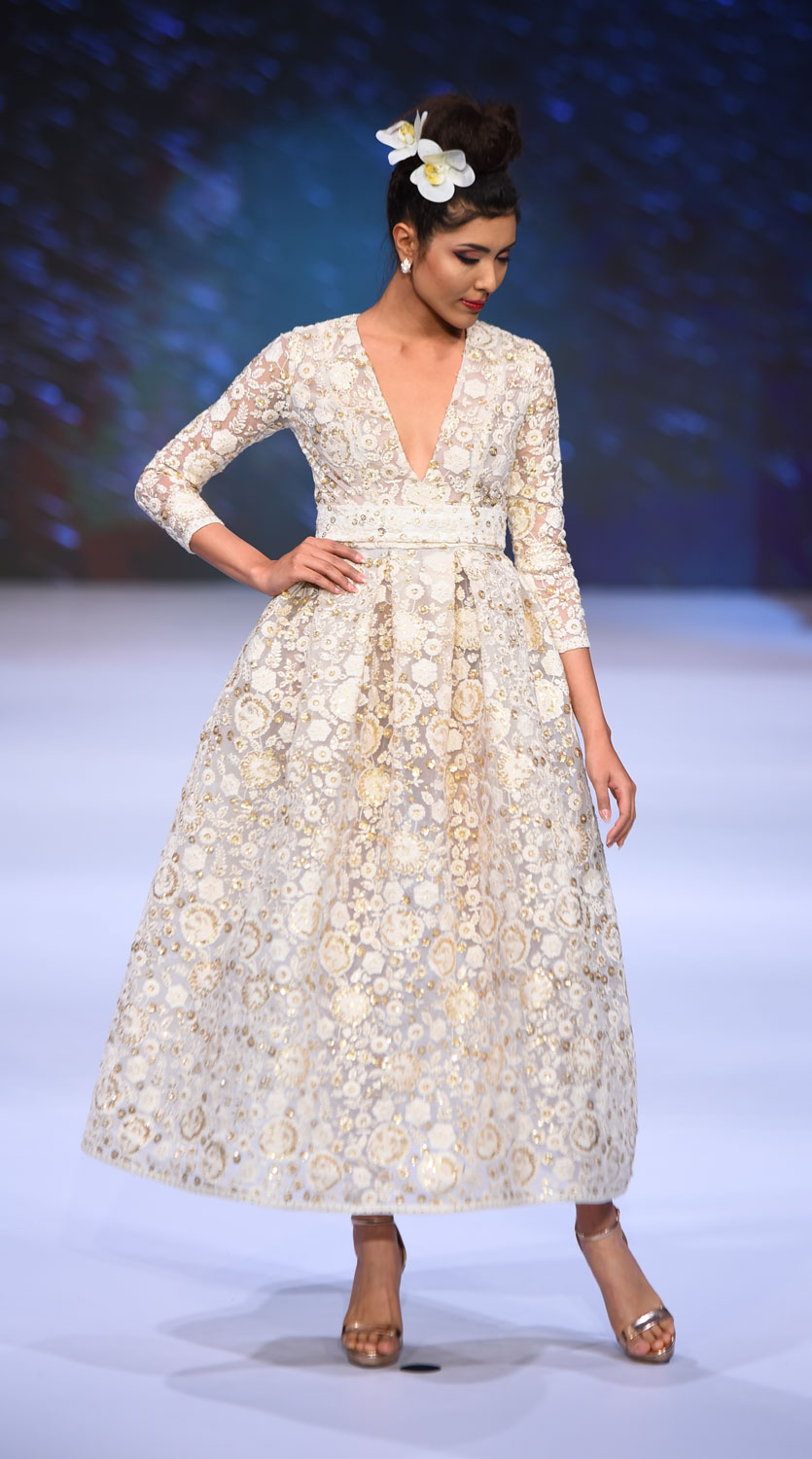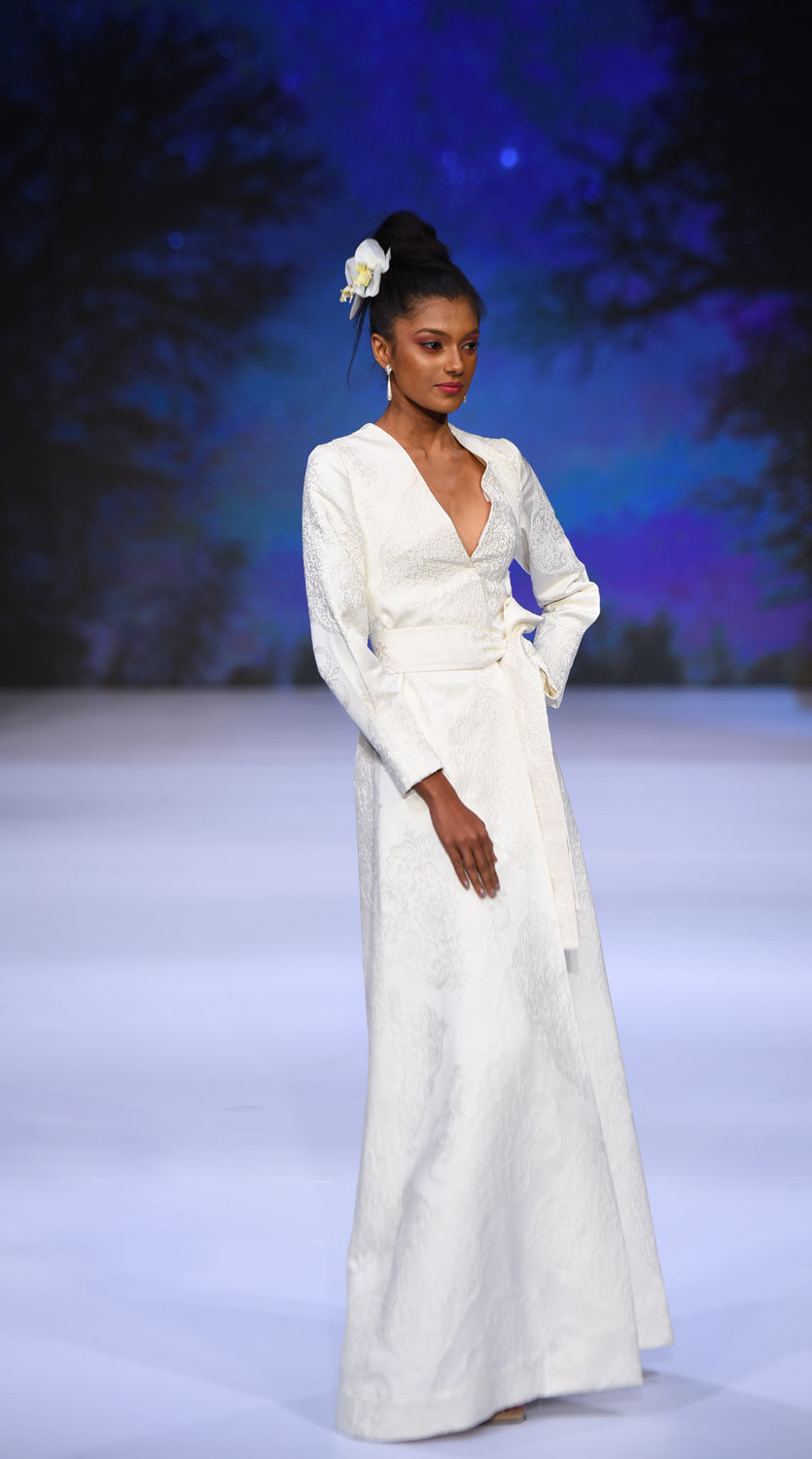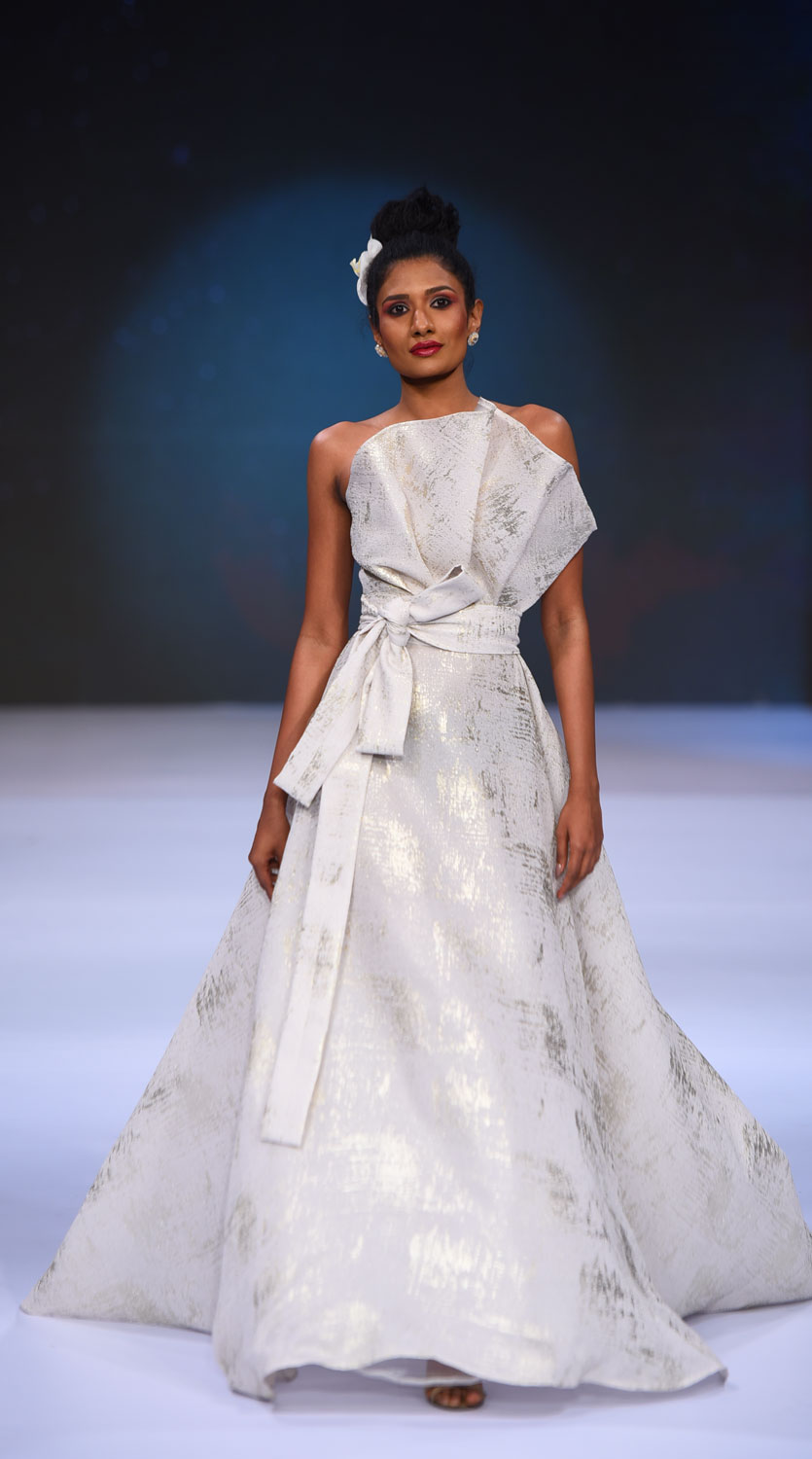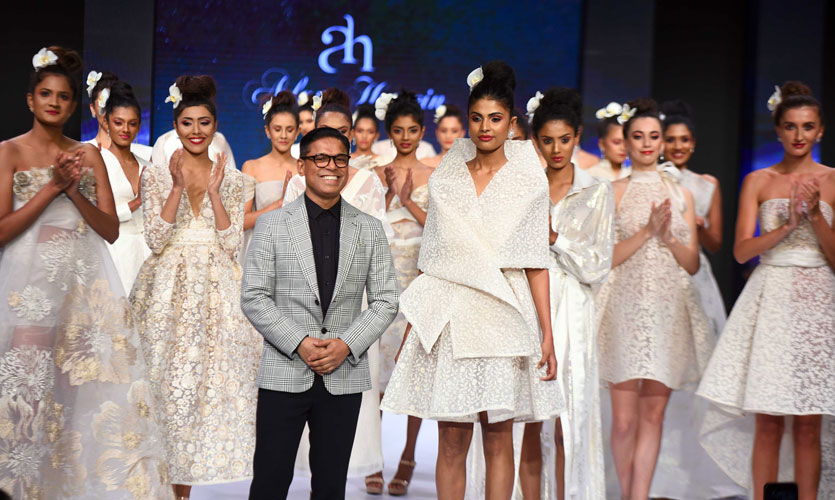 See all pics here: https://www.facebook.com/pg/life.lk/photos/?tab=album&album_id=1838577282827769
By: Panchali Illankoon and Tina Edward Gunawardhana