Mövenpick Hotel's ongoing ifthar promotion is all about encouraging diners to spend quality time together with family or friends to break fast with a host of sumptuous food. The Ifthar promotion is held at AYU, Mövenpick's all-day dining restaurant. We were promptly led to our tables where deseeded dates were laid out. We also had the option of ordering drinks - faluda and iced coffee - which is not typically included in their buffets.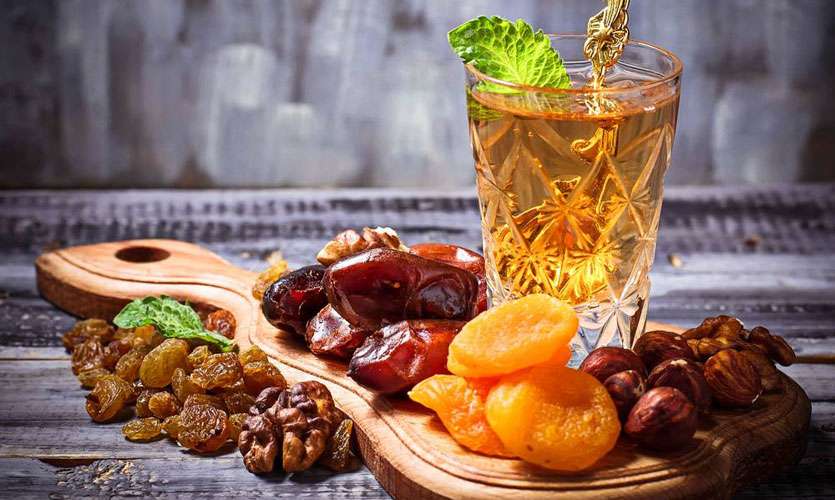 Salads
As always, the salad counters were full of both meat-based and vegetarian salads. This time around, as promised, there were more Mediterranean inspired salads. From Mujaddara, Moutabel, Hummus, Boiled beef tongue, Stuffed vine leaves, Sauteed chicken liver salad, Chicken with lentil salad, Carrot sambal and Pasta salad, we found ourselves spoiled for choice. On top of this, there was also a range of sushi and seafood, dried fruit, as well as Arabic bread and cheeses. While we loved most of the items here, our favourites were the moutabel, the flavourful sauteed chicken liver salad and chicken with lentil salad, and the seafood. There were also short eats - Rolls and Spring Rolls.
Mains
The mains section was largely mixed in terms of cuisine, compared to the salad section which included a lot more Mediterranean fare. The food here comprised primarily Italian, Indian, English, Mediterranean as well as Sri Lankan cuisine. The Breaded Fish Fillet with Caper Garlic Mayo and Garlic Mashed Potatoes were some of the mains we started off with and thought were pretty good. Also quite tasty was the Pizza, of which we would have loved to have more, but were too stuffed to go for seconds. Another fantastic item we would highly recommend is the Chicken Kebabs which were succulent, juicy and incredibly tasty! The Noodles added a much needed kick in our taste buds and was satisfyingly spicy enough. The Shawarma, Biriyani, Vegetable Tagine, Garlic Naan and Fish Tikka were also some of the other dishes on the spread we would recommend you try.
Dessert
The dessert range was as packed with items as was the salad section and we were truly spoilt for choice. Vermicelli Kheer, Date Cake, Coffee Panna Cotta, Custard Peach Crumble Tart, Signature Chocolate Cake, Raspberry Mousse Cake, Mahalabia, Cheesecake, Apple Jealousy, Coconut Peach Cake, Green Tea Matcha Cake and Baklava were a few of the dessert items that stood out! We were too stuffed at this point and could try only a few of the desserts. Of the few we tried, we loved the Coffee Panna Cotta, the moist Date Cake and Chocolate Cake, as well as the Cheesecake and Raspberry Mousse Cake.
The buffet is great for those who'd like to try Mediterranean cuisine because there's a lot to try! If you want to savour all of the food at the buffet, we'd highly recommend taking it slow and not rushing through the meal. There is also a prayer room available.
The Ifthar Buffet is priced at Rs. 2990/=
Contact: 011 7 450450
Facebook: facebook.com/movenpickcolombo/
Address: 24, Dharmapala Mawatha, Colombo.
Photo courtesy Mövenpick Hotel