In the plush setting of the White Drawing Room At Buckingham Palace re-elected Commonwealth Fashion Council member Ajai Vir Singh was one of 8 members that represent 53 countries, to have a private discourse with TRH The Duchess of Cambridge Kate Middleton and Sophie the Countess of Wessex along with Princess Beatrice before the Royals took center stage amongst hundreds of other big names in fashion at a reception hosted by The Duchess of Cambridge to celebrate the Commonwealth Fashion Exchange.
One of four members representing Asia at the Commonwealth Fashion Council Ajai received the distinct honour of being re-elected to the council. Invited to the palace in his capacity as a member of this prestigious organization, Ajai took the opportunity of his private meeting with the Royals to narrate Sri Lanka's fashion story and bring exposure to Sri Lankan Fashion Designers and Colombo Fashion Week.
Detailing his conversation with HRH the Duchess of Cambridge, Ajai had spoken about the progress Sri Lanka has made in fashion during the last fifteen years and the pride that has been built in Sri Lankan fashion labels in addition to young people confidently Choosing fashion as a career.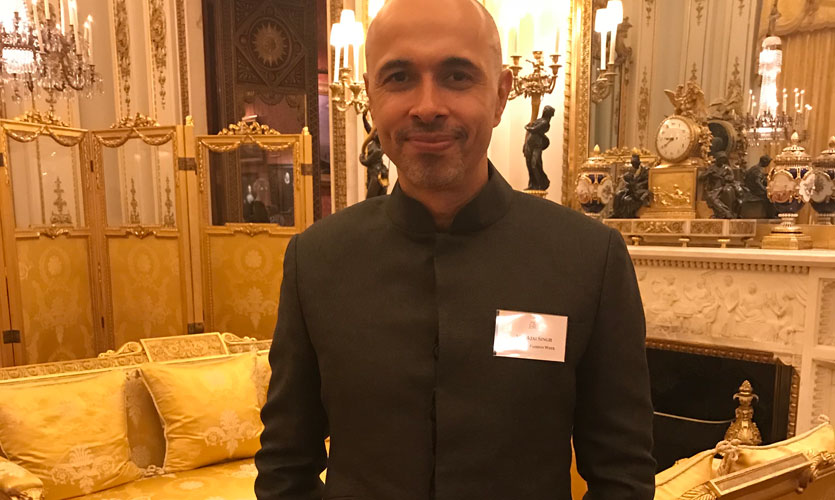 "The Duchess of Cambridge was interested to hear about the start of The Responsible Fashion Movement last year that is working on giving Sri Lankan fashion design a strong direction in creating a design identity which by nature is good for the environment and for the society. This is being implemented at school levels so that the next generation of designers get used to it since inception thus by creating a new norm, which is of global relevance"
he said.
"We also spoke on how the Commonwealth Fashion Council's role to create a common market place for ethical based products will set an example and how Sri Lankan designers are showing their products at Commonwealth levels which is just the start of an exciting journey"
Ajai added.
Speaking to Sophie, Countess of Wessex fresh from her recent trip to Sri Lanka Ajai had mentioned how a consistent momentum in the fashion industry in Sri Lanka now is moving in a direction to include the crafts sector to create unique products which also empower communities and artisans.
"This is another aspect that has the potential to make Sri Lankan fashion design create its own identify and stand strong. This is being encouraged through related projects and initiatives that complement the fashion design industry which can be further enhanced by exposure to the Commonwealth markets which are a unique opportunity. The commonwealth fashion council can further this benefit across the fashion design fraternity in 52 countries"
he had explained to her.
Fashion forward Princess Beatrice had been interested to hear about fashion in Sri Lanka creating an interesting fusion of western and eastern design sensibility which through an eco and ethical direction could be very unique to Sri Lanka along with the potential that can be maximised with exposure.
Also present in the White Drawing Room were Dame Anna Wintour, Livia Firth and Daniel Hatton. Director of Commonwealth Fashion Council.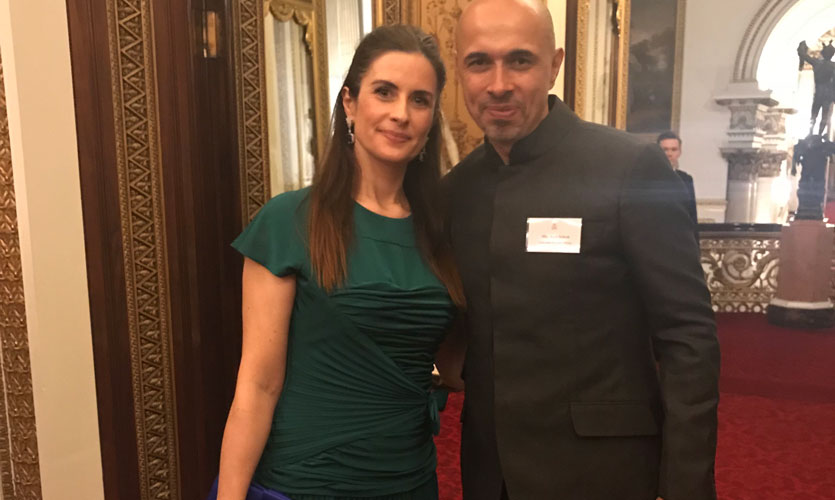 The one on one conversations with the Royals enabled Ajai to explain to the royals the way in which fashion is heading especially with the Duchess of Cambridge who has lent herself to supporting the cause of sustainable fashion.
After the private discussion the royals and the council members joined the rest of the fashion royalty which included Designer Stell Macartney , Bibi Russell and Karen Walker along with other designers from 53 Commonwealth countries in addition to Suzy Menkes, Edward Enninful and a host of VIPs to view an exhibition of creations by 53 designers from the commonwealth.