The SOSL's much-anticipated POPS concert takes place on September 15th and 16th at the Bishop's College Auditorium. This hugely popular annual event on the SOSL's calendar is one of those special occasions where you may hear your favourite pop and show-tunes performed in orchestral technicolour.

SOSL POPS is directed by Dushyanthi Perera, who has over the past few years guided the SOSL to outstanding performances, both in the fields of classical and popular music. Her musical insight, communication and energy have inspired musicians and spectators alike.

As in years past, the POPS programme is drawn from classic film scores, Broadway shows and popular contemporary hits. Some of this year's more colourful highlights feature the undeniably feel-good music from the Lion King, selections from Lloyd-Webber's Phantom of the Opera, and My Way, the hit song written by Paul Anka for his friend Frank Sinatra.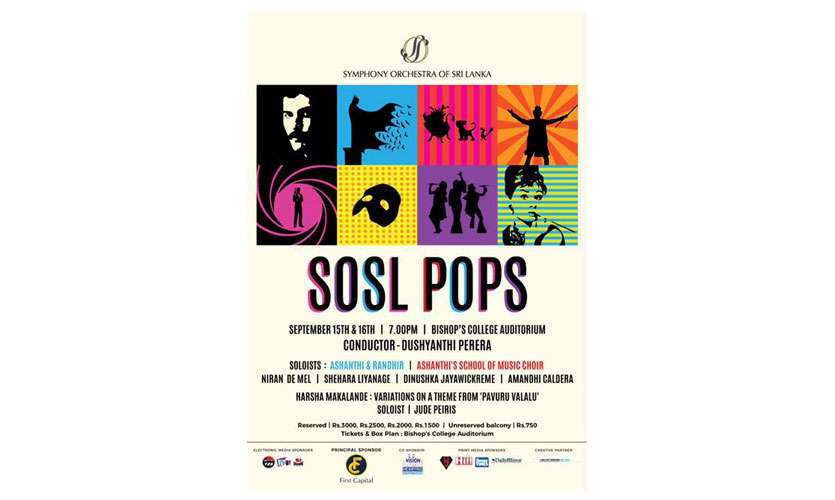 The blockbuster movie "The Greatest Showman", based on the true story of P.T. Barnum, will be featured through a musical montage of the film's songs, including This is Me & A Million Dreams.

Also memorable are the themes from the Dark Knight Rises and 007—the one menacing and atmospheric, the other evoking images of the suave and magnetic spy with a penchant for supercars and beautiful women. Adele's hit song 'Skyfall' from the 007 movie of the same name is yet another attraction this year.

Henry Mancini's evocative music will also be featured at this concert, songs like Moon River conjuring the iconic image of an elegant cigarette-holder toting Audrey Hepburn from Breakfast at Tiffany's, while the rollicking Baby Elephant Walk and the Pink Panther hold places of special nostalgic significance in the hearts of a whole generation.

Harsha Makalanda's Variations on Themes from his score to the film 'Pavuru Valalu' is an exciting new addition to the Pops programme.

The Pops concert has traditionally featured some of Sri Lanka's most talented singers and this year is no exception. Shehara Liyanage, Amandhi Caldera and Dinushka Jayawickreme of Soul Sounds fame will take the stage to charm you once again with their sheer talent and versatility. The SOSL POPS audience will also be delighted by the presence of Ashanthi & Randhir, no strangers to most Sri Lankan audiences, who will entertain with their charismatic version of The Lion King, backed by the singers of Ashanthi's School of Music. They will also perform a medley from Mamma Mia, the smash hit musical featuring the music of ABBA.
This is a show not to be missed!!!