Today for Fashionably Danu, we went back to an old English town evoking exquisitely crafted suits from 17th-century British royalty and brought out through a contemporary look at Kingsman.
Kingsman is a brand that triggers the nostalgia of the sartorial British revolution of suits for the modern gentleman.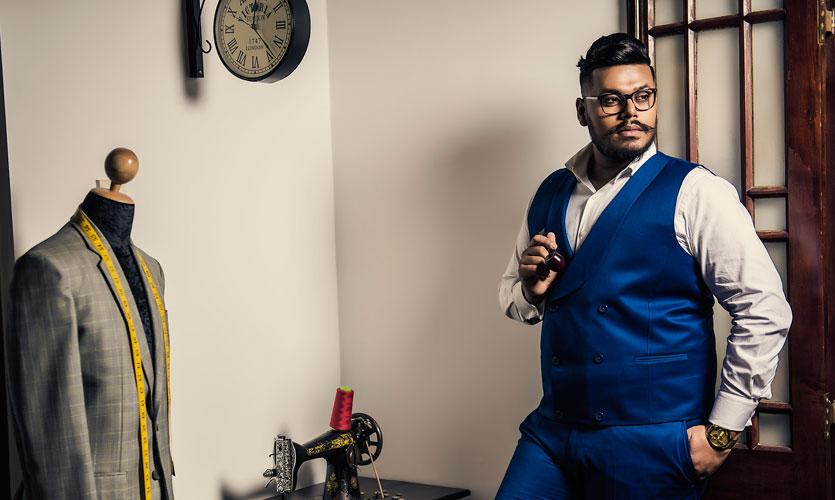 From the time I walked in, it was a unique suiting experience that meticulously aligns to your individual requirements. Each suit is crafted gradually through a process of consulting, measuring, fabric selection, sewing and trials.
The young man who is the brainchild for this brand is Abdullah Aslam who is soft spoken but has a sharp eye for fine details, he has a varied background ranging from Economics to Management to E-commerce, which culminated in the Kingsman Studio on 28/10/2017.
5 months to the day they opened, I take a look at the quintessential gentleman's brand: 'The Kingsman'.
1. Is the name inspired by the movie Kingsman?
Yes to an extent it is. The movie was shot in one of the most renowned Savile Row Tailors in the world and the suits they had crafted for the movie inspired me. Additionally, I wanted a name that would easily resonate with Suits, British and the essence of a Gentleman. The brand Kingsman now triggers the nostalgia of the sartorial British revolution of suits for the modern gentleman.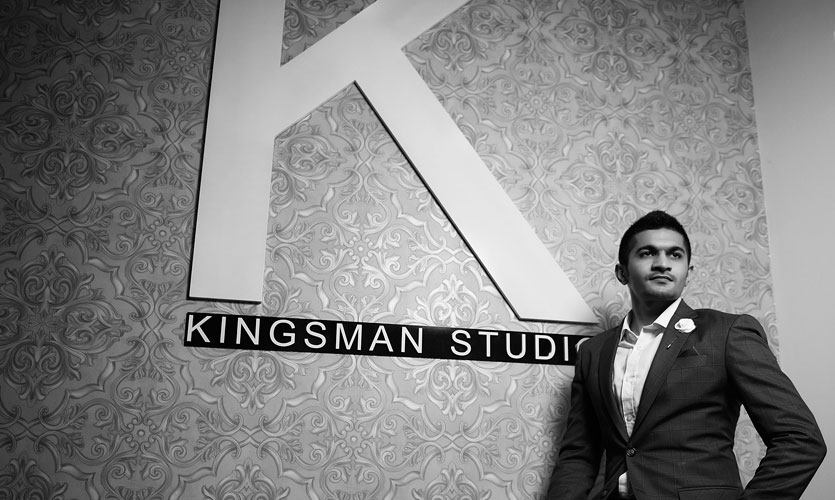 2. What made you take up men's wear, as many don't make it their number one choice?
I am passionate about men's fashion and Sri Lanka has minimal options available for men. I personally feel that not enough is being done in educating men on personal style and fashion.
3. What are the looks you have featured on me today?
The five looks we have today are paired with accessories from www.ajsrilanka.com to really blend your personal style and the sartorial elements of British suits.
Burgundy Peak Lapel Suit with a ticket pocket and Decorative Stitch for extra detail along with white shirt, a blue floral tie and gold reindeer lapel pin. To further personalise it, your name has been monogrammed inside the suit jacket with grey paisley lining. We have also given you a grey buttonhole contrast on your left jacket sleeve, which is a sign of a personalised suit.
Burgundy Jacket mixed and matched with a grey small-checked pants along with a black shirt and black pocket square for a casual look.
Beige Checked Notch Lapel Jacket mixed and matched with Royal Blue pants along with a sky blue shirt and a royal blue suede tie. The checked pattern has been inverted on the pocket flaps as a twist on the jacket. The jacket has been personalised with a monogram of your initials with blue paisley lining.
Classic Shawl Lapel Double Breasted Royal Blue Waist Coat with matching pants.
Brown small checked pants with a side tab and a coin pocket paired with a white shirt.
4. The cut is what makes a suit stand out, how do you ensure that Kingsman gets the perfect fit?
At Kingsman Studio, we give our clients a suiting experience, which consists of four aspects that helps us achieve the perfect fit for every deserving gentleman:
Precise measurements by our experienced Master Cutter

Construction of Custom Pattern Blocks for every client instead of using standard pattern blocks

Superior Fusing fabric sourced to ensure better fit and longevity

Personal attention, multiple fittings and consultation sessions to get it right
5. How would you describe your personal style?
I am into timeless classics. Mygo-to-look is a crisp white rolled up shirt with navy blue formal pants paired with a tan brown leather belt, tan brown oxfords and a brown Daniel Wellington dress watch. I also have an obsession with checked fabrics, which is back in style.
With regards to suits, my signature style is a Peak Lapel checked suit with a decorative stitch for extra detail and a buttonhole contrast.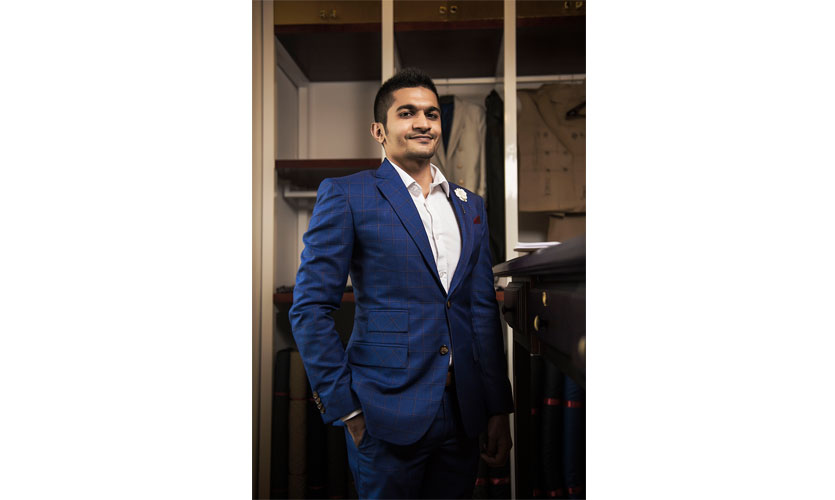 6. What are the customizable features that you provide?
Apart from standard customizable options such as fit, lapel types, lapel size, vents, pocket types and angle, buttons and wide range of linings to choose from, we also offer:
Complimentary monogram of your initials inside every suit jacket. Option to get your full name or a phrase embroidered instead of your initials also available as an extra option.
Complimentary Buttonhole contrasts for a personalised touch. The first buttonhole on the left jacket sleeve can be contrasted.
Decorative stitch: a hand sewn stitch which runs across the entire suit for added detail.
Functional Buttons/Surgeon's Cuff: Jacket cuffs with functioning buttons so the cuffs can be unbuttoned and rolled back like shirt sleeves. This is a sign of a carefully crafted high-end suit.
Pants with a side tab instead of belt loops, which is a classic touch.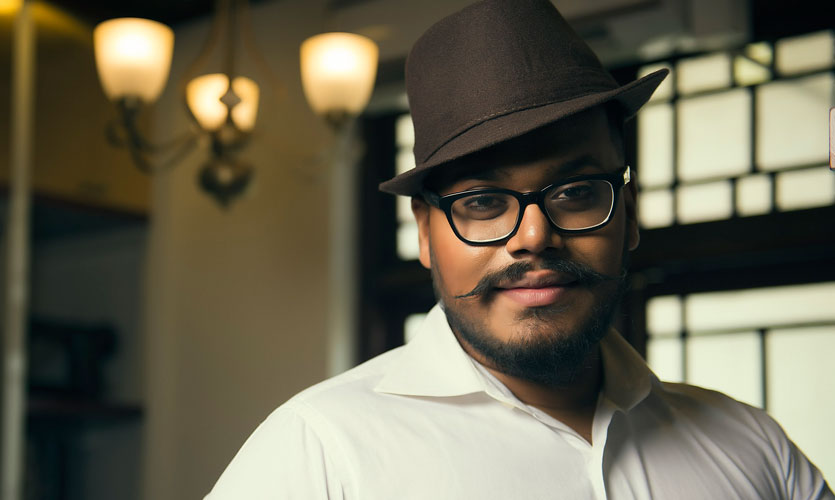 7. Your showroom has a unique look and feel to it, what made you design it like this?
Having been inspired by British Vintage architecture and my love for antiques led me to this design. One of my best friend's, Sarala Perera who is an architect helped me execute my vision.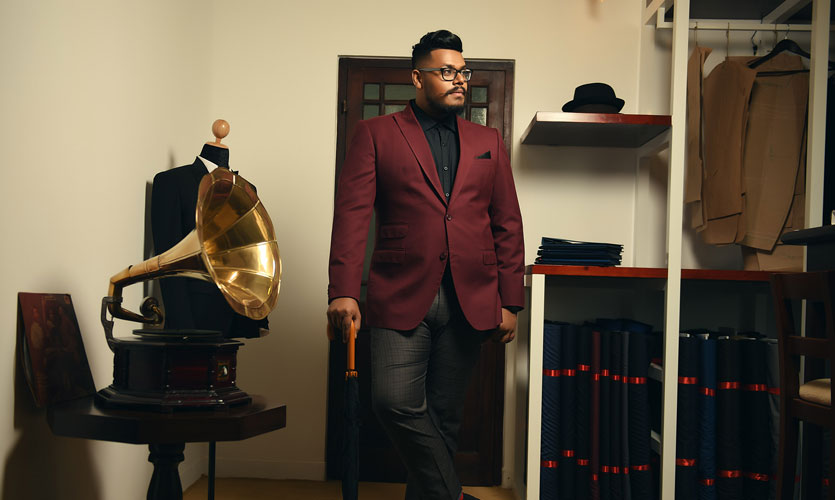 8. What according to you is your favourite part of being in this industry?
Every suit we craft is different and that's what makes it exciting.
9. Why should a gentleman pick you for his suit?
Apart from providing a unique suiting experience environment we are convinced that a tailored suit is an investment. We at Kingsman Studio are obsessive about attention to detail and craftsmanship so we ensure that you get a quality suit for your investment. Every Kingsman suit or pants that is stitched undergoes a strict quality process.
Additionally, each suit that leaves our studio is unique in its own way and reflects the wearer's personality through the unique customization options we offer. We take time to work on your suits and pride ourselves in that.
10. What is the process of creating a suit?
First, we start off with a one on one consultation session where different suit styles, customization options and the different fabrics available are explored. Styles are then recommended based on which best suit, your body type, and occasion.
Once the style options have been confirmed we move on to the measurement phase with the master cutter. Precise measurements are taken and the posture is assessed taking into consideration any unique requirements of clients.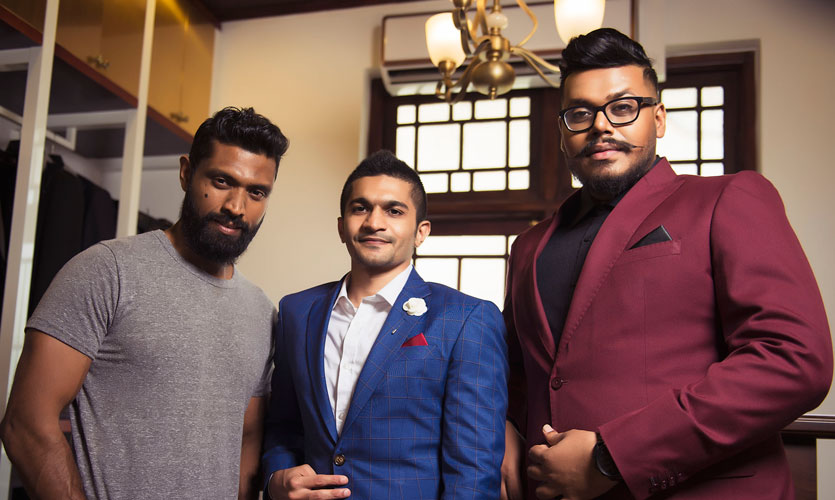 After the master cutter has everything he requires, a custom pattern paper block is constructed for the body type. Thereafter fabric is cut and preparations are made for the baste fitting at which we can see the overall fit and silhouette as the fabric is loosely held together with basting thread. Adjustments are made if any and a final fitting is scheduled. The suit is then delivered at the final fitting unless a further alteration is required.
Social Media
Facebook: http://www.facebook.com/kingsmanstudiosl
Instagram: http://www.instagram.com/kingsmanstudio
Designer – Abdullah Aslam
Photographer – Arantha