Introduction
Pramodya Indeewara adapting Kandy as his hometown and heritage studied at Dharmaraja College Kandy. Whereas, his parents were into the relevant professions of Mother a High School teacher and Father a business-man. Being the younger of the two elder siblings he is very sentimental towards the family. Pramodya is always grateful to his family and friends Dumindu, Nimna,Chavini and Sachin) who played a great role in his college life by reliving his stress, along with the immense support from Karen Macleod (Principal of AOD), throughout the entire course.
Background

Questioning about his Final Year Collection Pramodya had the immense interest towards video games and thriller, action movies which paved him the pathway to produce the collection of "Men's Outer Wear" inspired by "Assasins Creed" and "Renaissance Armour" to create a concept design of giving the wearer a feeling of thrill and fictional adventure in reality, in turn gave him a positive response in the runway show. The love towards Pramodya's school life, being a very good art student led him to win the "Premadasa Velianga Memorial Award" for mastering art at a very young age.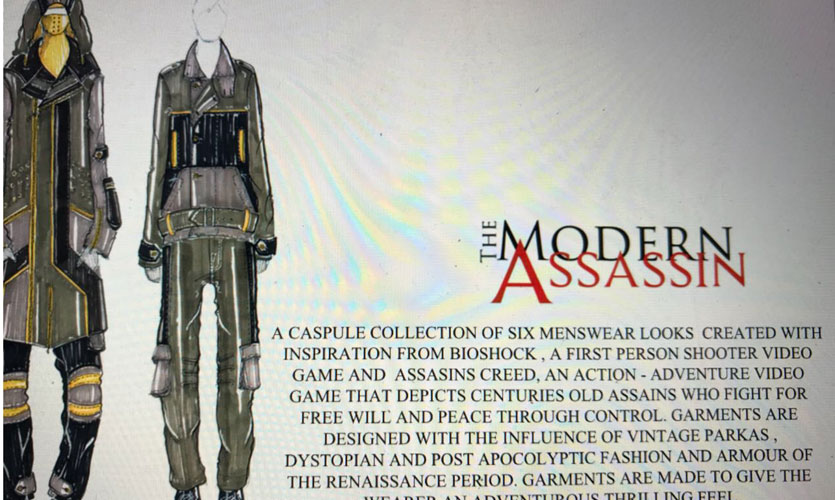 College life for Pramodya was different basically being like a "Rollercoaster ride". He had been through tough situations led him to take a year break from college, for music always being his reason of escape motivated him to start his own band accompanied by some of his friends in the name "AMUTHU". Thus, with all this, he got back with college by managing the studies along with running the band helped him to experience and teach him how to manage time efficiently.
Pramodya's learning experience at college was an extraordinary platform that helped him gain a massive amount of knowledge in the fields of "Fashion, Industry, Art, Design, and Techniques for the movement of the next step of life.
Fashion Experiences
01) How did you develop your interest in fashion design?
Being an artist, influenced me the most to develop an interest in the field of fashion designing. The all-time interest of wearing something unique and never liked seeing someone wearing an outfit similar to mine, made me design my own clothes deriving the interest into fashion.

02) What are the important facets of the fashion industry?
The best thing about the fashion industry is that I get to design my own ideas in the way I wanted it to be by still influencing the people, who really understands the concept behind fashion and my relevant theme.

03) What according to you is the favorite part of being a fashion designer?
I don't really like being sheltered under one specific style; the flexibility within me to design style is the favorite part of me being a fashion designer.

04) How would you describe your personal style?
When talking about my personal style I always wish to work in streams of designing "Jeans" and going on hand in hand with "Hard Materials such as Leather, Denim, etc".

05) In what general area of design do you work or wish to work?
I mostly do my trend research in my spare time and I believe the "Kick Off" trends right now are "Military Fashion" and "Denim", thus, at the moment I would like to work in that particular area.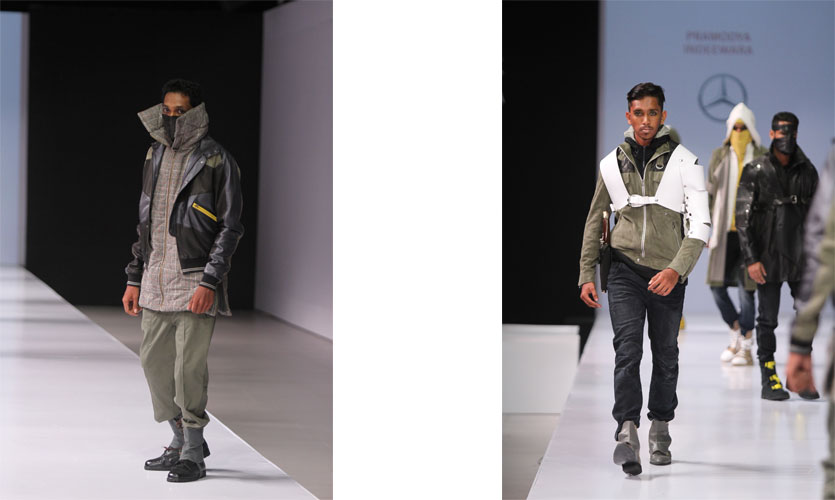 06) How do you stay up to date with fashion, what trends do you currently see in the fashion industry?

Well, to do fashion, age does not matter "We have to do what people would prefer", mostly the "20s". "It's not just about designing something that people would randomly buy, but what people would actually prefer to buy".

07) What motivates you as a fashion designer to know your target audience?
What motivates me as a fashion designer to know my target audience is, "Just to be crazy" because "All the best people are crazy" and as my Principal, Karen says "If you are doing fashion, you have to get married to fashion".

08) Designer Tip

"Do not hesitate to be someone different and bring a change, if you think you're unique, you sure as well show them you are unique".
Text: Harthika Ganeshan