Those packets of instant ramen might be a quick fix for a lazy night, but you HAVE TO TRY Ramen Misoya's authentic Japanese Ramen this weekend.
Ramen Misoya, Colombo is Sri Lanka's first authentic Miso based Ramen restaurant. Being a part of a global chain of Ramen restaurants which started in Japan, they have over 100 restaurants in Japan and 14 around the world in 8 countries - New York, Chicago, Silicon Valley, Bangkok, Ho Chi Minh, Milan, Sao Paulo and now in Colombo.
So what exactly is Miso?
It is a traditional Japanese vegetarian seasoning produced by fermenting a combination of soybeans, rice and barley with salt and a special fungus called 'koji'. The paste extracted out of this is used as sauce, spreads, and pickling.
Did you know?
Japanese people consider their longevity to be partly connected to their high consumption of these Miso based products as they contain enzymes, proteins, vitamins like B2, E, K iron, potassium, isoflavones, choline, and lecithin.
Their chefs are trained by a Japanese specialist from the chain itself. Even Sanjay Warnakulasooriya, Assistant Chef of Ramen Misoya, travelled all the way to Japan for 3-4 years to be trained.
The Misoya chain traditionally serves only pork based Ramen. Our Sri Lankan branch was kind enough to include chicken and vegetarian options for us to savour.

What's special here?
Apart from the fact that their serving size is a bowl bigger than your face, the Colombo branch has a specially divided kitchen for the pork-based ramen and other non-pork based dishes. The segregation is done by dividing the kitchen into two colour-coded sections. As EVERYTHING is colour-coded, nothing gets mixed. Even the cutlery and utensils are coded.
All ingredients except the meats are imported directly from Japan. You get served the best.
There are rice options for those who love their Sri Lankan carb.
Also, I'm not even kidding about their bowl size. I wish I measured it for you.
Let's dig in, shall we?
The first item we tried was the Edamame (Rs.580). There is nothing much you can say about this. Personally, I am a big fan of it. Why? Because for a start, its flavours are so simple that it prepares your tummy for a big bowl of flavorful Ramen. It is usually a love-hate relationship with these young soybeans.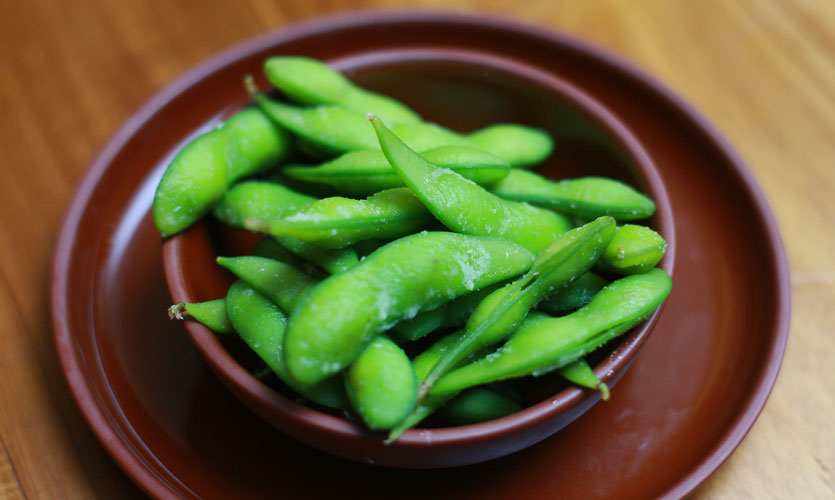 The next item was the Gyoza (Rs.750). These are pork dumplings served with a tangy sesame soy sauce. This was delicious. Again, flavours were pretty simple. This is a must try.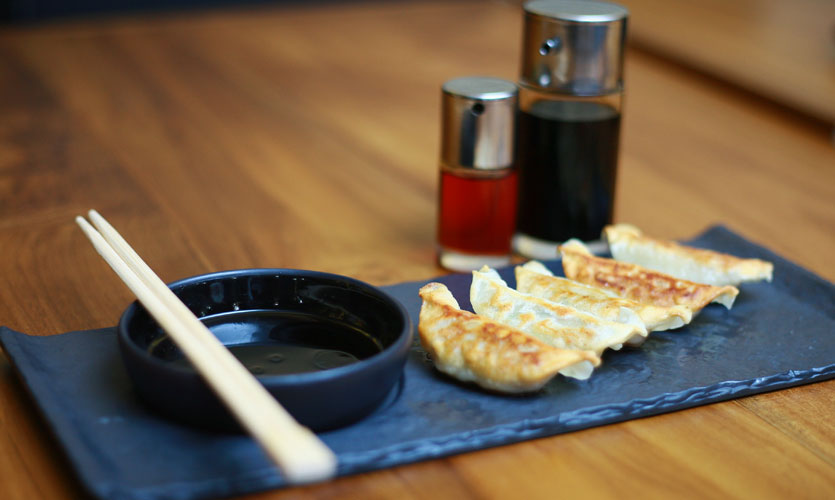 Now here is the main game. You have three types of Ramen served at Misoya: Hokkaido, Ise and Kara Ramen. The difference in the Ramen is the Miso base. The flavour and creation of the Miso changes based on the different locations in Japan. For instance, the Hokkaido is a red Miso that comes from the colder climates.
We had an Ise Ramen dish - The Pork (Cha Shu) (Rs.1850). This is a red soybean-based Miso that has a higher malt content and less salt. It is fermented for a period of more than 6 months in large pine barrels. This gives it a dark brown colour. You HAVE to start eating it right when it is served. The warmth of this dish is one of its specialties.
Served with three pork belly slices, this Ramen is served in a Miso broth that is served with minced pork, fried onions, and sautéed vegetables topped off with a panko fried prawn.
Firstly, the hefty cha shu (pork) fillets were the highlight of the dish. They were flavoured excellently and served generously. The bean sprouts and cabbage are added to balance any salty-malty flavours while the minced pork and deep friend onions were to add extra flavour.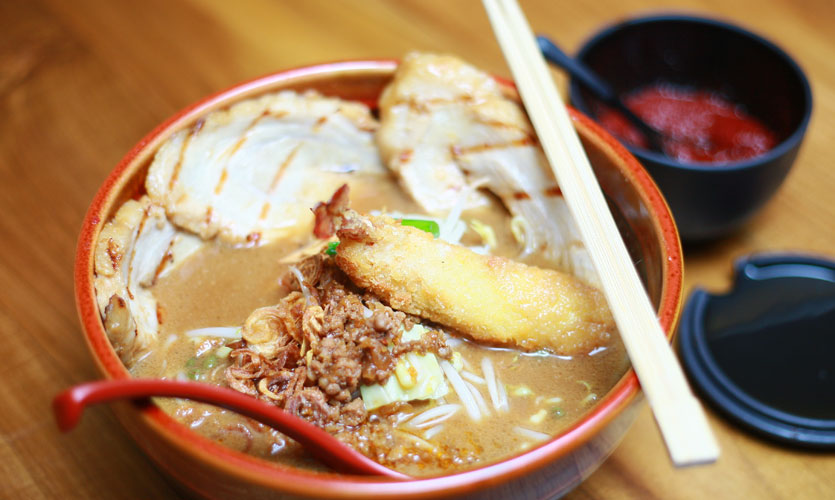 The noodles are freshly made in less than two minutes and have a fresh texture. I guarantee you that you have never tried anything like it. Let's have a bet?
The traditional way of eating this is with the chopsticks in your right hand and soup spoon in your left hand. I failed at this due to being a left-hander. #lefthandchopstickproblems. I slurped up some soup before digging into the meat and noodles.
The broth had a delectable malt flavour that warms you up. It is a mix of a sweet, salty and savory broth. Its base was quite thick due to it being a fermented paste. This makes it all the better to eat. The pairing of the vegetables and cha shu was perfect. The pork had a very distinct flavour that anyone would love.
For dessert, we tried the Homemade Ice Cream Sampler (Rs.500). It had Matcha, Miso and Sesame scoops. If I had to rate it - Sesame>Miso>Matcha. The Matcha is a Japanese favourite. The Miso tasted like an exotic salted caramel. Sesame has the perfect levels of sugar in it.
Fun facts
-Noodles are made in the Ramen Misoya, Japan itself.
-The process of making a Ramen bowl is 2 minutes long.
-The process of cooking the broth is what takes the most amount of time. This is done during the day.
-The kitchen is placed in an open setting.
-Due to its generous size, our locals are known to share one bowl amongst two.
-Japanese children can slurp up one of these bowls all by themselves.
-Slurping is considered a compliment to the chef.
Side notes
They have a two-floor seating area that has a seating for one, two and families. A corporate room facility is also available upstairs.

Facebook: www.facebook.com/misoyacolombo/
Open for dinner: 6.00 pm - 11.00 pm from Wednesday to Sunday.
Location: Racecourse 1st floor- Philip Gunewardena Mawatha, Colombo 00700
Call 077 220 6652 for reservations.
Pics by Damith Wickramasinghe