Kandy will soon be getting a taste of fine Japanese Cuisine courtesy of Café Nihonbashi, renowned Chef Dharshan Munidasa's casual
washoku
restaurant, which will be opening in 'The
Radh
' Hotel, situated on Colombo Street.
Café Nihonbashi is an extension of Dharshan's flagship restaurant Nihonbashi, which has been serving up inspired Fine Japanese Cuisine for 23 years. Nihonbashi is known for its commitment towards using high quality, fresh ingredients and has been ranked among Asia's 50 Best Restaurants for six consecutive years. Similarly, Café Nihonbashi will bring to its newest branch the same commitment toward freshness and quality, serving up a selection of Sushi as well as other Japanese favourites.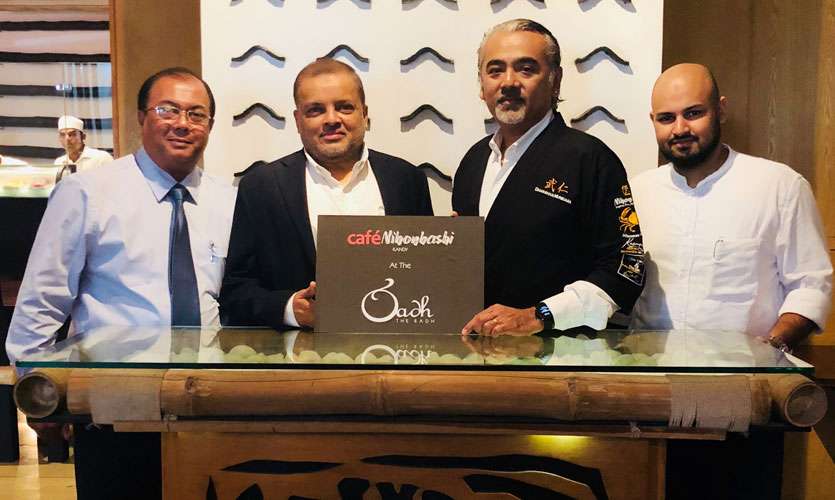 The signing of the franchise agreement between Dharshan Munidasa, founder of Nihonbashi and Mr. Afzal Ahamed Marikar, Chairman/Managing Director of Icon Hotels (Pvt) Ltd, the hospitality arm of Conmix Group of Companies, took place recently at Nihonbashi Honten, Galle Face Terrace with the presence of Nihonbashi's Managing Director, Mr. Nayana Ellepola and Mr. Mohamed Azim Marikar, Executive Director of Conmix Group of Companies.
"Nihonbashi in Kandy has always been an idea, but today it became a reality thanks to Afzal and Azim Marikar with their hotel project Radh in the heart of the city,"
remarked a gleaming Dharshan.
"We are happy to be able to bring an amazing array of Japanese Cuisine to the residents of Kandy and the increasing number of tourists. Kandy is an important city for Japanese Tourists, being that both Sri Lanka and Japan are Buddhist countries and as such is a venerated and respected must-visit city."
The Radh, which will house Café Nihonbashi is a 30 room luxury boutique hotel situated in the heart of the city, only 50 meters away from Sri Dalada Maligawa. This latest addition to Kandy's hospitality industry will consist of a combination of contemporary luxury suites, family suites and a range of premiere and deluxe rooms, equipped with state-of-the-art electronics including door locks and touch-sensitive display panels. The spacious rooms will echo the wooden carving architecture that adorns the building symbolizing the rich history of the kingdom of Kandy and will comprise of luxurious amenities including Jacuzzis to meet traveller needs.
On the partnership with Nihonbashi, Mr Afzal Ahamed Marikar said,
"When we started working on The Radh, we envisioned to provide a guest experience that will leave an unforgettable memory of their journey to Kandy. By joining hands with Café Nihonbashi and the best restaurateur in the region Chef Dharshan Munidasa, this vision is becoming a reality. It's our privilege to host Café Nihonbashi and bring the best of Japanese cuisine to Kandy."
For more information, please contact:
Snr. Public Relations Manager - Ministry of Crab/Nihonbashi
E-mail: shalini@ministryofcrab.com
About Nihonbashi & Café Nihonbashi
Founded 23 years ago by Chef Dharshan Munidasa, Nihonbashi is a renowned Japanese restaurant serving authentic washoku in Sri Lanka. Inspired by his Japanese and Sri Lankan heritage, Dharshan takes on an innovative approach in dishing out a twist on Japanese classics using the finest produce in Sri Lanka. Nihonbashi, meaning the 'Japan Bridge', has over the years lived up to its name of being the link between the two culinary giants - Japan and Sri Lanka. Dharshan's knack for pushing boundaries has paved the way for the restaurant to gain recognition in the international arena, ranking itself amongst the "Asia's 50 Best Restaurants" for six consecutive years. Our extensive menu serves a myriad of Japanese delights including our signature Olive Oil Kake Tai Cha, charcoal grilled seafood and meat, karapincha tempura and much more. Making Japanese food more accessible to our guests, Café Nihonbashi caters to the growing trend of washoku in Sri Lanka with some of Japan's finest soul food. Taking on a more casual outlook, Café Nihonbashi is an extension of Nihonbashi, serving sensational sushi and set menus.