Ginza on the Edge is one of the oldest Japanese restaurants in the country and has been serving consistently good Japanese fare. Owned by Mr. Richard Balasuriya, the restaurant was once located at the Hilton Colombo before moving to Waters Edge, where it now serves authentic Japanese delights in a beautiful location with great views. Since recent times, Ginza is famed not only for its great food options but also for its High Tea Buffet held on the last Saturday of every month. Providing a host of food from sushi and sashimi to rice and tempura based goods and an assortment of mouthwatering desserts, the buffet has incredible value for money. Unsurprisingly, the affair is always fully booked weeks ahead! Taking the experience up a notch is their more recent Dinner Buffet, Mr. Balasuriya explained. Held once every few months, the buffet is more elaborate than the spread of the High Tea Buffet.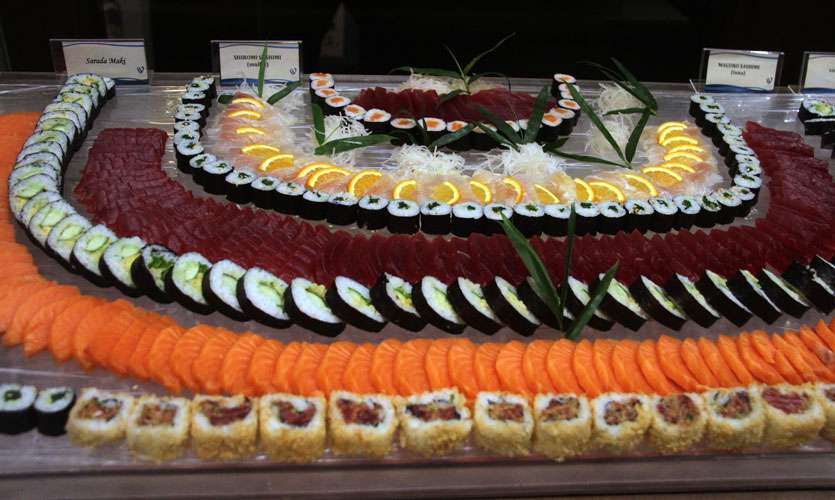 Ambience
Ginza is located on the 2nd floor of the Waters Edge and affords near panoramic views of the lush greenery of the manicured gardens. The interior meanwhile is quite typical of the minimalist design Japanese spaces are known for. The Buffet spread was laid out in the "lobby" of the space, with two different seating areas. A saxophonist kept the guests entertained while a large ice sculpture was placed prominently behind the dessert spread.
The Food
As soon as we arrived and were shown to a table, a waiter sauntered over with a mocktail. A great thirst quencher that we quite loved. As he headed over to the buffet, we loved its uncomplicated layout - a quick glance would tell you where everything was placed and you could start off where you pleased. We had the Miso Soup first, which was sort of like a "build your own soup" counter where we could pick what to add to our broth. We picked tofu. Miso, which is a traditional Japanese seasoning made of fermented soybeans, is incorporated into the soup by way of a paste that's added to the dashi (stock). The soup was typically salty with a light consistency. The tofu added the textural element to it.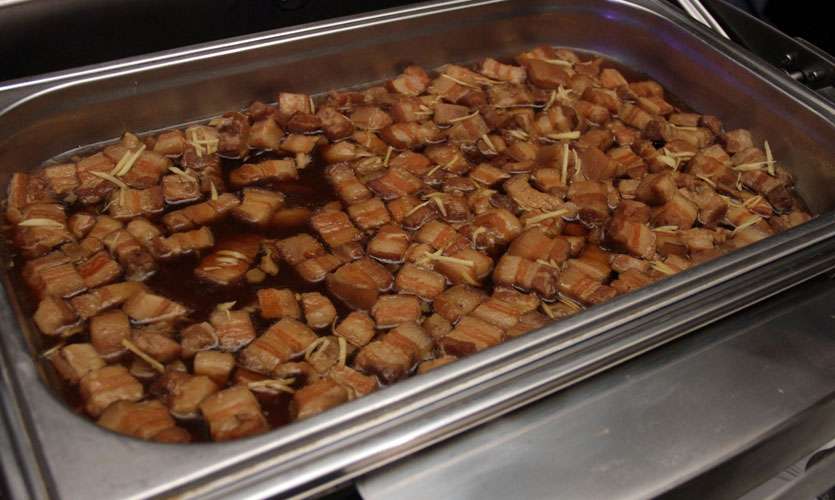 Ginza is known for their delicately prepared Japanese food, and what better way to savour that than their sushi and sashimi counter? From the fresh sashimi platter - salmon, tuna - that the chefs kept refilling as fast as it diminished, to sushi rolls, there was something for everyone. To no one's surprise, the sushi and sashimi appeared to be the most popular items on the spread; a testament to how well it was prepared. The sashimi was, as mentioned before, incredibly fresh; the salmon especially finished as soon as the chefs laid it out. Thankfully, the chefs were equally quick in refilling. So we never had to wait long before fresh sashimi was laid out. Of the sushi rolls, our absolute favourite was the Spicy Tuna Maki. The spiciness of the tuna, paired with the rice and coated in panko was absolutely delicious; vibrant both texturally and flavour-wise. We couldn't help but go back for more despite being stuffed.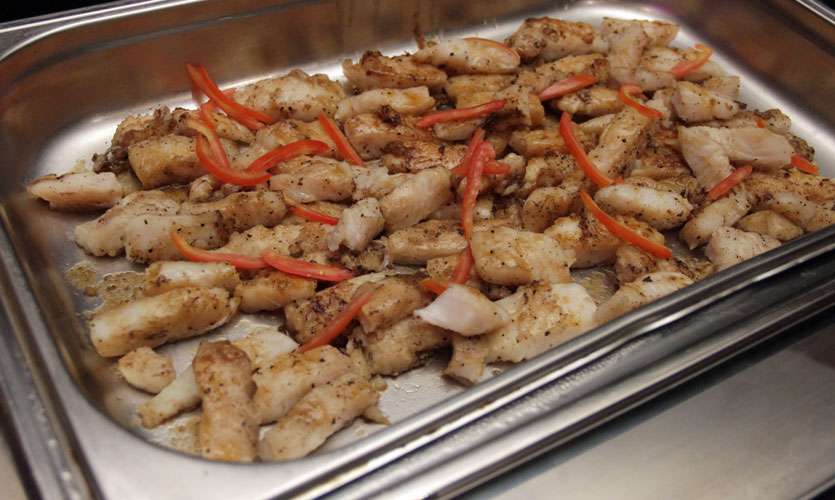 Incorporating a bit of Western elements to ensure variety - after all, many Sri Lankans tend to prefer having tried and tested choices made available to them - the spread also involved an assortment of bread with butter, as well as, wait for it - Potato Salad! While it seemed pretty out of place, it was one of our favourite items - unlike typical potato salad, it included a lot more veggies for texture, and was really tasty. And we weren't alone in appreciating it, evidenced by the number of people who kept going back for seconds, and even thirds.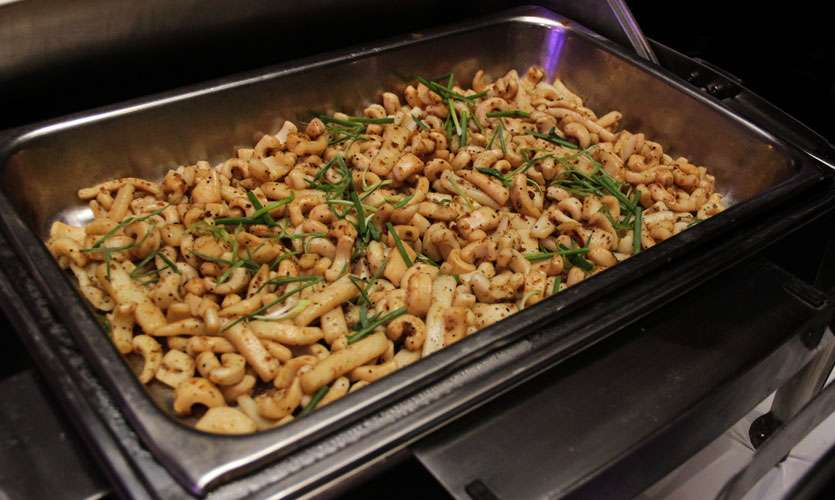 As we made our way through the items on the buffet, what was soon clear was how much Ginza had strived for the authenticity of their food. Their rice choices, for instance, such as the Garlic Rice and the Seafood Fried Rice were prepared closer in style to the Japanese sticky rice, and flavours inspired by the country. The spread also comprised dishes such as Chicken Teriyaki, Salmon, Wafu Style Tofu Steak, Yakiniku (beef), Grilled and stir-fried Seafood such as mullet, cuttlefish and seabass.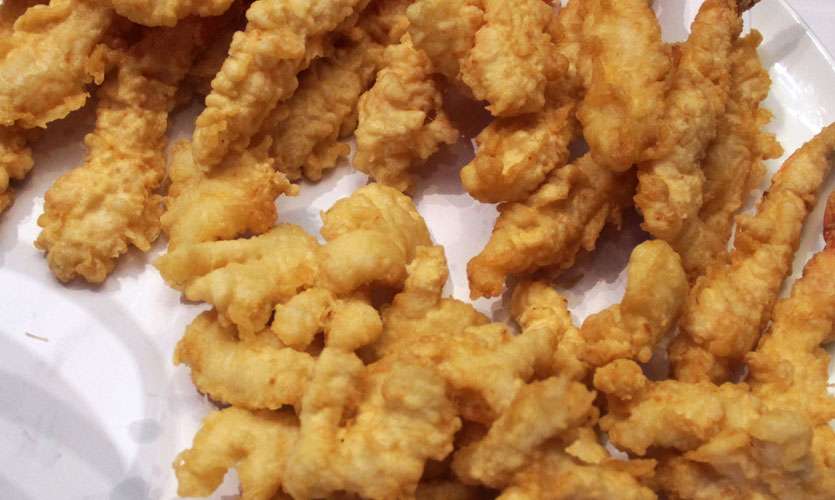 Stay tuned to their Facebook page for updates on their High Tea Buffet and Special Dinner Buffet. Also, note that these events require reservations. Book early to avoid disappointment because these events sell out pretty fast!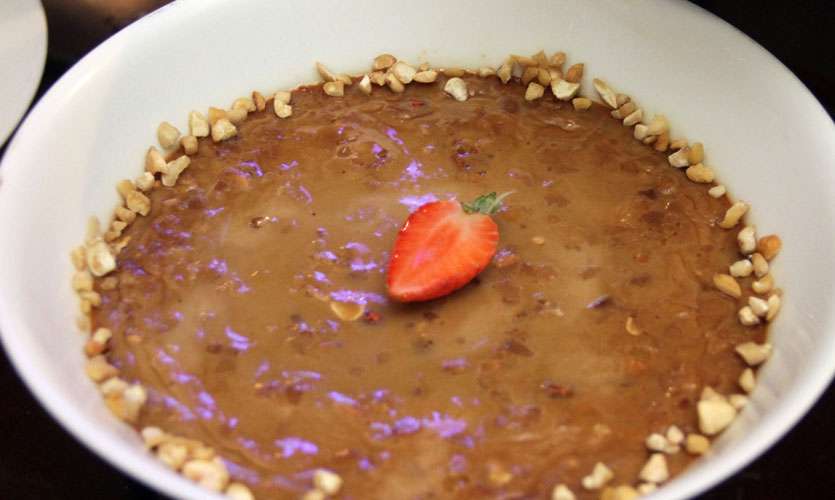 Address: 2nd Floor, Waters Edge, Sri Jayawardenepura Kotte
Contact: 011 2 887088
Website: www.ginzaontheedge.com
Hours: Hours 11:00 AM - 11:00 PM
Facebook:https://www.facebook.com/GinzaHohsen/
Pics Pradeep Dilrukshana