Lamprais is a popular lunch meal that we Sri Lankans know and love. This Dutch-Burgher influenced dish has been a staple in Sri Lankan cuisine for many years and while the recipe may have been changed and developed over the years by various food outlets, there are some things in a lamprais that can never change.
Now the original traditional lamprais has a few fixed essentials like the rice cooked in stock, mixed meat curry, frikkadels, blachan (shrimp paste), brinjal pahe and ash plantain which must be present in a lamprais for it to be truly authentic. Over the years we Sri Lankans have added things such as seeni sambol and boiled eggs into the mix and have replaced frikkadels with cutlets and mixed meat curry into one particular meat curry (chicken being the most famous and most common).
Altered or not, we can't deny that there is a certain appeal to lamprais that just keeps us coming back for more. Wrapped in banana leaf and baked in an oven, the lamprais is a delicacy that just must be savoured.
Being that it's such a popular dish among us residents, there are plenty of restaurants and home bakers putting their own twist to it. With so many options in the market, how do you find the best lamprais in town?
We went around picking up packets from the popular spots and tasted each one to find out which lamprais is worth repeating. This is our verdict.

THE WINNER : LEAF LAMPRAIS A+
Homecook Shalika Perera has been operating his business, The Leaf, for over 5 years and his lamprais was hands down the best we've had. We got their Chicken Lamprais (Rs. 375) but you can also order a Mix Meat or Vegetarian for the same price. You have to place your order 24 hours before and the food will be delivered to you.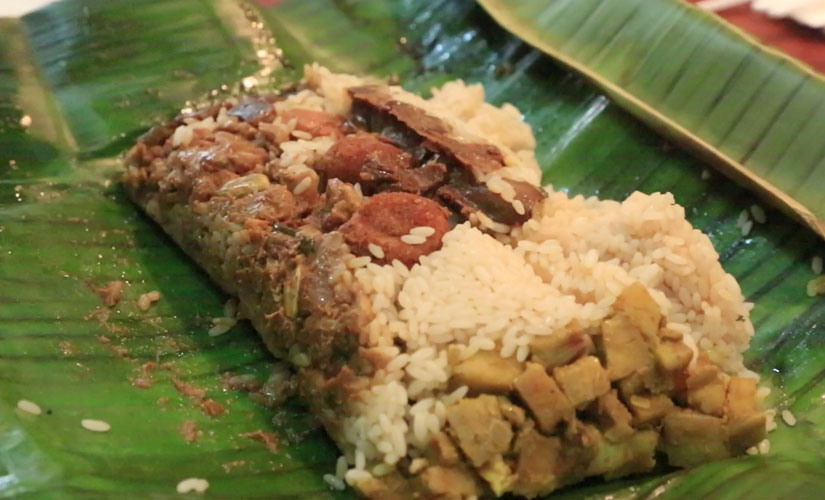 The lamprais comes with ash plantain, two fish cutlets, brinjal, blachan and seeni sambol with a generous portion of curried chicken and a massive serving of rice. The curried chicken really impressed us. Cut pieces of chicken in a thick spicy curry really added a flavour to the lamprais that just tied everything together. We cleaned the lamprais clean off the leaf and were craving more. For such a price we thought the lamprais was definitely worth the money and something we'd order over and over again.
It may not be truly authentic to the dot but it was definitely the most appetising and most flavourful of the lot and once you try it, it's guaranteed to be your go-to lamprais.
Telephone: 0702318322
https://web.facebook.com/lamprais/?ref=br_rs
MRS. WARUSAWITHANA - A
Mrs. W is a name synonymous with lamprais in Colombo. You can order a vegetarian (Rs. 400), Chicken (Rs. 450) or a Mixed Meat (Rs. 500) and you can either place your order a day before or try your luck and call in the morning to see if she can give you a packet (like we did!).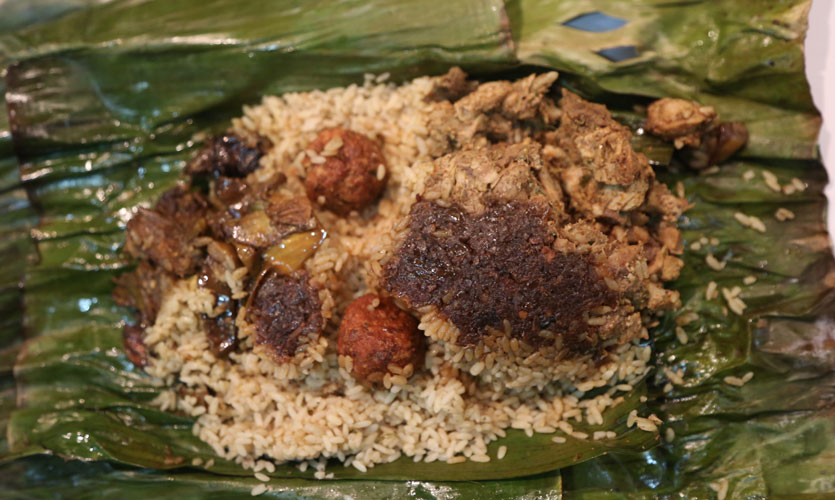 We got her mixed meat lamprais which comes accompanied by two frikadels, blachan, brinjal and ash plantain. We thought the lamprais was as authentic as it gets and we loved the fragrant rice as it had really absorbed the flavours of the stock. The frikkadel was cripsy and the prawn blachan was very rich in taste and texture. We also loved that there was a generous portion of meats. The lamprais itself is pretty big so you can easily share it with two. The only question is whether you would want to!
Telephone: 0112573908
Address: 27/5, Pedris Road, Colombo
DONS DELI - A
The little cafe on Marine Drive, Dons Deli, serves up a hot hot lamprais that sells out in a matter of minutes in the lunchtime rush. They have mixed meat and chicken options but we just got the Chicken lamprais (Rs. 575). It's not pre-packed so you do have to wait around 10 minutes till they pack it up for you but that's the best part because you get a steaming hot lamprais to your hand that remains hot even after an hour in the traffic so when you eat it it's warm and yummy.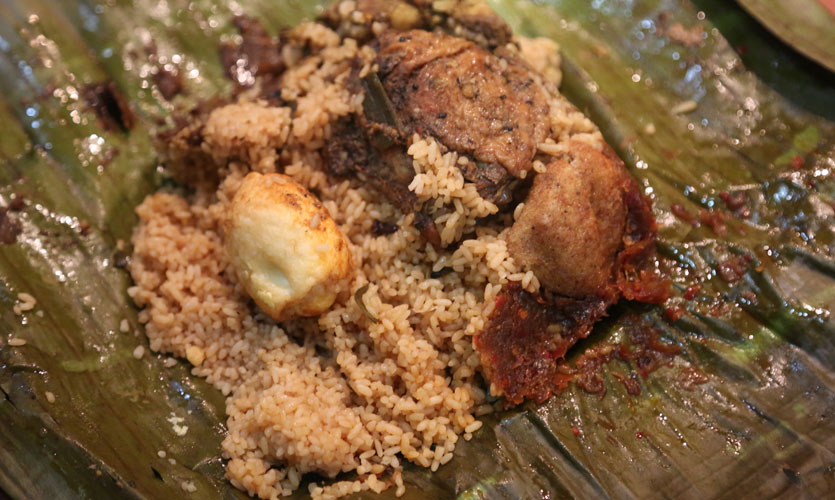 The rice in the lamprais has a strong taste of ghee to it so it made the rice heavy but delicious. It comes with a full piece of chicken, some spicy seeni sambol, an egg, a yummy cutlet, ash plantains and brinjal. In the end, we were quite satisfied with the lamprais because it was great all round in terms of spice, flavour and authenticity.
Telephone: 0112 055 606
Address: 53 Haig Rd, Colombo
SUGAR BISTRO - B+
The Sugar Bistro and Bar does a pretty good lamprais but be prepared to pay a good price. Their Chicken Lamprais is Rs. 800 and is probably something you'd eat if you are dining in because paying so much for takeout might not make much sense.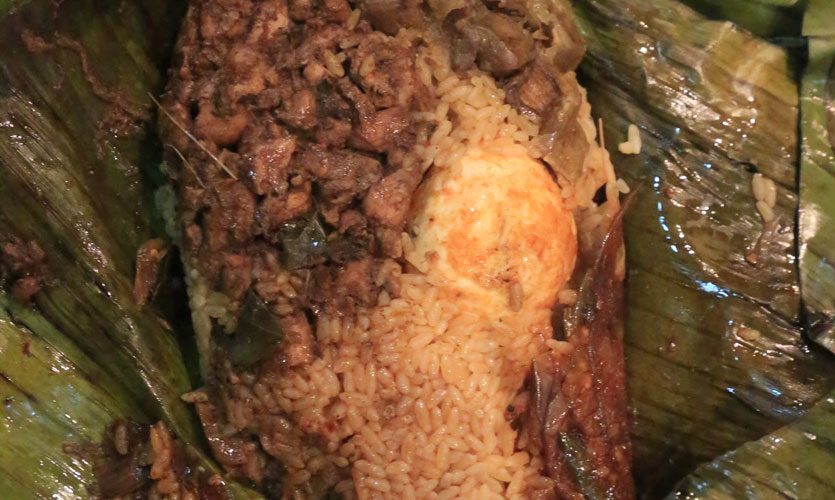 Their high-end price is justified by the lamprais however. We got ours hot and steaming, almost as if it's fresh off the oven and just as you open the banana leaf, steam rises out and you are surrounded by a symphony of aromas.
The lamprais comes with the usual ash plantain, brinjal, diced chicken and egg. Instead of a seeni sambol they had a pol sambol and we have to say we didn't mind the twist at all! The brinjal was quite sweet so it certainly made up for the lack of the seeni sambol and the chicken was extremely hot and spicy. The focus is on the rice however as it's jam packed with flavour because their rice includes a lot of cloves and cardamom so the rice is just completely enriched.
Telephone: 011 2 446229
Facebook: facebook.com/sugarbistroandwinebar/
Location: Crescat Boulevard/ ODEL Promenade
THE REGENT - B+
The Regent at the ODEL Promenade does authentic Sri Lankan rice and curry and is also now offering lamprais. They have both vegetarian and chicken but we got their Chicken Lamprais (Rs. 500). The first thing we noticed was the lamprais was pretty big and heavy and when we opened it we were happy to see a large portion of rice with an equally generous serving of the curries so you are assured that you are getting your money's worth. The Regent lamprais has a full piece of chicken, boiled egg, cutlet, seeni sambol, brinjal, ash plantain and a bit of lunu miris for anyone looking for a spicy kick. The rice had good flavours and the curries all complemented one another. What we really liked is that the lamprais wasn't completely seeped in oil so you can enjoy a nice clean meal.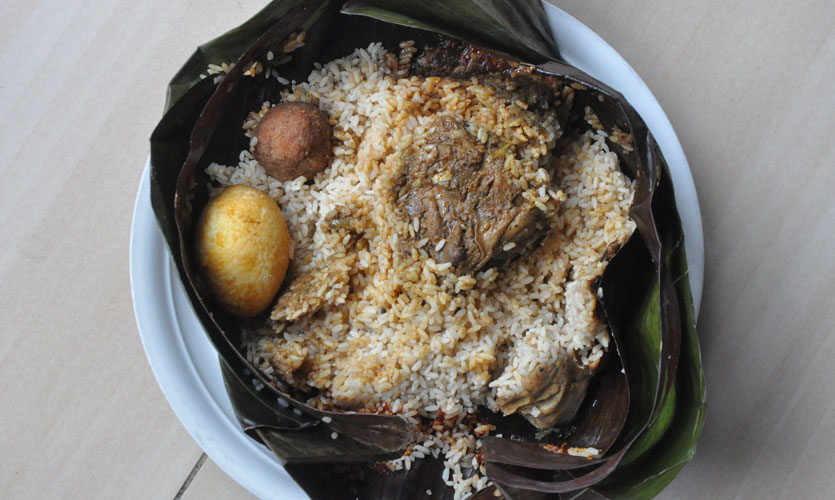 Telephone: 011 777 7770
Website: www.theregent.lk
Location: Odel Promenade
BIG MAMA'S - B+
Big Mama's is a home cook specialising in Dutch food. Her lamprais (Rs. 500) must be ordered a day before and can be picked up or delivered. For first impressions, the pack of lamprais from Big Mama's is massive and the presentation is a plus because the banana leaf pack comes beautifully wrapped in a string. Their Mixed Meat lamprais had a mix of chicken and pork with ash plantain, brinjal, blachan, pol sambol and frikkadel. We loved the frikkadel because it was still crispy when we bit into it and the pol sambol and blachan have a lovely texture to it. There was plenty of both chicken and pork, diced and shredded into tiny bite-size portions for convenience. The rice was full of flavour if a little bit salty and buttery but it didn't bother us as much because the overall taste of the lamprais was pretty great!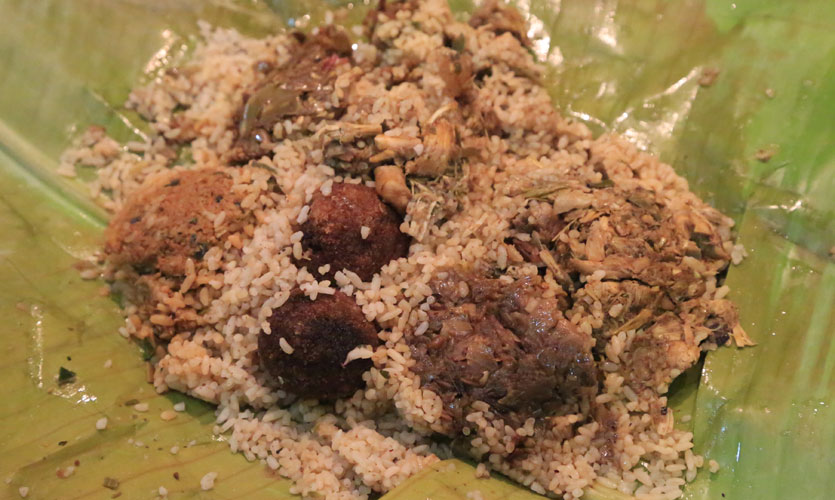 Telephone: 0722 245 552
Address: 3rd lane, Koswatte Road, Nawala
DUTCH BURGER UNION B+
The DBU Lamprais is rumoured to be the most authentic lamprais in town but sadly we weren't so impressed. We got their mixed meat (Rs. 545) and weren't really satisfied with the portions they give. The rice is barely anything and the curries are sparse. On the plus side, the rice had a lot of flavour. You can see that it has really been stewed in a nice stock but the accompanying curries were so tiny and not memorable.
We hear that DBU has some good days though and while their inconsistencies might be a little inconvenient, if you catch it on a good day you are promised to get a lamprais worth your money!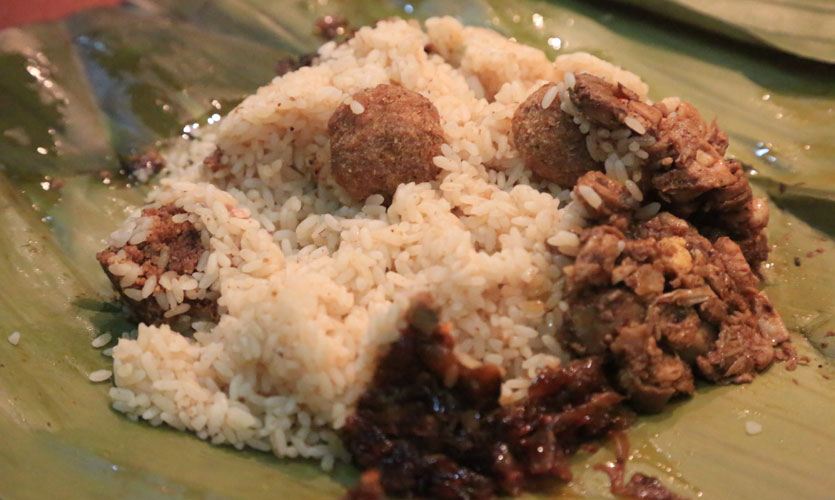 Telephone: 0112 584 511
Address: 114, Reid Ave, Colombo
BREADTALK - C
The Breadtalk 'Fiery Lamprais' (Rs. 500) isn't authentic lamprais but we actually liked the flavours that it had. The lamprais has a very large piece of chicken, seeni sambol, brinjal, ash plantain, egg and a cutlet. The rice had a very cumin based taste to it that gave it a lot more flavour and the chicken was spicy and the curries were all pretty good.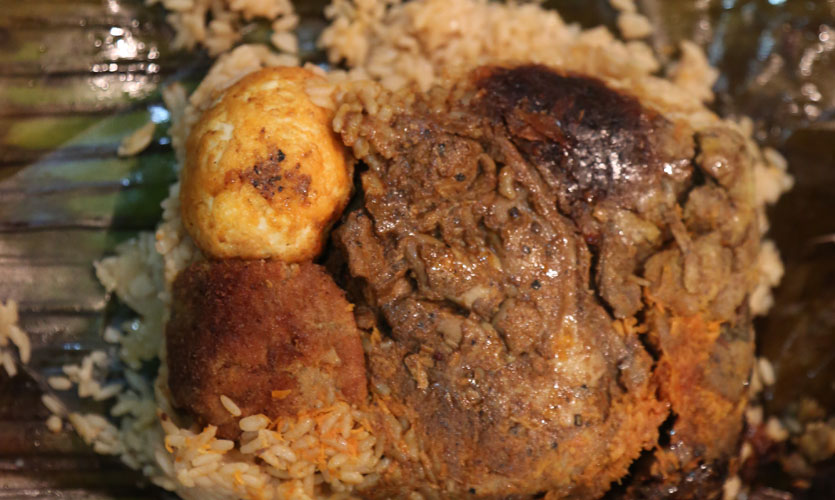 We didn't exactly love the lamprais but we also didn't hate it. It was comfortably somewhere in the middle and it's not a bad lamprais to just have occasionally when you want something for lunch.
Telephone: 0117 356 777
Website: www.breadtalksrilanka.com/
FAB - C
We are utterly disappointed to say that Fab wasn't so… fab. Once upon a time, the Fab lamprais was absolutely divine. It was just the right amount of flavour and spice and it used to be everyone's go-to lamprais place. Unfortunately, the standards have dropped quite a lot.

We were excited to try their Chicken Lamprais (Rs.380) which comes with a piece of chicken, ash plantain, cutlet, brinjal, egg and pol sambol. The overall taste of the lamprais was flat and bland and the only thing we liked was the brinjal. It's not to say that the Fab lamprais was terrible but having had their lamprais consistently over the years it's clear to say their standard has gone down and that is disappointing. But if you are tasting it for the first time, it's not so bad. It has all the right curries but it just lacks a bit of flavour.
Telephone: 0112 -057777
Facebook: facebook.com/Fabfoods.lk/
GREEN CABIN - C-
Green Cabin served us a really unappetizing lamprais. Their Chicken Lamprais (Rs. 400) comes with a full piece of chicken, pol sambol, seeni sambol, a cutlet, ash plantain and brinjal. While it had all the requisite curries what ruined the lamprais was that it was just flat. There was no flavour, the rice was just plain white rice clearly not cooked in stock because it had no flavour whatsoever and the chicken had no spice.
For us, it felt like we were eating a normal rice and curry so we don't really recommend it if you are looking for something flavourful.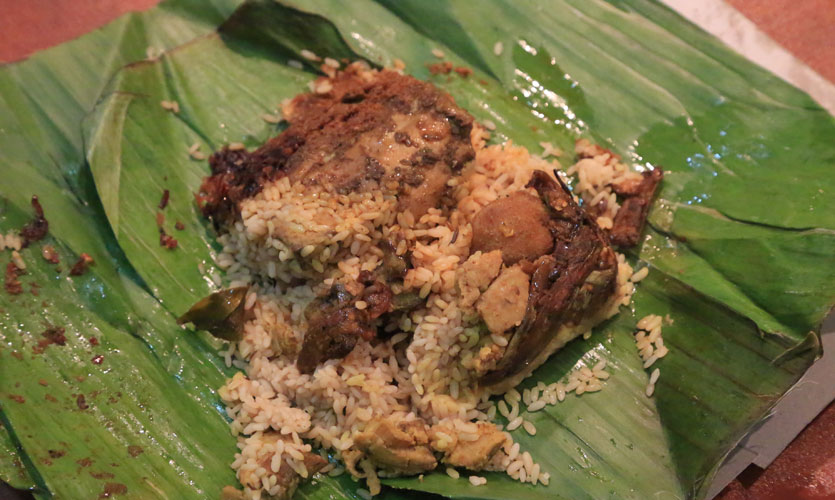 Telephone: 0112 588 811
PERERA AND SONS - C-
P & S serves what they like to call a "lamprais" but what we'd like to call a biriyani. At Rs. 350 they have a massive packet of rice wrapped in banana leaf labelled as a Chicken lamprais. While the lamprais had all essential curries; a cutlet, brinjals, ash plantain and seeni sambol, the lamprais with its yellow rice and fried chicken essentially felt more like a biryani than a lamprais. Moreover, the chicken felt days old both in taste and in texture so we really weren't pleased with it.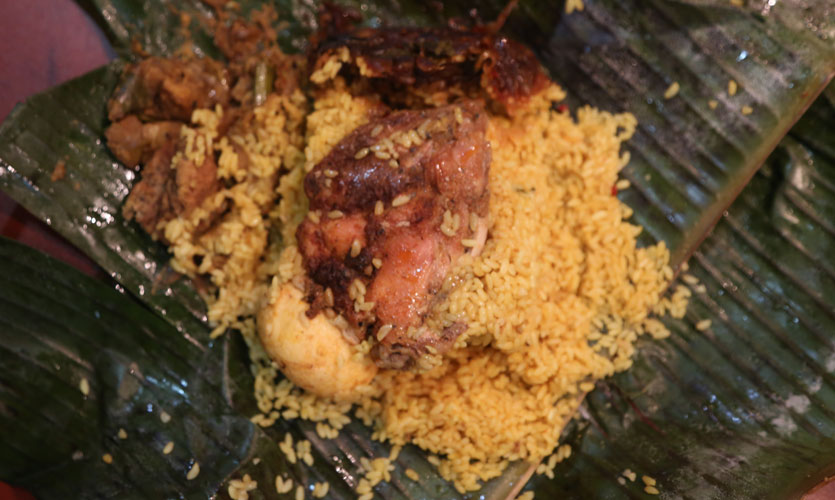 Telephone: 94 11 2 793 826
Website: www.pereraandsons.com