Day 2 of the Mercedes-Benz Fashion Week kicked off on the 28 th of October 2017 at the Mercedes-Benz Centre of Excellence Dimo 800. The day's theme was 'Travel Style' and each collection was inspired with the avid traveller in mind. An evening of colour, neon and prints were certainly a popular choice!
MORI GIRL BY PRABATH SAMARASOORIYA
Somber hues of black, white, silver and grey formed the colour palette for this collection. The ensamble focused heavily on loose silhouettes made with silk giving each outfit a theatrical touch in its fluid presentation.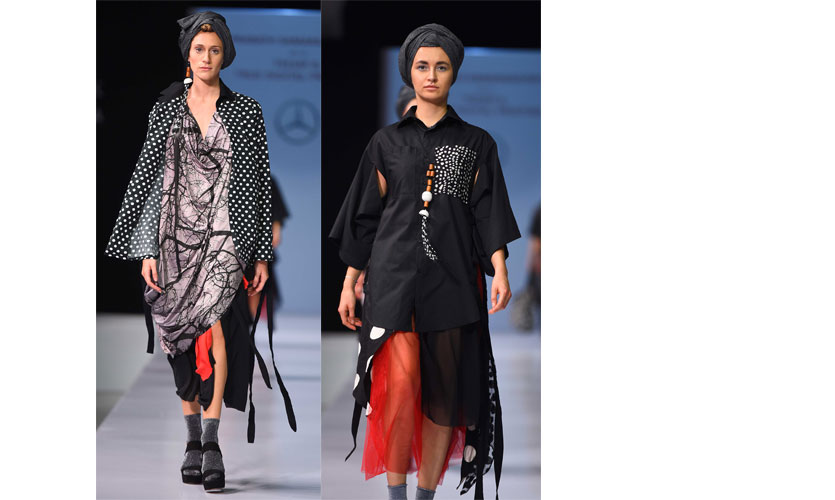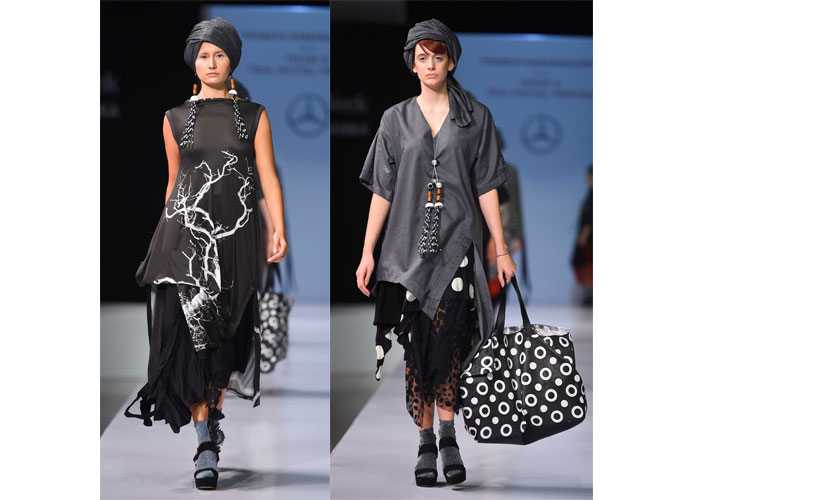 LOWER EAST SIDE BY KUR COLLECTION
A monochromatic ensamble took to the ramp under the inspiration of the Lower East Side. Ruffles and layers were a running theme consistent in each outfit and the hints of silver added the glam effect to the collection.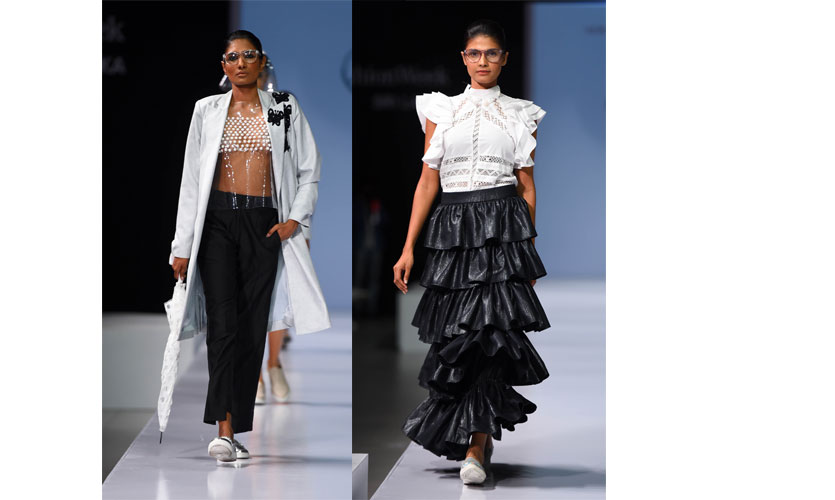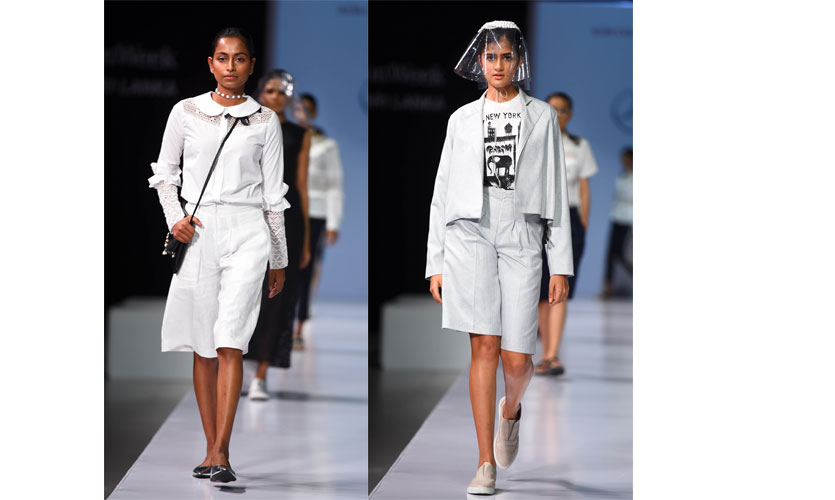 MONASTIC ZEN BY ISHARA JAYATHILAKE
A vision in white was what captivated the audience as the collection 'Monastic Zen' took to the ramp. The standout features were in the details; from the strategically placed ruffles to the carefully tailored netting. A trend seen in International Fashion Weeks this year, sheer fabrics played a major role in this collection.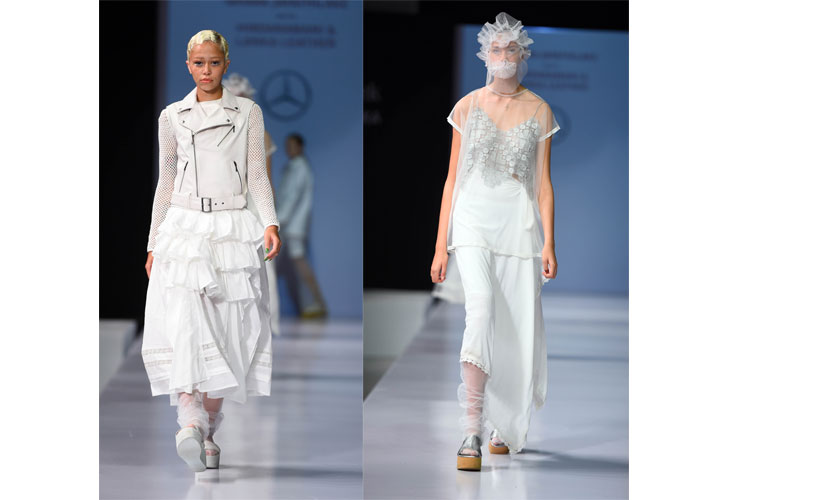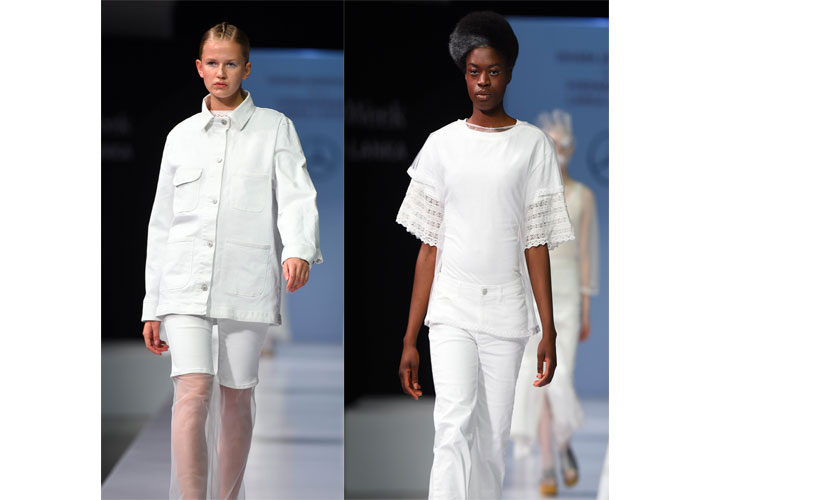 FUTURE STREET BY HIDRAMANI
Bold cuts, daring colours and street style. Hidramani took street wear to the future with their sporty collection at the show. A juxtapose between dark and light colour schemes, the collection of jackets, pants, tops, shorts and dresses was trendy, chic and stylish.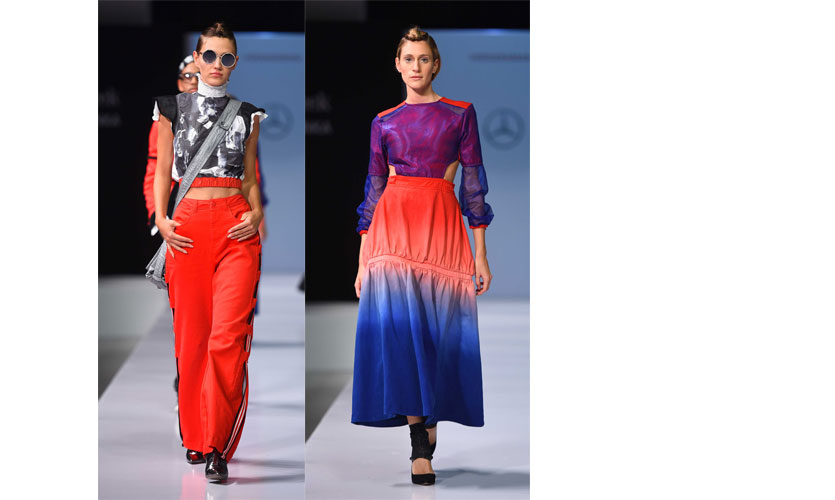 RAINFOREST EXPLORER BY LONALI RODRIGO
A collection inspired by the rainforest traveller, designer Lonali together with Rainco presented their rainwear collection with a range of raincoats and umbrellas in line with the theme. With prints incorporating wildflowers and rainforest motifs, the collection was vibrant in its luminescent colour palette. The ensamble created with polyester and coated fabric is aimed at the daring backpacker ready to travel whatever the weather brings!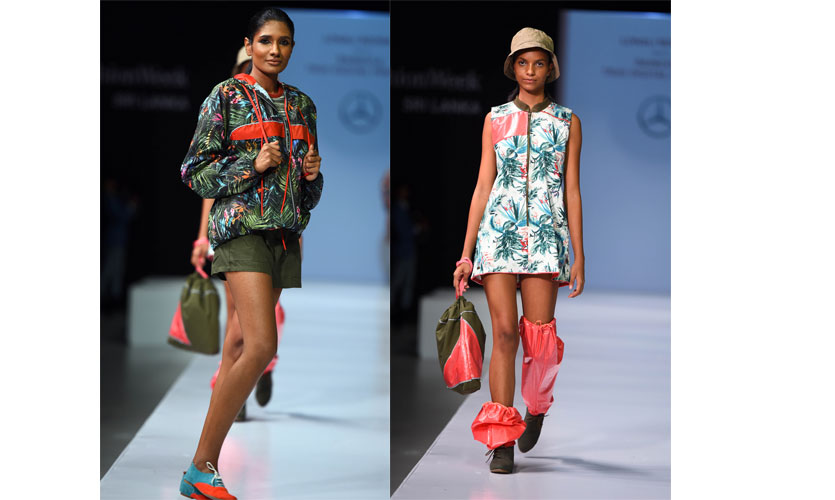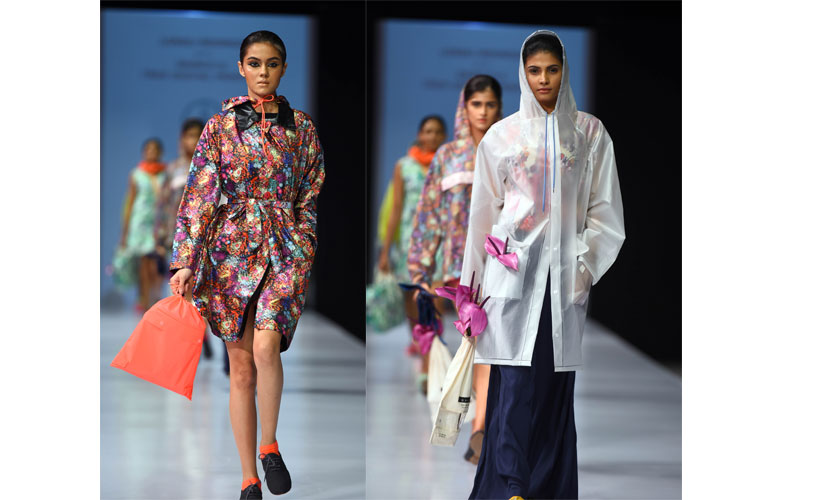 ECLECTIC BLOOM BY TRUE DIGITAL PRINTING
A splash of colour exploded on the runway with this collection. Luminous hues are back and this season there is no such thing as too much colour! Boxy silhouettes in luminous pink, green and blue lit up the runway. Playing with prints of flora and fauna, the collection was electrifying!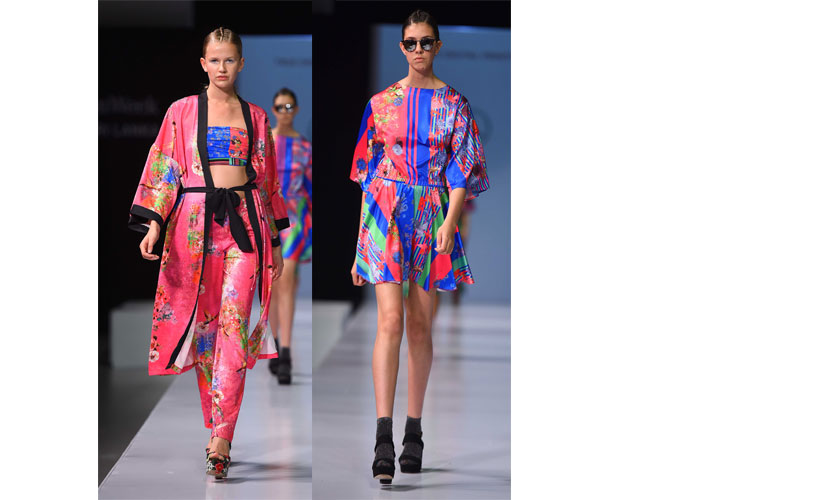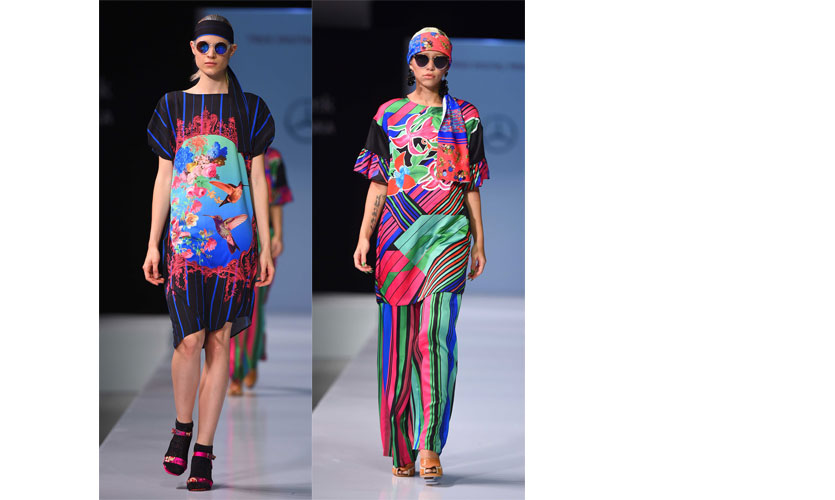 NATURA BY TEEJAY
This travel collection by Teejay is best described as exotic and tropical. Focused on casual men's and women's wear, Teejay mixed and matched various prints and patterns together. The vibrant colours mixed with different motifs were a paradox; jarring and yet blending in together at the same time!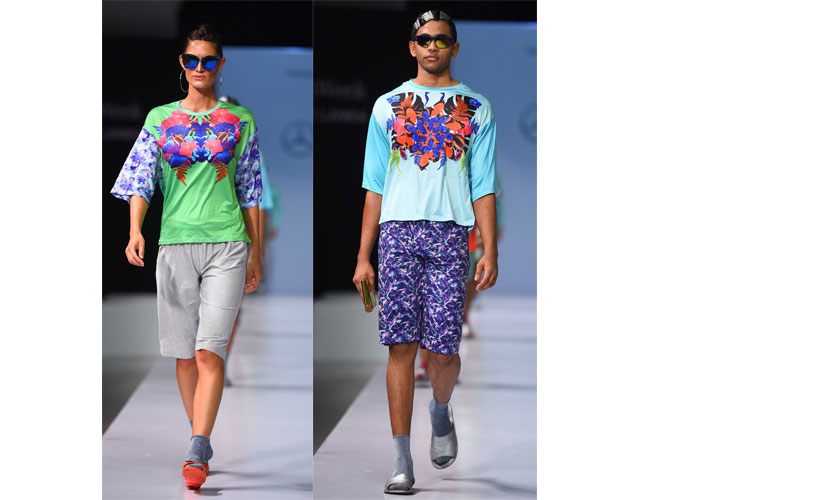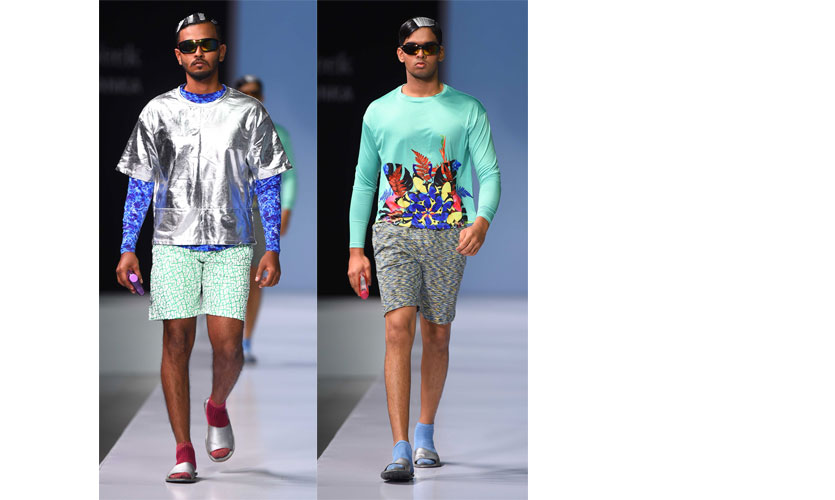 SO CAL BY KANCHANA FERNANDO
Denim has never looked so good! Having teamed up with the LICC Jeans team, the So Cal collection featured a variety of denim based outfits. Black tribal prints was the signature mark of this collection and added details like silver and white tassels showed a new denim style. The collection comprised of denim jeans, cutoffs, dresses, pinafores and sarongs.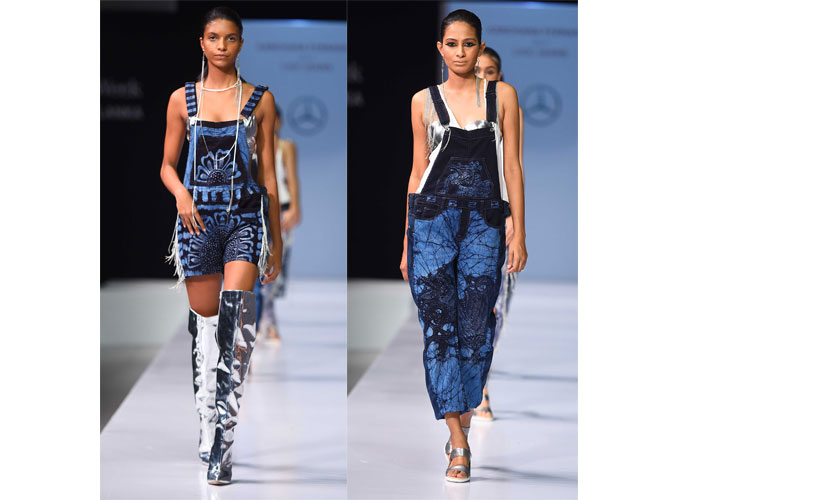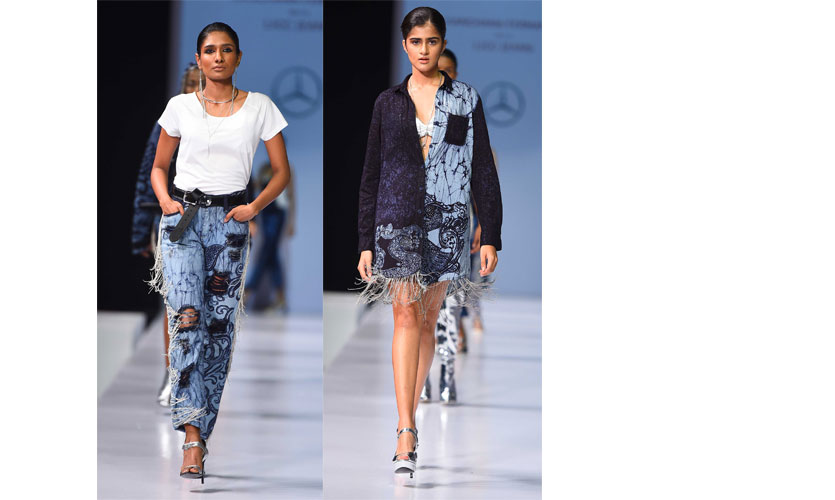 OUTLANDER BY VOGUE TEX
This elegant collection revolved entirely around the shades of cream and white. The mono-coloured pieces highlighted the finer details in each outfit. Delicate embroidery and sequins were used to make each piece pop!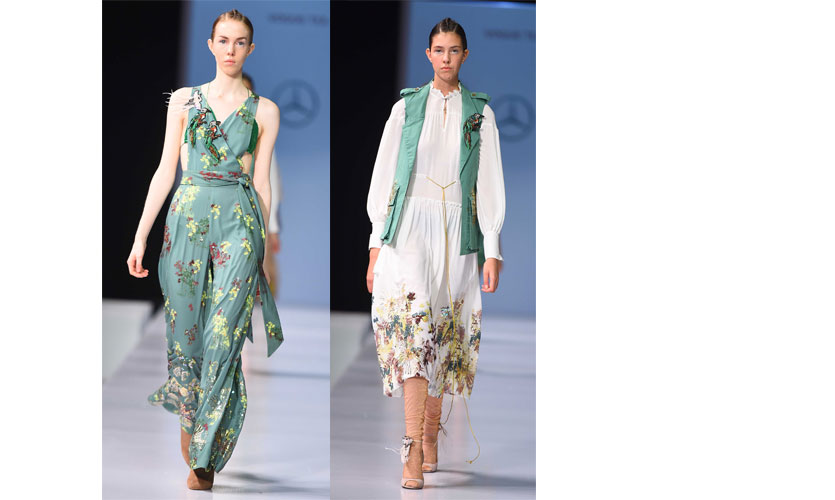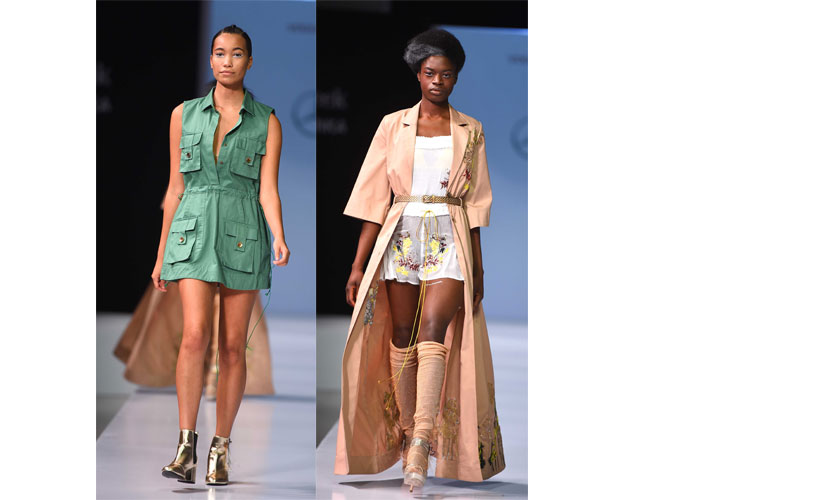 TROPICAL SPORT BY BUDDHI BATIKS
Buddhi Batiks gets sporty with their new athletic collection. A pioneer brand in the Batik industry, this new collection set out a statement that batik is now a part of sportwear. The brand's leitmotif, floral print, was ever present in their range of workout pants, tops, leggings and jackets. The collection also included a variety of sporty accessories such as batik workout bags and caps.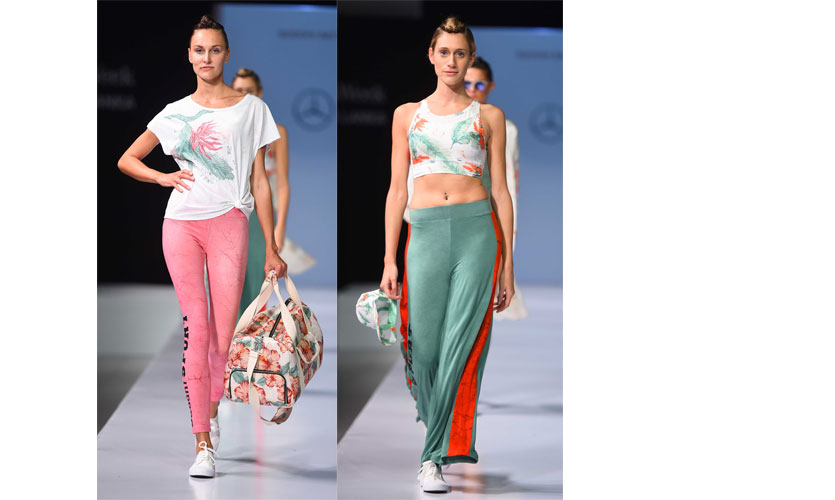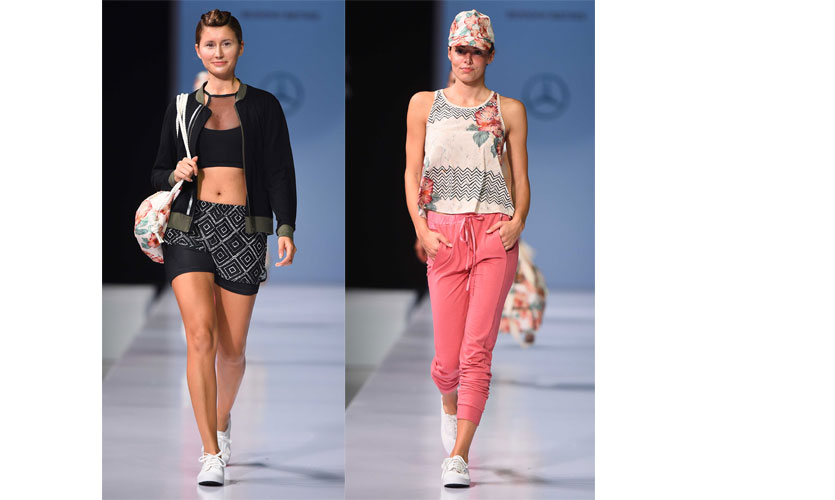 ATH OPULENCE BY MAS FABRICS
Athletics meets leisure in this collection! A mix and match of workout clothes with casual outfits, this ensamble also mixed and matched prints and patterns in neon hues.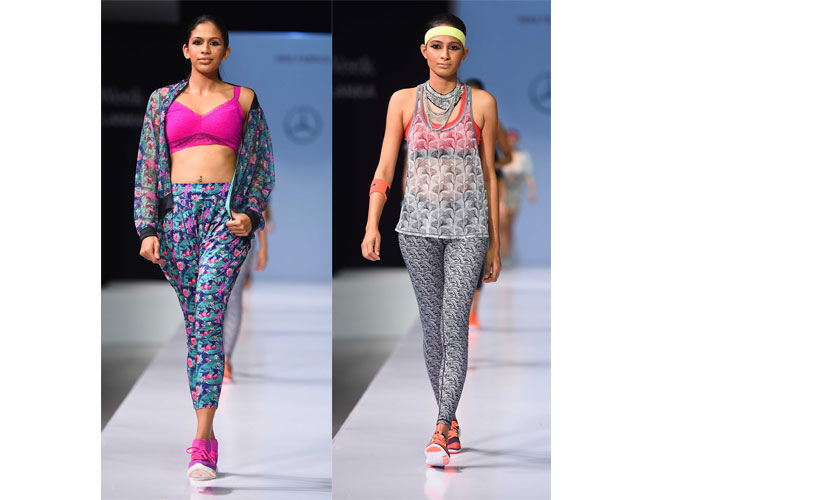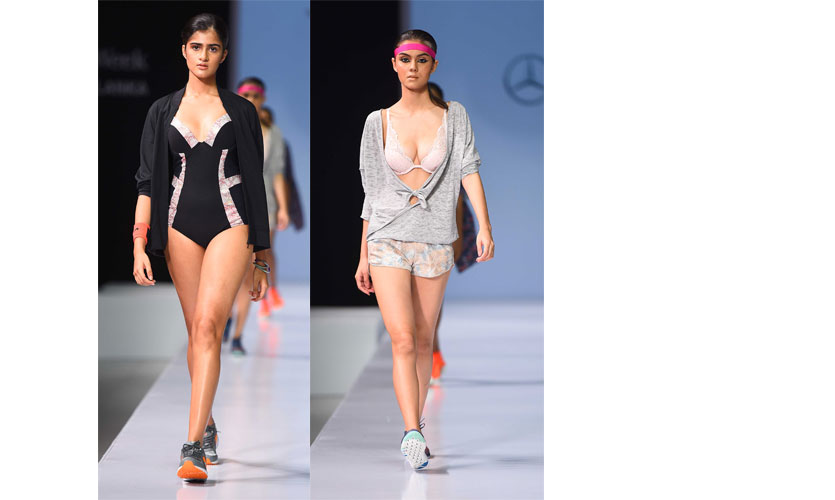 URBAN ATHLUXE BY MAS HOLDINGS
A collection for the everyday girl, Urban Athluxe saw a range of swimwear, intimate wear and sport wear take to the ramp. In pastel colours of silver, grey and beige this collection was all a travel girl needs on her next adventure!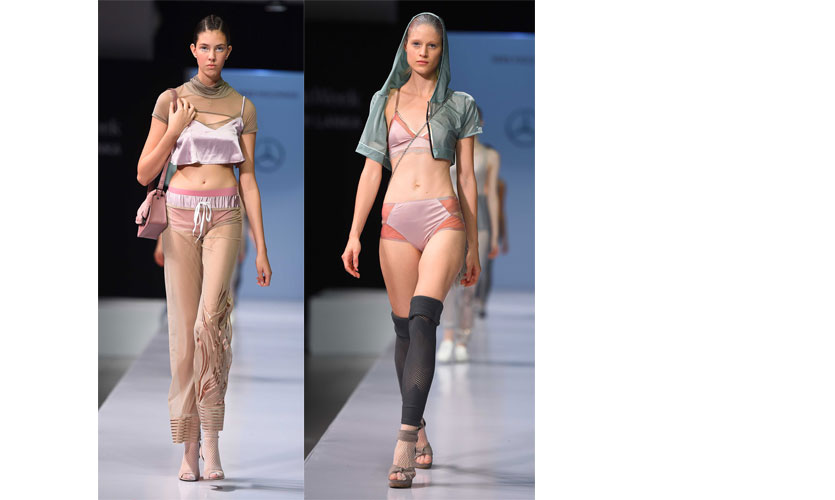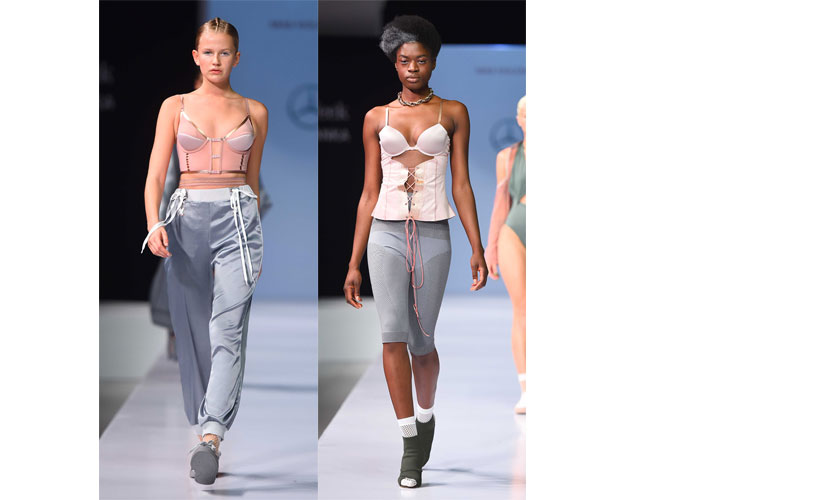 ARUBA BY AQUA ISLAND
The finale for the night, this swimwear collection was simple but luxurious. With nude as its selected colour scheme, the collection featured one piece and bikini swimsuits with clean cut design and delicate detailing with sequins and lace. This elegant ensamble was a lavish end for the night!