Momo's by Ruvi, Colombo's only dedicated dumpling spot, recently added another location near Regal Cinema. The newer location is much more spacious, airy, has plenty of natural light and much needed parking! I personally found it a lot more convenient than their original spot in Bambalapitiya.
Drinks
Considering that we experience near constant scorching weather in this paradise island, iced tea provides the perfect respite. I tried the Peach Fiesta Iced Tea (Rs. 300) which I thought was fantastic. Served in a large mason jar, you will be surprised to see how fast and easy it is to finish the drink and then thirst for more. It certainly helps that the delightful undercurrent of the peach flavour is perfectly balanced out by the tea. I also had the Vanilla Rose Tea (Rs. 150). You can't go wrong with vanilla and rose. The flavours pair like a charm anyway, and the tea is light enough that its flavours don't overwhelm your taste buds. This makes it ideal to have before or even after dumplings or baos.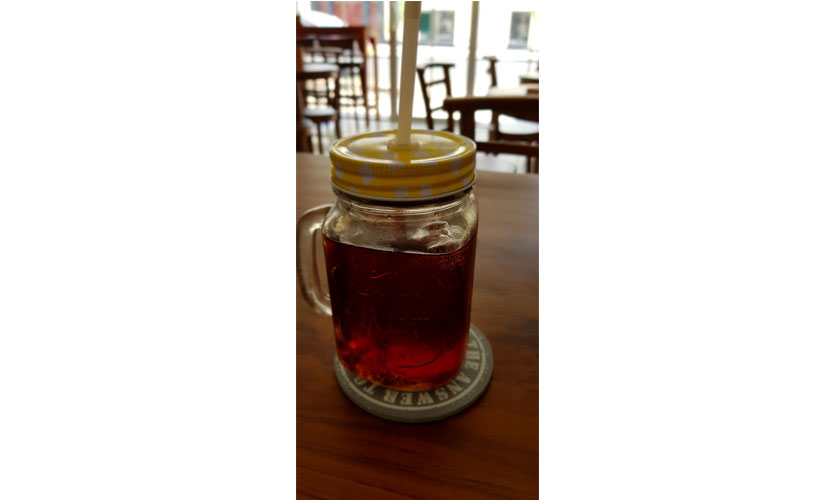 Peach Fiesta Iced Tea
Food
New location, new addition to the menu! Say hello to baos, currently only available at the Colombo 2 branch. Baos typically comprise meat enveloped in warm, incredibly soft and steamed bread, and are pretty much shaped like a taco, as opposed to a dinner roll. On her decision to introduce baos, owner Monalisa explained:
"Gua Baos are a very popular snack food. It's made fresh every time and packed with flavours. It's typically a steamed bun with different fillings and sauces. I was very cautious that I wanted to serve food that's just made fresh and passed on to service… It's the same scenario with the momos as well".
The menu here is simple and straightforward: they have momos, baos, as well as platters. The platters are great if you want variety in terms of preparation. It includes 12 momos that are steamed, shallow fried and wok fried. Or you could try the Meaty Fiesta (Rs. 1250) which is a combination of 2 meats in the 3 different styles.
I tried a few of their dumplings and baos in a plethora of meats including the vegetarian option (which was just as tasty!). The momos came with a few sauces like the Sambal, Szechuan, and Chilli Soy. And although the momos most certainly don't need any help from the sauces, the sauces do add in that extra touch. I tried the shallow fried Prawn Momos (Rs. 470), Beef Momos - Chilli (Rs. 570), Steamed Chicken Momos (Rs. 390) and the Veg Momos with Cheese (Rs. 520). The momos all came out super hot accompanied by the sauces. What's great about it is that the momos were all packed with meat/veggies and were incredibly flavourful. The beef momos, however, were tossed in a chilli sauce and were fantastic - with the right amount of spice to keep it exciting. A portion includes 6 momos.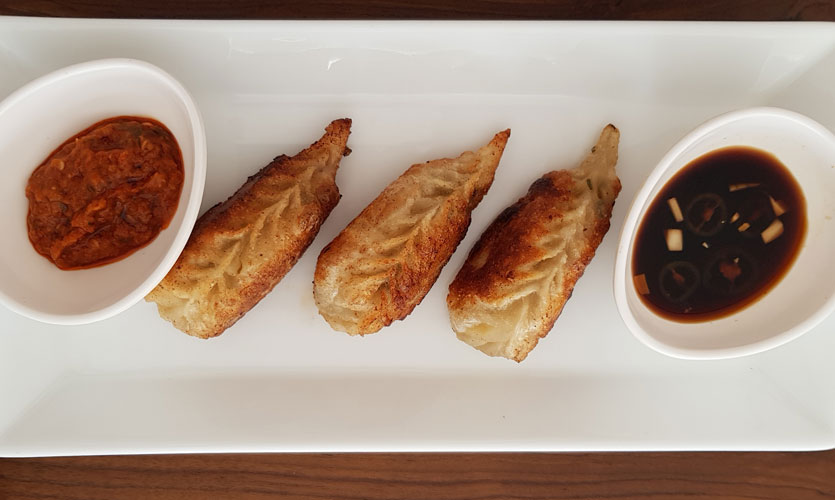 Shallow fried Prawn Momos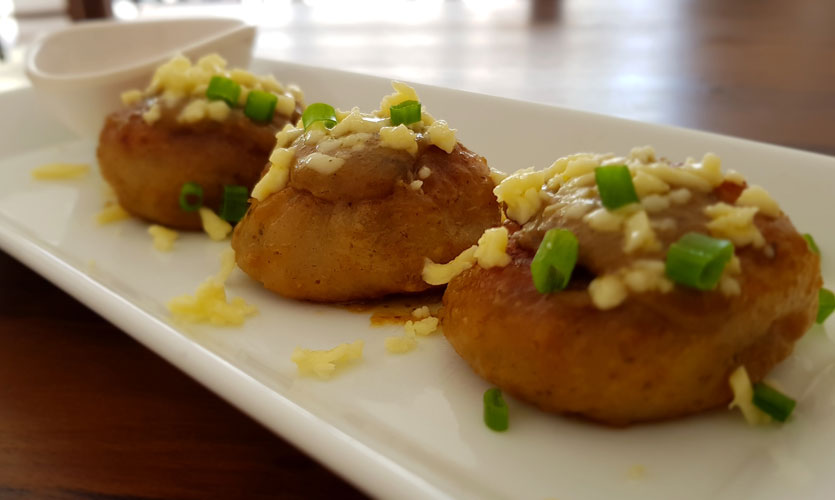 Veg Momos with Cheese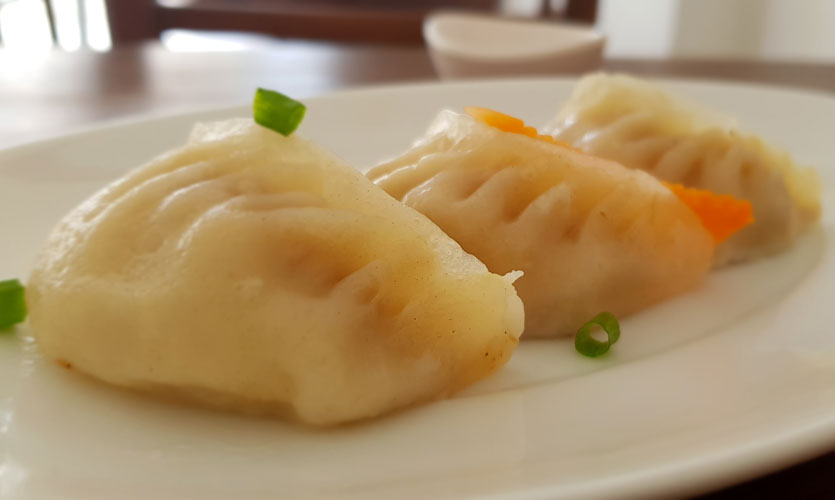 Chicken Momos
At present, they have four different fillings for the bao: Teriyaki Chicken (Rs. 720), Honey Garlic Chicken (Rs. 720), Chilli Fish (Rs. 720) and Veg (Rs. 650). The Teriyaki chicken bao was the clear stand out for me - the chicken was succulent with a crispy outer layer and tossed in the sauce; enveloped in the fluffy bao, it was a match made in heaven! The chilli fish was also tasty, but texturally dull, especially since the bao is so soft and fluffy and needs a texturally vibrant filling to amp it up - another reason the chicken was a clear winner.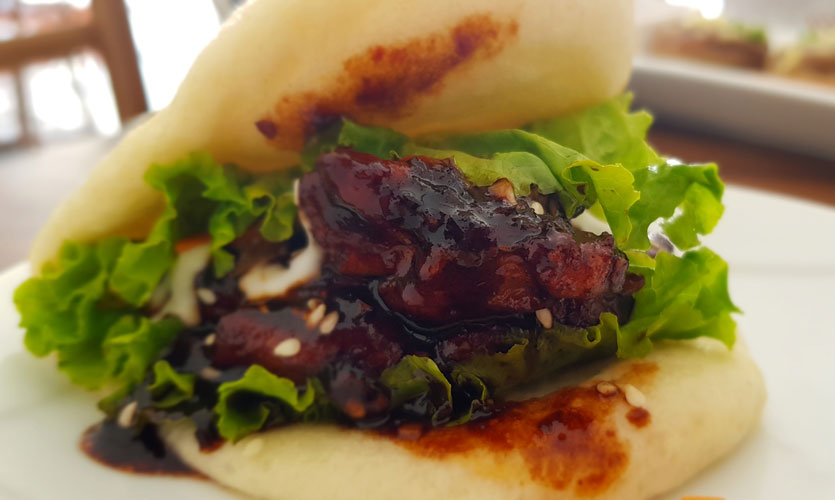 Teriyaki Chicken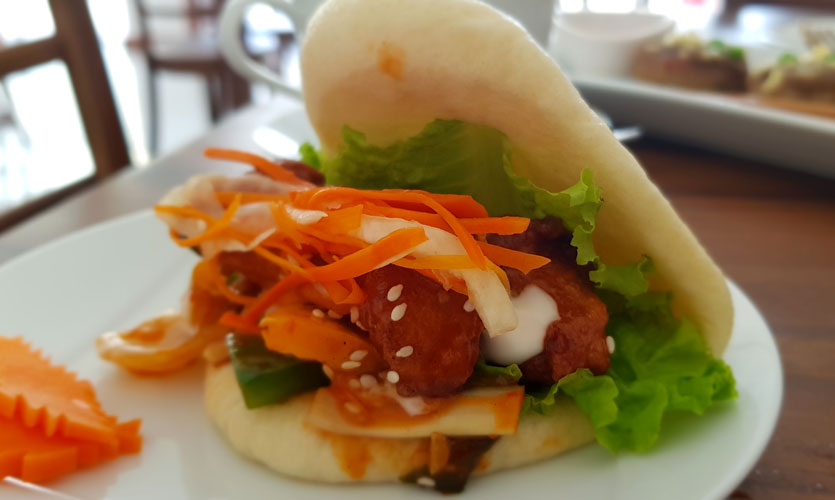 Chilli Fish
Overall
While Momo's by Ruvi has been consistent in terms of delivering pretty amazing dumplings, their new location has many pros - more seating, ease of access, parking and baos! - that make the overall experience so much better.
What we recommend: Teriyaki Chicken bao and the shallow fried prawn momos
Parking facilities: Ample parking down Regal Terrace
Toilets: No
Would we go again? Definitely!
Tips/notes: Try the platter since you get to sample the momos prepared 3 ways. The texture really does make a difference!