Celebrating 100 years of musical talent at S. Thomas' College, Mount Lavinia 'Musica Perpetua' will go on the boards at Bishop's College Auditorium on the Tuesday 19 September 2017 from 7.30pm onwards. The concert is organised by the Special Events team of S. Thomas' College and it is the first of many events which will take place in the celebration of 100 years of the School's existence in Mount Lavinia.
S. Thomas' College was founded in 1851 in Mutwal. However due to the coal dust and other reasons, the school was transplanted in Mount Lavinia in January 1918. January 2018 completes 100 years in Mount Lavinia and this is the first of many events organised to celebrate this special occasion! The proceeds from the show will be donated to the Senior Quadrangle project.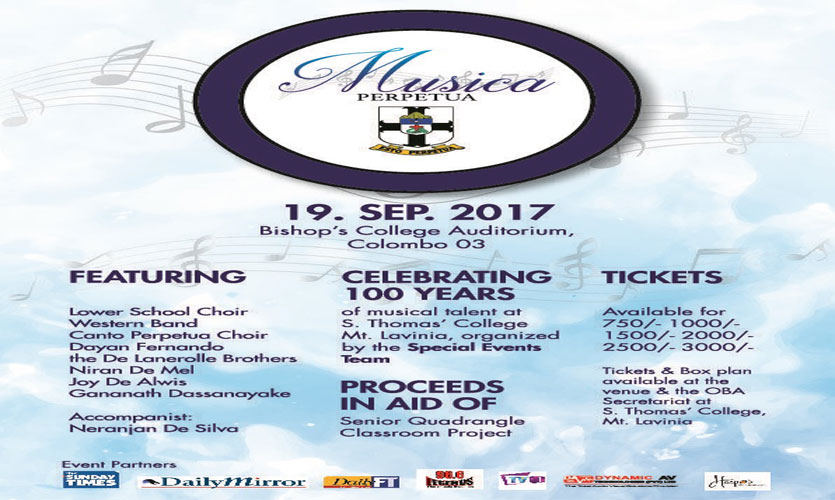 This concert will feature past and present students of S. Thomas' College on one stage, displaying musical talent of the school. The choir and the English Literary Association are the oldest activities in the school since its time in Mutwal. The Concert will also feature The Western Band, The Canto Perpetua, Lower school choir from the present students, and the De Lanerolle Brothers, Dyan Fernando, Joy De Alwis, Niran De Mel and Gananath Dassanayake from the old boys. The accompanist for the event will be Mr. Neranjan De Silva.
The show will showcase music from the past and the present, from Old Man River to O Danny Boy and will be an evening of music for the young as well as the not so young! Don't miss out on this wonderful evening where you can enjoy tunes from all eras!
Tickets are priced at Rs.3,000/-, Rs. 2,500/-, Rs.2,000/-, Rs. 1,500/-, Rs.1,000/- and Rs.750./- and are available at the Bishop's College Auditorium and at the STC OBA Secretariat office.