With the Sinhalese and Tamil New Year celebrations last week, life's been pretty eventful. Like us, you've probably enjoyed more than a couple of days off from work and hopefully treated yourself to vacation and some good food! With a few Kgs of happy-weight and a body still in party mode- are you geared up for the work-week, routines and household chores, yet? Welcome back!
After a week of decadent Sri Lankan sweet meats or those elaborate hotel buffets, having to think of cooking up some dinner to end a busy work-day, is not the most fun thing to do. To save you from those unhealthy takeout dinners and keeping in mind that we all want a quick fix when it comes weeknight cooking- we've put together a delightful meal plan of 'quick fix' dinners, inspired by dishes from Asia, Oceania, South America, Europe and Africa. We are keeping it a little healthier and still delicious- allowing you to sample the world, for the next 5 workdays. We hope to keep the cooking simple so you can knock out that quick dinner and enjoy your unwind time too. Happy cooking!
Mixing it up on Monday
Oceania- Sydney
Cuisine and dishes derived from the 'land down under' were once strongly influenced by British and Irish traditions. Though meat pies and fish and chips are still a popular local street food, it is thought that roasts and barbecued meat or seafood are a core component of the modern-day Aussie diet. In the Harbor city of Sydney; we are keeping it classic with our recipe of 'shrimp on the barby' inspired burgers.
Seared Cocktail Prawn Burgers with fresh cucumber relish
Ingredients (4 burgers)

4 soft burger buns

500g of peeled prawns

2 teaspoons of olive oil or melted butter

1 tsp or garlic paste or a clove, finely chopped

1 tbsp of red chili flakes

1 tbsp lime juice (keep lime for zesting)

A drizzle of honey or pinch of sugar Salt to taste

Relish:

¼ cup (75g) plain mayonnaise

2 tbsp tomato sauce

1 tsp soya sauce

1 tsp lime zest

1 tbsp finely chopped parsley

1 medium red onion, finely chopped

2 heaped tbsp of finely chopped green cucumber
Optional add on ideas: lettuce, cheese and a side of fries
Method:
1.Place your frying pan on the stove and have it get nice and hot before you add in the oil/butter and give it a swirl.
2.Let the prawns sear till they lose their translucency.
3.Prick each one with a skewer or tongs and char the sides with an open flame.
4.Reduce the heat and add in the garlic before you toss the prawns back in and coat them in oil.
5.Fry the prawns up and add in the lime juice followed by the chili flakes for heat and salt to taste.
6.Add in a drizzle of honey or a pinch of sugar and mix- this draws out the natural sweetness of the prawns.
7.Mix and turn off the heat allowing the prawns to cool.
8.In a bowl, combine all ingredients for the relish and give it a good stir.
9.Slice the buns, toasting the fresh side if desired and spread a generous spoon of relish on them.
10.Assemble your burger with the prawns and your choice of fixings. Enjoy!
Left over prawns? Not a problem. For a breakfast as Australian as it gets-make a tasty Jaffle (in Lankan terms: a toastie) for an easy breakfast on the go for tomorrow!
Tuesdays with a twist
South America- Brazil
Typically, Brazilian cuisine varies by region, due to the countries mix of native and immigrant communities. Many Brazilian dishes use local ingredients such as acai, cassava, cashew and red meat such as beef which is the most popular. Traditional household cooking in Brazil displays Spanish, German and Italian influence brought about by its large European immigrant population. A simple dish of meat and veggies cooked in their own stock to form a thick saucy stew, served over hot rice is a beloved modern day Brazilian dinner.
Picadinho' A Brasiliera
Brazilian beef stew served over rice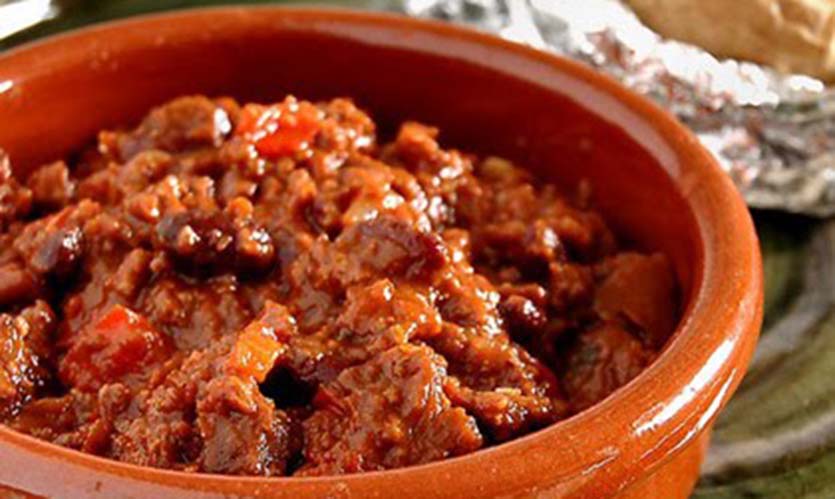 Ingredients (Serves 4)
¼ cup of olive oil or butter

2 cloves of garlic

1 large onion, chopped

500 grams of ground beef

1/4 cup of beef stock mixed with a tbsp. of vinegar

2 stalks of celery finely diced

1 small green bell pepper, chopped

Tin of kidney beans, drained (or corn or chickpeas)

1 carrot, grated

1 medium potato, cut into small cubes

2 eggs fresh coriander leaves, chopped

A small can of diced or pureed tomatoes.

Chili flakes, salt and pepper to taste.
Cooked rice for serving
Method:
1.Heat up the oil in a large saucepan over medium heat, before caramelizing in the onions.
2.Add in the garlic, celery and carrot, and sweat them out for a minute, stirring frequently.
3.Mix the beef, bell pepper, eggs, tomatoes, potato and coriander well in a separate bowl until evenly combined.
4.Add in the meat mixture to the hot pan of onions and increase the heat whilst giving it a good stir.
5.Cook for around 5 minutes till the beef is no longer pink, then reduce the heat to low.
6.Cover and cook for a further 5 minutes allowing to simmer.
7.Stir in the stock and continue to simmer for 5 more minutes, stirring occasionally.
8.Turn off the stove and season with salt, pepper and chili as desired.
9.Serve over hot white or brown rice and garnish with chopped coriander.
If you have any stew remaining, it goes great as a filling lunch served on top of fluffy couscous or pasta!
Wellness Wednesday
Africa- Ghana
Traditional African diet, was always influenced by scarcity of food and therefore in any dish, a little goes a long way. Meals are almost always prepared using as many parts of the plant and animal, offering great nutritional value and a hearty filling dish. Typical African dinners always have a broth, soup or stew of sorts, eaten along with a mashed carb like sweet potato or yams. Here's a healthy option to end hump-day and nourish you before you begin to wind down your work week.
Ghanaian peanut soup
Made with sweet potato and peanut butter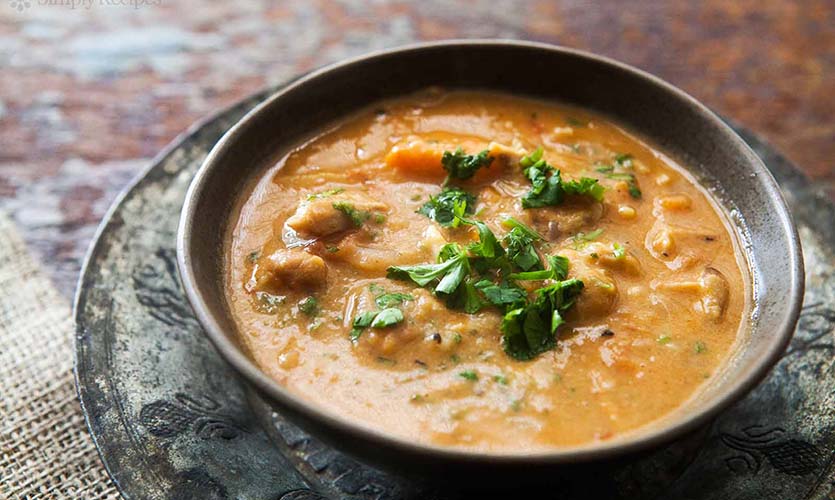 Ingredients (Serves 4)
2medium onions, chopped 1 tsp ground all spice
3medium ripened tomatoes 1 tsp crushed ginger
1 full cup of okra with trimmed ends
4 tbsp of peanut butter mixed with 1/4 cup of hot water
1 full cup of (bite sized) diced sweet potato (half-boiled)
1 and ½ cup of vegetable stock infused with 2 bay leaves
4 green chilies, deseeded- finely chopped
Salt, chili powder and pepper to taste
Method
1.In a large pan, place the onions and tomatoes in the hot 'soured' vegetable stock and bring to the boil.
2.Add in the bay leaves, crushed ginger, green chilies and okra and simmer on medium heat for 10 minutes.
3.Add in the sweet potato and peanut water and continue to simmer for a further 10 minutes.
4.Thicken with a little bit of flour if required and serve hot.
Serving ideas: Some fresh dinner rolls, toast or flat bread can help to mop up this delicious soup.
Thank God it's Thursday
Asia- Thailand
We all know it goes TGIF (F meaning Friday) but everyone knows how bad the wait can be when you've made it to Thursday and there's just that one more day to go. After yesterday's healthy meal- you're probably craving some flavorsome comfort food- the warm spicy kind you can get at a street stall. Thailand is just about the first place that comes to mind when one thinks about street food. Thai cuisine emphasizes on sweet and spicy flavorings, hitting the other sensory tastes of sourness, saltiness, bitterness and umami too. Popular noodle street food such as Pad Thai, are constantly reinvented with fusion ingredients across the world and have become the go-to Asian fast food for weekly takeout indulgences. Here's how you can make your own Thai inspired stir-fried noodle bowl:
Pad See Ew
Thai stir-fried noodles with bok choy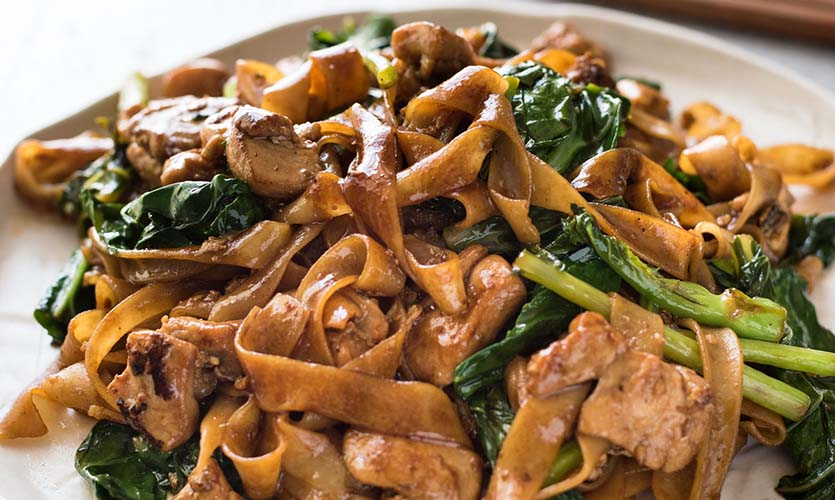 Ingredients (Serves 4)

180g flat wide rice noodles

Sauce:

2 tbsp dark soy sauce

2 tbsp oyster sauce

2 tsp soy sauce (all purpose)

2 tsp white vinegar

2 tbsp sugar

2 tbsp water

Stir-fry:

2 tbsp peanut/sesame oil or butter

2 cloves of garlic, minced

1 large chicken breast, cut into bite sized pieces

1 large egg

Two large bulbs of bok choy, cut into sections

Crushed peanuts for garnish (optional)
Method
1.Most noodles require a 5 minute soak in boiling water, others may require longer- so follow packet instructions.
2.Combine all the ingredients for the sauce, in a bowl and set aside.
3.Heat up a large wok or frying pan by placing on high heat and add in the oil.
4.Toss in the garlic and infuse with the oil, taking care to not smoke the oil.
5.Once the garlic is golden, add in the chicken and the stalk portions of the bok choy, stir-fry for a minute.
6.Move the chicken and stalks to a side and crack in the egg and scramble till it browns on the edges.
7.Add in the noodles, bok choy leaves and sauce and lower the heat, stirring to combine well until the leaves wilt.
8.Plate up and serve immediately.
This dish goes well with any protein: beef, pork, prawns and even squid. Top off with crushed peanuts and chopped spring onions for added flavour and texture.
Friday Night Feasting
Europe- Italy
Congratulations! You made it! A week of work done and dusted. You deserve something deliciously naughty- in the notso-healthy kind of way. That calls for pasta, sausage and oodles of cheese. Italian cuisine is characterized by its simplicity, with many local dishes using only 4 to 8 main ingredients. Most dishes are based around a sauce and the flavour of garlic and country grown herbs. Cheese is a major part of the cuisine- found in desserts, breads, pizzas, cakes and ofcourse- pasta dishes.
One Pot Lasagna
Made with sausage and cheese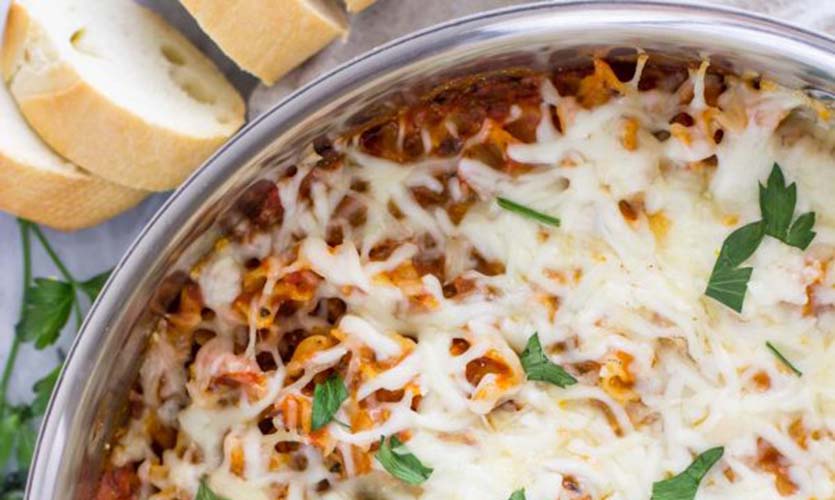 Ingredients (Serves 4-6)
150g of bacon/ham ends (pork, beef or chicken)
400g of minced sausage (pork, beef, or chicken)
200g of minced meat (pork, beef or chicken)
1 medium onion, chopped
½ a cup of water
150 ml of tomato sauce
2 chopped tomatoes
2 cloves of garlic, minced
Method:
1 tsp dried basil
1 tsp dried oregano
1 tsp chili powder
1 tbsp sugar
Salt and pepper to taste
2 cups of shredded mozzarella cheese ½ a cup of ricotta cheese- optional
A pack of penne pasta, half-boiled and drained.
1.In a large sauce pan, over medium heat, combine the meat and onion and cook until browned.
2.Add in water, cooked pasta, tomatoes, sauce, garlic, oregano, basil and chili flakes and mix well.
3.Add in the salt and pepper to season, stir through.
4.Bring the contents of the pot to boil, reduce the heat once the noodles have cooked completely.
5.Stir in the ricotta cheese and 1 cup of mozzarella and keep stirring until the cheese melts.
6.Top with remaining mozzarella and cover the pan with a lid for 1 minute till the cheese melts evenly.
7.Remove the lid and continue to melt the cheese.
8.Once the cheese has created a molten gooey layer on top, switch of the stove and plate up.
Serving tip: garnish with a fresh basil leaf or a sprinkling of chopped parsley and more chili flakes for heat. This keeps well in the fridge and makes for a scrumptious leftover-lunch.
There you have it. We hope you will enjoy this kitchen project and use it as encouragement to learn about the various other cuisines and dishes served around the world. Set aside some time next week as well, to take a chance with a recipe and step out of your culinary comfort zone!
text by - Aleesha Thavarajah