Ask the Minister: Matters Of Public Interest
A Chat with Minister Mano Ganesan, Minister of National Co-existence Dialogue and Official Languages
Some of our readers will be very interested in getting to know the progress of the present government and the future plans of the Ministers. With the endeavour of creating awareness in this regard, Daily Mirror Life met up with some Ministers and asked them a few questions. Their answers will be carried in this weekly column. This week, we speak to Mano Ganesan, Minister of National Co-existence Dialogue and Official Languages.
Can you briefly explain the function of this Ministry?
This Ministry has two large mandates. One is the National Co-existence which brings ethnic, linguistic and religious groups and also other marginalised groups like the women, youth, former LTTE cadres who are rehabilitated, soldiers who fought the war, their families, widows etc. together conditionally through dialogue.
The other mandate is to implement the National Language Policy of the state. That is; Sinhala and Tamil shall be the official languages, English shall be the link language. I don't see any debate regarding this. We have a law now. What is pending is the implementation.
What are the Institutes under this Ministry?
Official Languages Commission, Official Languages Department and National Institute for Language and Training.
I have appointed Professor Daya Edirisinghe as the Chairman of this Commission as he is a very efficient and learned person and ideal for this particular position. The Official Languages Department is headed by a former senior government servant Mr. Jayawickerema and recently I have appointed Professor Navaratne Bandara who was at the Peradeniya University as the head of NILAT.
Is it unusual that you have appointed Sinhala Buddhist officials to head all the departments under your Ministry? Can you tell me on what basis you made these appointments?
I didn't appoint my relatives or my henchmen or those who supported me during the election as most people do. As this is a very important Ministry I had to select the right people to do the job. I didn't know any of these people before I took up this appointment. I made a lot of inquiries from people, checked CVs and then picked the people I thought was best for this job.
Can you elaborate on the statement you have made very recently at an event held at the Department of Official Languages - "The national issue that we face today is based on the language issue in the country."
When Mr. S.W.R.D Bandaranaike brought in the nationalisation policy and replaced the trouser with the sarong, and replaced English with Sinhala, I totally agreed with that, it was a good thing. Unfortunately he failed to include Tamil with Sinhala and that was the beginning of a lot of issues.
Can you explain this language problem as you see it?
The Tamil people should feel that this country belongs to them also. Name boards, documents and forms should be in all three languages. When a Tamil speaking person finds it difficult to fill forms and find their way around due to being unable to read Sinhala or English they feel alienated. Sometimes they have to sign forms that they don't understand. When they go to a hospital they are unable to read the boards with notices and directions. Same with public transport. That is not good as this gives them a feeling that they are outsiders in this country.
Are you saying that the solution to our national issue is the implementation of the Language Policy?
I don't say that the language issue is the national issue but it is a great portion of it. I can confidently state that fifty one per cent of the so called National issue will be solved once this law is implemented. The national issue definitely requires power sharing in one country but sorting out the language issue is the prelude to the bigger picture. And while my colleagues in the government are attending to the infrastructure of the North and East, I am building the hearts and minds of the people. That's my job and part of the work of my Ministry. If that part doesn't happen, the intent and purpose of all the infrastructure will be of no use.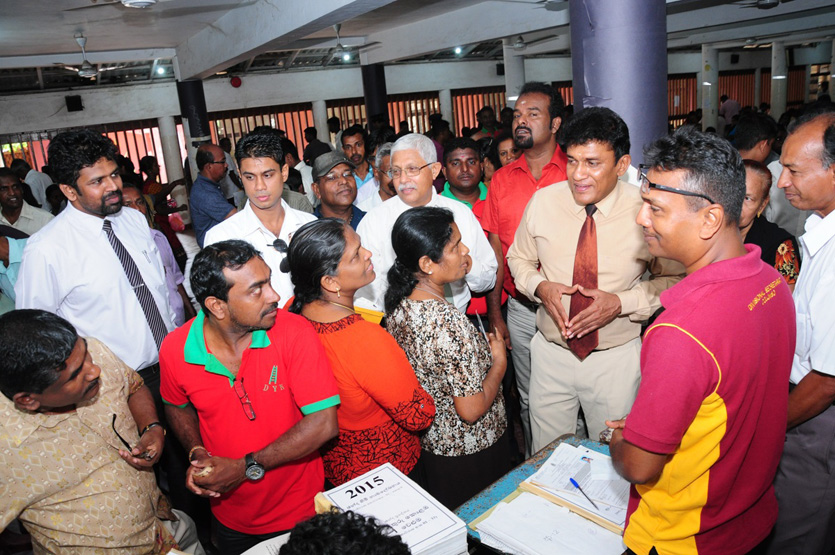 When was the National Language Policy first thought of?
Previously, it was Vasudeva Nanayakkara who was handling this area. Realising the importance of the National Language Policy he wanted this law implemented. In 2007 there was a state policy made that all the state employees should be able to speak in Tamil and Sinhala. The deadline for this essential requirement has been extended many times and now the deadline is 2019.
Now I have brought in a cabinet paper saying that State employees should be bilingual before they get their jobs. There are 332 Divisional Secretariats in this country of which 41 are officially declared bilingual as Tamil and Sinhala speaking people live in these areas. For example Dehiwala, Kolonnawa, Wattala and Nuwara-eliya. For a start, at least officials in these secretariats should be able to communicate in both languages.
If Tamil is going to be a criteria when it comes to getting jobs in the state sector, how do you propose to address this issue?
Up to Grade 9 children of all communities have a second official language but there also the quality is not good. Right now there is a shortage of six thousand language teachers - Sinhala, Tamil and English. So we are in the process of training teachers.
Does your Ministry conduct awareness programmes to educate the public of the importance of this matter?
Yes, we have a large number of awareness programmes and workshops conducted for district secretariats, Police officers, health sector and various categories of state officials and explain to them the importance of the Official Languages Policy. Professor Prathiba Mahanama former Commissioner of Human Rights, who has understood the need for this, helps by lecturing on the importance of this National Language Policy.
As a Minister I don't have to speak at these programmes, I have officials to do that, but I make it a point to go and speak to the people in Sinhala so that I know for sure that they are satisfied and have understood the message clearly.
There is a dearth of translators and interpreters in the country. Is this problem going to be resolved?
I have submitted a cabinet paper requesting to employ a large number of translators and interpreters. As this is a professional job, my Ministry will train civilians as translators and interpreters and appoint them especially to Police Stations and Judiciary services as we need to have proper translators in these department. Just because one speaks Sinhala and Tamil, they can't be proper translators and interpreters.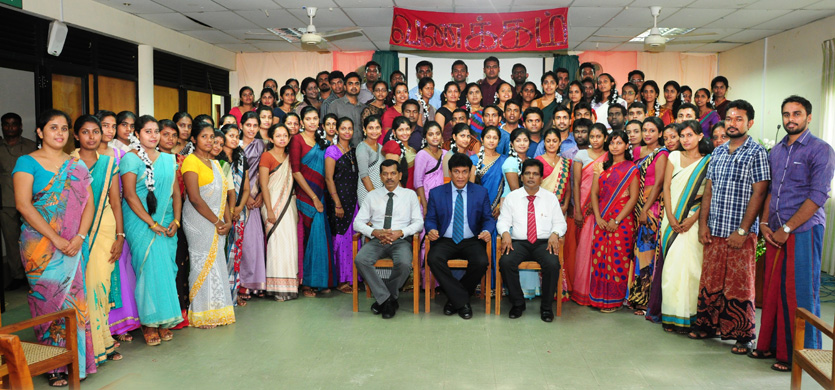 With the technology of today, why isn't interpreting and translating made easier?
We are in the process of developing an app where instantly Sinhala to Tamil and Tamil to Sinhala will be interpreted. It will be released to the public soon.
Your Ministry started a mobile service to provide civic documents to the people of certain areas. Was that project successful? Is it completed or continuing?
Yes, that project is very successful and we call it 'State service is for you'. It will be happening in every Divisional Secretariat. The first one was conducted at Vivekananda College, Colombo Central, recently. The public was able to get free translations for all their documents such as birth certificates, marriage certificates, ID cards and Registration for electoral list etc. Officials from our department, Registration of Persons Dept, Police, Gramasevakas and Divisional Secretariats and Election Secretariat were present to make sure all documentation was processed. Processing time for these documents was three hours and it was handed over to them on the very same day.
What do you see as the fears of the Sinhala people and the Tamil people?
The Sinhala people have two fears. They need an assurance from the Tamil community that they will not have this dream of the State of Eelam and that they will not take up arms again. Similarly the Tamil people also have some fears. That is, that the Sinhala people may not accept that this country is necessarily a multi ethnic, multi religious multi linguistic country. The Sinhala people should understand that diversity is not a weakness. It's strength. The other fear is, the power sharing issue. The power should be shared democratically, demographically and geographically in all areas.
Finally, apart from your Ministerial work, you are a freedom fighter for all. Does your brother Prabha Ganesan, who is also a politician in the opposition support your mission?
I want to make this clear. I sincerely love all my political opponents, but as for my brother Prabha, I consider him to be the perfect traitor. Traitors betray the cause.
---
Did you know?
- He writes short stories.
- Before getting into politics he was assisting in film directing and also wanted to be an actor.
- His father was a film producer and a trade unionist.
- He was the first runner-up in the 2007 Freedom Defender's Award presented by Condoleezza Rice.
- He is founder and convener of the Civil Monitoring Commission on Extra-Judicial Killings and Disappearance.