Indulge in a once-in-a-lifetime culinary experience with iconic celebrity chef George Calombaris
Renowned MasterChef judge and Australian celebrity chef George Calombaris will be curating two exclusive dinners for culinary enthusiasts in Colombo this week. George's trademark authentic Greek cuisine combines the freshest ingredients, with the use of creative flavour pairings and timeless presentation, to deliver culinary creations that are in a league of their own. It is indeed an exceptional moment where you will get to both meet George and enjoy his trademark dishes.
An elite gathering of culinary enthusiasts in Colombo will be able to indulge in this one-of-a-kind dining experience with the legendary chef himself. Special ingredients have been shipped in from Greece and Australia, to be featured in George's custom-made menu. A fine array of popular local ingredients has also been sourced for the highly-anticipated dinners. Those with a love for gourmet dining and fine culinary experiences will be able to book their place at the exclusive dinner gatherings, which will be held on the 9th and 10th of June. The evening will feature the serving of cocktails and hors d'oeuvres, followed by a Q&A session with George and a 5-course meal, curated by the culinary maestro himself. The dinners will be held at the Atrium, Cinnamon Grand Colombo.
Commenting on the menu that he has put together for the occasion, George Calombaris said: "The dinner menus that I curated for my visit to Sri Lanka, will feature some of my favourite ingredients and preparation techniques. I've tried to combine classic and contemporary Greek elements with an array of well-loved local ingredients such as tea and an eclectic fusion of spices, to put together a culinary experience that is entirely distinct. I look forward to sharing my love and passion for food and cooking with Colombo and hope to share my insights and a few secret cooking tips with those that attend the dinners."
Five courses of sublime dining
To kick start the evening, George's first course will include a mouthwatering starter of raw fish and for vegetarians it will be substituted with mushroom, premium cashews, cucumber, coconut water, pickled cucumber and local herbs. Golden (French) shallots and Hamachi/yellowtail kingfish have been sourced for the dish, cleansing the palate with a mix of refreshing and delicate flavours.
It is indeed variations with a twist! For the second course, George's menu will feature variations of beetroot, dashi yoghurt, onions and a peanut praline. The ingredients will be served, smoked in tea, pickled, raw and roasted to offer a tantalizing array of textures with every bite.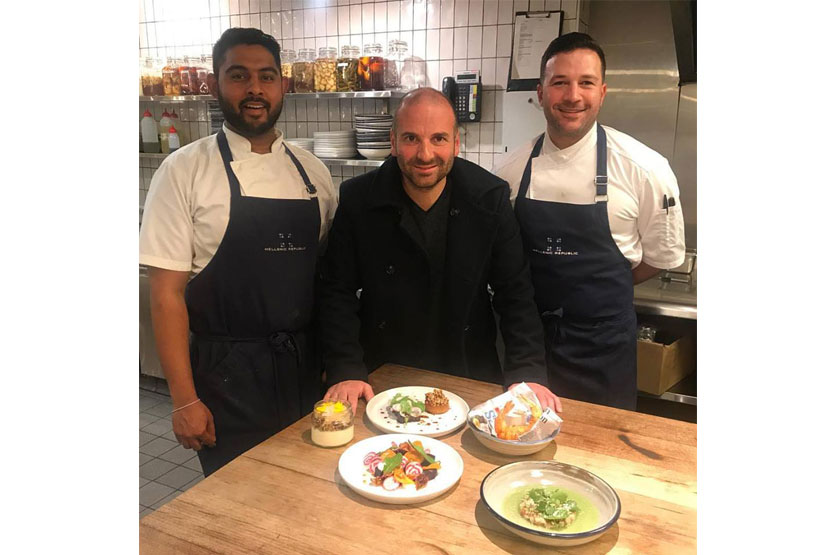 (Image courtesy George Calombaris' Instagram)
Drawing inspiration from Sri Lanka being a tropical island, with ample access to the finest seafood, George's third course will feature prawns kataifi and black tea tarama, which will be served in paper and eaten by hand to provide guests with the opportunity to truly engage all of their senses throughout the dining experience. The vegetarian option for this course is kataifi eggplant with fava puree.
Contemporary Greek dining with a local flair: For his fourth course, George will present tea bastorma spiced short ribs, (imported from America and Australia) served with a variety of radishes of different varieties and feta roti. The Dodoni feta used in this dish will be sourced from Greece and is a key ingredient in many of George's culinary masterpieces. The dish will include a blend of spices such as fenugreek, coriander, cumin, paprika and juniper, that will all seamlessly complement each other and bring out the taste and flavours of the juicy, decadent ribs. Don't worry he didn't forget the vegetarians with this course either! He will be serving a delicious cauliflower steak, with radish, and feta roti.
A sweet end to the evening: Bringing the dining experience to a close, a beautiful and intricate dessert platter featuring tea panna cotta, milk ice cream, guava granita and wild rice crunchies will be served, enabling guests with a sweet tooth, to indulge in the ultimate combination of rich and wholesome flavours. The rich milky undertones of the ice cream and tea panna cotta will perfectly complement the crunchy texture of the other elements in the dish.
Don't miss out on this great opportunity!
George Calombaris is being hosted by Cinnamon Life and tickets for the elite dinners will be priced at Rs. 25,000 per person (all inclusive), for your opportunity to meet and dine with George, and enjoy a menu that he has put together specifically for his visit to Colombo. Contact (+94) 71 711 8111.
Cinnamon Life presents George Calombaris in Colombo in association with Knorr, powered by Commercial Bank Visa Infinite and is supported by the Australian High Commission in Sri Lanka. The event is also partnered by Land Rover Jaguar as Vehicle partner, Walkers Tours as Inbound Tour Operator, Cinnamon Air as Domestic Airline partner, Dilmah Tea as the High Tea partner and is facilitated by Cinnamon Hotels and Resorts. Print Media is partnered by The Sunday Times, the Daily Mirror and the Daily FT. Electronic Media is partnered by Yes FM, Legends 96.6 and TV1.
Compiled by Jithendri Gomes