Colombo welcomes Daniel O'Donnell and Mary Duff for yet another spectacular performance
As Sri Lanka welcomes Daniel O'Donnell, his huge fanbase here in Colombo looks forward to witness yet another spectacular performance by the man himself and his singing partner Mary Duff who has been joining him on stage for more than 25 years. The concert will take place today and tomorrow at the BMICH. As always, Daniel will not forget to meet his fans and arrangements have already been made for a meet and greet after the concert at the Banquet Hall of the BMICH. Daniel, together with Mary Duff, will meet all their fans and also pose for photographs. During the three hour concert Daniel will perform his usual hits plus new songs that he has not performed in Sri Lanka before.
It's no surprise that Daniel O'Donnell is one of the best loved artistes of our time, both at home and abroad as he has had a remarkable career. He is the only artist in the world to score a hit in the UK album charts every year for the past 29 years. Daniel has also achieved eight number one hits in the UK music video/DVD charts over that period. He makes regular appearances in the Billboard World Music Chart and has been voted 'Entertainer of the Year' in Ireland three times. These are just a few of the many accolades that Daniel has been awarded. After more than 30 years in the spotlight as an engaging entertainer, he is still in love with performing and with audiences the world over.
Mary Duff, whose talent was first discovered by her father when she was 12 years old, has been singing with Daniel ever since she was offered the special guest slot on his first UK concert tour after her first audition with him. Till today she remains Daniel's 'Special Guest'. Life Online met up with this awesome couple who are known to be simple and down to earth unlike most stars in this day and age and had a little chit chat. Here are some things they had to say.
This is not the first time you are performing in Colombo. How would you describe your previous experience with your fans in Colombo?
Daniel: Last time was the first time I performed in Sri Lanka. We were amazed at the knowledge the audience had of the songs and the atmosphere they created. Most of the time the audience sang louder than we did and it was tremendous. The audience here was so receptive and knew all the words of our songs. When we travel to other countries there would be a mixture of many nationalities but here it was different. Other than for three or four people from the diplomatic missions it was all Sri Lankan people. It was incredible to know that there was a whole new nationality and a culture that we had no connection with and they knew what we were doing and loved us. We felt very much at home. And although our cultures seem to be different I think we have a lot of similarities in the sense that we take family traditions very seriously in Ireland as well. People are very connected like they are here.
You have not failed to thrill the audience of Colombo, so can you tell me what your fans can look forward to this time around? Is there anything different?
Daniel: I try to understand what the people like to hear and try to incorporate more of the older songs and a few of the new songs as well. I always include 'Footsteps' and 'I wanna dance with you'. What I realised last time was that 'Thank you for loving me' was also very popular so I will do that as well. I always do the Jim Reeves songs, then there will be some songs from my new album and a few Irish favourites. 'Blue Moon over my World' is a lovely new song I'm singing this time and we will end with a bit of rock n roll such as 'Sweet Caroline'. We are doing a little bit of Irish dancing also for the Sri Lankan people. Hopefully this time will be even better than last time.
Mary: This time it will be a bit different from last time when I came separately and I sang a lot of songs from my album. This time I will be singing with Daniel so I will incorporate myself with his show.
What will you sing from your new album?
Daniel: I will do 'Back Home Again' from my new CD and probably 'God's Plan'.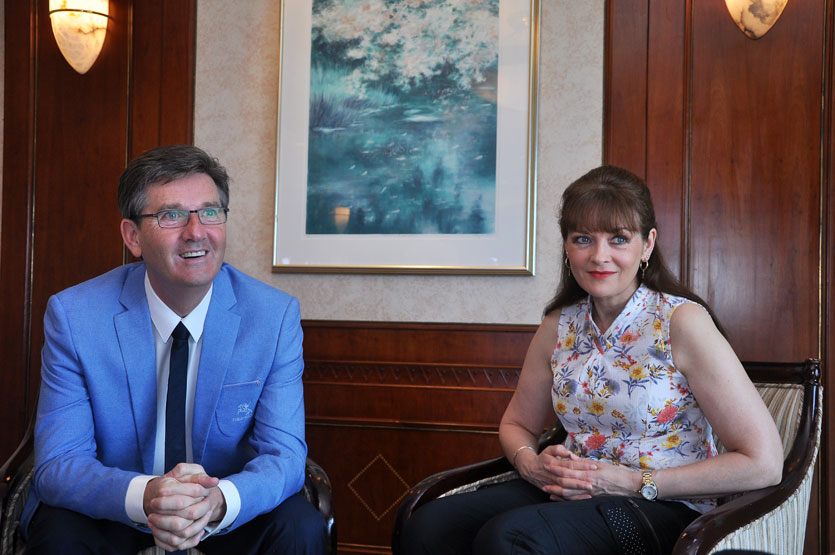 What are the duets you will be performing?
Daniel: We will do the very popular ones such as 'Somewhere Between', 'Via con Dios' and 'Whispering Hope'. We don't usually put the show on concrete. We kind of go with the flow.
What is the duration of the show tonight?
Daniel: It's supposed to go on for three hours. I hope I don't get too tired.
You have been singing together for over 25 years. How does that work for you?
Mary: We know what suits each other's voice so we don't have disagreements. My voice is very different to Daniel's and yet we can come together and sing.
Daniel: It's not easy to get a man and a woman to sing together for such a long time. We sing the songs that we both like. Sometimes, Mary would suggest a song and sometimes I would suggest a song. We blend very well.
What are your favourite memories of Sri Lanka that you carry close to your heart?
Daniel: My favourite memory of Colombo would be the fabulous audience. When we met them after the show they were so warm and welcoming and we felt so good to be here. Is was a fantastic feeling. It didn't feel like we were meeting strangers. I love the meet and greet as we get to chat to the people who love our music.
Mary: My memory is of a sea of these dark skinned people all smiling with their white teeth. It is a beautiful picture I have in my mind. It's amazing to see everyone remembering the words of the songs. It was overwhelming to see them singing everything. It's not only the chorus they sing but everything. For me it was unbelievable.
---
PHOTOGRAPHS by Nisal Baduge