Asymmetry by Rick Robinson directed by Jehan Bastiens and Neidra Williams, the founders of Silent Hands Productions is about the lives of the three couples. Two couples meet for the first time while one tries to patch things up between them. But insecurities and past experiences keep them from taking the next step forward. The cast includes Celina Cramer as Priscilla, Devinda De Silva as Julius, Neidra Williams as Sandy, Mohamed Adamaly as Miguel, Michelle Herft as Maggie and Shanaka Amarasinghe as Cody.
In a chat with the Daily Mirror Life, the cast shared their experiences with us :
Celina Cramer has been acting for a while but was not in the theatre scene for a while. "I acted with Jehan and Neidra in 2007 and was in the Picket Republic and Anthony and Cleopatra among others. Priscilla is an insecure girl who is over-confident and is a drama queen. After an accident, her face is scarred and she is experiencing a lot of insecurities. She doesn't trust people especially the males but finds this boy online and they start chatting. It is a Western setting but the audience will be able to relate to it. We don't talk about being shy and how to deal with your past. I love to fuss and therefore this role wasn't that difficult but acting shy and falling in love was a good experience."
Devinda De Silva has started acting at St. Peter's College back in 2011 and since then he has been working with Jehan and Neidra. "This is my first public production. I play the role of Julius, a nerdy person who is interested in this girl whom he met online. She comes all the way to meet me and it's a big thing because she hasn't left home for a long time. When we first met it was very awkward but we like each other. It's a good lesson for people to not be rude to others."
Sandy and Miguel had a relationship in the past and she wants to get back with him. "So she visits him to see if it could go anywhere," says Neidra Williams. They are both lonely and not hitched in any way. In the conversations the audience will find out their back-story and the bitterness that exists between the couple. The breakup was not at all amicable. It ends on a sour note towards the end of the play. I haven't been in a role like this. Sandy was once a spirited person but circumstances in life brought her to where she is today. She is a bit of a defeated person. There's nothing called a perfect relationship or a perfect life and everyone has positives and negatives."
"Miguel is a poet, an academic and lives in a world of art," says Mohamed Adamaly, attorney-at-law, and well-known theatre personality. "He's struggling to cope between life and death.
Sandy is an old girlfriend; a past student turned lover and was special than other students and relationships. They are meeting up after a long time and the rest is for the audience to see. It's the lives we choose to live. Miguel isn't the kind of person who can be with just one woman. This play explores the tragedies and the fact that life has an inherent loneliness. As in all roles, this is quite different and it requires settling into an understanding of the personality of the character. The audience can relate to either one or all the characters in the play."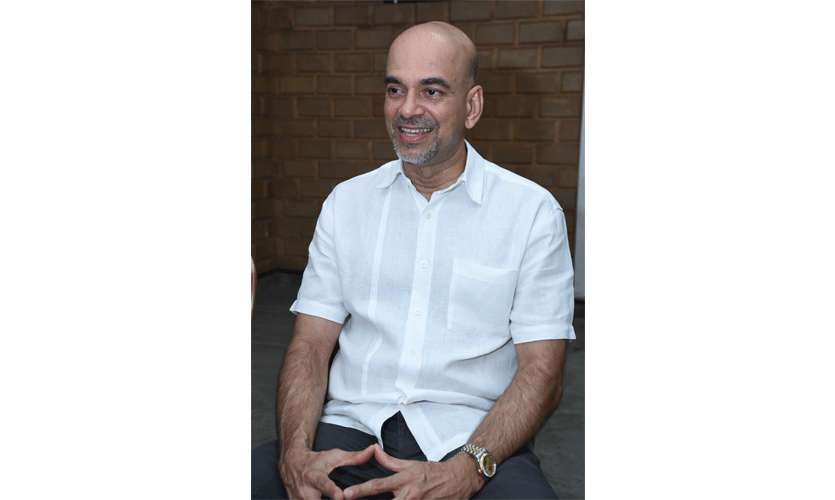 Shanaka Amarasinghe, a lawyer by profession has been involved with theatre for a while. "I started acting in school and it has been an interesting journey so far. "I have gotten to know Maggie online and we have gone on our first date. I'm quite into her and I think she is too but it doesn't turn out that way. So I'm upset by the fact that she has played me off."
Maggie played by Michelle Herft is a girl who doesn't believe in love. Michelle has been involved in many stage plays from comedies to realistic concepts such as V-Day. "It's easy working with Jehan but we are trying to understand the role. It's an interesting juxtaposition of what can go right and wrong. I'm searching for someone but it may not be for the same reason as Cody just like any other online relationship."
Head over to The Stables at Park Street Mews on May 11- 13 to find out more about the lives of these three couples. A glass of wine and a plate of tapas await you!
Tickets priced at Rs.3000

What: Asymmetry by Rick Robinson
Time: 7.30pm onwards
Where: The Stables at Park Street Mews
Pics by: Kushan Pathiraja