V Day, a series of acts brought together to highlight the experiences of victims of rape and abuse will present its latest production this weekend. Titled 'V Day: Resolutions', this year's production will focus on highlighting the solutions suggested by the victims themselves to avoid rape and abuse.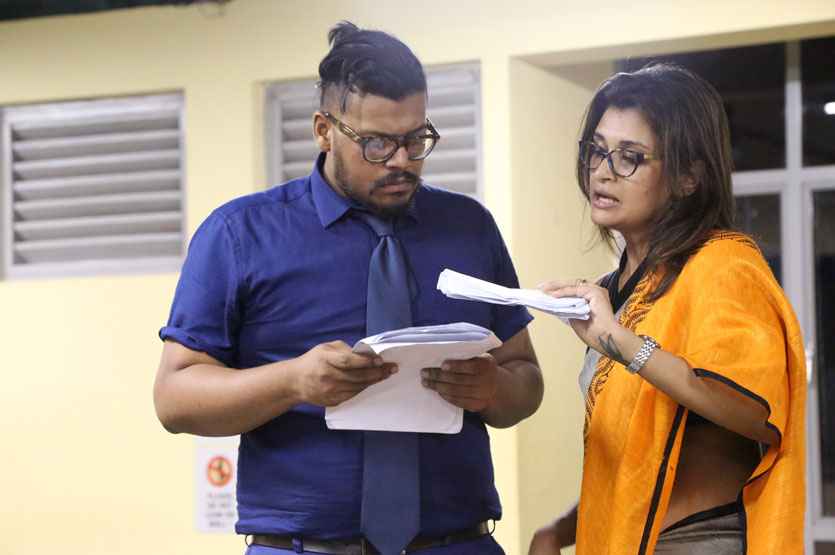 The show is rated 18+ for adults only, and the cast includes Anuruddha Fernando, Bimsara Premaratne, Ashini Fernando, Bhoomi Harendran, Chitranga Kariyawasan, Danu Innasithamby, Dharini Priscilla, Dino Corera, Dominic Keller, Gehan Blok, Goabi Ramanan, Indu Dharmasena, Lihan Mendis, Pasan Ranaweera, Pia Hatch, Michelle Herft, Sanwada Dharmasena, Vinodh Senadeera, and W Jayasiri among others from Tamil, English and Sinhala theatre.
A few cast members spoke to Life Online about their skits, and the characters they're playing.
Danu Innasithamby starring as 'D'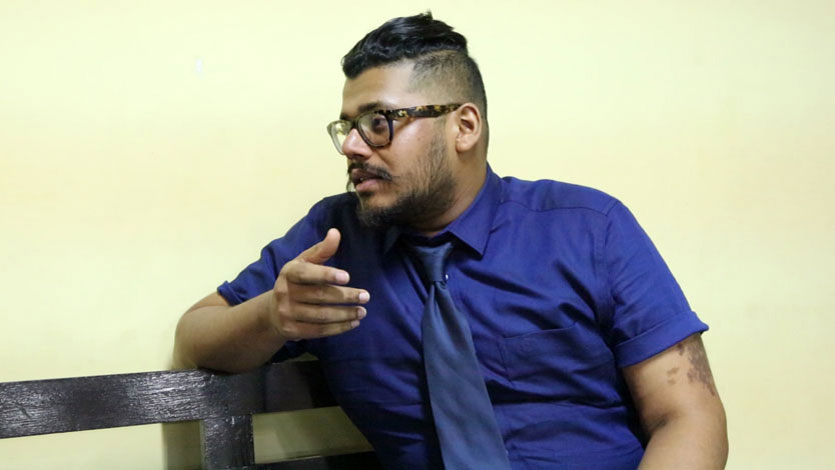 Danu Innasithamby, media personality and a man of many talents has been involved with V Day for the past two to three years. "I love the purpose behind the concept. It's very interesting and thought-provoking and we are here to change people's mind sets in the way they see sexuality, other related issues and taboo topics that we don't like to speak about. It's a good way to do it through entertainment and art and I think it gives out a very powerful message. Every year there's a different concept and a different message that is sent across. This time the piece that I play is about how we try to bring up children in a very sheltered and protective manner thinking that they will never be corrupt. But that is not the point because children can get information from anywhere. So in my role I try to portray how it's better to be transparent and openly discuss about these issues and make them aware of what the world has to offer."
Ashini Fernando & Pia Hatch starring in 'Inspect Her Gadget'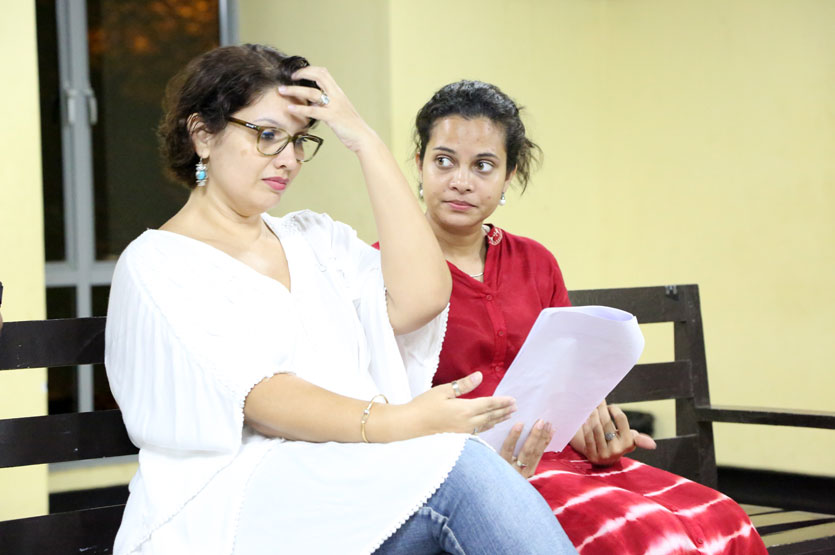 Ashini Fernando is a teacher and has been a part of V Day from its inception. "Every year there's a different theme and this time it's quite interesting. I have been in theatre from school and it's nice to work in a forum like this because I get to meet people who have experience in Sinhala and English theatre. This kind of theatre is about giving back to society rather than entertainment. Some people still find it hard to adapt to the concept of V Day because it's different to what they would expect. Therefore it's a way of getting something across and in that way V Day is a great concept. People tend to live in a bubble and when we come across these kinds of stories its quite shocking."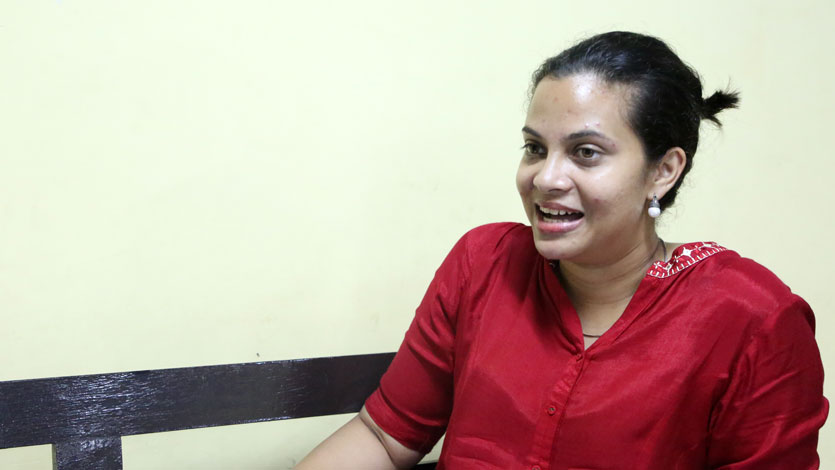 Speaking about her role in this year's V Day, Ashini said that the piece she is involved is titled 'Inspect Her Gadget'. "Here a friend of mine meets me and speaks about a Sri Lankan YouTube channel that has all gadgets which will help someone to protect herself from rape. We are going through each gadget and they are introduced by other actors and actresses. It's a casual conversation and she's trying to give me relationship advice."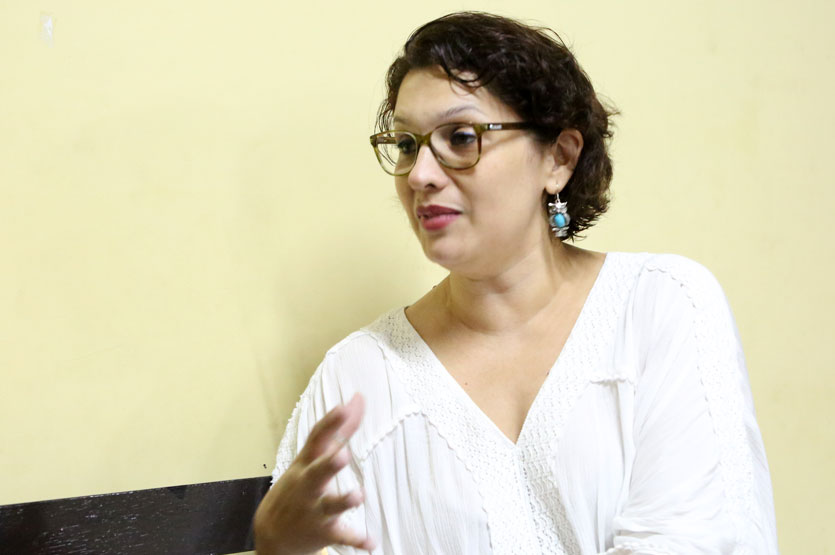 On the other hand, Pia Hatch has been working with Hans and this is the fourth time she's participating in V Day. "I really believe in what Grassrooted Trust is doing and through V Day we are trying to give as much exposure to topics that are less spoke about in terms of sexuality, gender-based violence and other issues. I play alongside Ashini in this piece and as described by her we discuss about the gadgets on display in a particular Sri Lankan YouTube channel. V Day is more than just a theatrical experience and it's an honour for me to work with a veteran such as Jith Peiris and he has been with this concept from day one."
Pasan Ranaweera, Bimsara Premaratne and Bhoomi Harendran starring in 'Inspect Her Gadget 2'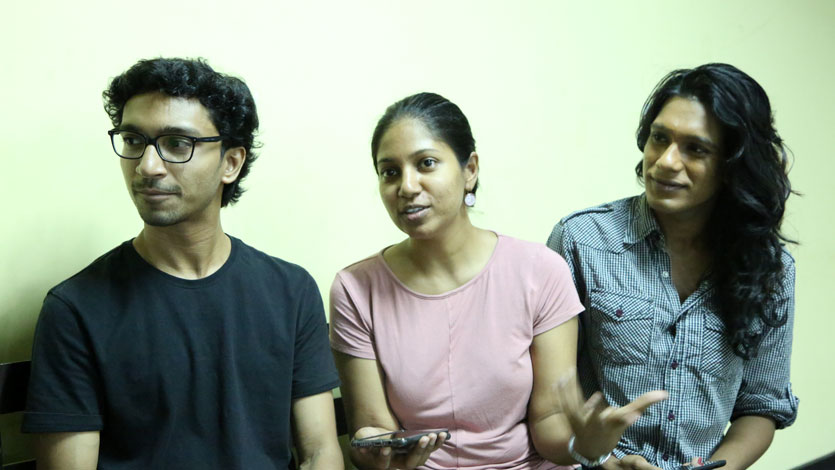 In their comments, Pasan, Bimsara and Bhoomi, three personalities who have been involved with V Day since its inception said that they are all starring in one concept, trying to find solutions to rape and abuse in five different ways. "It's about real devices and real solutions that have been given to us to avoid rape and abuse and we are trying to elaborate on them. It's a limited audience that we are addressing but it's also about breaking barriers and giving a chance for people to think and see differently. It's quite realistic and people will not be comfortable to watch some of the acts at one point. Sri Lanka lacks a lot of sex education and there are only a few forums that address topics relating to rape, sexual abuse and violence. So we thought we should be a part of this concept to spread the message across."
Dominic Keller starring in 'Wizard of Id'
Dominic Keller, the man behind the face of Chaminda Puswedilla has been a regular face in V Day. Speaking to us Dominic said that he's playing the figment of anyone's imagination. "The solution in my piece is that you could use your imagination to create all sorts of evil fantasies about people you don't like instead of doing it in real. I'm playing this role alongside Dino and he unleashes me when he has bad thoughts. I think we should do this more often and last year we did this in couple of occasions. The message should be out for a lot more people to see be. V Day is always meant to be shocking and it's the shock factor that encourages people to watch it. Each year it becomes more shocking and it's this shock factor that creates the thought process of the people."
V Day 2017 Resolutions will take place on Saturday 1st April at 7:30PM at the Barefoot Café. Tickets are priced at Rs. 1000, with a 50% discount for students and are available at the venue. For more information about the show visit the Grassrooted Trust on Facebook and at www.grassrooted.net.
---
VIDEO & PHOTOGRAPHS by Zeeshan Akram Jabeer