Animals have never failed to wow humans with their amazing characteristics and features. While every one of them have the sense to identify a threat, their eating patterns, ways of communication and mating habits are quite unique to each species. Out of these animals in the broadly distributed animal kingdom, mongooses take a special place. Apart from their inclination to fight with snakes, mongooses are known to be better sniffers than most other animals. Taking this into consideration, the Sri Lanka Army recently initiated a training programme for mongooses with an attempt to launch the first ever animal-human integrated system to detect explosives.
The mongoose team is trained by a special group of Army officers under the supervision and guidance of Major Bandara Dhammanthota. Speaking to the Daily Mirror Major Bandara said that the idea was initially put forth by General Krishantha Silva. "After he suggested whether mongoose could be trained on this subject, former Commander of the Engineer Brigade, Brigadier Amith Seneviratne took a keen interest to do an extensive research on it. In fact he was the founder of this project. Back then I worked as a staff officer to him and we decided to initiate this project in 2016."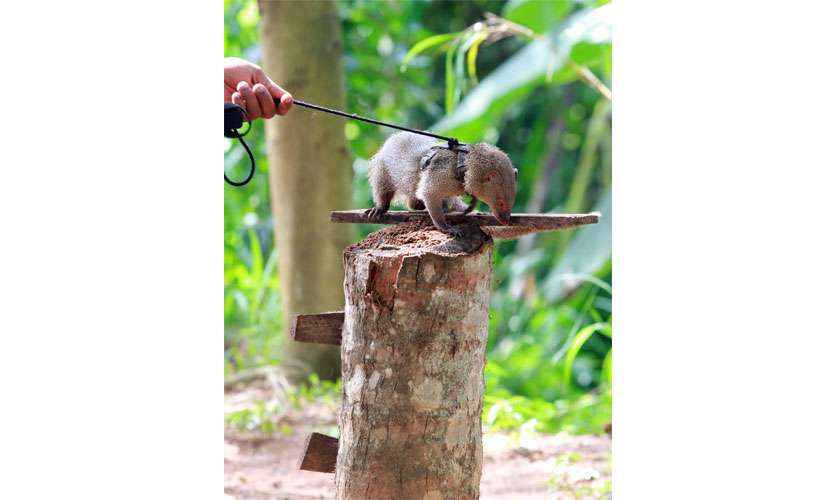 According to a background research done by Brigadier Bandara and his team, the animals with the best sniffing capability is the elephant followed by pig, mongoose and dog in the order of their capability. "Usually dogs are used for sniffing and detecting explosives because they interact well with humans," Brigadier Bandara continued. "People think it's difficult to use pigs and elephants."
However, there are certain limitations in using dogs. These include :
The cost to maintain a dog is Rs. 18,000 – Rs. 20,000.
The warm temperatures in the North and the East are unbearable for dogs.
They are unable to work for long periods.
It's difficult to move them from one place to another.
Sometimes dogs are restricted at airports and ports.
Dogs cannot sniff laterally, horizontally or in the upward direction.
But according to Brigadier Bandara, compared to dogs, mongoose can sniff in all directions. "Therefore we decided to start this project. Initially we started with 14 mongooses but only 10 mongooses completed the training. Four of them couldn't adapt to the environment and therefore we had to release them. We have identified that their food habits are different to other animals as well."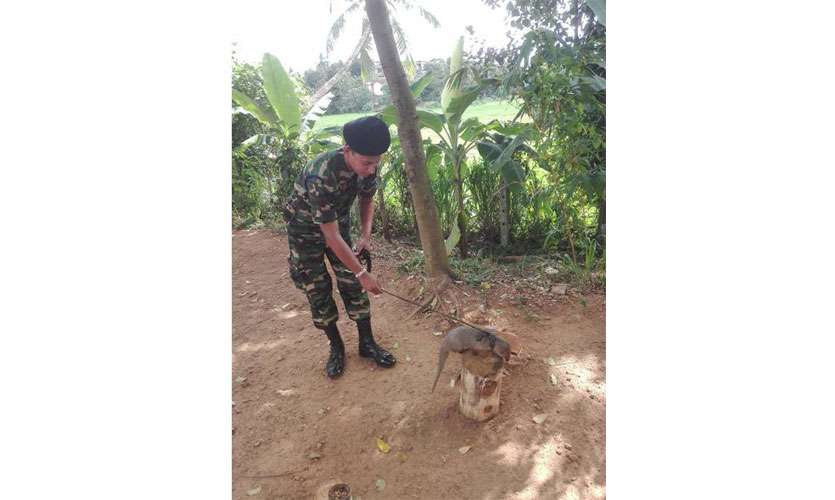 The Indian grey mongoose
In Sri Lanka there are four species of mongooses including the Indian grey, Ruddy,Indian brown and the striped-neck mongoose. Out of them, it has been found that the grey mongoose is more intelligent. The grey mongoose is commonly found in open forests, scrublands and cultivated fields, often close to human habitation. The Indian grey mongoose is omnivorous, though most of its diet is made up from live prey it catches from being an opportunistic hunter, with mice, rats, lizards, snakes, and beetles making up the bulk. According to Brigadier Amith an attempt has been made in Cambodia to train mongooses but it hadn't materialized. Certain species of mongoose could be domesticated as they are known to be fairly intelligent and could be taught simple tricks. "Hence after we started, we succeeded in training them to detect explosives," he continued. "Here we train them on ground sniffing, search and clearance and identifying explosives in a building. But they could also be trained identify explosives inside a container and for narcotics detection as well. Hence we have successfully completed the first stage and they are being trained by Captain Jayatillaka. During the second stage we are planning to do a breeding programme within the camp itself and for this we have chosen three females and four males."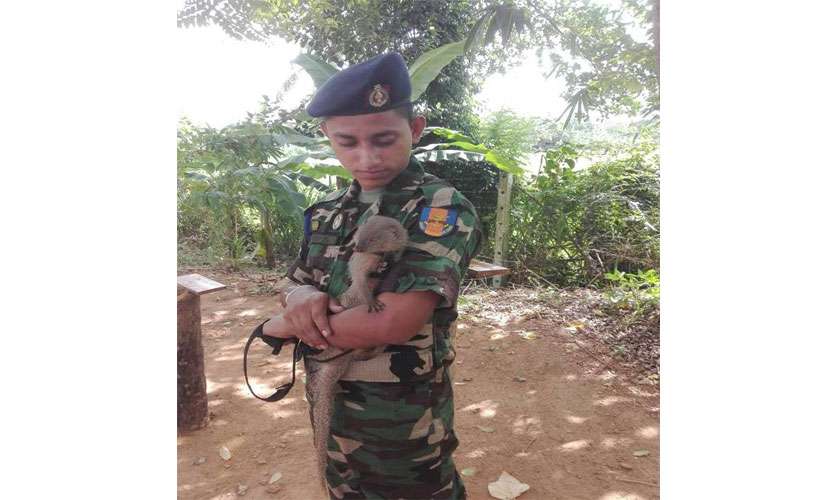 Advantages of using mongooses
The lifetime of a mongoose is 15 years and they could be trained after six months. Within one year they complete the training and they could be effectively used in an operation for 10 years. Some of the advantages of using mongooses are:
The cost to maintain them is between Rs. 5000 – Rs. 6000.
Easy to carry and handle.
75% of the task is done by the handler and 25% by the mongoose. Therefore if the handler does his part, the mongoose will showcase its fullest capacity.

In future, you will get to see these tiny animals running around in full gear to detect explosives and save human lives!