A disturbing 90% of women in the country have been subjected to sexual harassment on public buses and trains, according to a study commissioned by the UNFPA in 2015. That's 9 out of every 10 women. An alarming number
But to many women, that's all their experience will ever be. A statistic. The harassment a daily reminder that her peace of mind is not a priority. They will endure the psychological and physical harassment because they have no choice. Travelling by buses and trains is the most economically feasible option for a significant majority of women in the country, whose daily wage will suffice for cutting corners and surviving on the fringe.
Hoping to do their part in making transport safer for women is the Rosie May Foundation. Responding to an urgent need for safe travel option for women and children, the Foundation recently equipped three mothers from Telwatte with pink tuk-tuks. This novel concept looks to benefit not only women seeking safe travel options, but also the single parent mothers living below the poverty line, empowering them to stand on their own feet and support their families. In addition, Think Pink Tuk Tuks 'will be the first to be fitted with metres in the Southern Province to ensure transparency and a fair price'.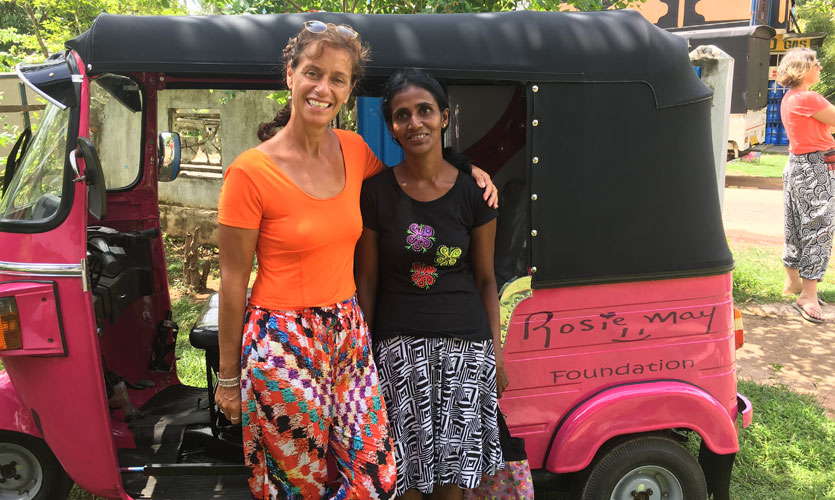 Life Online caught up with Mary Storrie, Co-founder and Director of the Rosie May Foundation to learn more about the foundation's endeavours.
Below are excerpts from the interview.
The Foundation was established after Rosie May in 2004. Tell us a little bit about it.
Founded in memory of my daughter Rosie May who was murdered in Dec 2003. In Dec 2004, we were in the Maldives with our two sons when the tsunami hit. This was our inspiration for working with children in crisis who were affected in Sri Lanka
What was the reason behind the conceptualisation of the Think Pink project?
The reason was to provide a reliable income for our single parent mothers and at the same time provide personal safety for girls and women. I had seen in Dubai the taxis driven by women for women and thought this was replicable with tuk-tuks in Sri Lanka. When we read the report published in Sri Lanka, this provided evidence for the need for such a service. We spoke to women who said that they have to spend time escorting teenage daughters to school when they could be working to ensure their safety.
What are your plans for the expansion of this project?
We are seeking sponsorship to support and expand the project both in our locality and in other areas. A Think Pink female driving school is our ultimate ambition and our vision is to see women driving Pink tuk-tuks and providing personal safety for girls and women all over Sri Lanka.
What are some other/upcoming projects conducted by the Foundation?
A new income generating initiative is a cookery school for women to teach other women and visitors how to make local cuisine. The Foundation is working on upscaling its family strengthening programme to other areas to help keep more children with their families where they belong.
The Foundation is currently accepting donations to fund their various projects, including for the Think Pink tuk-tuk project where they hope to train more single mothers to drive and provide them with the bright pink tuk-tuks.