The Colombo Supper Club presented celebrity chef Kenjiro 'Hatch' Hashida, whose pop up at the Shangri-La Hotel Colombo wowed select diners with an omakase experience over the course of two nights.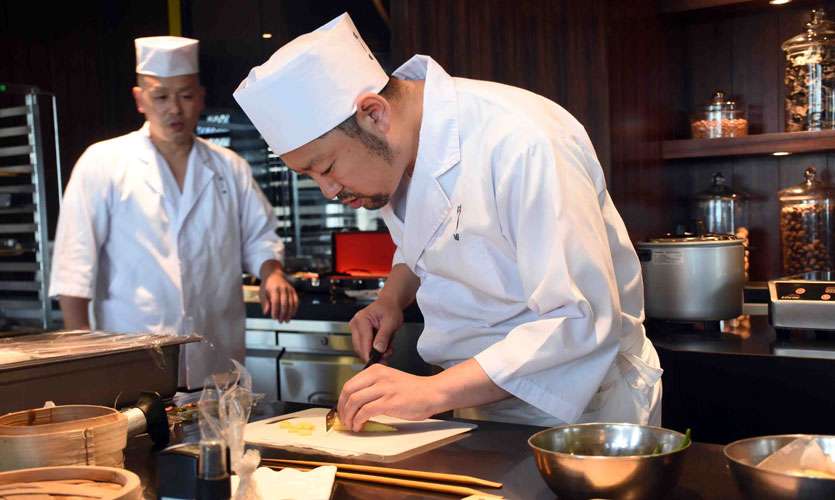 Chef Hatch, who is a second-generation celebrity chef from Tokyo, counts over 25 years of culinary experience. Having apprenticed under his influential father Masterchef Tokio Hashida - who opened premier sushi restaurants in Japan, Hashida Sushi - Chef Hatch is known for his innovative yet traditional approach to food preparation.
The Omakase experience is one that encompasses dishes especially curated by the chef, and Chef Hatch worked with Chef Paul Lenz, Executive Chef of the Shangri-La Hotel, Colombo treats diners to a stunning eight-course meal.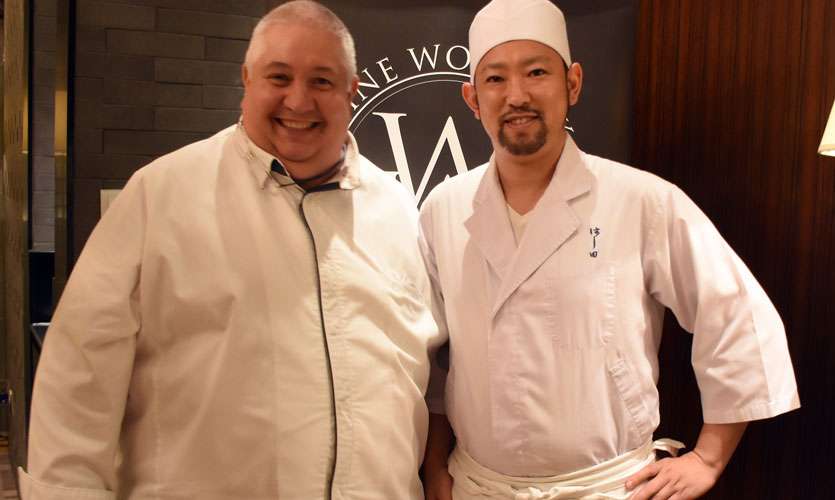 Chef Hatch is an artist, and watching him painstakingly put together ingredients was indeed a treat in itself. The experience was as inclusive as it gets, with each dish prepared in front of the diner, hence the very limited seating for each night of not only the pop-up, but also at Chef Hatch's Hashida Sushi restaurant in Singapore. Every minute detail, however insignificant was well thought out - many of the ingredients, including the seafood were specially brought down from Japan, the napkins were customised with the Hashida family emblem, serving platters were selected to complement each dish.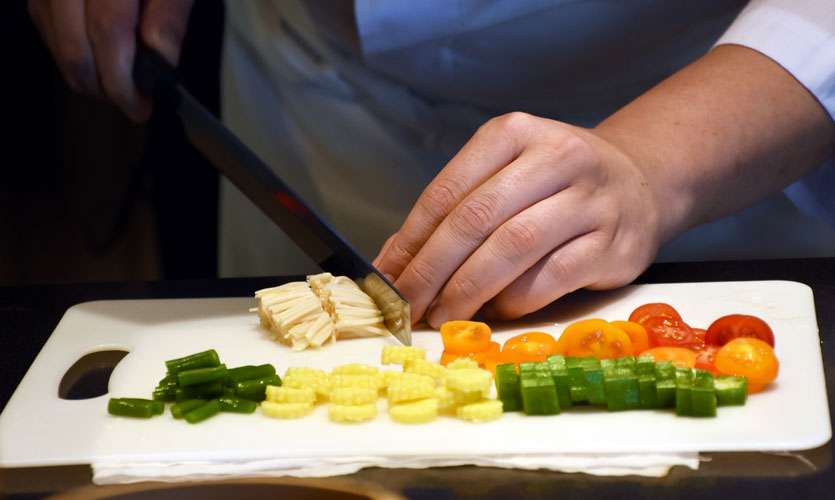 For a chef of his calibre, Chef Hatch's unpretentious demeanour precedes him. He joined us to explain the elements of each dish, explaining that the sakura flower, for instance, which was also especially flown in would taste like cherry blossom in our mouth. At other times he would interject us to tell us what's just for decoration on the plate and not for consumption, accompanied by self-deprecating humour. Throughout the night he happily obliged curious diners and explained the nuances of ingredients.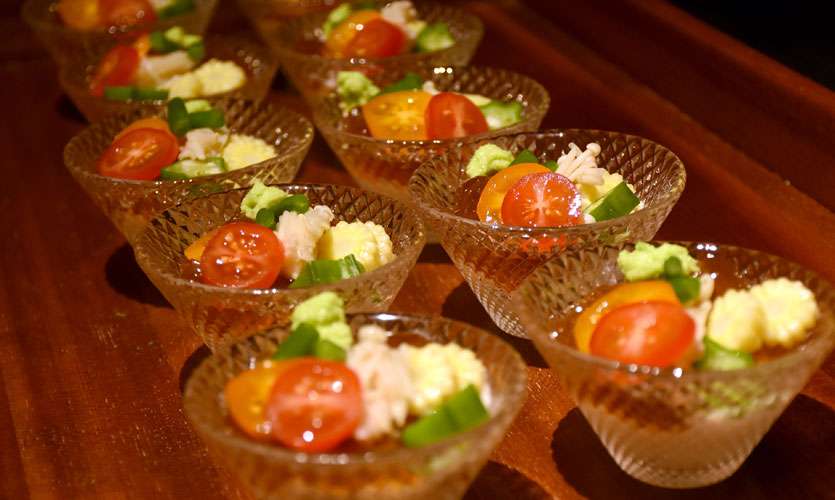 Chef Hatch is primarily a sushi chef, his curated menu was a reflection of that. The dinner began with Japanese bean curd with vegetables. A seemingly simple starter, but prepared with precision and surprisingly large number of ingredients. A delightful riot of flavours, it is easy to not appreciate the nuances of its preparation had you not seen Chef Hatch at work.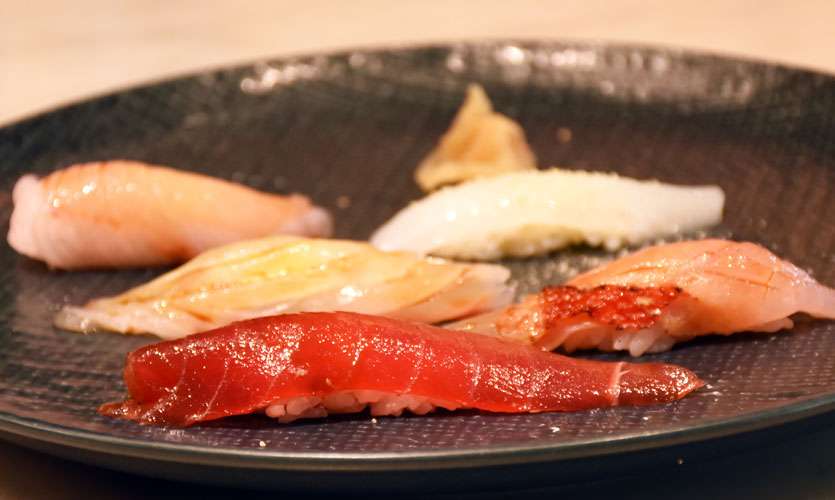 This was followed by Awabi, which comprised abalone, bamboo shoot and a seaweed sauce.
The abalone - marine snail - was served in its shell along with the rest of the ingredients. The seaweed sauce was especially fantastic, adding a very delicate sweetness to the dish.
The subsequent courses served - sashimi and nigiri based dishes - were a testament to his prowess as a sushi chef, and his masterful preparation and incredible technique spoke louder than his words. The sushi was marinated in the Hatch family's secret sauce developed more than 135 years ago, the flavours a perfect melange. The platter comprised an assortment that included Golden-eyed snapper, fatty tuna belly, cuttlefish and octopus. Many of the seafood reappeared in subsequent courses, in various iterations.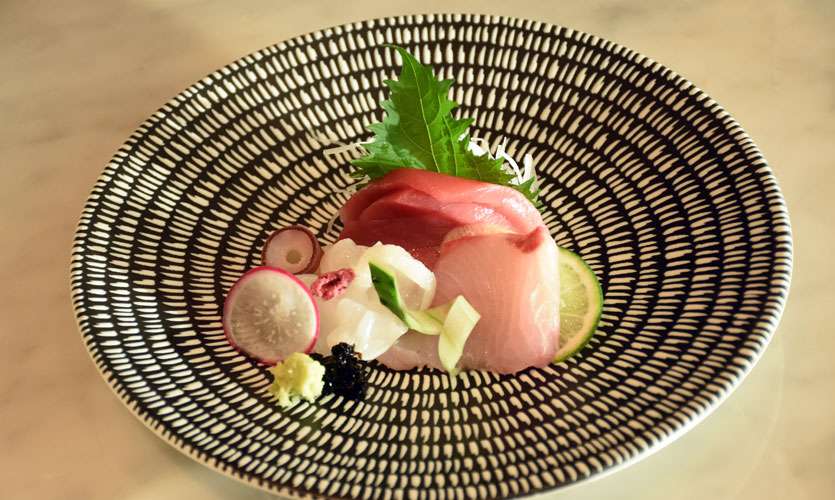 The sixth course saw Chef Hatch layer sea urchin and roe on a bed of rice, and a tiny bit of wasabi to go with it. The 'pop' of the roe in your mouth paired with the smooth texture of the sea urchin and rice prepared just right, made for a surprisingly tasty dish. The last of the savoury courses comprised a soup with fish balls served in a wooden box. We were encouraged to drink off the fragrant box, which enhanced the flavour of the soup; an experience that encompassed the senses. The meal concluded with a dessert.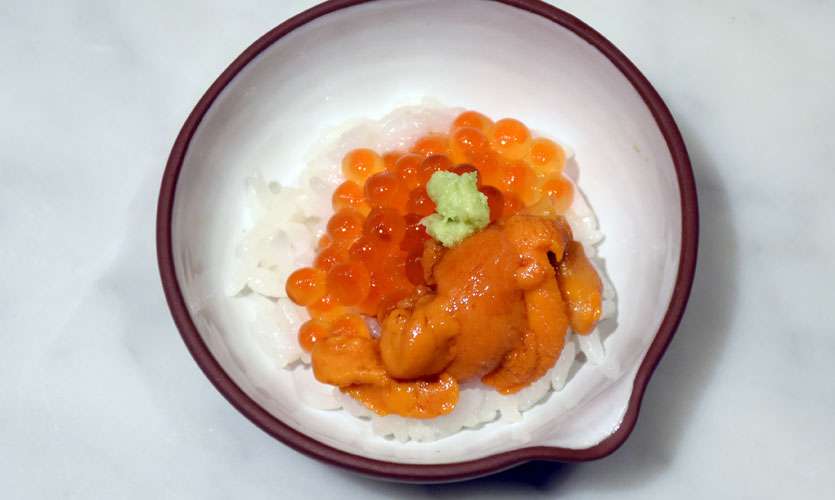 Being able to watch a master play around with his ingredients and create works of art was indeed an honour. Chef Hatch showcased incredible mastery over his craft throughout and the perfect execution of each dish, leaving diners with a newfound appreciation of authentic Japanese cuisine.
Pics Kushan Pathiraja