Director: Guy Ritchie
Summary: "Robbed of his birthright, Arthur comes up the hard way in the back alleys of the city. But once he pulls the sword from the stone, he is forced to acknowledge his true legacy - whether he likes it or not."
King Arthur: Legend of the Sword is the latest reimagining of a older property overseen by Guy Ritchie, following his previous collaborations with Warner Bros. Pictures on the two Robert Downey Jr.-headlined Sherlock Holmes movies and the big screen reboot of the 1960s spy TV series, The Man from U.N.C.L.E. recalling his approach on those movies.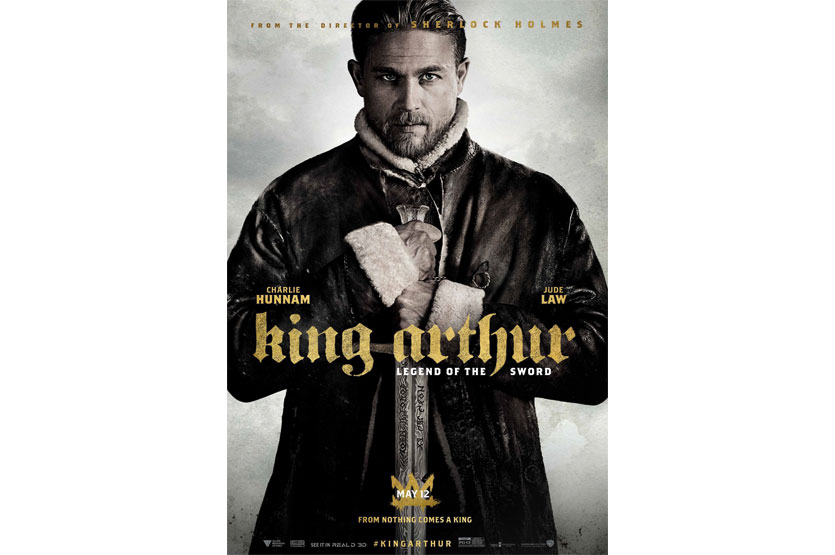 Ritchie applies his signature flashy storytelling touch to Legend of the Sword, in an effort to breathe fresh life into the (especially) well-trod tale of "The Man Who Would Be King" Arthur.
Anyone who's ever seen a Guy Ritchie movie before will notice some familiar Ritchian styled cutscenes, and the progressive level-up-ing built into its hero's journey. The film has the look of some sleek, Skyrim-type adventure, all brown and green and rocky and flecked with fire, which I truly did enjoy.
In early stretches of the film, characters talk fast and sassy - they're low-level Londoners/Londiniumers involved in a minor crime racket who speak in the quick tongue. The camera jumps briskly from present to past, Ritchie settling into his trademark choppy groove while giving us a brawling someday-king Arthur (Charlie Hunnam), cocky and clever and certainly to the legacy born, if not the manner.
Aiding Arthur in his tortuous quest are reckless bows man Goosefat Bill (Aidan Gillen), stern leader Bedivere (Djimon Hounsou), Arthur's martial arts instructor George (Tom Wu), and a young mage played by Spanish actress Astrid Bergès-Frisbey, who, with annoyance I affirm is one of the very few women in the movie, with barely 12 lines or less. This is definitely not the liveliest of crews, though Kingsley Ben-Adir and Neil Maskell as Arthur's childhood pals Wet Stick and Back Lack do offer some sprightly energy.
However, this is mostly the Charlie Hunnam and Jude Law show, though, and both display a commendable commitment to the source material. Charlie Hunnam makes for an effective, rough-and-tumble action-king. The movie doesn't really give us much of a chance to get to know the workings of Arthur. As for Law - he's always a good villain, with those glowing eyes of his with fury and shame. He hams it up and hams it up good in King Arthur, giving the film a necessary jolt of goofy theatrical energy.
The selling point on this movie, at least for me, was the larger than life special effects scenes which add some flair to a few more earthly sequences, particularly a long Londinium street-battle chase that zooms in and out of the action with a kind of elastic grace. This scene is the first time we really see the power of an Excalibur-wielding Arthur, it's still satisfying, like finally figuring out that intricate combo move in Street Fighter. At its best, King Arthur conjures up those base and perceptive pleasures.
King Arthur: Legend of the Sword seems to leap from high fantasy insanity to English street humour to gritty reboot and can't find a consistent tone. It feels like the movie was trying to be a mixture of all what makes a blockbuster movie in the wrong genre, there are plenty of pieces that work and they don't form a cohesive whole, most of which is a possible build up for sequels.
Scope Cinemas premiered the screening of King Arthur 36 hours before the rest of the world; a first for Sri Lanka. The movie for the event was distributed by Skyline entertainment and consultants Pvt Ltd. The premiere was sponsored by ARTV and Dialog, with TNL Radio as the official media sponsor.