We have all watched Nigella wax poetic about the cupcake batter she's whipping up - her words smooth as honey, her gait relaxed, all while exuding a sense of familiarity - you cannot help but be mesmerised for hours on end.
Fans were treated to a similar experience as they joined Nigella for a brunch event presented by Cinnamon Life. As she engaged in casual discourse with Dino Corera, she effortlessly managed to make the audience feel included, as though they were conversing with Nigella themselves.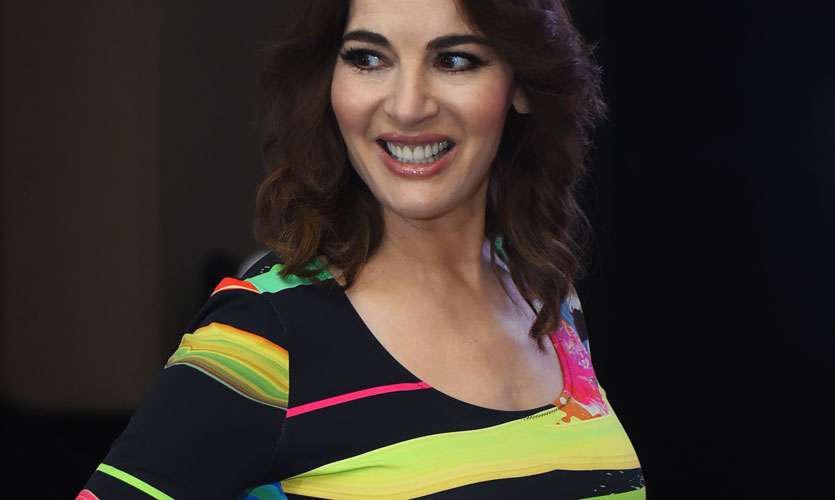 This was Nigella's first visit to Sri Lanka, we learnt, and certainly not her last.
"I heard from George Calombaris about Sri Lanka"
she explained, adding
"It didn't live up to the hype, it exceeded it. The thing is, it's very hard - you can hear all sorts of stories about how beautiful it is and how lovely everyone is and how good the food is. And that's great, but there's something about experiencing it all for yourself. It's overwhelming in a gentle, beautiful sort of way. It's because I think that beauty is something - the physical beauty of Sri Lanka is such that you sort of need to see it. I find it has dramatic beauty but quite a calming serene atmosphere and often when the landscape is dramatically beautiful, it has that grace. And I was quite fascinated actually of the contrasts in Sri Lanka which I think was also evident in the food".
Instantly, you're aware of how much of a foodie Nigella actually is. She is able to connect any topic to food, and you instantly feel a connection to her. As many in the audience would later reiterate, she feels like one of us. A girl next door.
"I mean, I love eating food and I know George couldn't quite cope with it, but I love it. I like the way Sri Lankan food has a sort of delicacy so that it's not heavy".
Eventually, she returns to talking about the natural beauty of Sri Lanka that captivated her.
"And the landscape is full of bright colours and I adore that. I'm a city person and I wanted to see elephants, and when I saw them and how beautiful they are - I've taken so many photos it's ridiculous. Normally it's pictures of food in my photos, but now its pictures of landscape and animals."
She had even come across a leopard and been fascinated by the monkeys, she added.

But Nigella is the epitome of hearty food, so the conversation returned to food and how she got into the world of cooking. The answer to which had the audience gasping in surprise.
"It was a mistake!"
Nigella quipped as the audience chuckled.
"So many things in life that are important happened by mistake. You can plan as much as you want but things happen as they will. So I didn't mean to write about food and I'm not trained in any way and then if you've seen me on television you absolutely see that. I mean when I chop, I chop like a normal person. I can't do anything fast. And bits of vegetables fall off the chopping board regularly. I'm very clumsy. I spill things."
These are also what's so endearing about Nigella. When you watch Nigella's shows, you don't just watch someone robotically cook fancy meals. Nigella's appeal, if I may, is her unfussy approach to cooking up a feast or entertaining.
Her book and subsequent career choice, however, was inspired by the predicament faced by a friend.
"I was at a friends house for dinner and she erected this table and she had all of us there and she had an elaborate dinner. And at one stage she kept going up and we never saw her - she never sat with us - and we did hear her crying in the kitchen because the stress had gotten to her. And I just thought - this is ridiculous, this is not how cooking has to be. But she was trying to cook like a restaurant chef, and a restaurant chef not only is trained for many years but has a brigade of people to help. You can't do these things by yourself. Nor is it necessary. And then I really felt motivated to write about food because I thought the food that I love and the food that I think shapes most people's lives is the food we eat at home or at friends houses or at our grandmother's house and what we eat at other peoples houses. I feel it's wrong that cooking has become dominated by the professional chef - yes we can become inspired by chefs, but actually, it makes people .. sometimes it can be intimidating. So I wanted to write about food from that perspective. And in a way, what's been fantastic here - yes, I've had wonderful restaurant food here but twice I've been cooked for by women who come in from the village cooking food that goes back for a long time and that is cooked in homes. It's so precious and I think in a way, that is the food people value the most".
She may be widely regarded as the domestic goddess, but she doesn't believe
"one should turn it into an act of persecution if you don't cook at home. I mean I think that there are many ways of getting pleasure from food and not everything has to be cooked. You come from a country where the produce is so wonderful so you can always eat something that is fresh and good that doesn't need a lot of cooking. When I cook at home I tend to cook things often as well but that will last me more than one meal. But that's the way how home cooking goes. You cook one thing and you find ways - either you make enough so that you can reheat it later in a week or you repurpose it in some way and add in this or that. So ideally you're not starting off from scratch everytime you cook. There are times a beautiful tartare salad works fine - you're not cooking, but it's still wonderful food. There are lots of ways of eating that don't need an elaborate meal. It's also a treat having food cooked for you so I believe it's about balance".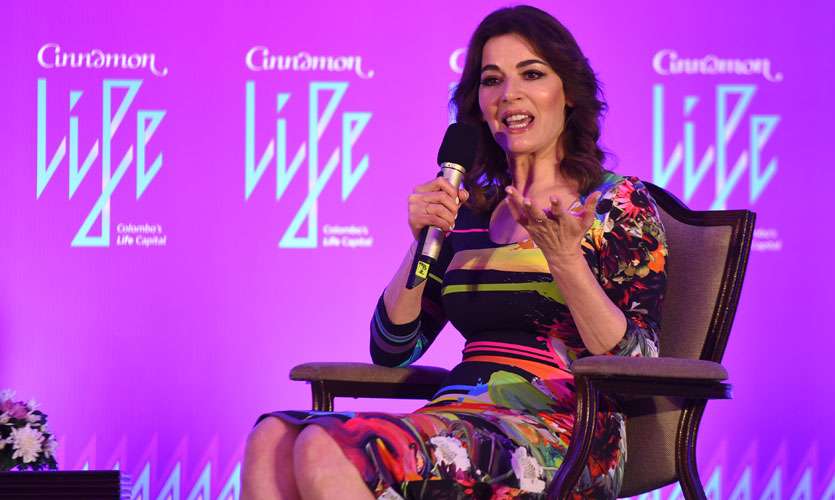 While in Sri Lanka, Nigella has the opportunity to savour the food at not only Cinnamon Hotels but also of ladies from the village. Not surprisingly, she has many favourite dishes.
"I had the most wonderful prawn curry last night at Nuga Gama and that was wonderful. And also a beautiful dhal. The coconut roti was fantastic. I also loved the pani pol and the crab curry. But what I've been blown away by is the jack fruit. I've never eaten jackfruit before and I'm thinking, can I get it back in london? Can I cut it up without chopping a hand off? I do also love all the condiments - I adore that about sri lankan food. And I want to get that maldive fish to make umbalakada. And I like all the sambals".
She'd also like to try mix things up with her recipes when she goes back to London.
"Sometimes you have to make adjustments. I would like to try and keep the inspiration of fiery and delicate touches of sri lankan food. But I need to do it with the produce available to me in the UK".
"The dish that means the most to me is something I call my mother's praised chicken"
Nigella explained. It's one that holds sentimental value and remains close to her heart, of all dishes she's ever made.
"I call it praised because it is halfway between poached and braised. Its a very old fashioned way of cooking and it tastes wonderful. And really you're cooking a chicken in a pot, but it also has a significance because my mother died very young when she was 48. And so when I cook that its a way that my children could eat my mothers food. That is in a way an essential component of cooking. You bring a history, and its about a memory as well. There are many dishes that I love and that I cook a lot, but this dish has a particular significance for me".
Having watched Nigella's almost spontaneous approach to things in her show, you wonder if the process is similar when putting recipes together for her book? Her response is as expected, and the crowd nods - they feel like they already know her well.
"I'm not really a great planner. So what happens is, I just cook a lot. Generally, the first time im just cooking and maybe as simple as I'm opening the fridge and I have to use up things. Which, as we know as home cooks, is the way we cook an awful lot. Or I will come back and I will try to play around with some ingredients that I haven't come across before and I cook first in a very spontaneous way. And only afterwards do I think yes that may make a good recipe, and then I pay more attention to weights and measurements and think, can I make this simpler? Is there a process I could lose without losing any of the depth of flavour. But generally speaking, it's very rare that I would do it in a systematic way. Because I am so food obsessed, I might suddenly in the middle of the night think 'this combination sounds good.'"
Her favourite three things to cook with though are lemons, salt and fat. "I love lemons. I like sharpness. I love citrus in cooking because it can bring everything very alive. And I love salt. People demonize salt now, but we need salt. And I have low blood pressure, so that's my excuse. But I do think that food needs it. Obviously, you need fat - food needs fat. And eating fat is like moisturiser for the inside. When you go to new york and all those women who don't eat fat are small and shrivelled up".
But what the audience was surprised by was when Nigella divulged her alternate career choice.
"I long thought I'd quite like to be a midwife. I'm probably getting too old to do the hours. But I do think bringing life into this world would be wonderful. You know sometimes you read about those people who arent quite right and they go into a hospital and put a coat on and they pretend to be a doctor. I could be that person"
she laughed, before quickly adding "I won't do it, I promise".
"Human beings are herd animals and being social is important to us"
she stated, when asked if she taught the art of entertaining was on the decline, considering the fast-paced world we live in.
"Im a great believer in cooking for yourself. Its important not to think food should only be savoured when cooking for other people. I think Cooking is an act of kindness and generosity, but it is as important to be kind and generous with yourself. For people who aren't very experienced as cooks, you learn best when you're cooking for yourself because you're not so stressed or not worried about things going wrong. No one can entertain a lot because it's not the cooking, it's the clearing up"
Her advise? Stick to recipes that require most of the work to be completed before hand.
Nigella has never claimed to be a trained cook, she's simply a lover of good food. But still, her life is not without its challenges. Especially that of critics.
"I'm slightly surprised that I still have a career in food. The challenges of anything we do is that we want to do it as well as we can but we also have to let go at some stage. It's always quite frightening - but fear can be a good motivator. I'm a fear driven person. It's better to be spontaneous or to be yourself. Focus on what you do and not what other people think, because it can be crippling".
The session was followed by a lavish brunch that comprised a number of dishes inspired by Nigella's own recipes.
We caught up with some enthusiastic fans who had both met, and were eagerly waiting to meet their culinary idol. Here's what they had to say.
Dush
For me, this was life-changing because of Nigella. It was bizarre and unreal. I was once asked - if could cook for a celebrity chef, who it would be, and I said Nigella. Never thought I would get the opportunity to give her my food to taste, but I was able to give her a few samples of my biscuit puddings.



Riaan
So interestingly enough - I don't live here in Colombo; I live in Mumbai but I shuttle up and down - I'm here in Colombo for a vacation and this is a real bonus. It just suddenly happened. I found out that this happened and I made some calls and I made sure I got myself a ticket, and so it has really been the cherry on the cake and it was least expected for me to come here and actually watch Nigella speak. I have to say, we have all watched her shows for years and years but to actually see her here in Colombo is almost surreal. I can't believe she's standing right there and walking from table to table. And of course, the brunch format is quite an elegant affair.

Nazman
It was an amazing experience.

Danu
I am a fan of Nigella. I love the fact that her food is very home friendly, and it's all about cooking things that are there in the fridge. And she also uses the things that she said - fat! Her dessert positions are lavish. So I like all of those.

Inoka
Its been exciting because I've always wanted to meet Nigella simply because I love watching her. Not that I'm a great cook, but I just love watching what she cooks. And she's got an amazing personality. We were there yesterday as well at her cocktail. That's how crazy we are about her. So it's been a great morning as well.

Keshini
It was really well organized and I thought the food was really good. I've been watching Nigella since I was a kid and that's how I got into baking. It's so unreal seeing her here today. It's definitely a dream come true.

Dilhani
I'm a fan of Nigella. Actually, I love her style of cooking and her presentation style is very nice and very appealing. I really enjoy watching her on the cooking channel and it was a privilege to be here. I love the atmosphere and the interview was really interesting.

Sumaiya
The food was really good because apparently it had been curated by Nigella and the spread was amazing. As a person, she seemed really friendly and very sociable.

Fara
It was very inspirational. It was a great event. I think we should have more of those. From the time I was pretty small, I've been a huge fan of Nigella. She's one of my favourite cooks in the household.

Mala
Actually, I'm from London, so I'm quite familiar with Nigella. I like her food - it's very homespun and easy to follow. It was quite a well organised event.

Upeka
I thought it was really very good. She's fantastic and extremely eloquent. She has a way with words. She makes food sound absolutely sexy.

Namali
Initially, it wasn't very well organised because they didn't tell us that it was assigned seating. Soi got my tickets separately and my friends got their tickets separately. If we had known, we would have bought our tickets together or requested a table. I think that's something Cinnamon Life might want to work on for the next event. I went to the Sound of Music event, that was wonderful. So something like this they may need to tweak a little bit. But it was a beautiful buffet, the food was wonderful and I think they had a few dishes that were inspired by her. The gentleman who did the interview was wonderful.

Asvini
I was mesmerized by Nigella. I have been watching her shows for a long time and I'm just starting to make her recipes - I mean I've made a few of her recipes. But my sister has made over 80 of her recipes and we actually did a collage of the pictures and we showed it to Nigella and she was amused and she was really amazed at how much we have followed her. She is a very nice, humble person. This session was very well organised. We really wish Nigella would visit again.

Tara
It was surreal to actually meet a food icon in person. What's best was that she's very down to earth and a great personality. So she exceeded expectations. Specifically to have a brunch curated with her recipes was an amazing experience. I'm totally overwhelmed. I have eight of her cookery books and made about 80 of her recipes. Totally committed Nigella fan.