Us Sri Lankans love a good party. Whether we're throwing one or attending one - nothing gets us pumped up like a good baila sesh and plenty of hearty food. Even more amusing? The guests! Here are a few types of people you will definitely meet at a Sri Lankan party.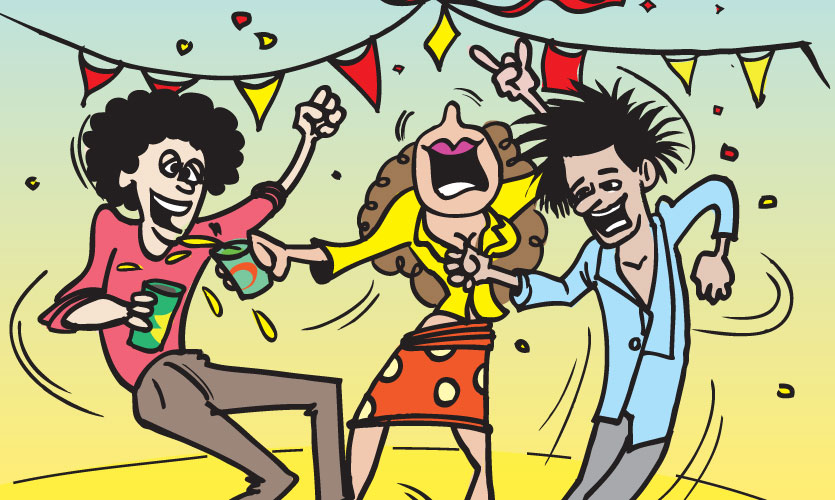 The one hogging all the "bites"
Ever been to a party and find that the bites seem to somehow elude you? Blame this person. Deadly sins be damned, this person will inconsiderately partake in gluttony and will do anything to keep folks away from the bountiful sustenance. From terrorizing little kids away from the dinner table to surreptitiously blocking your path, they will do anything within their power to maximize their food intake while reducing yours.
The ones on a diet
These are the people doing the previous types a favour by guilt-tripping people away from the dinner table. "Ay-yo, don't eat that men!!! Do you know how many calories are in that? I wouldn't touch it with a 10-foot pole." *while sneakily serving mashed potatoes and hiding it under the boiled veggies*
The drunken uncle
This is that one uncle who always turns up a little inebriated to the party. It doesn't take too long for him to recant inappropriate jokes, or for him to bust out into a reconstructed version of the baila or to belt out songs rife with double entendres as fellow guests cringe in embarrassment.
The aunties fussing in the kitchen
The party's in full swing, thanks to these people making things happen behind the scenes. Much akin to frenzied zombies, they will run around making sure things go as planned, making sure there's enough food and drink, keeping a well-trained eye on the drunken uncle - ready to swoop in and solve any issues he is likely to cause.
The ones burning up the dancefloor
They will hit the dance floor the very second the DJ is done setting up, and will most likely leave when the DJ is done.
The karaoke singer
With the finesse of a shrieking banshee, but with plenty of soul, their enthusiastic rendition of the baila number currently playing would typically be subjected to a shower of tomato and eggs. But thanks to the smart DJ thoughtfully increasing the volume, the tomatoes and eggs remain on the dinner table.
The critics
"You know my maids talk four languages, and two of them have been with us for generations!… Are these local chocolates? I only eat foreign chocolates - the local ones give me a sore throat and headache… You know, my dinner buffet included at least 10 items more than this one!" These self-appointed critics make it their life's purpose to complain and whine about anything and everything. Nothing and no one, it seems, will satisfy the apparently high standards of these critics.
The political discussion group
No party is complete without a group of uncles vociferously discussing politics for hours on end. Once topics pertaining to politics have been thoroughly exhausted, they move on to other matters such as cricket.
The couple in the corner
The respite offered by large parties is conducive to couples and illicit affairs. Whether it's the young couple sneaking off for some alone time or Sarath ushering his mistress into the prized hydrangea bushes, parties offer an illusion of privacy - oblivious to the eagle-eyed partygoers who have their practised eyes trained on the action, or Sarath's second mistress who's also looking forward to a rendezvous.
The uninvited neighbours
Okay, they weren't actually AT the party ithing, but having a house with a protruding balcony is worth it no - after all, it offers a bird's eye view of all the scandalous action occurring at the godforsaken party they weren't invited to. (Not that they would have gone, of course, but it would have been nice to have received an invite so they could have dramatically declined). Wait wait, is that Sarath sneaking out with his wife's best friend? *grabs camera phone and waits patiently for the money shot*