A science, a philosophy, an art. Simply a way of life. Originated from a Sanskrit term 'Yuji'- meaning 'to join', integration is what is taught, felt and carried through this complex art form, Yoga. It integrates every aspect of the human body from the innermost to the exterior, offering individuals the ultimate gift of life. Peace. Peace of body, soul and mind.
The history of Yoga dates all the way back to ancient India, two millennia later, it couldn't be more relevant to contemporary times as we seek a myriad ways to achieve inner peace amidst the rat race we run on a daily basis.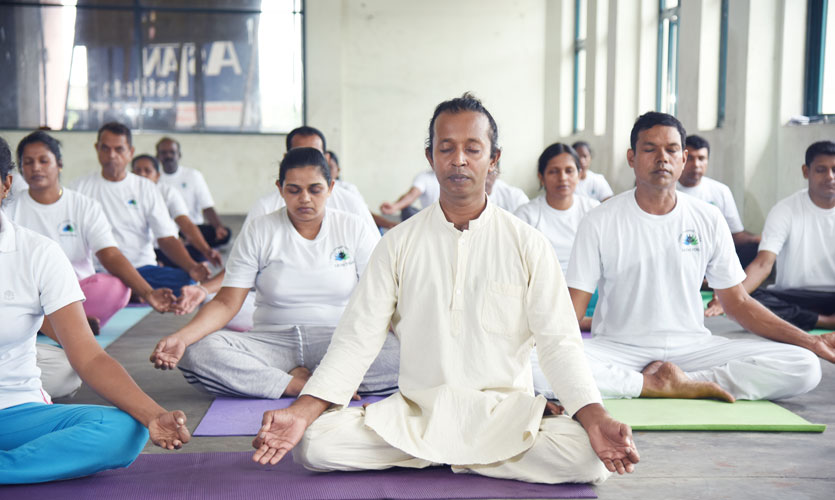 Team Life Online encountered a fine gentleman from Nittambuwa carrying forward the true essence of Yoga in his community.

Rohan Janaka at age 45 has led a lifecentered around yoga for the past twelve years and continues to share his experiences and knowledge with countless others who cross paths with him, completely free of charge. Speaking to us, he elaborated how yoga transformed his personality for the better during this period of time. The transformation as he describes has been quite significant, advancing from one end of the spectrum to the other. From being a hot-tempered, impulsive person, he gradually evolved into someone with very controlled and collected ways proving that the ancient texts aren't merely woven around myths and fantasies.

Teachings of Yoga are currently growing in popularity across the globe as they're progressively incorporated to deliver a holistic approach to modern life. The prime secret of Yoga is the achievement of a sense of balance and control. This is achieved as the body's stamina is developed, breath is balanced, the mind is calmed, the emotions are stabilised andfinally the intellect is held under control. As complex as this may seem, it all begins from the simplest of exercises and breathing techniques
Taking a trip down memory lane, Rohan reminisced his first introduction to Yoga. Developing an interest in meditation he makes his way to study the basics of meditation under the guidance of Ven. Maharathugoda Mahinda thero who encouraged him to practise 'Prana Yama' (breath control) to improve mindfulness of breathing, a popular exercise followed in meditation.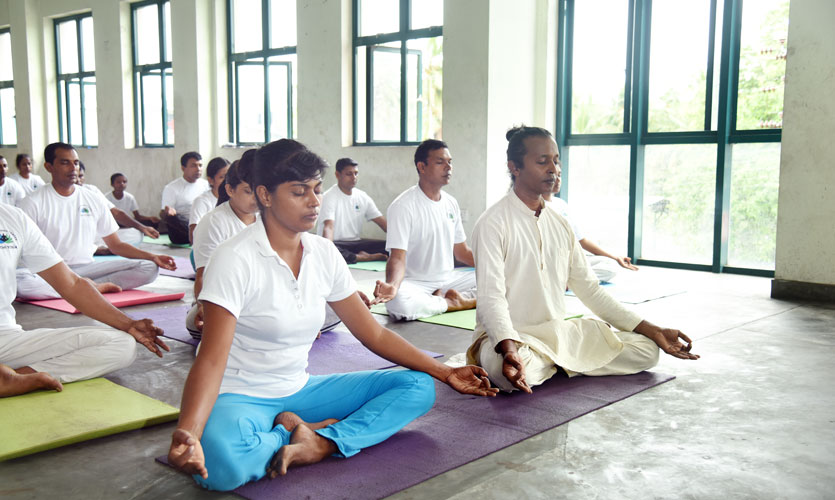 Years later he is now a guru of Yoga himself, deeply engaging in yogic exercises and willingly sharing his knowledge and expertise with all those who seek his assistance.

His Sunday mornings are dedicated to a group class of over forty individuals who follow a guided programme conducted within the Malwatta - Kapruka building in Nittambuwa.
Assisting him in this task is his own sister, Amali Upeksha, a field officer attached to the AG's office, Meerigama by profession who volunteers as an instructor at the sessions. She too has extensive training in yogic exercises and derives great pleasure in these engagements.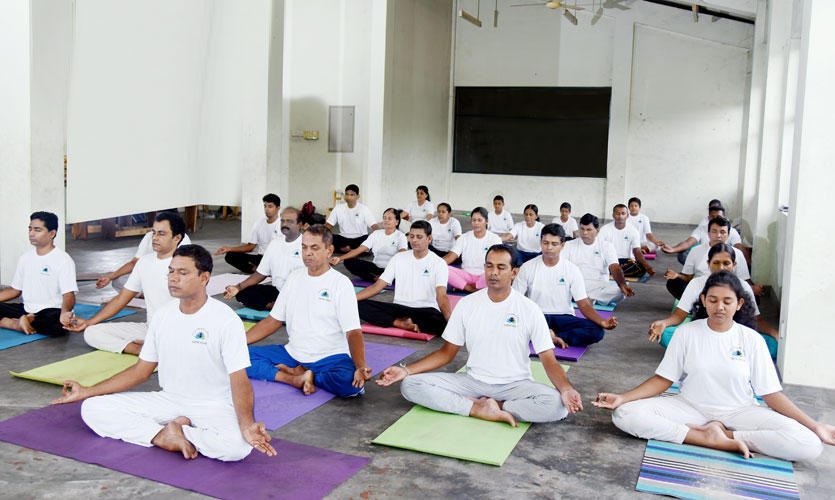 Although the demand and interest for Yoga has increased within the community, Rohan reiterated that he will continue to extend his services without charging a fee for as long as he could. He relates this decision to a very personal experience of a miraculous recovery of a lifelong headache.
"This was about 8-10 years ago, when I was starting to learn Yoga. I would wake up every day at 5 am, drink two full glasses of water, shower and settle down to do twelve rounds of 'Surya Namaskara'(Sun Salutation-A yogic warm up routine). After that, I do 3 rounds of Prana Yama- breath control exercises. Three weeks into this practise as instructed, my headache completely vanished."

The experience tempted him to spread this word, help ease the pain of many others suffering silently by offering his services completely free of charge.
"The mental and physical relief I felt at the time was incomparable, and I can't give it any monetary value."
The weekly classes solely function on donations and contributions by well-wishers.

It was enlightening to find out that he sees individuals of diverse ages walking into these sessions every week. From kids as young as 7 years to senior citizens in their 80's the Yogis have no limitations.
"Everyone has something to take home and add to life," he added.
"Age carries no value in these exercises, I've seen individuals who begin yoga well after they retire from work, which is in their 60's, the progress they achieve is truly remarkable."

We also managed to speak to a few of his students to understand the impact these lessons have made in their lives, B Siripala, a retired customs officer said,
"Yoga completely cured a chronic backache I had for years"
Premadasa Kohona, a retired navy officer added,
"After five months of doing regular Yoga exercises, my cholesterol levels reduced and I no longer take any medication for anything."
Sujeewa Chandani, Deputy Principal of to the Buddhist College in Nittambuwa who has had varicose veins for many years is free of the condition altogether following three weeks of regular Yoga. The stories will go on!
The Yogic exercise routine commences from the simplest of exercises starting from your fingertips following to the trunk to the top of the head. Rohan notes that one must always follow this order when practising Yoga. It then follows a series of Sun Salutations as mentioned previously which is a routine based on a sequence of gracefully linked Asanas which brings us to the most important aspect, the Asanas (a firm yet relaxed posture). The final component of the series is Prana Yama, known to deliver the best results if and when followed in order.
Going back to his roots of meditation which led him to discover this fascinating art, Janaka highlights that his progress in meditation has been very positively affected owing to yogic exercises.
"This can be used as a stepping stone to discover more meaning to life,"
he notes encouraging all those who practise to explore the endless possibilities of mediation. As a student following meditation at 'Nisala Meditation center' conducted by Acharin G. Wijenayake located in Ududumbara, Kandy, he urges everyone to practise yoga with a purpose.
Yoga is a profound and a beautiful art that will benefit the world at large given the increasingly fast pace all of humankind functions at. It is sure to become a tool for survival in no time for it helps one discover one's true nature, bringing great peace to life. As opposed to most misconceptions, Yoga does not contradict or interfere with any religion making it accessible for all regardless of the faith you believe in.
Make your way to one of Rohan's weekly sessions if you're in and around Nittambuwa. Call him on 0777 660673 and he is ready to make a visit to guide you to achieve inner peace and tranquillity.