Specialty cheese expert Craig Dryden was in Sri Lanka recently to host a VIP event for Fonterra Brands at the launch of Kapiti Cheese, a high-end premium cheese range from New Zealand.
We sat down with Craig to talk all things cheese.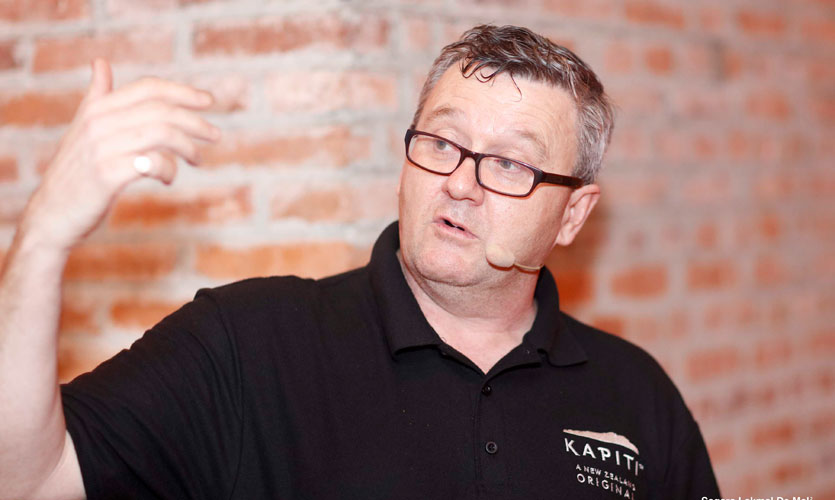 Below are excerpts from the chat.
You have always been in the food and beverage industry. How and why did you start focusing on cheese?
I have worked in the food and beverage industry for 25 years until I moved to the wine industry. My journey into the delicious, gourmet world of cheese began when I moved to dairy with Fonterra.
I was part of a small team whose sole focus in life was cheese and how could we introduce New Zealanders to the indulgence of Specialty cheese.
I was taught the finer points of cheese by an absolute cheese legend – Melva Howard, who no longer works for Fonterra but is still very much involved in the New Zealand cheese industry and is still someone I turn to for advice. I found that what I had learnt in the 12 odd years in wine was not dissimilar to cheese making and that I could combine both to educate others on the individual qualities of both worlds and how cheese and wine, two of the finer things in life, complement each other.
Why did you decide to work with the Fonterra brand?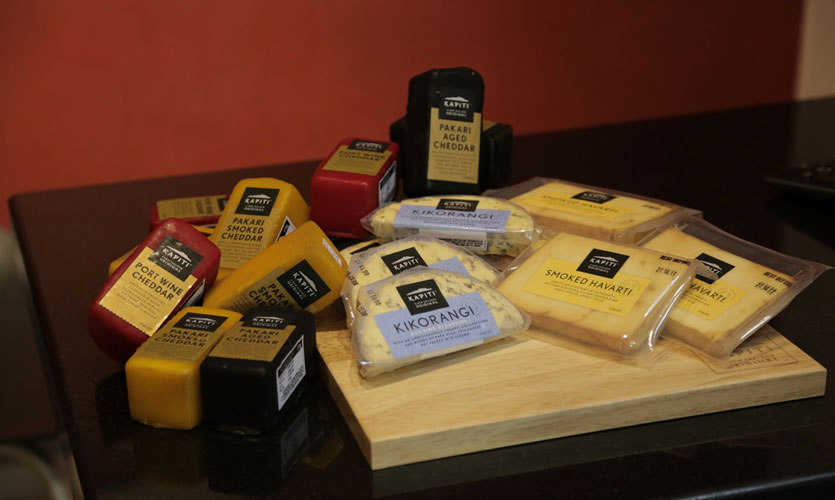 I was looking for a change when I was approached by Fonterra to join the cheese team, so I made the switch, and this has turned out to be a good decision, as I now I get to travel the world talking about something I love.
What makes Kapiti stand out from its competitors?
It's singled out for taste. Kapiti has the best ingredients combined with the finest dairy in the world that creates the best taste, texture and flavours renowned worldwide. Our cheeses are handcrafted by some of the best cheese makers in the world with care and passion and are truly special and uniquely New Zealand.
Tell us about the range of Kapiti cheese.
Since 1984, Kapiti cheese has become a staple in the repertoire of our best chefs, and is a common place on cheese boards not only in a restaurant but also at home when entertaining. The range of Kapiti cheese in the beginning was pretty basic but over the years has expanded to cover all needs for chefs and at home. Starting with the white cheeses Brie and Camembert, through to aged and flavoured cheddars and the stunning triple cream blue cheeses, the range certainly offers something for all tastes.
What is the process of developing cheese? How do you decide on the types of cheese being developed?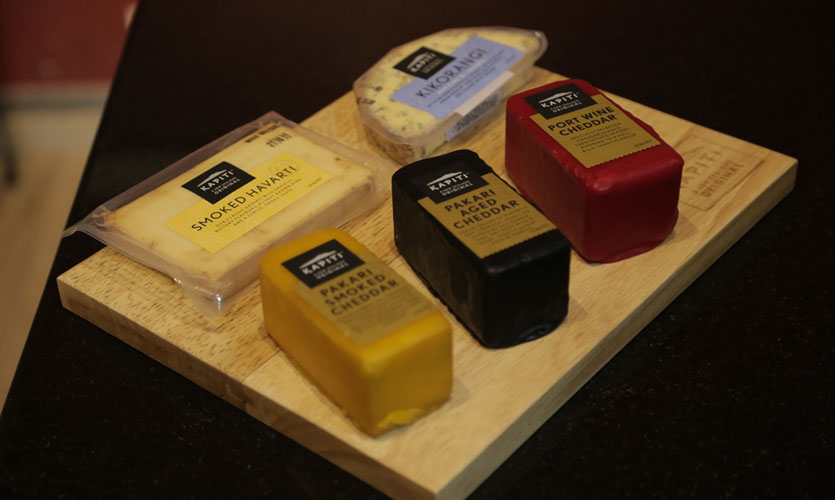 We can produce pretty much any type of cheese at Kapiti, but we stick to what we do best, by making the finest Blue cheeses and Cheddar. We are always looking for the new big cheese, but sometimes it is better to stick to what you know.
What should a novice cheese buyer look for when selecting a cheese?
It is all about trying cheeses and not feeling worried about trying something different, your taste buds will love it. When visiting a store that sells specialty cheese, ask questions about the cheese, even if you think it is stupid. Let them know what you want to use the cheese for, straight eating or for cooking.
How do you judge between good cheese and bad cheese?
It's all up to the individual, everyone's tastes are different. What I think is amazing - you may think differently. Be relentless in the pursuit of taste. Try out as many of our cheeses as you can and you will find the one or two that you will like and stick with.
What are the biggest mistakes people make when using cheese in cooking and/or serving?
When making a cheese sauce, firstly make the white sauce or similar, then remove the pot from stove, then add the cheese, the cheese will still melt but will not burn, but gently blend into the sauce.
When serving a cheese board at home, cheese should be served at room temperature to allow the flavours and textures to be enhanced to their full natural state. Let it sit a while. In Sri Lanka I would have the cheese board set up about 20-30 minutes before serving.
If you take your cheese from the fridge and find white or blue mould is growing on the outside of the cheese, the cheese is not ruined. Simply cut away the face of the cheese that the mould is on and you are set to enjoy. However, if you find mould on a fresh cheese like ricotta then do not eat it.
What do you suggest serving with cheese?
When serving cheese on a cheese board, keep the accompaniments minimal. The best accompaniments are bread, crackers, raw vegetables, cured meats, nuts, fruits and jams. These help to make or break the cheese tasting experience by enhancing the flavours of the cheese.
What are the best wine and cheese pairings?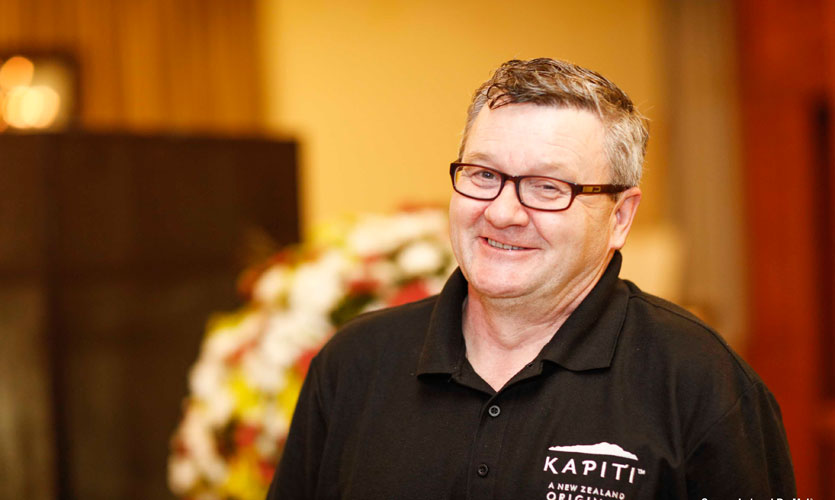 The rule of thumb is white cheese with white wine and red wine with stronger flavoured cheese. However I don't always see it this way. A good creamy blue like Kapiti Kikorangi goes well with a Sauvignon Blanc, as it brings out the fruity flavours of the cheese.
Here are some simple guides:
· Sweetness in wine counters balances and complements the acidity and saltiness of cheese
· Cheese with acid likes wine with acid
· Fruity flavoured cheese likes fruity flavoured wine
· The whiter and fresher the cheese, the whiter and crisper the wine
· The darker and stronger the cheese, the darker and stronger the wine
What's the best way to store cheese?
In a container towards the back of the refrigerator which will maintain a constant temperature. If you put the cheese in the door of the fridge, the temperature changes each time you open the door, which will affect the quality of the cheese.
What's the difference in flavour between cow's milk cheese and sheep's milk cheese?
The key to the difference in flavour and texture comes from the fact that each animal eats in a unique way.
Cows graze primarily on ground cover grasses and when they feed they often take up some of the soil in bites. This gives their cheeses an earthier flavour that will vary greatly from one place to another. Cow's milk cheese made from grazed animals rather than corn fed animals will have a yellow hue rather than a pasty white colour. This is from Carotene found in the pasture grasses.
Sheep will primarily only eat the tender, sweet top blade grass. If a grazing herd of sheep are left on pasture for an extended period of time, the field will look as if it has been mowed. Sheep milk cheese is the highest in fat and that, coupled with their grazing preferences, makes sheep's milk cheeses rich, buttery and milder in flavour.
Which is the most underrated type of cheese?
Personally I think it is Havarti. This type of cheese offers so much, not just for eating but also in cooking. Havarti is a semi soft Danish yellow cheese with smooth texture and a creamy taste. It melts extremely well and can be used in an abundant of cheese type dishes. An absolute favourite for kids as it is a lot milder than other cheeses.
What is your favourite cheese?
That would have to blue cheese. They can be either creamy, dry, strong or mild in flavour. Great on a cheese board or used in cooking. Might not look that good, but just close your eyes, drop it in your mouth and have a taste explosion, and you will never look back!

Photo credits - Sagara Lakmal De Mel