Alvin describes his street style as 'Minimalist and androgynous inspired by costumes'. A sense of fashion derived by sentiment towards the places he's been and the people he's met, Alvin's style is never restricted by the latest trends.
"Coming from a thespian and hospitality background filled with a lot of creativity, I've not really had a fear in how I look in my clothes. Trial and error certainly was a huge part of my fashion sense but it evolved with my personality and it was always an expression of how I felt."
Look 1 Travel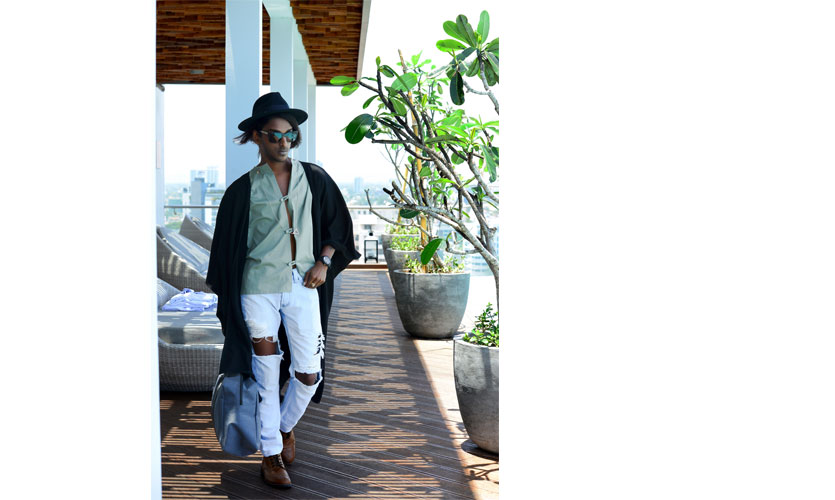 Travel is a huge part of who I am. Living in different countries and being exposed to so many cultures and styles, I love to dress in a way that expresses all of it. For this particular outfit, I went with a custom made Agent menswear shirt in light olive green by Shanika Sammarakody with peek-a-boo detailing in the front, paired with severely ripped acid wash jeans, brogue hand dyed boots from Melbourne Florsheim DFO, and for those cold flights and winters back home in Melbourne I threw on a black knotted cape and bowler hat from my online bae ASOS. As for concealing those eye bags from the jet lag, I use my Burberry shades.No man can go wrong travelling with a good trusty carry on luggage and I've got my Issey Miyake carry on from the 2006 collection in ash blue.
Look 2 Day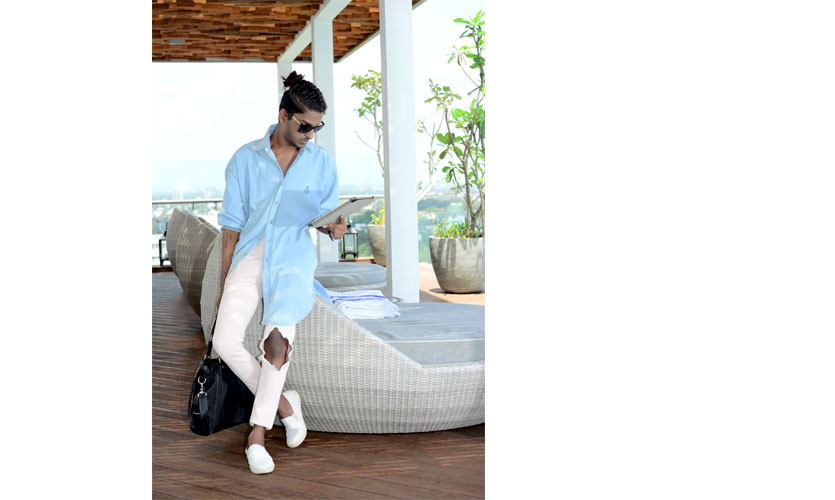 My daily go-to outfit is something slightly less extreme in comparison to my extremely detail oriented outfit. I've opted for an oversized light vintage denim shirt from Polo Ralph Lauren along with a ripped salmon pink jeans from Religion, AUS.
My main item for daily use is my tote bag from Envoy Mansion, LK and to beat the daring sun, my Burberry shades gifted to me from Cannes. And to complete the outfit a bit of jewellery from Lovisa, Melbourne along with white loafers from Cotton on. I've braided my hair up for a heat friendly all day style.
Look 3 Evening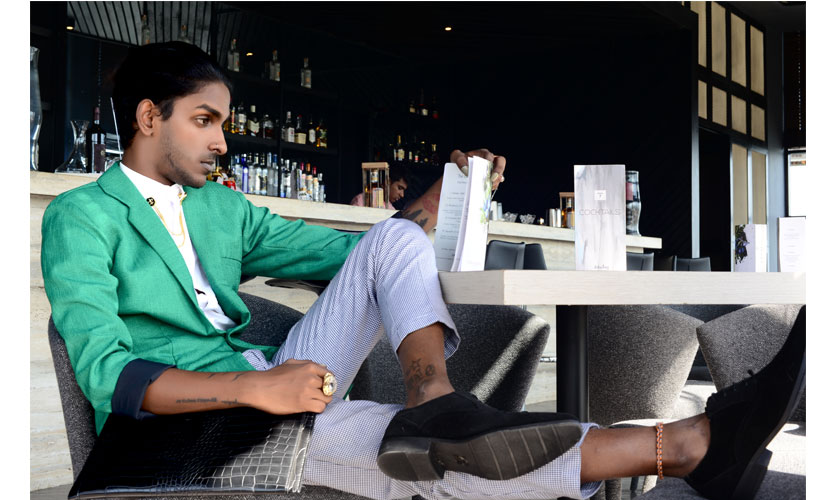 I love events around this time frame cause I like to play around with my look and it's always a no holds barred kinda feeling when I let my imagination run wild and it's always a conversation starter. For this look I paired two pieces from two different suits, a customer made forest green blazer and houndstooth trousers from Agent Menswear along with a white shirt by O:live Couture and black suede brogue wing tips from Zara Man, Melbourne. Yet again I can never be seen without my bag cause I'm that guy so I've paired one of my favourite clutches in black crocodile leather from ZARA Man, Perth. And for jewellery, I've used a statement ring from a rock which I found on a beach in Melbourne and was made into a ring by a friend of mine.
Look 4 Night out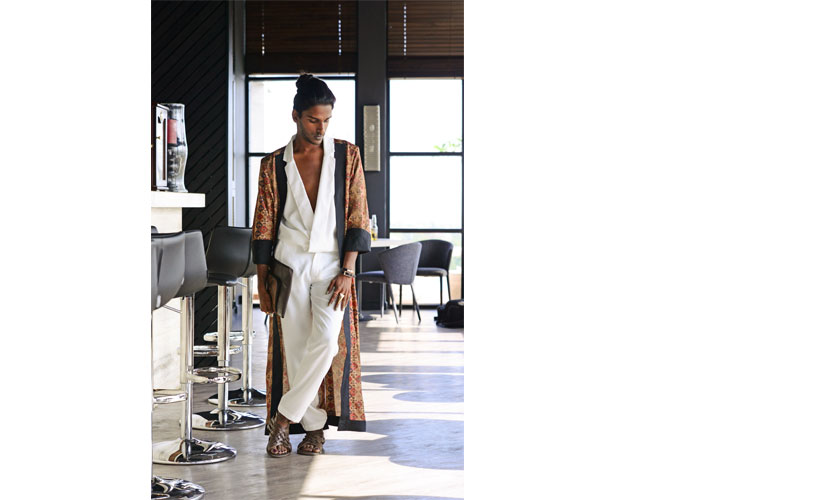 Who doesn't love going out with a bunch of your best mates? This particular outfit is very special as it was carefully designed and made specially for my best friends 21st birthday, and when it comes to friends, everything goes! This outfit is a pure white plunging neckline jumpsuit and Japanese inspired kimono dramatic coat by Agent Menswear paired with brown leather gladiator sandals by ASOS Melbourne (because who doesn't love looking good and feeling comfortable while getting trashed and dancing the night away?) For the jewellery I've gone a bit crazy a with a reptile inspired ear cuff in dull gold by Colette, Melbourne along with statement hand accessories from Lovisa and my snakeskin clutch from Envoy mansion, LK. For my hair I've put extensions in and voila! a bigger fuller topknot!
Look 5 Beachwear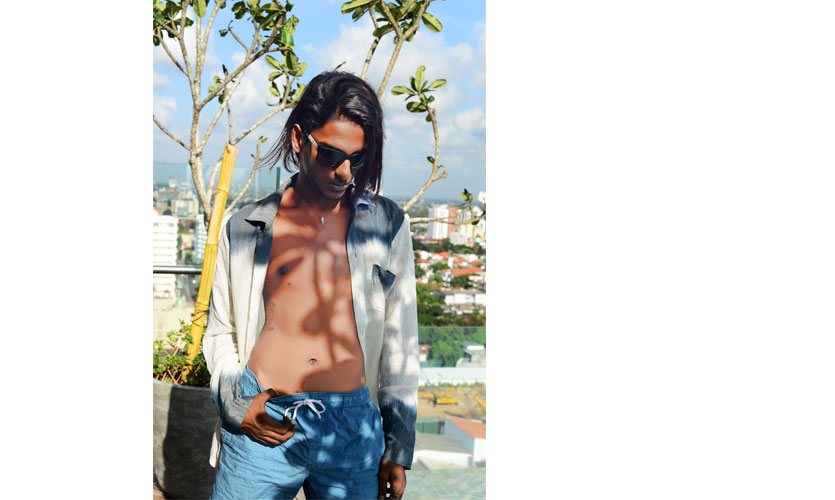 Yet again another great trip and some of the best memories for me involve impromptu trips along the Melbourne coast with my best mates and we all love to simple have fun and be comfortable... all expect me, cause I'm the guy that can be counted on to wear something a little too expensive, but style is style and that's me. For this look I've thrown on a piece of beach shorts in teal by Marcuse, AUS together with my most comfortable, hand dyed shirt from G by Gihan Ediriweera paired with black suede tie ups by 22:02 by Heshan. I've kept it much simpler with accessories wearing one half of a friendship chain by Lovisa, Melbourne.
Style Role Model
So many to choose from but to mention a few would be, David Bowie and Gaga for their outrageous unapologetic style choices. Hubert de Givenchy, for his statement that being undressed is your only sin, never fear being the best dressed man in the room and of course Andre Leon Talley.
Favourite Colours to Pair
I'm not an huge colour fan. I like to keep my colours very rustic and nude and minimalist. Occasionally throw in a bit of bold colours. I stick to tans, blacks and whites, earth tones and simple patterns.
Go To Outfit
If it's a normal day, then a good pair of jeans can never fail you, so I always invest in a good pair of jeans, along with a shirt or tee with some form of statement, either cut outs or having an accent tones that makes it different. My black tote bag and shades are my go-to and no matter what, I don't leave the house without a ring so I feel a little dressed up, and a matching pair of shoes.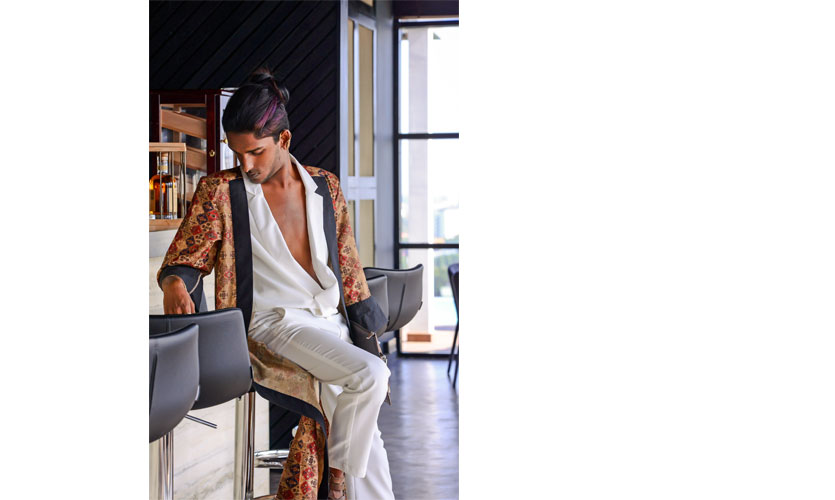 Style Must Have's
A good pair or jeans: In a few shades for different occasions (professional, casual, and fashion forward)

A good cologne because it's subtle, but an absolute must!

A good bag with you at all times and I don't mean the old times briefcases or a backpack made for school goers, but a carry on or a clutch to help with all those documents and daily items we require.

Maintain your hair and groom well cause it really pulls a look together no matter what. No one can resist a good head of hair, trust me, I know!

Invest in a good pair of underwear! That fits well, helps keep everything where it should be and it won't peak through your garments, the looser the undergarment then it all shows through those dress pants. Find the right fit and it'll help through out the day and if all else fails, you'll at-least be doing your significant other a pleasant favour.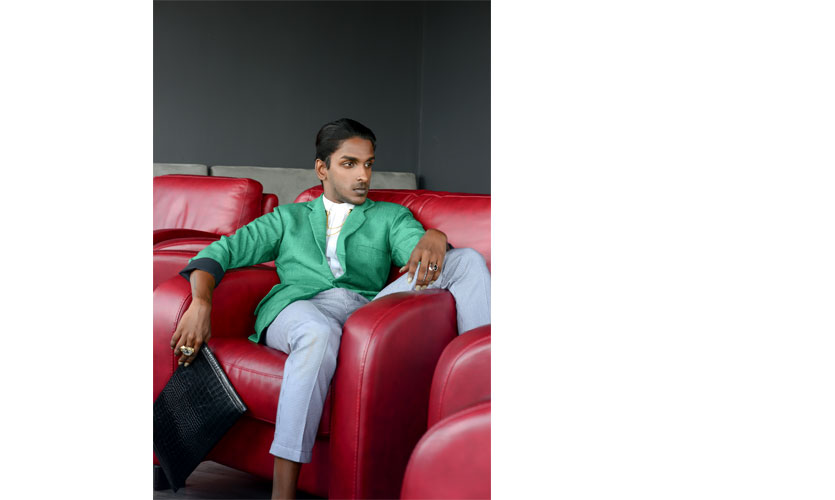 Make up tip
For the darker guys out there like me, we know the struggle. So don't shy away from using a thin layer of tinted foundation and some powder which is more than enough, let's leave the contouring and highlighting to the ladies. Subtle Groomed beards and brows make you look that much more! Don't over do it, less is more!!
Photos by Kanishke Ganewatte