Mama Aida's pita bread is a household name here in Colombo. I usually have a pack of pita in my freezer as it comes in handy especially when you have fussy kids and a hectic schedule. But Mama Aida's is not just about pita bread but about delicious Middle Eastern cuisine. Amrita De Saram Tidball and her mum Najah De Saram have been inspired by Aida Suby (Najah's mum) and with this in mind restarted Mama Aida's catering – offering homemade authentic Lebanese food – this eventually led to them opening August by Mama Aida's, approximately two years ago.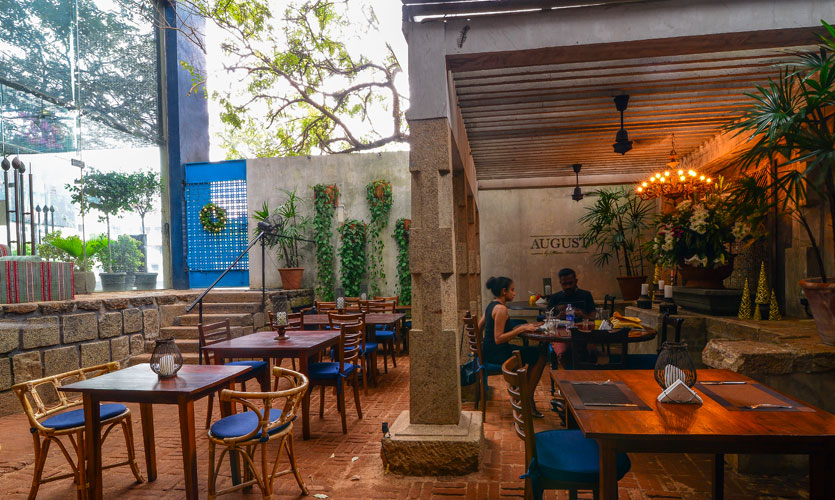 At the time they were only open for dinner – two sitting between 7 and 11 pm but are now open for lunch as well.
The lunch menu is very compact – with three types of Pita Pizza, Hummus Bowls and Wraps, Desserts, Beverages and a host of fresh fruit juices.
Ambience – 4.5 stars
The laid-back outdoor setting is one with nature. And in fact when it rains although it beats pretty hard on the fiberglass roof above it is really the prettiest thing as you get to dig into their scrumptious food with the sound of the rain, the humid Colombo breeze infused with the crazy Colombo traffic – a real oasis in the city!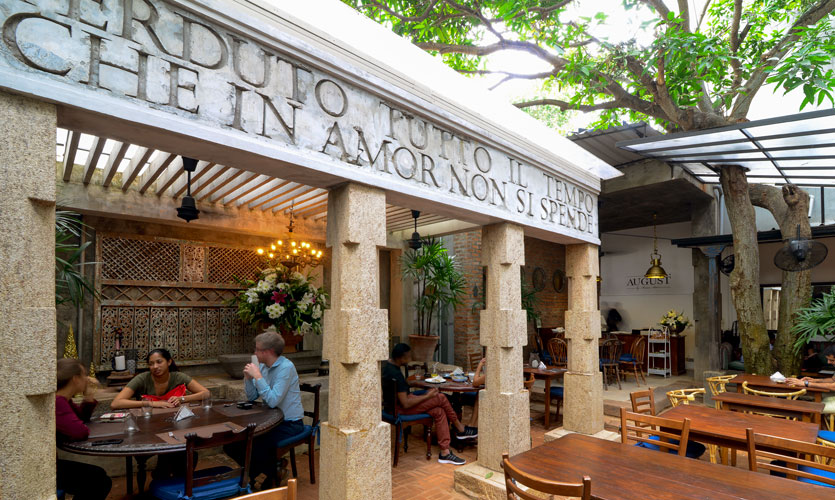 Taste and value for money (Pita Pizza, Hummus Bowls and Wraps) – 5 stars
Yes, they are on the pricey side but these simple dishes are pretty exquisite.
We started off with the Zaatar and Halloumi Pita Pizza (Rs 1,350) and the Chicken Pita Pizza (Rs 1,350). The base was made with fresh pita dough and the former was topped with Zaatar, Halloumi, Mint, Tomato and Spring Onions while the latter had minced Chicken, Tomato, Sumac and Herbs and a drizzle of Tahini while the zesty pickled gherkins and cauliflower were pretty awesome as they made for delightful flavour notes.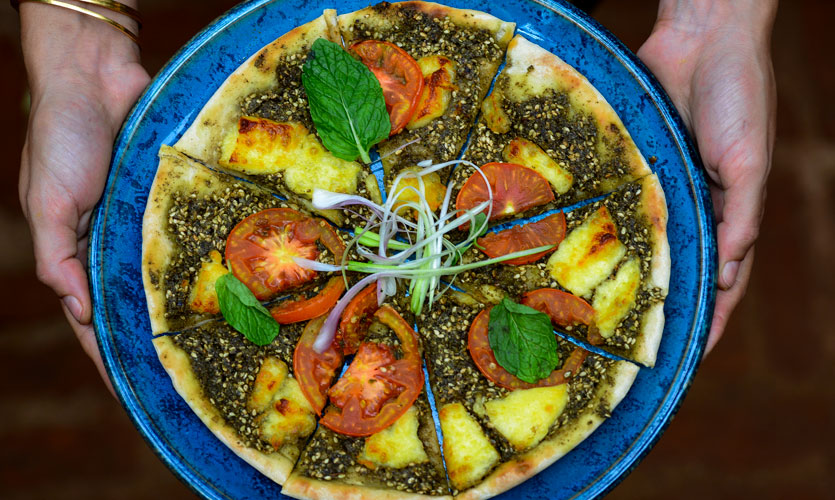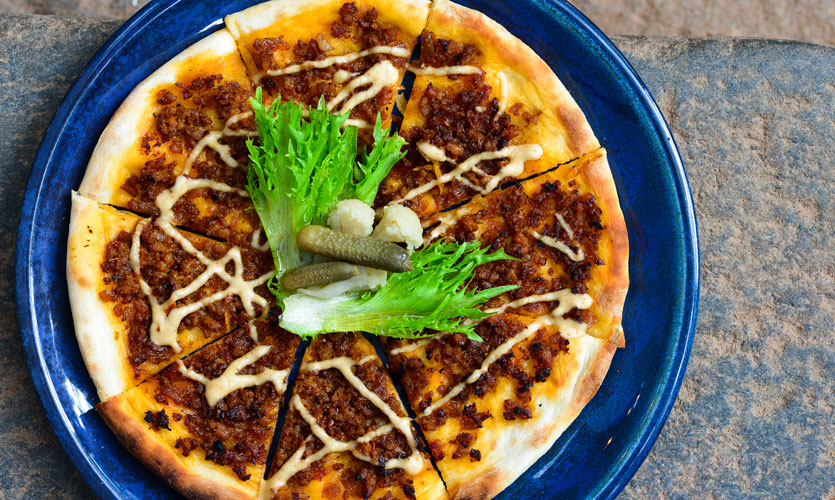 We thoroughly enjoyed the Chicken Hummus Bowl (Rs 1,650) which had chunks of juicy pan fried chicken paired beautifully with sweet pumpkin. The pumpkin had a subtle hint cinnamon which was just lovely and the dish was then topped with flaked almonds and herbs. The Hot Fish Hummus Bowl (Rs 1,750) which includes fried spiced Seer Fish and Coriander along with Garlic and caramelised Onions is also fabulous. The Hummus Bowl have a healthy serving of hummus and are served with homemade pita chips and are bound to leave you stuffed!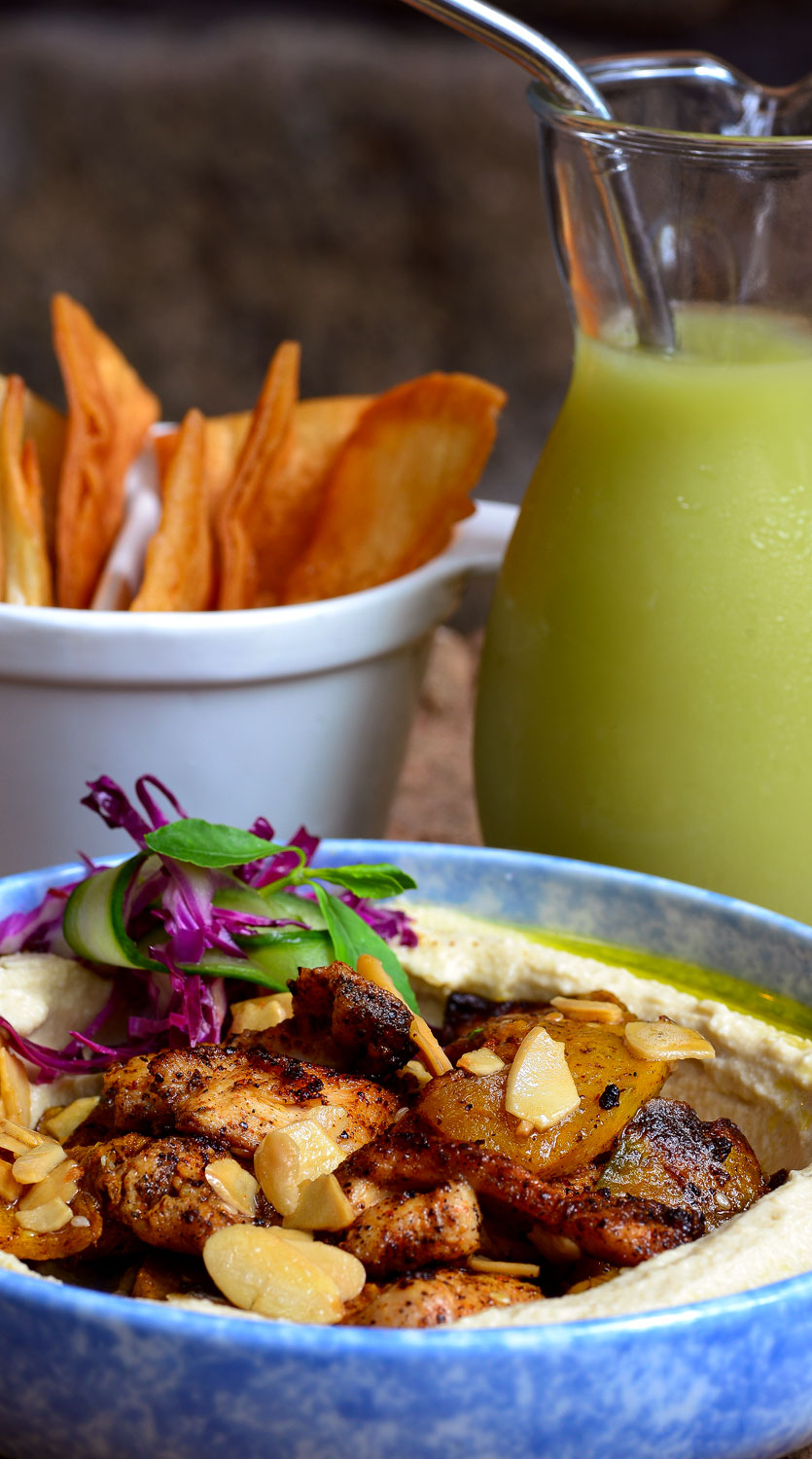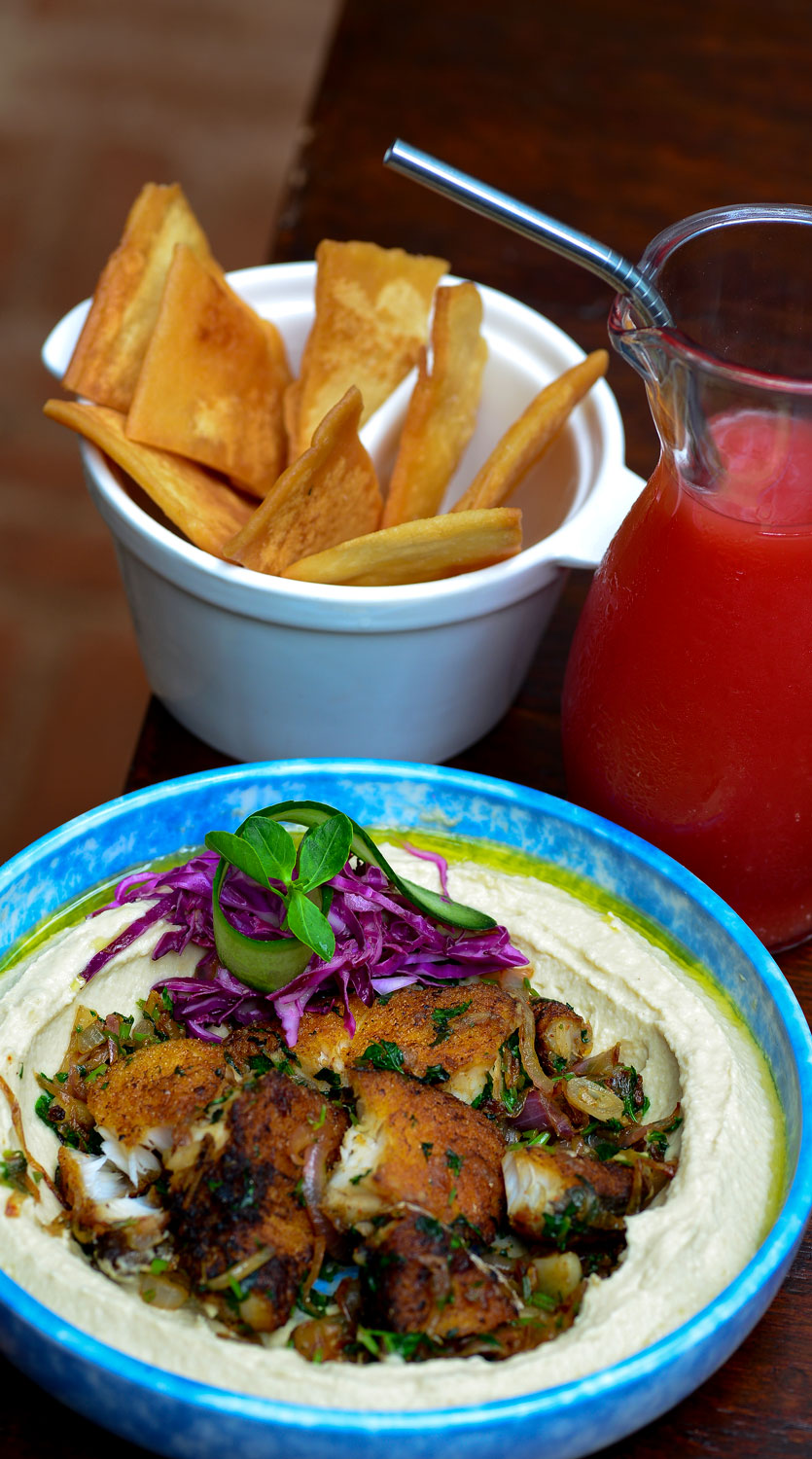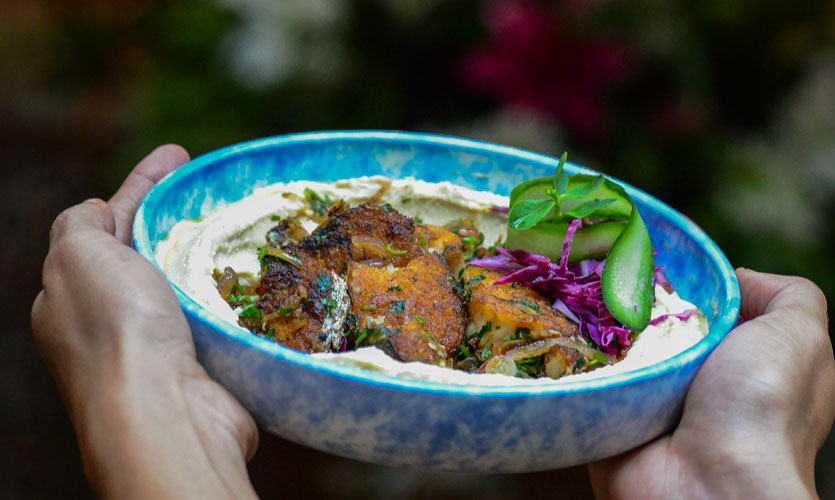 There wasn't room for much else but Amrita had also prepared for us their Chicken Shawarma (Rs 800). This simple yet flavour packed wrap was made with freshly baked pita stuffed spicy Chicken, Pickles, Hummus and Tahini.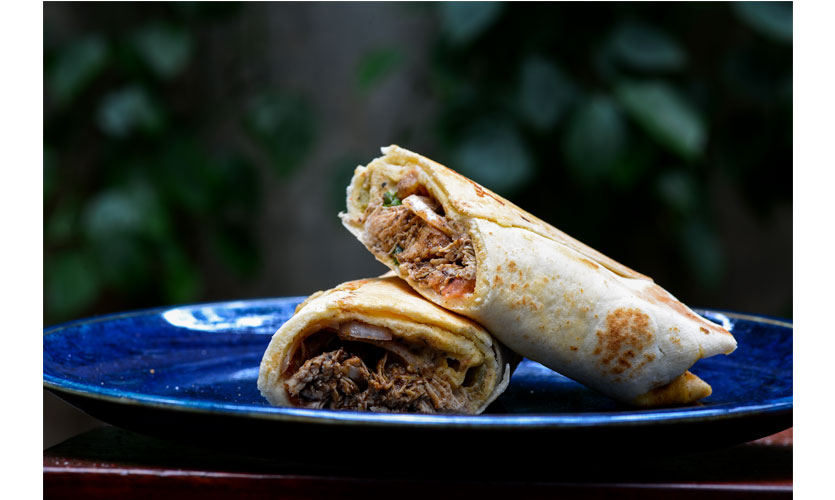 Taste and value for money (Desserts and Beverages) – 5 stars
How could we leave without delving into something sweet! The August lunch menu has their well known desserts that of the August Mess (Rs 750) and Chocolate Tart (Rs 700) but they also have the really light and pretty Panna Cotta (Rs 700) and Lemon and Thyme (Rs 700). The latter is almost too stunning to eat what with its lemon semifreddo and thyme crumble and a lemon and thyme syrup it transports you to a magical world of flavours while the former is made with a rosewater, yoghurt and vanilla bean panna cotta surrounded with fresh passion fruit – an absolute dream to eat.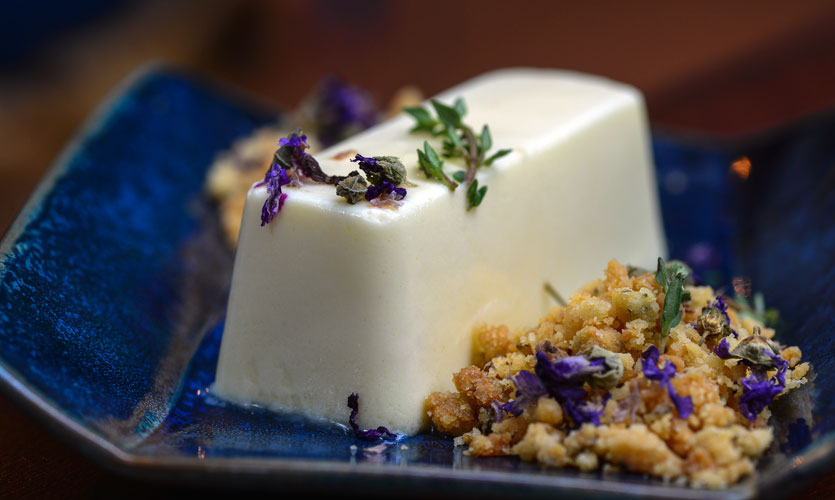 And if you are a sucker for their amazing Mamouls (Rs 180 per piece) they are available at lunch time too.
They also have a host of beverages ranging from teas, Arabic Coffee and fizzy drinks while the seasonal fresh fruit juices complement their mains well. The Ambarella (Rs 550) was our pick while the Watermelon (Rs 550) and Passion Fruit (Rs 550) were also super refreshing.
Toilets – 4.5 stars
Parking – 4.5 stars
There's space for parking right outside the restaurant as well as along Tickell Road.
Hours of operation:
12 noon to 3pm (Wednesday to Sunday)
Address: 61 Dudley Senanayake Mawatha, Colombo,
Tel: 077 700 5808
·

They have a take away option as well and reserving a table is recommended if you plan to head there with a large crowd for lunch
·

All items on the menu are subject to 10% service charge
·

Mama Aida's has two types of gift boxes available throughout the year – the Complete Middle Eastern Gift Box (Rs 9,900) and the Middle Eastern Taster (Rs 5,500). The Middle Eastern Taster consists of a bottle each of Pomegranate Molasses, Rose Water and Orange Blossom Water as well as a jar each of Zaatar and Iranian Dried Rose Petals while the Complete Middle Eastern Gift Box has these plus a jar each of Dukkah, Bharat Arabic 7 Spice Blend and Shawarma Spice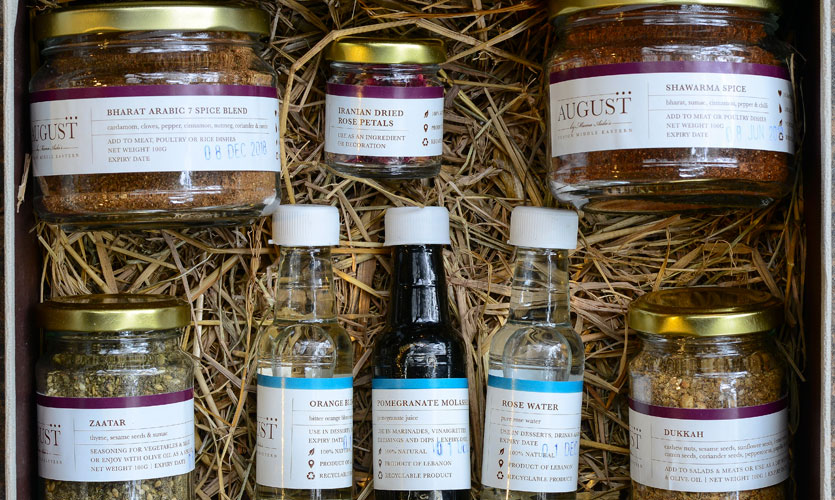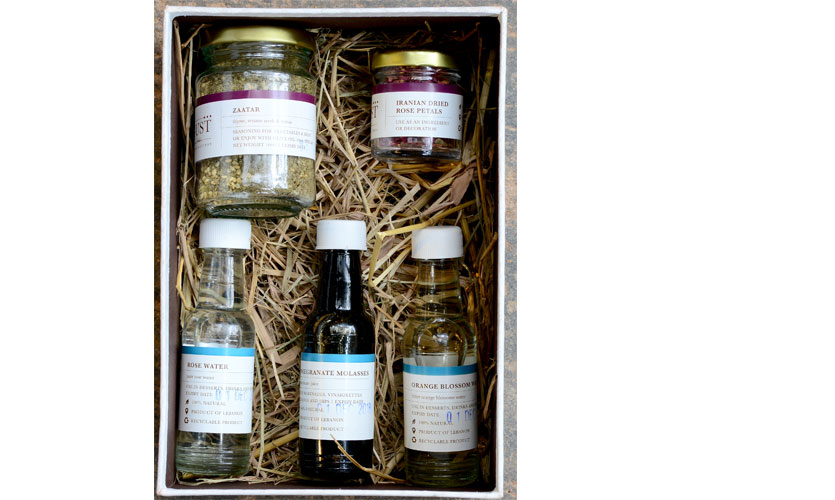 Pix by Kanishke Ganewatte