Box Colony is the latest restaurant to hit the Battaramulla area. Offering a totally new concept, the Box Colony (as the name suggests) is made up entirely out of recycled containers! Having opened a few months back, owners Zachariah De Silva and Anupama Wimalasena were inspired by London's 'Box Park' which allows a retail space for pop-up stores.
Having worked in the hospitality industry for over 15 years, Zachariah knew the exact vision for this space.
"We wanted a place for people to come , relax and hang out"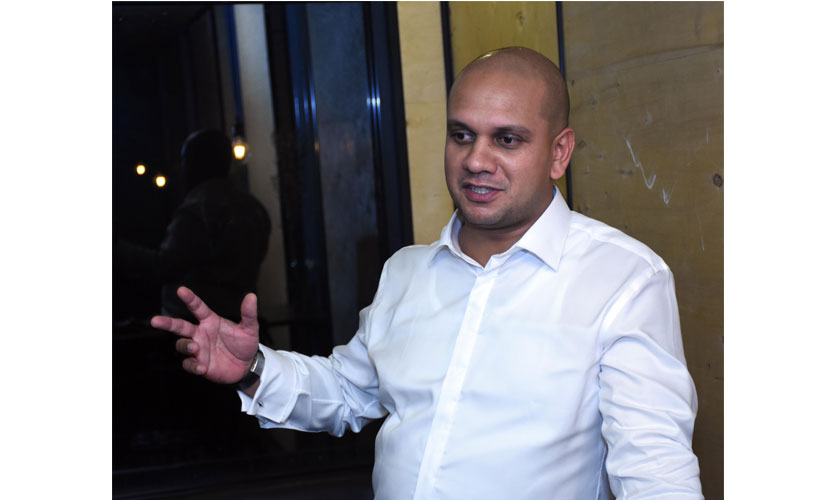 he said,
"We are at phase one of our plan and we want to make Box Colony a space for independent retailers to come and do pop-up stores and give our customers variety and a great place to wind down."
This creative use of the space allows Box Colony to rent out the space for special functions and events such as private parties, dinners and cocktails.
We haven't been able to take our eyes off this café every time we passed it so we decided to drop in one day and see what it's all about. Here's what we thought.
AMBIENCE
Box Colony stands out with its container space. With one container for an indoor dining space and another as a kitchen, the rest of the property offers outdoor seating. The containers allow the restaurant to make the best use of the space and they have a beautiful outdoor seating area, spaciously set and artfully designed.
The space adopts a minimalistic style design with a muted colour palette and sparse décor. The indoor space is barely furnished, with a few tables and chairs to its name and despite the small space the container allows, this makes diners feel as if there is ample spacing.
Both Zachariah and Anupama are insistent upon being ecofriendly and this is highlighted by the little things they've done. From using recycled containers to having their chairs and tables made from barrels and tires and their décor limited to a simple reused wine bottle with flowers; the restaurant is made largely of items that have once been discarded.
DRINKS
The drinks at Box Colony are provided by an independent retailer called 'Orange & Lime'. They largely do drinks based on fruits from juices to milkshakes. Box Colony also offers a few coffee and tea options.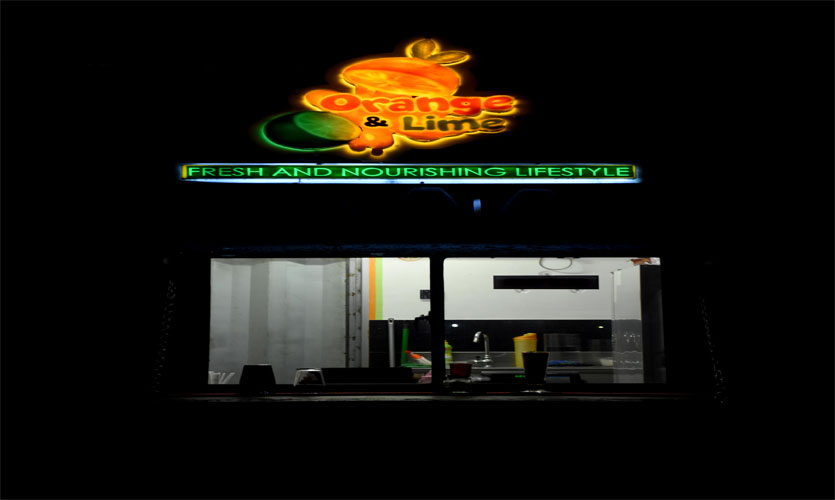 We opted for a Mango and Watermelon juice which we found to be refreshing with a good balance of sweetness.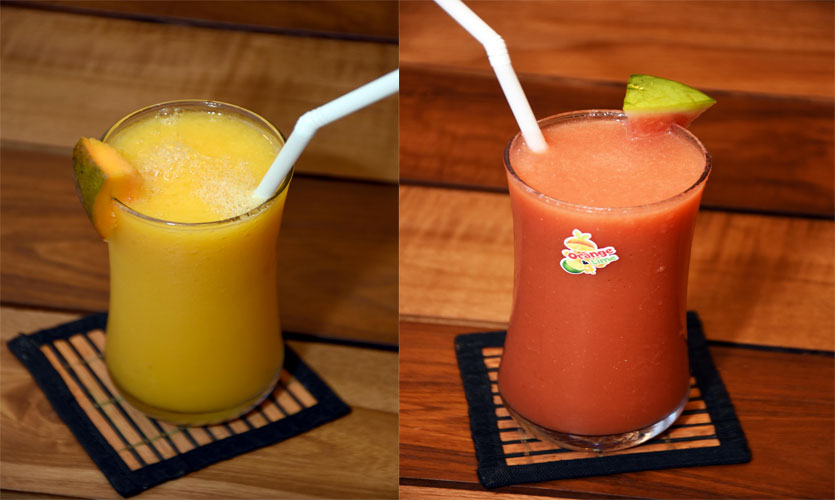 FOOD
The menu at Box Colony is largely street food oriented with a fusion of different cuisines. A lot of the meats and sauces are homemade and a large quantity of the vegetables and greens are fresh from their garden. The chefs at Box Colony are ex-hoteliers with a wide experience in food processing, hygiene and technique.
Their menu is extensive with salads, sandwiches, wraps, bites and specials. Instead of bread and butter, Box Colony gives diners roast paan with a chili sauce. The chili sauce is made of red chili and mayo and has quite the kick to it! The roast paan was soft and crunchy and we loved the combination together!
We decided to start off with a salad and opted to try their Japanese Prawn Salad (Rs. 750). The prawns were marinated in sake, lime and wasabi sauce and tossed in with salad cucumbers, bell peppers and a few greens. The prawns were generous and the sauce added a lovely flavour to it.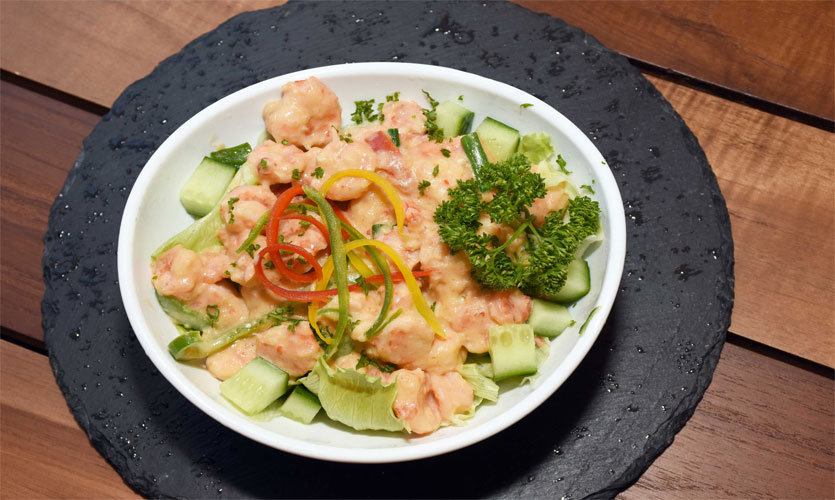 We then tried their Cuttlefish Balls. Beautifully presented in a bowl of salad leaves, the cuttlefish balls were cooked cuttlefish tossed in a light sauce. The sauce was subtle so that it didn't overpower the taste of the cuttlefish and the cuttlefish itself was perfectly cooked. We thought the dish showed technique and skill of the chefs as we were oddly curious as to how they manipulated the cuttlefish to take that shape!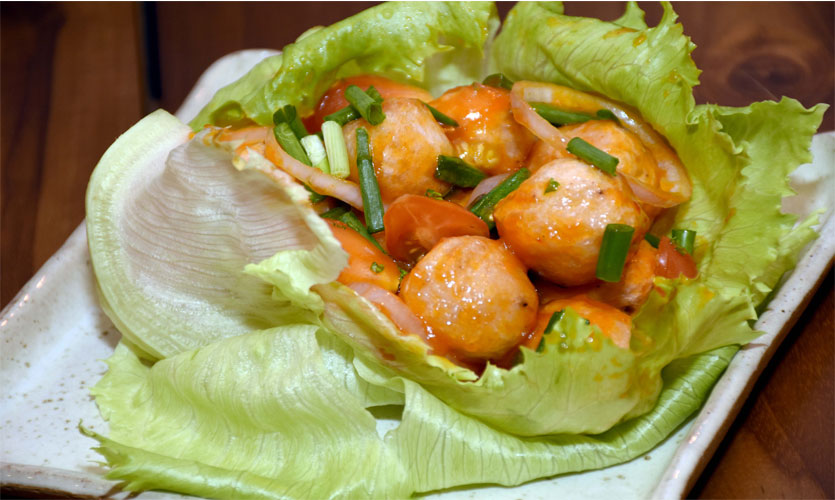 Their Box Colony Signature Pork Burger (Rs.800) was our favourite dish from the whole menu. Their in-house ground patty has 150g of pork meat freshly made and assembled between two warm homemade sesame seed buns and filled with grilled pineapple, bacon strips, a sunny side egg and tomatoes and held together with their signature BBQ and Chili Mustard sauce. The burger is served with a side of hand cut fries. The burger is juicy and succulent and the flavours are phenomenal! For such a great price, this burger is an absolute steal. Be prepared to get messy though, this isn't a burger to be eaten delicately!
They also have a variety of vegetarian options - from salads to specials. We opted to try their Broccoli and Cauliflower Bake (Rs.1500). The broccoli and cauliflower is mixed and baked with a herb paste and has an overly generous herb mozzarella topping. The dish is pretty large and can easily be enjoyed by two. We loved the bake and enjoyed the oozing layer of cheese on top. The dish comes with a side of their roast paan which can be dipped into the bake and enjoyed as it just soaks up all the flavours from the paste!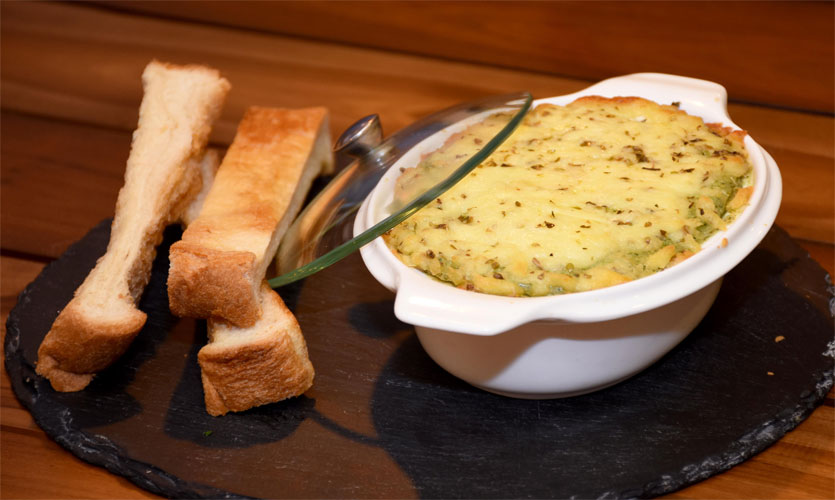 SERVICE
The Box Colony has a handful of servers who are helpful, friendly and accommodating. We found their service to be pretty great as we got our meals in quick time and we found our servers to be of great assistance throughout our meal.
OVERALL – VERY GOOD
All in all, Box Colony is a great new hangout spot. They've got a great menu, a great location and a beautiful ambience. Whether you are looking for a date spot, a hangout with friends or even to host a small party – Box Colony has got you covered!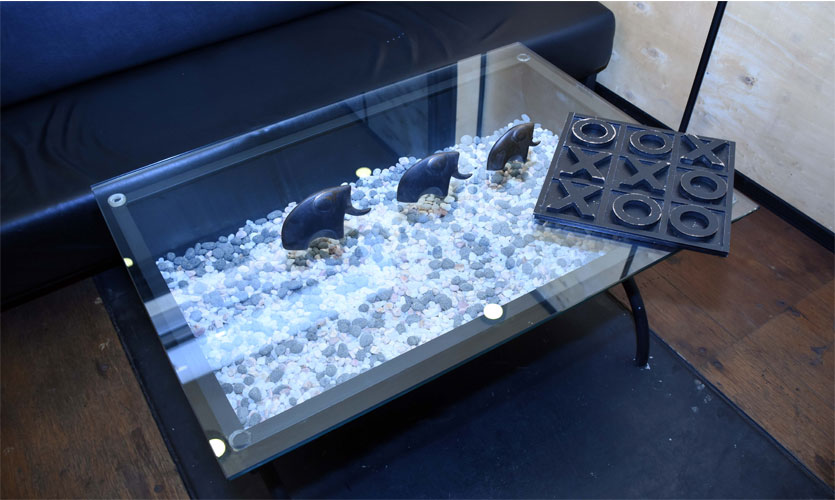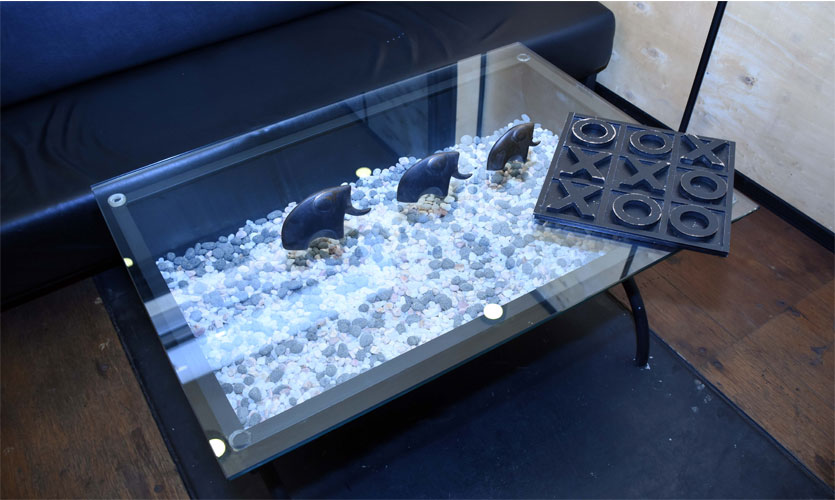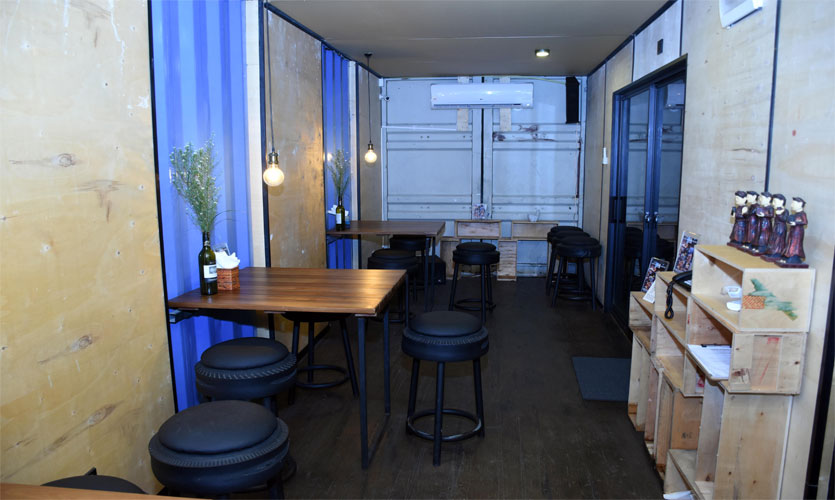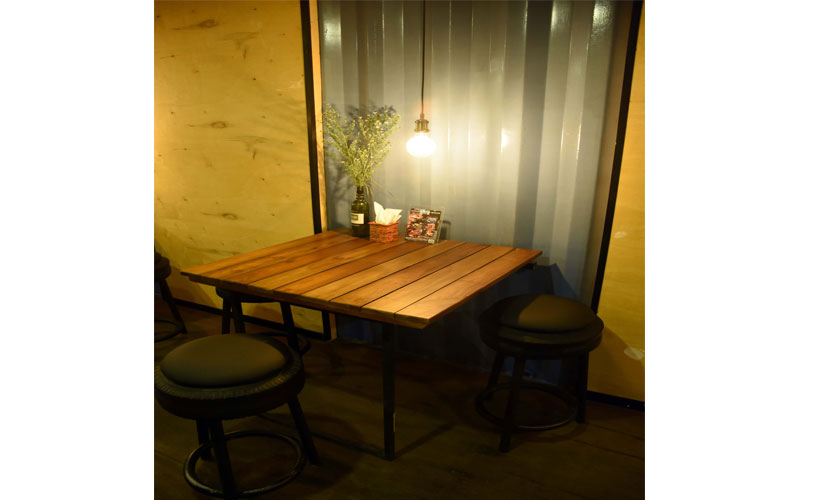 P.S - During the weekends they also do a BBQ menu that's definitely worth checking out!
Facebook: facebook.com/boxcolonysl/
Contact: 011 4 328001
Address: 308 A, Pannipitiya Road, Pelawatta, Battaramulla


Pics by Kushan Pathiraja