The smiles, laughter and constant chatter said it all! The ending, an anticlimax as the children wanted to stay longer and have more fun in the great outdoors. A journey of approximately one to two hours from Colombo, 'Adventure Education Sri Lanka' took a group of enthusiastic '8-15' year olds once again to their camp sites in 'Kithulgala' and 'Othara' for a fun filled December and to kick start Christmas vacation! Held twice a month as 2 night /3 day programs, the outdoor sessions were structured to cultivate confidence, build independence, foster empowerment and manage risk. Not leaving the element of fun out of the equation, the camps were hugely successful with approximately 45 children taking part. 'Adventure Education Sri Lanka' is all about promoting learning by way of carefully designed and supervised adventure centred experiences. Its' participants have always left with a sense of fulfilment knowing that they achieved something outside of their comfort zone while networking and making friendships in the process.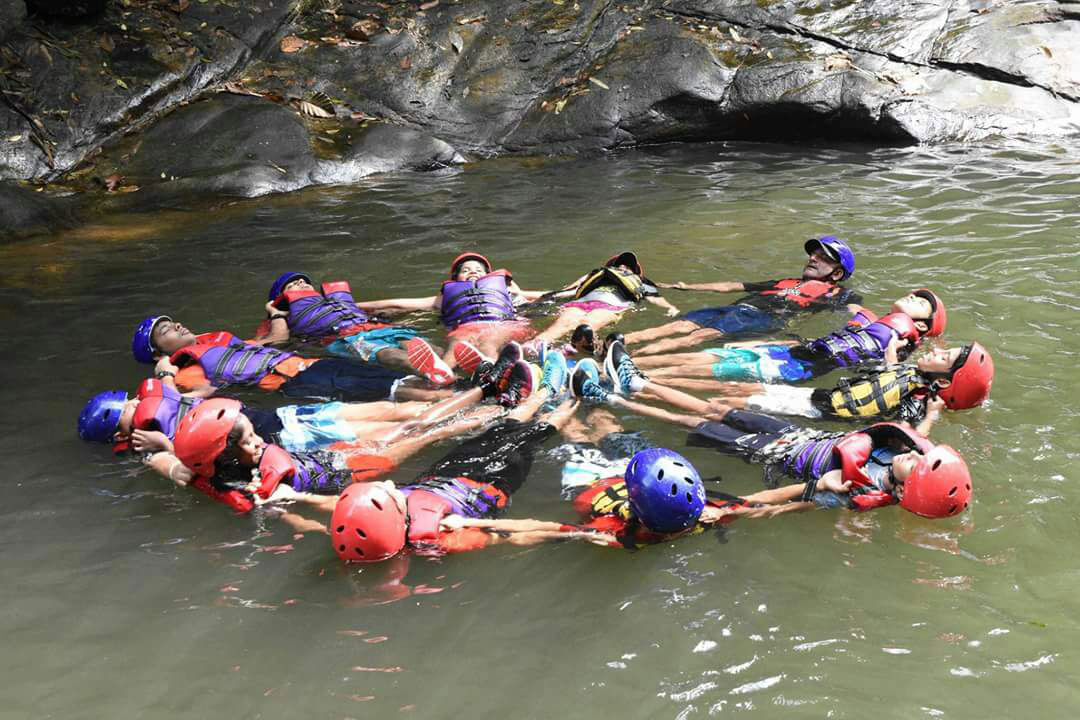 Renowned and certified outdoor corporate trainers and adventure facilitators, 'Adventure Education Sri Lanka' conducted camps Echo and Delta which comprised a wide range of challenging activities catering to the age groups that took part. 'Camp Delta' focused on high impact adventures in the waters of the 'Kataran Oya' and the Kelani Ganga under the supervision of trained and experienced staff. Every member of the team engaged in conducting the activities was trained in SWIFT Water Rescue, Life Saving, First Aid and CPR as well as in High rope rescues. Each child was equipped with safety gear inclusive of helmets, life jackets, and was provided with a comprehensive safety briefing. These measures guaranteed the safety of the children during their time in the water while allowing them to take the plunge in absolute comfort!
After an outdoor hike to a higher elevation, the children experienced the thrill of jumping (confidence jumps) from varying heights into isolated natural water pools, stream sliding into water pools, abseiling down the rock face of a waterfall, and of course, white water rafting which has become synonymous with 'Kithulgala'. The latter activity was conducted in partnership with 'Exclusive Adventures', a team with years of experience in navigating river waters. Once again the rafts and safety gear used were of international quality while certified safety kayakers remained on standby as an additional precaution. The rapids are always tested in advance and children are taken through Grade 2, 3 and 4 rapid levels each of distinctive character and name! The kids were allowed to jump and swim in the calmer waters post their rafting adventure.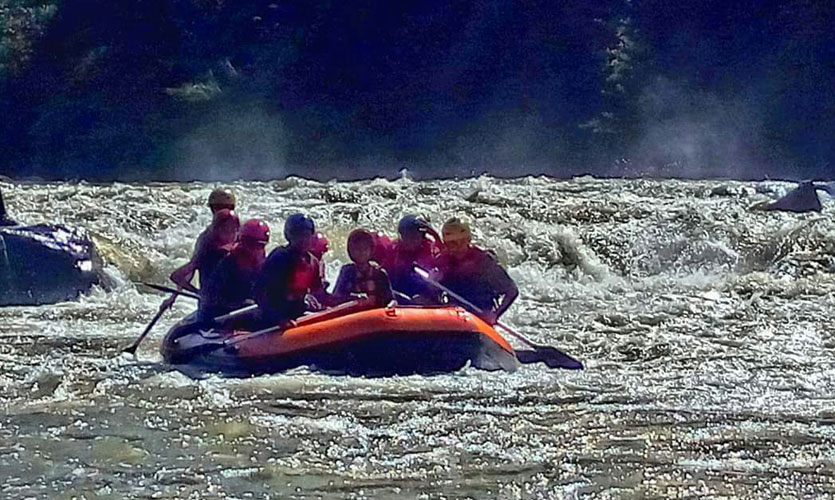 Our participants were taken on a hike through the 'Makandawa' rainforest, a serene and quiet reserve situated just behind 'Kithulgala'. The children went waterfall hunting, witnessed the 'Makulu Ella' falls and enjoyed the rich birdlife common to the area. Bathing in the waters of the 'Belilena Ella', a 30-meter drop of cascading water was also a novel and fun experience for all our participants. Located approximately 8 kilometres from 'Kithulgala', was the 'Belilena' cave, a declared archaeological reserve. Thought to have been inhabited by the 'Balangoda' man 32,000 years ago, the cave also has evidence of prehistoric human settlement. The children had to trek their way to reach this historical site and were awed by the visual history lesson!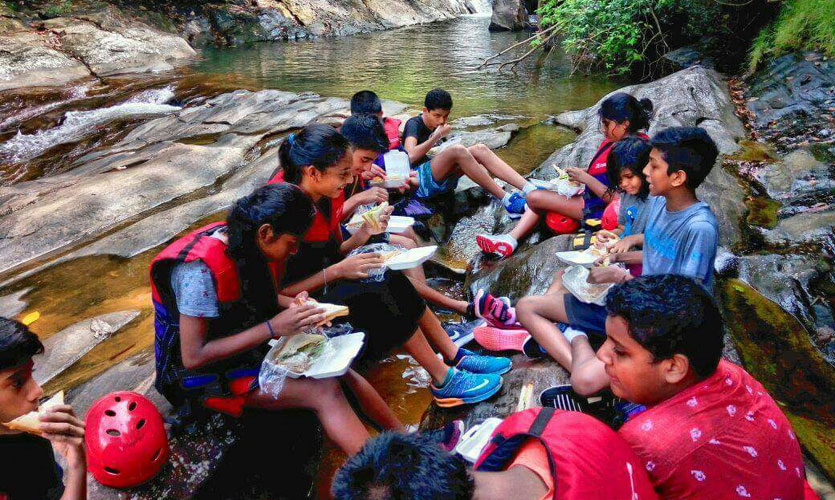 Camp Echo held in Othara, Pannala focused mainly on ground terrain activities including how to pitch tents in a suitable location, build rafts, learn the basics of backwoodsman cooking for survival, lessons in basic first aid, different types of knots and lashings while being taken to two different home based businesses engaged in brick making and coir making. The latter was to provide children with an appreciation of where the basic raw material came from locally. In addition was the bird watching treks in the early part of the mornings, river swims, river cruises by raft, kayaking, archery, air rifle shooting, trips on an 'ath' tractor, indoor team building activities and nature treks to observe the endemic species of flora and fauna.
The accommodation was in securely pitched tents. Adventure Education Sri Lanka adopts and encourages eco-friendly practices throughout their sessions as part of the learning process. Its go-green approach pays attention to the ethical sourcing and disposal of material, natural resource conservation from outdoor showers to rechargeable lights, minimal usage of electricity during the day to dedicated care for the environment in general. Apart from this, the food is fresh, always available and absolutely delicious, all conducive in keeping the spirits high and energy levels intact!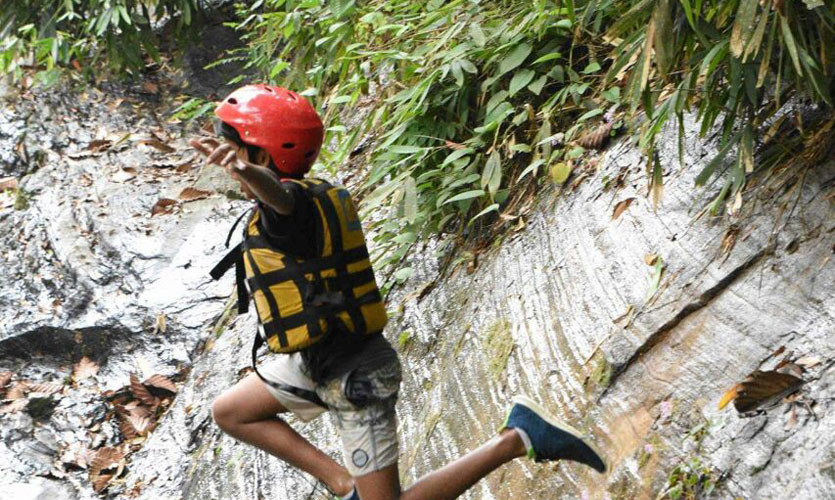 'Adventure Education Sri Lanka' has filled a void by exposing children to the outdoors in a technology-driven generation. Their camps for children are purposeful and meticulously planned to create impressionable learning while the programs are designed to create a love for nature and opt for the outdoors over and above the 'gadgets' that have dominated the lives of the younger generation. The team behind the success brings to the table extensive knowledge and experience in terms of diverse, tried and tested outdoor activities. Camping equipment is accredited and the trainers internationally certified to ensure that your child is in safe hands from start to finish.

With the increasing success of its camps for children, plans are underway to increase the frequency of its programs during the holiday months of April, August and December. Going forward, the programs will be enriched with more activities and comprehensive yet fun experiences. The need to bring back essential life skills, coexist with nature, re-connect with the simple life and contribute towards environmental sustainability is the foundation we hope to provide your children with while nurturing a growing community of individuals who firmly believe in this.

Established in 2003 by Major Raajiv Wanigasekera who has a passion for adventure, nature and the outdoors, 'Adventure Education Sri Lanka' has custom designed and provided experiential adventure based training and outdoor experiences to numerous local Corporates across nine locations island wide and internationally in India, Bangladesh and the Maldives. An absolute 'must go' you can find them on their social media platform https://www.facebook.com/adventure.lk/ and on their website http://adventure.lk/. They may also be contacted on 0777125512 for any inquiries.