A weeklong celebration of choral music kicked off in Colombo as Asia Pacific Choir Games were declared open on the 21 st October at the Temple Trees. The contest is the second largest international choir competition organised by INTERKULTUR and reaches South Asia for the first time in its history. The gala opening ceremony gave the audiences a glimpse of what is yet to unfold during the course of the week and we were convinced that it'll be nothing short of an absolute treat for all your senses.
The Temple Trees auditorium was buzzing with choristers from across the globe who've travelled far and wide to be a part of this prestigious contest. On our way in,we managed to speak to an ecstatic group of young singers from India who've made their first steps into a flight to reach Colombo for the Choir Games. Each clad in costumes native to their land, the entrance to the auditorium was swarming with tourists documenting every move of the experience to share with all those supporting them from home, a heart-warming sight indeed.
The evening commenced with formalities and Soundarie David, Director,Programmes of Colombo Cultural Hub Trust (CCHT) shared the vision of the organisation behind this mammoth task as part of making Sri Lanka the cultural hub of the region.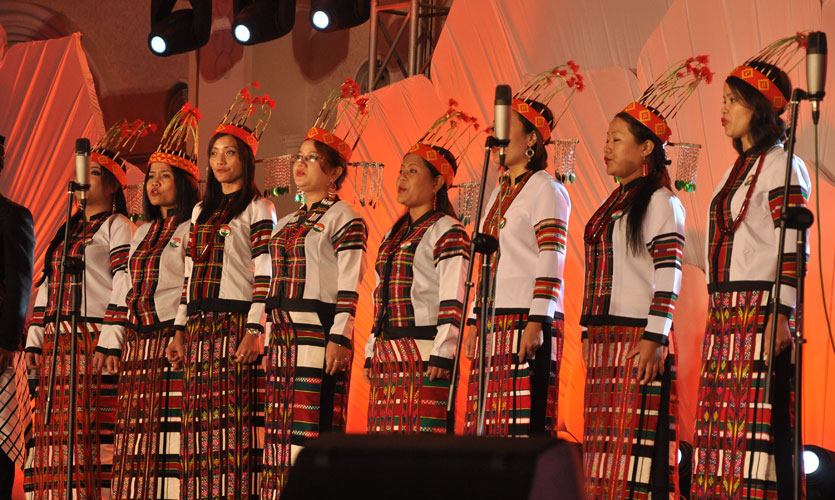 The line-up for the night had strong elements of culture embedded in each of them, giving the international audiences a fine opportunity to experience Sri Lankan via song and dance.
Opening the night was a traditional folk dance performance by Ravibandu and Samanthi dance ensemble. For everyone baffled by the concept of 'Choir Games' the ceremonial introduction of the participating nations with a grand flag display surely cleared all doubt they had.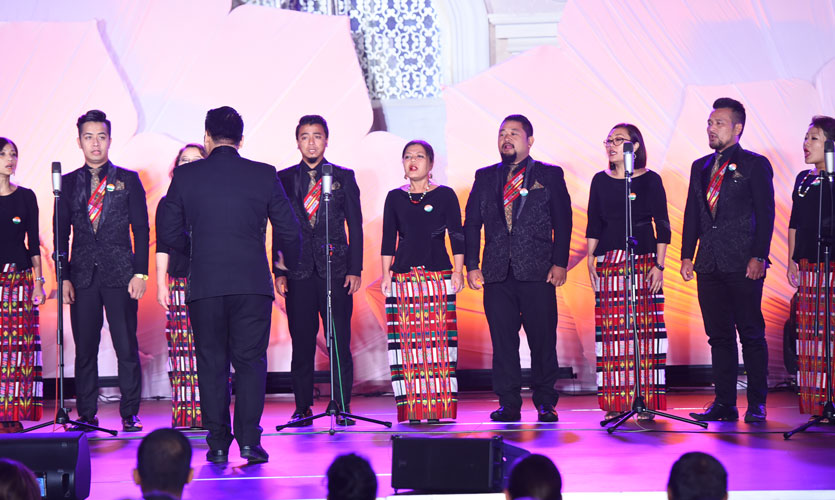 With 38 international choirs and 36 local choirs taking part at this year's contest, the impact it has already made in the local music industry is evident by these figures alone.
"If music is the food of love, my dear choristers, it's upto you to create that atmosphere of love for a country that has been through a lot over the years,"
added Mano Chanmugam, Chairman of CCHT, addressing the gathering.
Soul Sounds' choral rendition of a selection of celebrated folk songs and all-time favourite Sinhalese classics was definitely the highlight of the evening. With graceful moves of Kandyan dance subtly incorporated into the performance, the singers managed to mesmerise the audience with definite flashbacks to their winning performance at Choir Games almost a decade ago.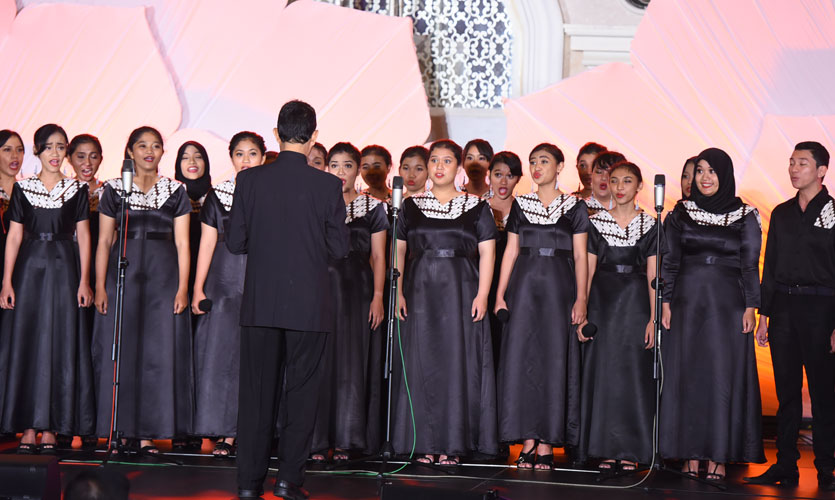 Addressing the gathering Prime Minister Ranil Wickremesinghehighlighted what it means to Sri Lanka to host a music celebration of this calibre, especially given how inseparable it is from our culture and heritage.
'PSM Vocalista Paradisso UPN Veteran Yogyakarta' representing Indonesia was the first international choir to take the stage for the night. Their energetic delivery of an acapella of Indonesian folksongs was indeed refreshing.
Performances by the Hangzhou Xizi women's choir conducted by Shulin Dai and
Mizo Cardinal Choir from India conducted by Lalsângliana Râlte, each specialising in native compositions were very well received by the audience.
The evening was a fine showcase of local talent to the world, The Symphony Orchestra of Sri Lanka along with soprano Tharanga Gunathilaka, did great justice to the statement.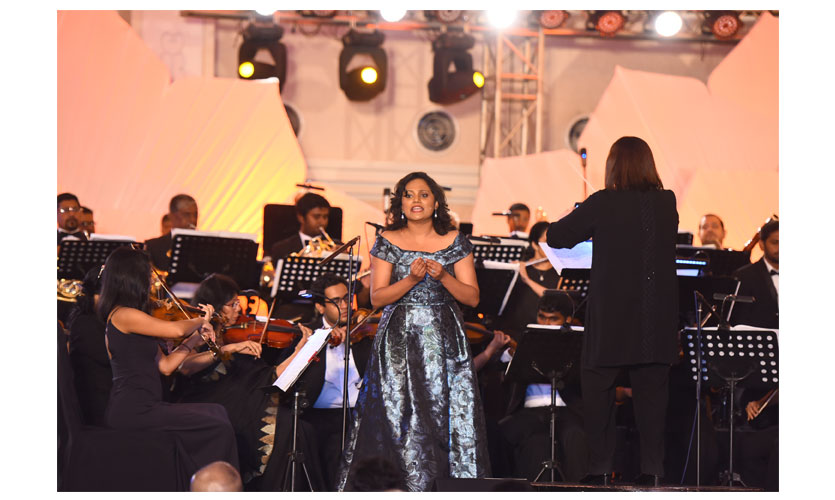 The final performance of the night saw the union of choirs from across Asia on one stage singing together, living by all what INTERKULTUR stands for,'Singing together brings nations together.'
The evening came to a close with a fitting finale as choirs gave life to the theme song of the Asia Pacific Choir Games, Asia Aura.
The week starting from the 22nd of October has much to offer to all fans of choral music. Detailed programmes have already been shared and are available online on www.Interkultur.com. Do follow and make your way to the multiple venues in and around Colombo as the celebrations unfold.
We managed to speak to choristers, choral directors and music enthusiasts who were all a part of the audience. Here's what they had to say.
Avanti, Dulani and Thiranya from Contempo
"This is our first experience as a choir taking part in a competition of this calibre, so we are very excited. We think it's a great opportunity for us as a choir."

Dr. Priyeshni Perera
"We are actually privileged to be here, to be a part of an international event like this. I direct two choirs, Prestantia junior and adult choirs. We've had so much fun learning all the repertoire. It has been a challenge too. But we are really excited!"

Prof Amunugama
"This is the first time such an event is in South Asia, and to have it in Sri Lanka is great for us. I think our people are very lucky to witness this."

Udaya Nanyakkara
"It's certainly a very exciting thing for Sri Lanka, and to be the Principal Sponsor of it is a great pleasure. And as Sri Lankan tourism we are to going to position for more world class events. Events like this will certainly bring more recognition for the country and the city of Colombo."

Brian Wallang (Director of KC Lights Youth Choir)
"We are from the North East of India. This is our first time on a flight overseas. We are taking part in the youth category.We are here to win the gold medal!"

Ranish - Choir Leader, Lyceum International School Wattala
"We are taking part in the pop category. We've been practising for almost 6 months and we are very excited to compete at the Choir Games."

Sangita Santosham
"I'm from the Madras Musical Association, Chennai India. We have performed internationally before but this is the first time we're taking part in an international contest. We have rehearsed for months and months together and we are very excited to be here. This is the first time we are listening to choirs from China and Indonesia. It's a great experience; we are really looking forward to it.

Hasinee Andree
"I have three choirs performing for the contest. It's been actually just the sheer joy of singing together. I think that's the only thing we are hanging onto at the moment, because we are obviously quite nervous. I have a church choir too. I think they are the only church choir taking part if I'm not mistaken. We are singing for God after all.I think it's a very good thing that they've joined cultures together. I think we should hold more workshops and more events in the future too."

Mayanthi
"In my opinion, I think APCG is definitely a fantastic opportunity. Especially for a country like Sri Lanka to be able to host this and also create a massive platform that encourages so much talent to come together on one stage to represent themselves. Personally for our choir,'Asteria' it's been quite a dream for a while. It started off with our late Director Mr. Mahen Peiris who unfortunately passed away last year. It was his dream that we participated at the APCG or World Choir Games and it's been something we've been trying to pursue for a while. This, for us, is a huge cause; we are doing this in honour of him."

first right

Harin- Choral Director and Baritone
"International choir competitions can inspire people to experience the strength of interaction, develop personality and community through song. Singing together brings nations together."
Hats off to the Colombo Cultural Hub Trust for their tireless efforts.
Pics by Manoj Ratnayake