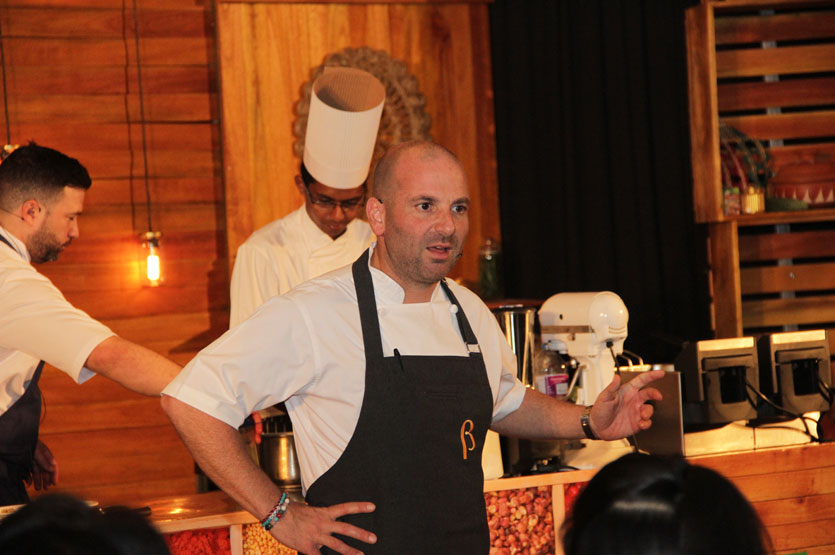 The Masterclass with George Calombaris took place on the 10th of June at Cinnamon Lakeside. There were close to 50 participants who took part in the class. We were able to enjoy a clip of George's stay in Sri Lanka which included his trip to Sigiriya and experience at Habarana Lodge.
The first recipe for the day was Greek doughnuts with a dip, which was truly his grandmother's recipe. He shared with us many experiences from his childhood and how he used to enjoy eating this dish. After each recipe, the participants were allowed to ask questions and more importantly taste the dish! He then made a raw fish dish, and stressed on the need for finding fresh seafood to make this dish. Throughout the cooking, he gave many useful tips one of which was to use every part of the ingredient.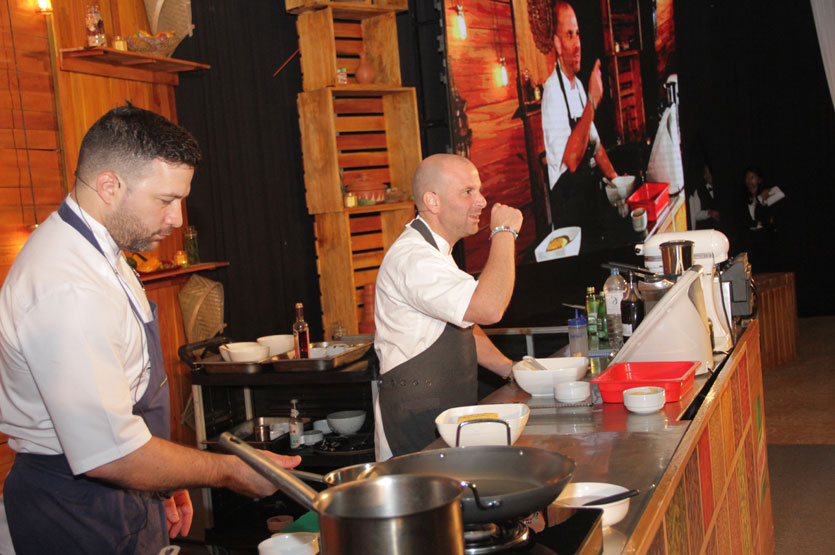 "We should not waste any food. It is our ethical responsibility as foodies."
He then joked about how he had to sneak in some of the ingredients used in the Masterclass and dinners all the way from Australia!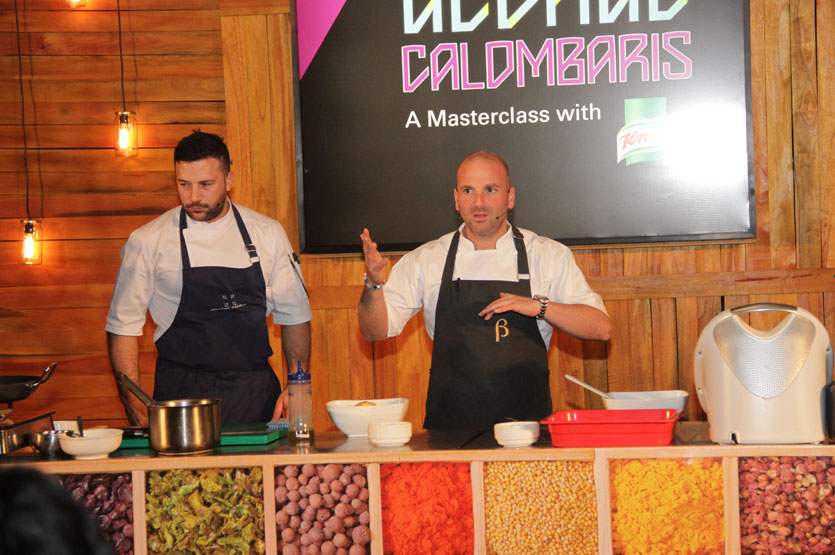 One of the more important things he mentioned during his cooking was that "Recipes are not set in stone, they are only guidelines." He encouraged us to experiment while cooking as much as possible and to be creative in the kitchen at home. He even provided very specific tips regarding ingredients. For example, he spoke about olive oil and its acidic levels. "Once you open it, it begins to oxidize. So you must use it soon before it loses its freshness. Store it in a dark place or wrap the bottle in foil."
When asked about how he started his journey as a cook, he revealed that was "started from my love for eating! It's an incredible craft and I have been part of it for the last 21 years. I trusted in my skills and presumed my journey. It is also important to cherish all the low moments, because when the high moments come, you enjoy and value it more." We later learnt he began at the age of 17 and it was Gary Mehigan, a fellow judge on MasterChef Australia that gave him his first job. He then went on to open his first restaurant The Press Club at the age of 28.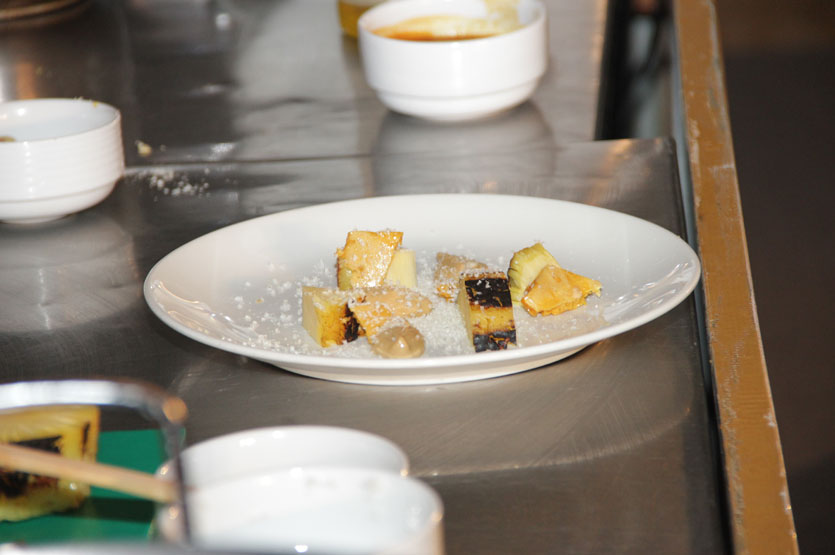 The final recipe he shared was a dessert with Greek yoghurt, honeycomb and our very own fresh pineapple. He stressed on allowing the natural sugars found in the ingredients to do its work. He found Sri Lankan desserts to be too sweet and lacking a balance.
He then took questions from the audience. When asked about whether he prefers Matt or Gary he answered by saying; "We are great friends and have been for a very long time. But we are very different individuals. There is great camaraderie and great respect for each other and it comes off in the show."
"Advice for young chefs would be to work hard and follow your dreams. Really work hard. Take your time and enjoy the process, because the faster you make it to the top, the faster you will come down. Find what it takes to make yourself happy. In regard to new food trends, I feel like the world is going back to individuality. More shops are selling only macarons or only great pies."
He ended the class by saying "Take the food and keep its soul. Keep its integrity and then modernize it." He then met the participants individually and allowed them to get their autographs and pictures taken with him. It was a great experience indeed as he truly inspires you to work hard and follow your dreams.
-----------------------------------------------------------------------------------------------------------------------------------------------------------------
Comments from participants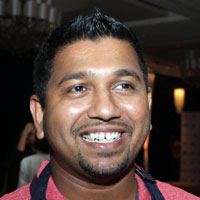 Roshan De Silva
I follow MasterChef Australia, and it was great to meet George and taste some of his food. It was amazing to see his personality which is clearly reflected in his food.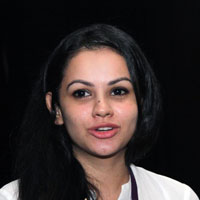 Karandza
It was surreal. I watch MasterChef Australia on a regular basis, and it was an amazing experience to meet him.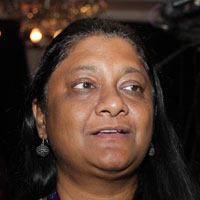 Anuradha Goyal
It was a well-orchestrated presentation, quick and not too complex. He used so many local ingredients. His message about food ethics and organic food was important and should be spread around the world.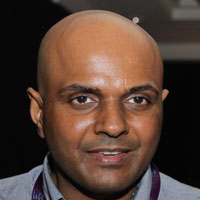 Jehan Aloysius
Really enjoyed it and the dessert is something I'd like to try. He gave many useful tips and used many local ingredients. It was nice to taste something more Greek.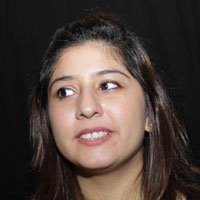 Gulnaz Braila
Really amazing experience and it was a nice class. I would have preferred to have the recipes in my hand.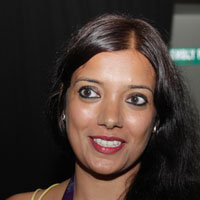 Rachna Sahay
It was a great experience. George is an amazing chef and a humble guy which is something I was not expecting.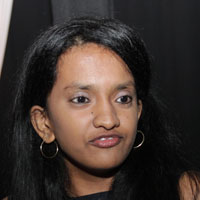 Nicola Weerasekera
He was friendly and interacted well. George is a great chef and gave a lot of useful tips.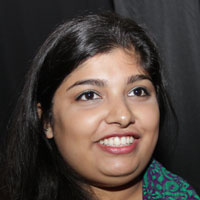 Zeenath Shabana
It was a fabulous class! It was great to meet George because this is a once in a lifetime opportunity.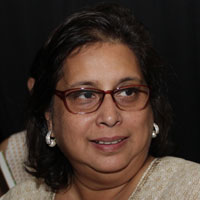 Zainab Anvarali
I enjoyed the class and liked the way he cooked and all the little snippets of information he shared with us of his experiences.
Valma Gunaratne
I enjoyed and learnt so much. MasterChef Australia is something I used to watch on TV.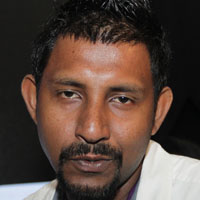 Arjuna Rajapakse
George gave out a lot of valuable information and the dishes were something we can try at home.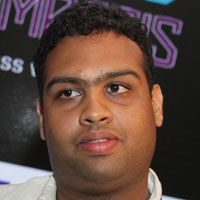 Prageeth Karunanayake
As a budding chef, it was amazing to watch George as he revealed a lot of tiny details.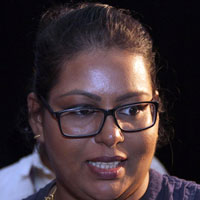 Milani Salpitikorale
I am a lawyer by profession but food is my passion. So it was great to meet him and get to know what kind of a person he is.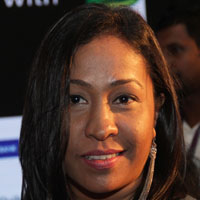 Sharon Annmary
I can't believe George is here! I learnt some lovely stuff and can't wait to go home and try them out.
---
PHOTOGRAPHS by Waruna Wanniarachchi
VIDEO by Zeeshan Akram Jabeer