Japanese cuisine is well on its way to becoming a popular choice among Sri Lankans and as a reaction to the increasing demand, Colombo now boasts a number of Japanese restaurants specialising in Japanese fare.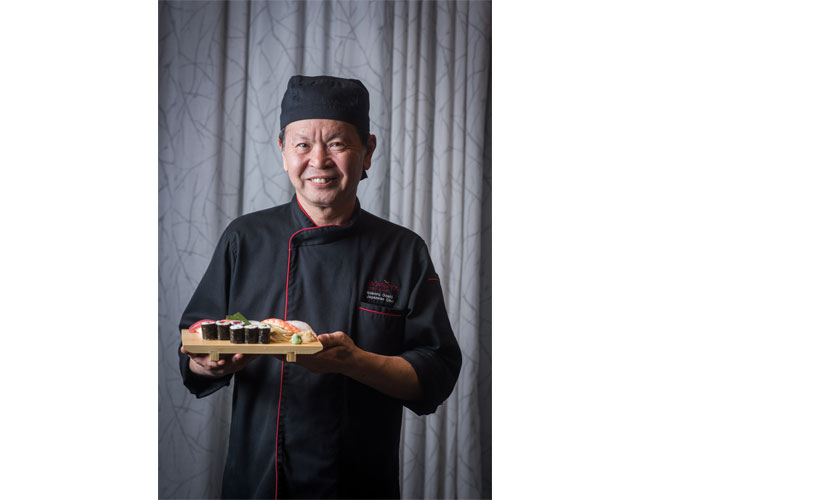 Standing out among the rest is Mövenpick Hotel's recently opened Japanese restaurant, the Robata Grill and Lounge. Having heard a few good things about their food, we dropped by for dinner on a Monday night.
Ambience
Located on the second floor, the restaurant occupies a massive space with ample space and a modern interior. Following a theme of red and black, Robata's seating varies from sitting at an open grill watching the chef in action or sitting comfortably at your own private booth having a small chat.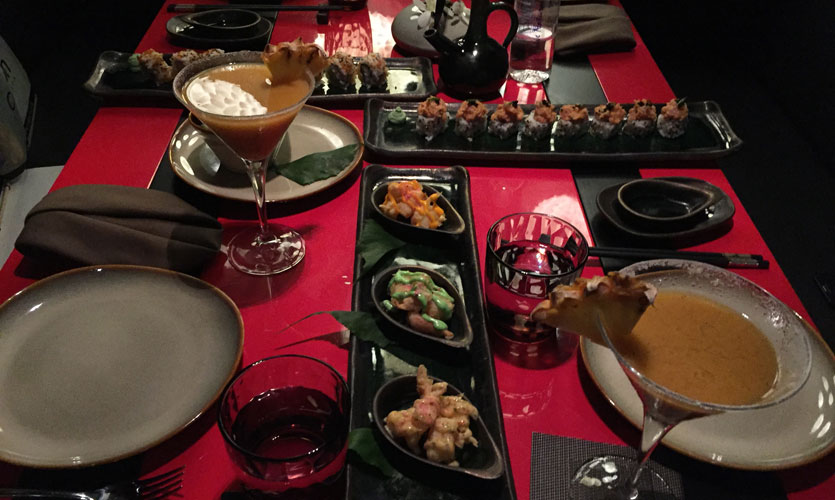 Food
Dinner at Robata Grill is a classy affair. Having worked with iron chef Motimoto, the Executive Chef, Noboru Ozeki, has a keen eye for taste and pairings with over 15 years of experience in the field. Hence the menu at the restaurant is extensive with a variety of options ranging from hot and cold appetizers, salads, sashimi, nigiri, sushi rolls, tepanyaki, soups, rice and noodles and deserts. Covering every area of Japanese cuisine, trying to decide what you'd like to have is a difficult task.
For appetizers, Robata offers a selection of hot and cold dishes. We decided to go with Rock Ebi Tempura (Rs.1550) as a hot dish which is batter fried prawns. The Ebi Tempura is plated in 3 different dishes with each dish garnished either with an avocado, sweet chili or mango mayo sauce. The prawns were succulent and crisped to perfection and while each garnish bought out different flavours to the tempura, our favourite was the mango mayo sauce because it truly produced a unique flavouring that showed technique and expertise on the part of the chef.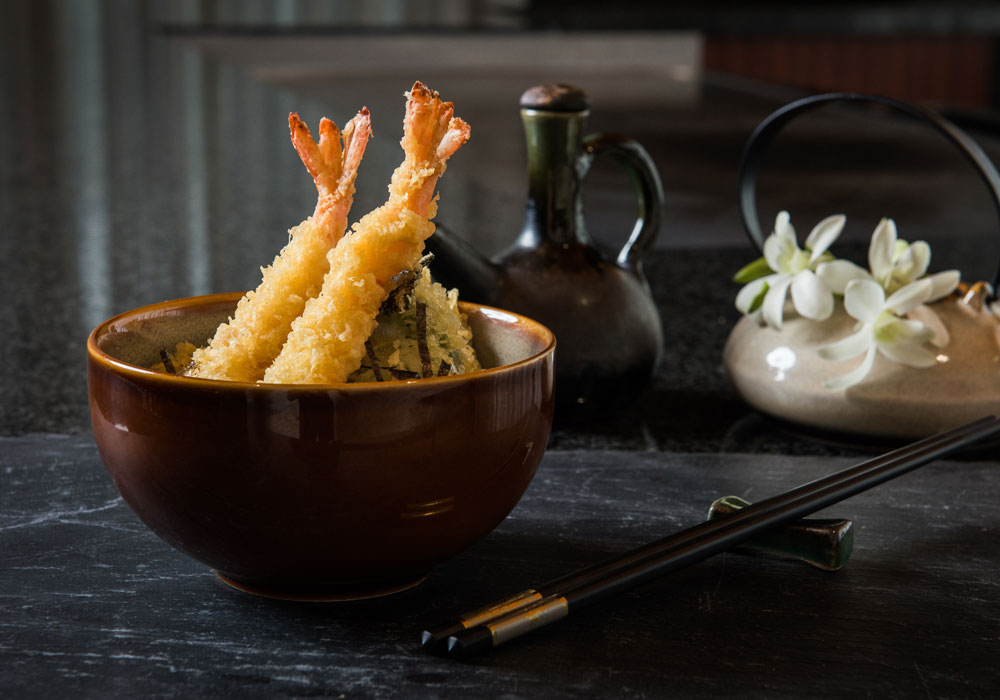 For a cold dish, we tried their Edamame (Rs.690) which is immature soybeans in a pod seasoned with salt and pepper. The soybeans are steamed to the point where it's still crunchy and for me, I felt that the dish is an acquired taste.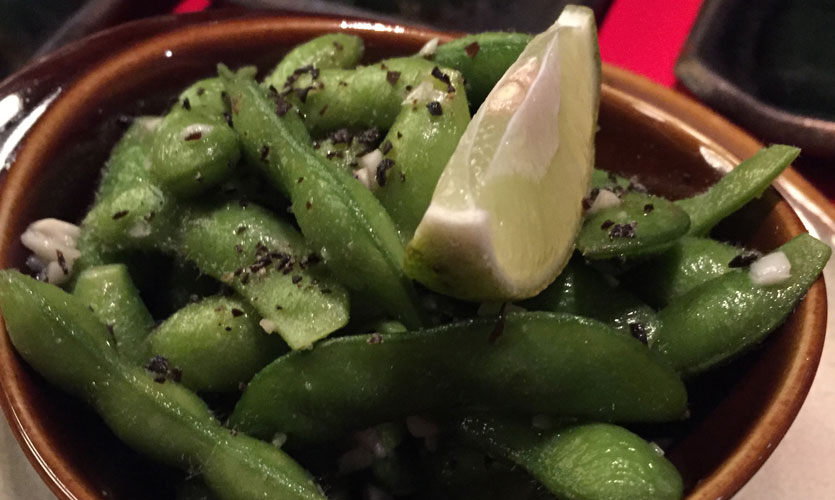 For our mains, we started off with two different kinds of sushi rolls. We ordered their California (Rs. 1290) and their Spicy Tuna. The California is a crab and avocado roll garnished with a certain type of fish egg called tobiko. Crab and avocado is a classic but what took Robata's California roll to the next level is their preparation. Most California rolls tend to have very little crab meat and uses overripe avocado but in Robata, the sushi rolls were generously stuffed with fresh crab meat and just ripe avocado. The use of fish eggs on top gave the roll a slight crunch that we loved!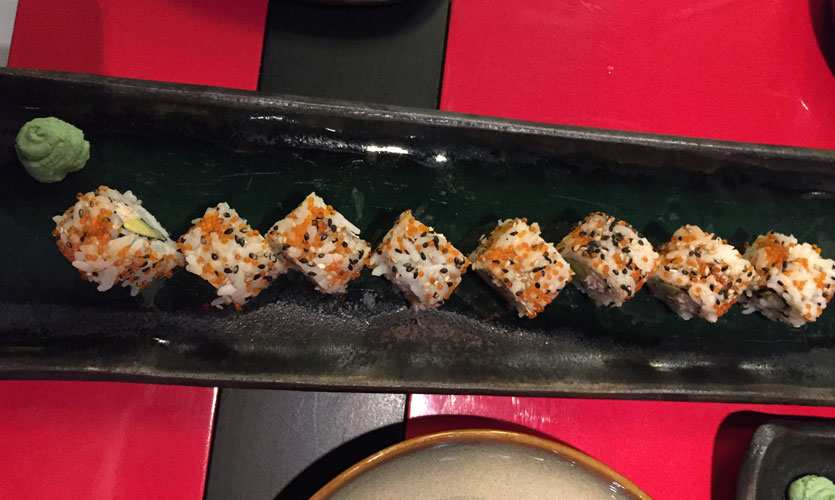 What really blew us away was their Spicy Tuna with mashed tuna mixed with a spicy mayo. We decided to try it on a recommendation and we were really glad that we did! Beautifully presented, we received a row of 8 plain sushi rolls with a dollop of the spicy tuna mash on top of each. We really enjoyed the freshness of the dish and the kick of spice it added to our meal. This is one dish we'd recommend as a 'must try' if you are dining here at the Robata!
We also tried their famous Chicken Teppanyaki (Rs.1550). Teppanyaki is a style of Japanese cuisine that uses an iron griddle to cook food. The grilled chicken pieces tossed in red and green chilli was served with two sweet and spicy sauces and bean sprouts. The chicken was adequately spiced and complemented by the two sauces. They have a large range of options for Teppanyaki that are worth trying out!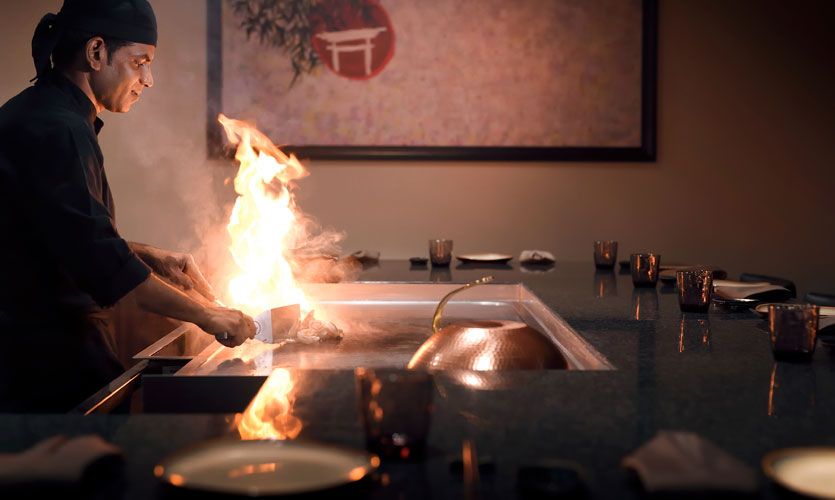 For desserts the options are rather limited with just two desserts available; a green tea mousse cake or an assorted fresh fruit platter. Quite obviously we went with the Green Tea Mousse Cake (Rs.950), simply because it just gave us an illusion of being healthy after pigging out on all that food! The Green Tea Mousse cake is a piece of art (like all desserts at Mövenpick!). The mousse cake is served with a small crumble, meringue and watermelon on the side and it all just blends in together. We fell head over heels in love with the mousse cake for its freshness and for its sweet consistency that acted as the perfect catalyst for a good meal. Even if you are completely stuffed – never miss out on the desserts at Mövenpick!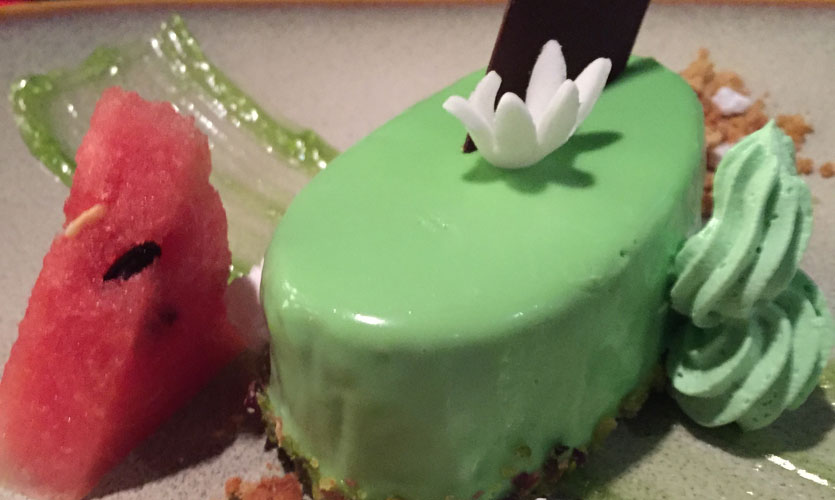 Service
The staff at Robata is friendly and accommodating. The menu was a little overwhelming with all its options and we were really grateful for the staff that helped us select the dishes we would enjoy. Moreover, they are very prompt with their service and we didn't have to wait long for our food.
Overall
The Robata Grill and Lounge is definitely one of the better places for Japanese cuisine. Their food is impeccable and their service is excellent! If you enjoy your Japanese, the Robata Grill and Lounge is bound to be a regular dining spot for you.