It is rarely that one gets to call a meal an 'experience', but there are no better words to describe the new degustation lunch at Jetwing Colombo Seven's restaurant, Fifty7. A twist to the usual Sunday lunch buffet, this degustation lunch is a seven course delight curated by Chef Indika Bandara.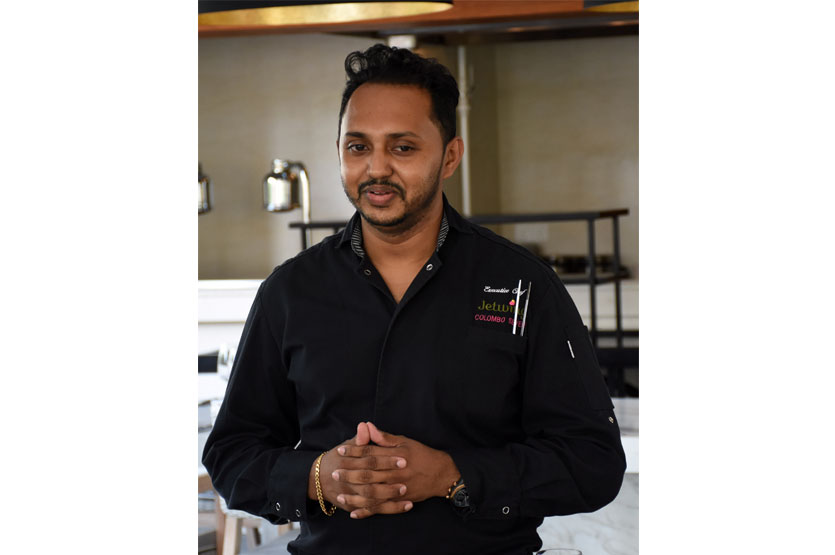 Chef Indika started his culinary journey in 2001 when he first entered a Hotel Management course in Sri Lanka. Upon completion, he worked 3 years as a Commis at Heritance Kandalama and later moved to the UAE where he worked 8 years in various prestigious hotels. Having returned to Sri Lanka with an expansive culinary knowledge, Chef Indika puts his skills to use with his eclectic degustation menu.
"Our concept is different and our aim is to give an experiential tasting that is a blend of modern fusion food influenced locally, yet harmonized with international cuisine," comments Chef Indika.
We were invited to the launch of this menu and here's a course by course detail on what we thought;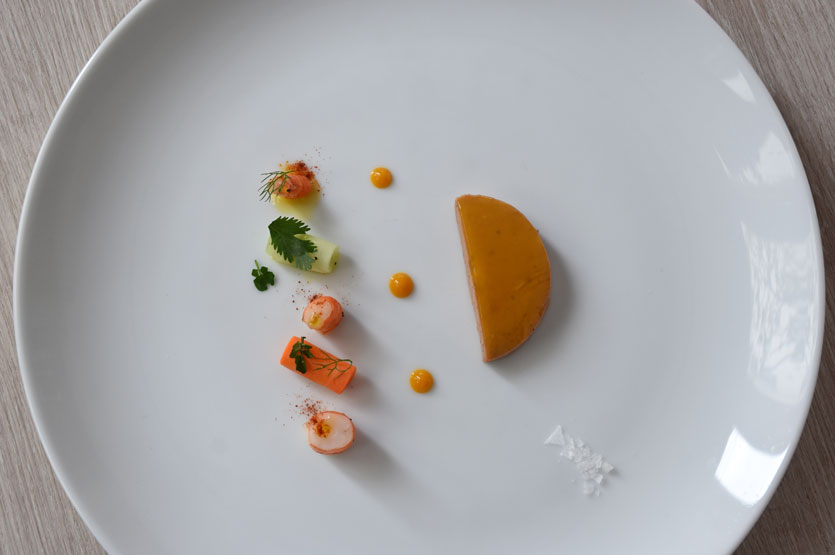 Course 1: Chicken Liver Pâté
We started our course with a chicken liver pâté with shrimp and herbs and mango passion dressing served with a side of thinly sliced brioche. The pâté had a light and smooth consistency with a thick layer of mango passion dressing on top. The dressing is what really heightened the dish for me with its contrasting flavour cutting through the pâté.
Grilled vegetable terrine with chimichurri sauce is available as a vegetarian option.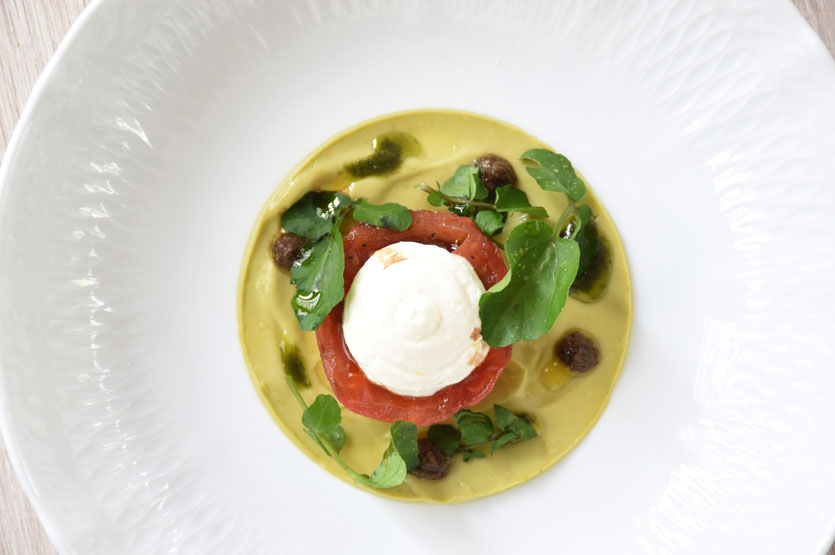 Course 2: Burrata Espuma
With avocado as the base, this vegetarian dish included olive tapenade, balsamic vanilla and tomato with burrata on top. Burrata is Italian cheese made from mozzarella and cream. Having imported it, the burrata was fresh and soft and all components of the dish complimented each other when consumed together. We also thought the presentation was beautiful!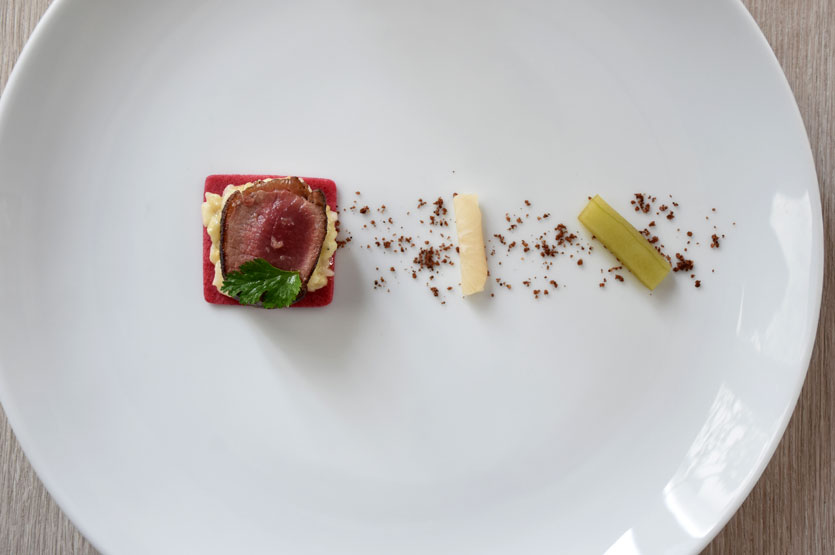 Course 3: Smoked Lamb Saddle
My absolute favourite of the courses! The smoked lamb is served on a beetroot pancake on top of a bed of eggplant risotto. This is somewhat of a very theatrical affair. The lamb comes covered by a glass to the table and as it is lifted off smoke engulfs the plate. This is a dish that tantalizes all your senses because you immediately get hit with the smell of smoke and as you taste the lamb, you can also taste the smoke. Done medium rare, this smoked lamb was so juicy and absolutely packed with flavours that I cleaned my plate in seconds!
Cherry tomato tart with watercress salad in rosemary dressing is available as a vegetarian option.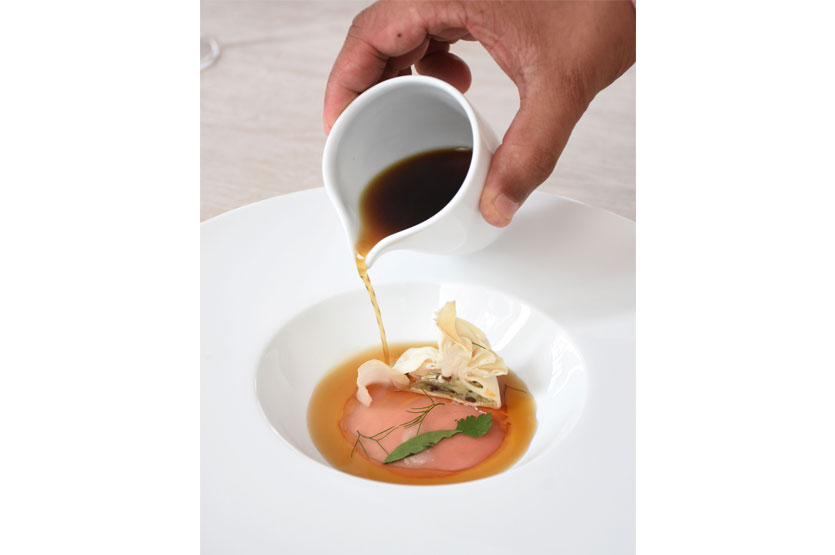 Course 4: Spicy Chicken Consommé
Quite the aesthetically pleasing dish, a thin slice of red tuna sits on the plate with a quail egg and vegetable dim sum on top with pieces of cucumber and ginger as a garnish. As you pour in the chicken consommé the tuna and the quail egg cooks in the process. The spice of the consommé hits a few sips into the dish and the quail egg cooked in the consommé produces the softest york that explodes in your mouth.
Sweet potato bisque with vegetable dim sum and ginger and coconut is available as a vegetarian option.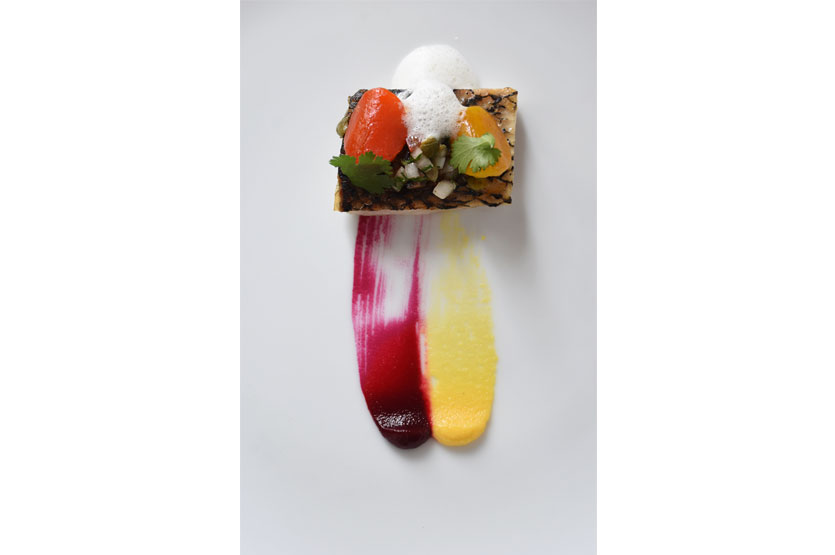 Course 5: Asian Sea Bass Fillet
The fillet was served with cherry tomato, roasted pepper and fresh herbs together with a side of basil salsa. Cooked to perfection, the fish fell apart beautifully when cut. We also loved the potato and beetroot puree that accompanied the fish as it not only made it presentable, it also added texture to the overall taste of the dish.
Asparagus risotto with truffle oil and basil leaves is available as a vegetarian option.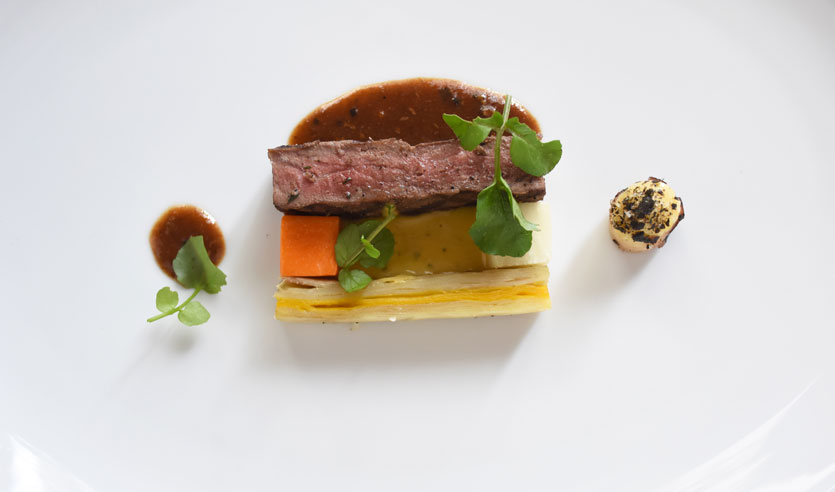 Course 6: Australian Beef Rib Eye
This succulent rib eye is served with a potato rosemary tart, baby zucchini and miso béarnaise. The rib eye cooked medium rare was lightly spiced with rock salt on top to give it the punch you need. The miso béarnaise was delicately prepared and had just the right flavours. What we were really impressed with was the potato rosemary tart; thinly sliced potatoes slices layered together really showed technique by Chef Indika!
Smoked eggplant gratin with basil and tomato sauce is available as a vegetarian option.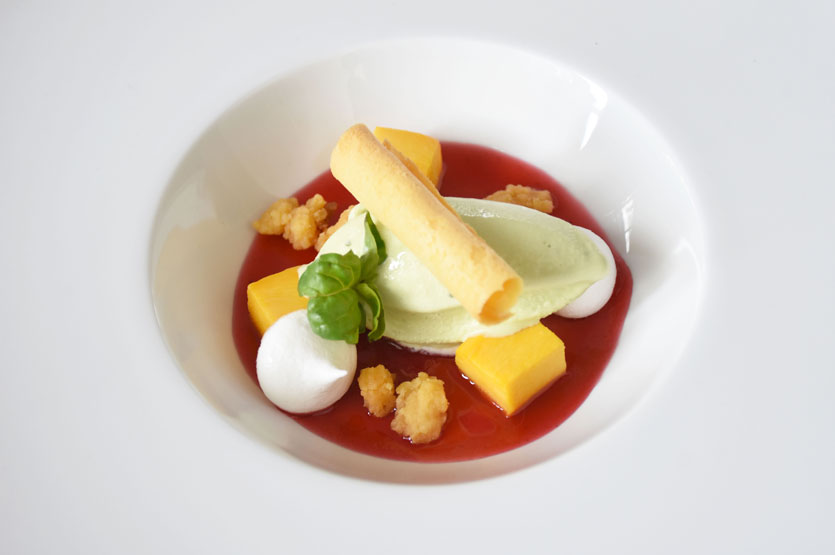 Course 7: Mango Crumble
Easily in my list of favourite desserts, this is one dish I wouldn't mind a second or third serving in! This deconstructed mango crumble was a bowl of mascarpone, raspberry vinegar, basil ice cream and meringue. The basil ice cream is one of the best ice creams I've tasted because it's at the perfect balance of an ice cream and a sorbet. While I would have happily dug into my ice cream alone, each component of the dessert really blended well together in terms of having something that melted at the tongue to something crunchy to chew on. A must try combination of flavours!
A fresh fruit platter is available as a vegetarian option.
Overall, this degustation lunch is truly a gastronomic experience. Not only does the food tantalize your taste buds, the smells and the presentation satisfies all your senses. Chef Indika is a complete master in what he does and his ideas of flavour and blending in unique ingredients is what makes this lunch special. We absolutely loved the lunch and had no complaints! If you are feeling fancy and you want a lunch that goes beyond the usual – this degustation Sunday lunch is definitely for you!
The Sunday Degustation Lunch is priced at Rs. 5700 nett (Rs. 4700 nett for the vegetarian option), and this includes two glasses of wine.
---
For reservations - (011) 2 550 200
Address: 57, Ward Place, Colombo 07
Website: www.jetwinghotels.com/jetwingcolomboseven
Facebook: www.facebook.com/jetwingcolomboseven
Instagram: www.instagram.com/jetwinghotels
---
PHOTOGRAPHS by Kushan Pathiraja