The stage opened to a short slide of pictures that set the mood for the night. With 'I could have danced all night' playing in the background it was the perfect opening and cemented all the feelings of nostalgia.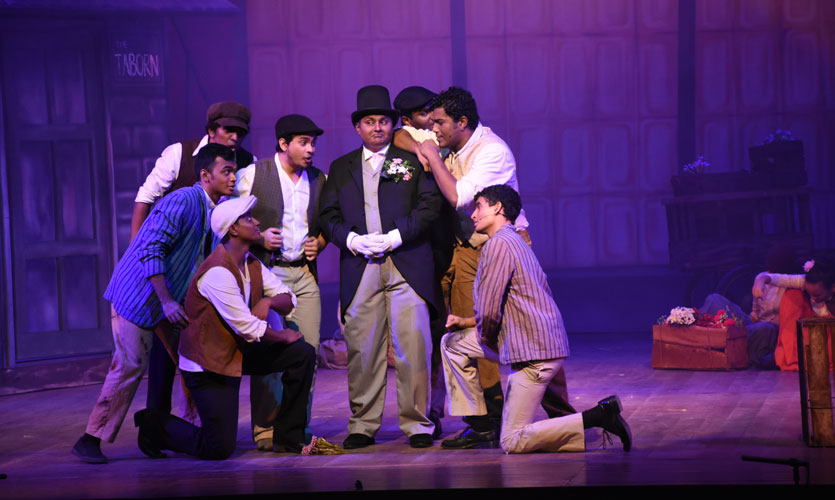 I could sense the audience getting even more excited than they already were! We witnessed the amazing performance of 'My Fair Lady' staged by the Workshop Players on the 8th of October 2017. With only a few days into the performing nights, the production was nothing short of absolute brilliance.
The cast for the night were: Daniella Perera (Eliza Doolittle), Kanishke Herat (Henry Higgins) Jerome De Silva, (Colonel Pickering) Vishan Gunewardena (Alfred Doolittle), Piorina Fernando (Mrs. Higgins) and Harin Amirthanathan (Freddy Eynsford-Hill) accompanied by the rest of the fabulous cast.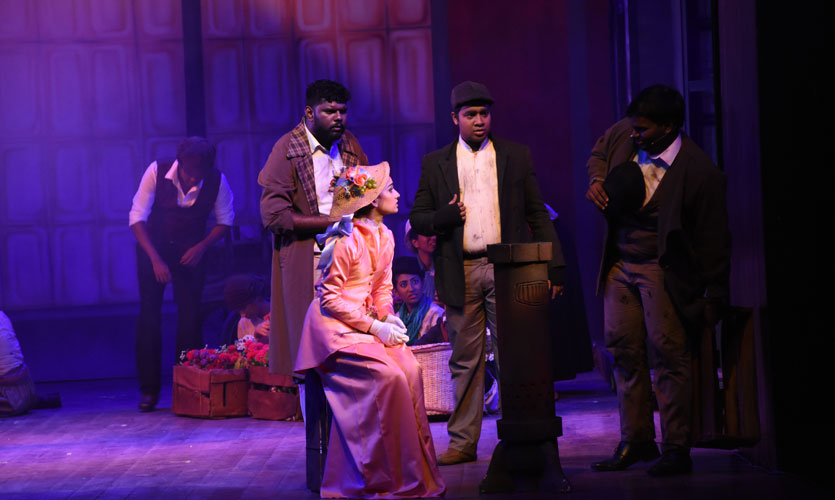 To pick the best performances were difficult as all of them did a fantastic job, while for best female lead there were only two contenders - Daniella Perera and Piorina Fernando. My personal favourite for Best Female was Piorina Fernando, who did a wonderful job playing the role of Mrs. Higgins whilst playing a few minor roles simultaneously. What was special about this year's production was that it included a lot of amateur actors and Daniella certainly was the epitome of it. Her performance of the iconic song 'I could have danced all night' was beautiful and full of emotion. She truly has a bright future in theatre and her performance that night was certainly commendable.
Picking the best male lead was tough too. Vishan Gunewardena a budding stage actor won the hearts of everyone in the audience with his funny and mastered deliverance of Alfred Doolittle. But, for me, Kanishke Herat certainly took the title that night. He was brilliant and kept the drive right to the end. We particularly enjoyed his performance of 'a woman in your life.' Harin Amirthanathan certainly takes the title of best vocals. His performance of 'On the street where you live' was on point!
A special mention must be made about how it was an absolute joy and privilege to watch a veteran like Jerome De Silva take the stage. I was told it is quite rare as well. With all his expertise what amazed me is how he adapted to the young cast that took the stage alongside him, which was also greatly appreciated by the audience.
'Take me to the church on time' was our favourite choreographed performance of the night. It was mesmerizing and both colourful and energetic. The young cast did an amazing job. We also enjoyed the second delivery of 'With a Little Bit of Luck.'
There were a few things that we felt could have been avoided. Vishan and Piorina being main characters playing other minor roles were noticed by a few. And we felt they shouldn't have had to. The Workshop Players are known for their flawless productions; this time around however we thought the pauses between scenes took a little too long.
But as always they did a fantastic job with the sets! It can't get any better than this. It was massive in structure yet they have paid attention to detail. I believe the motored and moving car was a first on stage.
1.

Ayanthi Rajapake – "It was fabulous! And I enjoyed it very much!"

2.

Joan Forbes – "I enjoyed it very much! It was everything I expected it to be."

3.

Thilakasena Yaddenige –"It was an excellent performance!"

4.

Niro – "I thought the production was beautiful especially the costumes and the stage."

5.

Sarah Benjamin – "It was very colourful and I thought the singing was fantastic!"

6.

Farzana Khan – "I have been to all of Jerome's plays and this certainly kept to the high standards. The production and cast were classy and the set if fabulous too!"

7.

Biman – "It is very nice! Colourful and lively. And the accents were on point! I thought Vishan was brilliant"

8.

Shaveen Ilapperuma – "It is great! Jerome and Kanishke were on point. The stage craft is fantastic!"
Pics by Kushan Pathiraja