The dots certainly connected when Tedx Colombo took the stage on the 17th of September 2017 at Nelum Pokuna Mahinda Rajapakse Theatre. With over a thousand people in the audience and thousands more live streaming it had a fantastic atmosphere. It certainly was the place to be on a rainy Sunday evening. It began with Koshal Krishnakumar welcoming the audience. They also marked the 10th event as Tedx Colombo. It had a humble beginning when they first started with an audience of just 100 people in 2011 and that day they welcomed a 1100, which was incredible! "We hope you go back and connect the dots in your life and reflect!"
Bhanuka Harischandra was the first speaker to take the stage. He started his journey by first telling his story to the world and that's how Surge Viral came to be.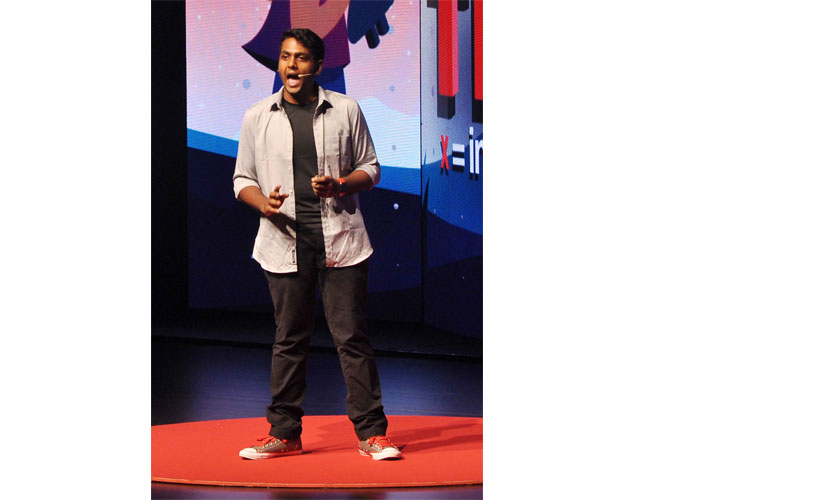 "Every part of my existence was recorded and uploaded for the world to see. We built an audience. Now I hire people only through their Instagram stories!"
They are now the largest firm to register startups and helps them to market themselves through digital storytelling.
His final message to the audience;
"It's all very simple. Everyone should create content. Regardless of what you do. People prefer transparency and individuality and are willing to take that journey with you. Find out your audience and tell your story even if it's just about your mother!"
Harinda Katugaha next took the stage and spoke of his journey through experiences.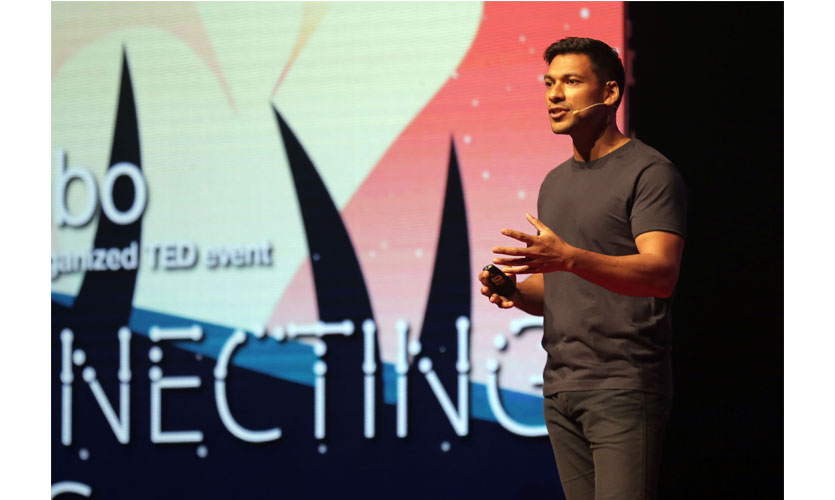 "We all have two narratives. First is filled with the defining moments like awards and achievements. In that we leave out all the experiences we don't want others to know. Are we the summation of our newsfeeds?
The second is the truth. This is the one that defines us. The Neuroplasticity of our brain records everything we have ever gone through. The more you do something the more our brain creates a pathway. It records our history and helps define you. It's you."
He then spoke of four diverse and defining experiences of his own life that helped him to be who he is today.
"You have to trust the process. It will be of use at some point. We also need to be able to let each other to do what they think is right. Diversity of experience is important and you have to learn from them. Words will design you, but experience will define you."
We were then introduced to Vidusha Nathavitharana, the CEO of High Five Training and Consultancy.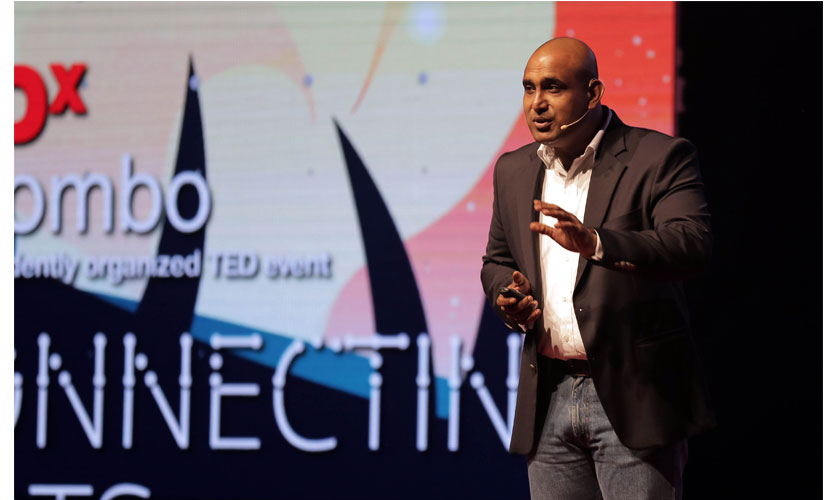 "If I ran like my mouth, I'll have a six pack by now!' was his first backdrop. He spoke of his journey into being the trainer he is today. "I soon realized all my talking didn't train people. My daughter when she was 7 years old was called a dumbass in school. And I knew I had to first help to find her inner confidence and strength. The marks soon sorted it out."
"You feel leadership. And you must internalise it. If you can do it in 2 days, then we'll do it to the Parliament first!"
And of course the whole audience broke out in laughter. He then walked us through his method of facilitating leadership. They begin with a phase of self-study and exam, so that the participants will want to be a part of the training rather than being forced into it. The second stage which are the workshops introduces tools and applications to improve themselves through self-discovery.
"It's not a singular activity but a collective. You build them up to believe that they can do absolutely anything if they set their minds to it by giving them many tasks that they begin thinking it's impossible. That's leadership."
Then the participants have to do a practical application of their learning through organisational projects. And it reveals a tangible Return on Investment (ROI) after training.
"People are far more capable than we give them credit. Everyone wants to succeed. The problem is there is no space for it. Our role is to facilitate the learning of leadership. If we don't make them do more and be more then we have failed!"

We were then entertained with a wonderful performance by Anish Wijesinghe. He played the guitar beautifully and completely challenged the norm by playing keeping it flat.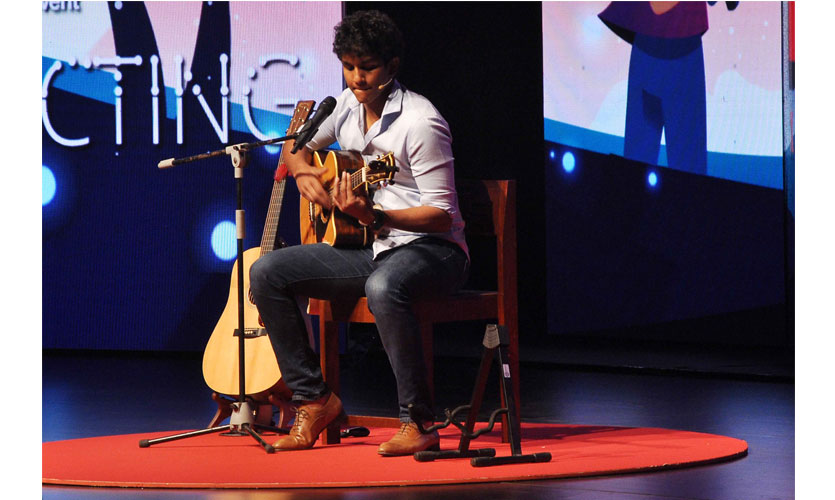 "Society couldn't define me. I believe kids can do things that adults can't even fathom because of their curiosity. It even conforms you with speech and syllables"
He proved his point by beat boxing five beats at once!

"What if you built a virtual reality in which a kid can build his own car? And 3D printing can make it a reality. Who's to say they can't? Who is limiting them?"

After a short break Peter D'Almeida took the stage and spoke of how to organise yourself with your limited resources with creativity and innovation.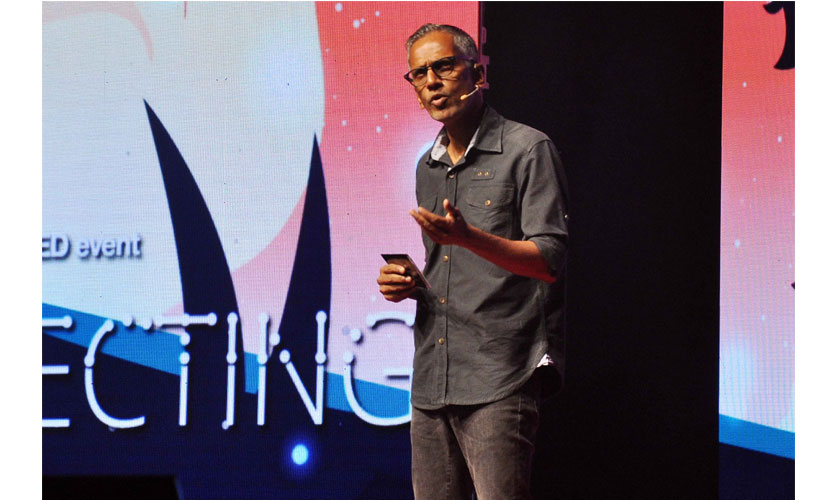 "Nothing will change without the masses of the people. But we are afraid to join a movement for change. We must help build a collective consciousness."
He used to example of saving the Eppawala town through non-confrontational protest and collective action.
"How did we save it? Because of a collective consciousness across society and social standings."
Called out most of the issues we face today. Everything from the drought, uma oya project, budget deficit and transparency issues. He believes it is the health and education sectors that need improving most.
"What we need is creativity. But is creativity alone enough? Shouldn't it serve the betterment of humanity? Sadly 6 people from the Silicon Valley earns 50 percent of the world's income that is a total of 3.6 billion people! Remember an ounce of consciousness is worth a pound of creativity!"
Smriti Daniel, a celebrated and accomplished journalist spoke to us about her journey in the field.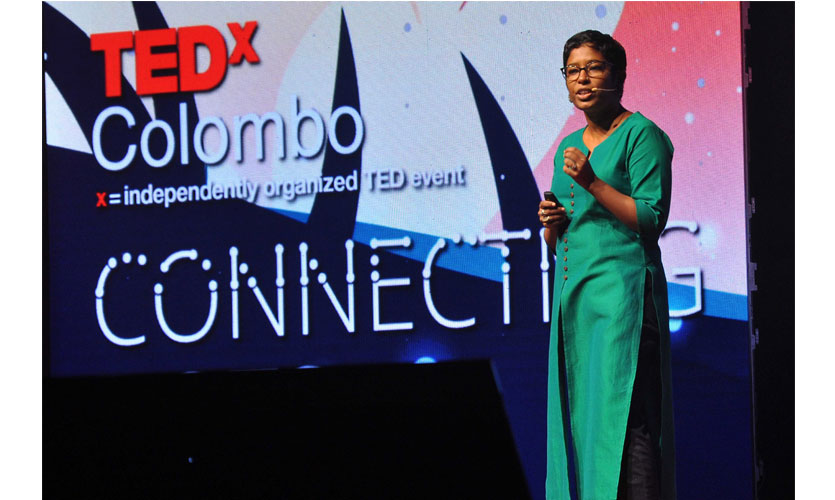 "There is only one quality that is essential to this job. I'm not an expert. What allows me to write about something so different every week is that I'm curious. I'm making a case for curiosity. Be willing to ask the right question, what needs to change or made better? I also rely on my readers to be curious. To rely on people you may never meet, or care about things that don't concern us. We are logically made to be curious and learn. It genuinely rewards your brain, and helps better retain unrelated information. But we see it as something that is innate or a personally trait. But it is a skill you can develop."

She then gave us 3 steps to help with our curiosity. Step 1, be willing to have a conversation. Start with asking a question, even when I already think I know the answer. And listen. Go wherever that conversation and that curiosity takes you. Step 2.What surprises you? What is unusual? Curiosity helps you to know the unknown. Step 3. Confront your bias. Don't reinstate stereotypes. Investigate your own prejudices and defensiveness.
"Curiosity is a necessity. It is a right to information. Our society is given the right to be curious. It can be a radical act. All you have to do is start with a question."
The final speaker Aritha Wickremasinghe spoke of the education initiative Think Equal he founded.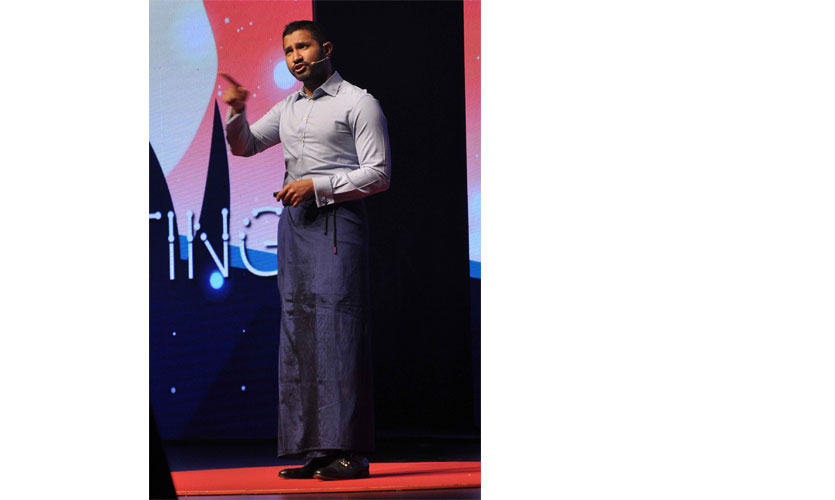 "Are you worried? Our news is mostly about hate, violence, sexism etc. We want to build a society that is empathetic through education. Social and emotional education. Are we ever thought to be human beings? And we can only change mindsets through education."
They spoke to montesorri, Yale and a few experts to develop a curriculum focusing on social and emotional education and it is being exercised in 18 countries now and ours is the first think equal country. He then shared two stories of how children have been receiving it. The girl with a mirror and a boy with a bag.
"They improve their social and emotional intelligence. They become problem solvers and innovative. It brings systematic change in the mindset and skillset of these children,"
who will soon be our youth and leaders of the world.
The conference ended with great performance by Krishan Maheson. He spoke of his career as a rap vocalist and the evolution of Tamil hip hop. He performed J town story, his first Tamil single which was received very well through all ethnicities. He then introduced four very talented rappers from all over Sri Lanka who performed in Tamil! And told us his story how he found them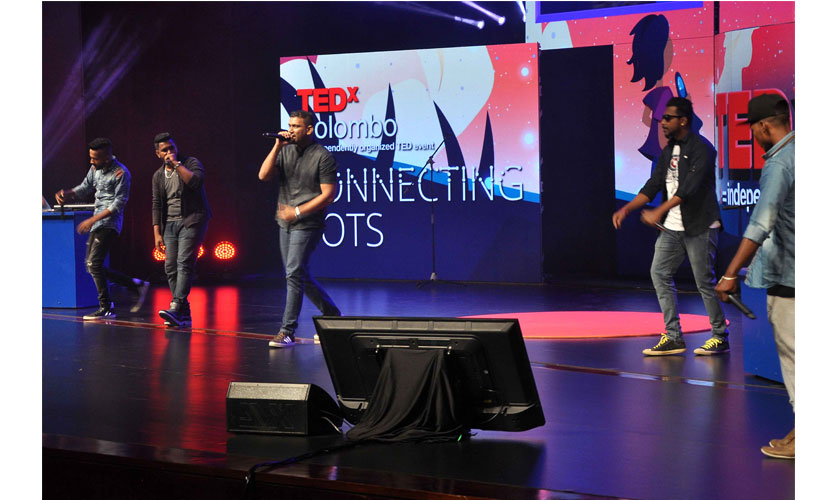 "because I put up a status asking for Tamil rappers."
He ended by creating an amazing piece of music live on stage proving to be the amazing musician he is! The conference ended with great fellowship over some great food and conversation!
Comments from guests:

Buddhika – "It was great and very informative! I liked and related to Vidusha's talk about leadership and facilitating it."

Senaka - "It was really good and very well organized. Thought provoking. Loved Aritha's movement to change mindsets and how Anish challenged the norms with his guitar playing style."

Niruban – "Love Peter's work because he walks the talk. Was really impressed by the four tamil rappers as well."

Vishwa – "This was my first experience at Tedx Colombo and I didn't expect it to turn out so good. It was a great honor to listen to an amazing line up of speakers and entrepreneurs, who I could actually relate to. I had two favourites one was Vidusha, who spoke about finding inner confidence and that you are better than what you give credit for. The second was Peter, It was really interesting to know about the Eppawala phosphate picket and what really happened. It actually gave us a message on how effective it is to be collective as human beings and work towards one motive.

Malindi – "I enjoyed it! I can't wait to go back home and write it all down in my journal. I personally related to the Aritha."

Shevika – "It was Amazing! A definite eye opener for me. I loved the games in social spaces and you also get to meet a lot of people."

Dushanthi – "It was inspiring. I related most to the talk on curiosity and collective consciousness."

Tharinda – "It was my first time at Tedx and I really enjoyed it. Love Aritha's work. All the speeches were amazing and inspiring!"

Maria – "Very inspirational!"

Imaan –"I loved everything especially Krishan's performance. The order of the speeches definitely connected the dots. It was brilliant!"
Pictures by Nisal Baduge