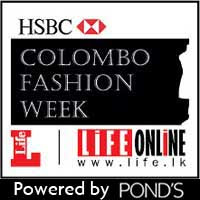 HSBC Colombo Fashion Week made history last night by holding an ethical fashion day. Nowhere in the world has any fashion week dedicated a day for ethical fashion and it was HSBC Colombo Fashion Week that led the way. Opening the show was the undisputed queen of ethical fashion, Bangladeshi designer Bibi Russell. Designers Darshi Keerthisena, Ajai Vir Singh and Fouzul Hameed flew the flag for Sri Lankan ethical fashion. Celebrating the beauty of artisanal crafts, the ethical day of HSBC Colombo Fashion Week offered a fresh perspective of the 'Fashion for Good' concept and gave its audience a deeper upstanding of the depth and beauty of ethical fashion.
Bibi Russell
Hot off the ramp in her native Bangladesh where Bibi used acid attack survivors as models to highlight their plight and help bring effective legislature to severely punish perpetrators of such hate crimes, Bibi dashed off to Sri Lanka where she showcased a collection which celebrated the versatility of Kadi incorporating the artisanal work of the Rajasthani people. Heralded as one of the pioneers of ethical fashion in the world, celebrated Bangladeshi fashion designer and former supermodel Bibi Russell continues her mission of delivering shows which shock and awe her audiences for the sheer breathtaking creations she sends down the ramp. Opening the show on day three which celebrated ethical fashion, Bibi's collection celebrated craft in her own inimitable style. Go Bibi!
"I love returning to Sri Lanka which has a special place in my heart and I am happy to be showing this latest collection on a special day dedicated to ethical fashion."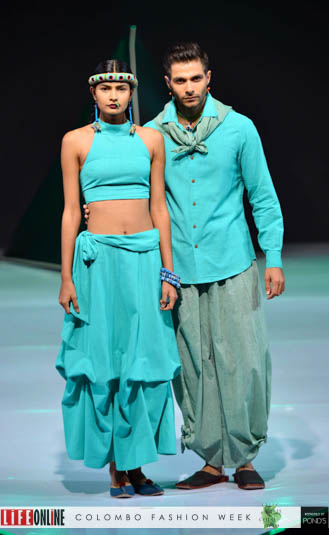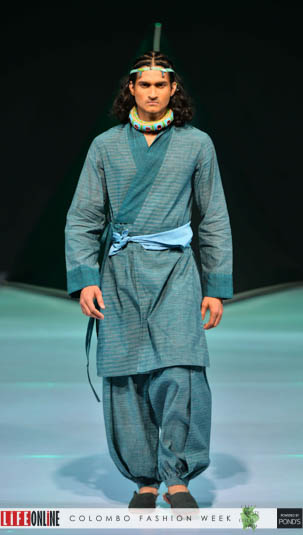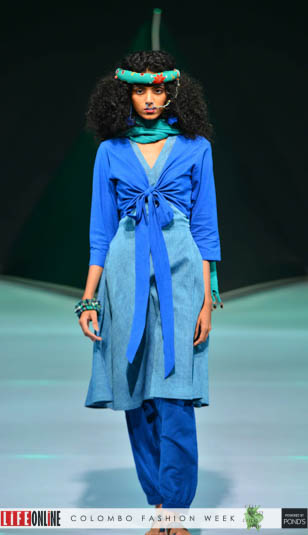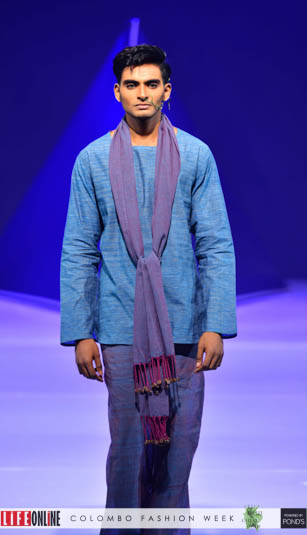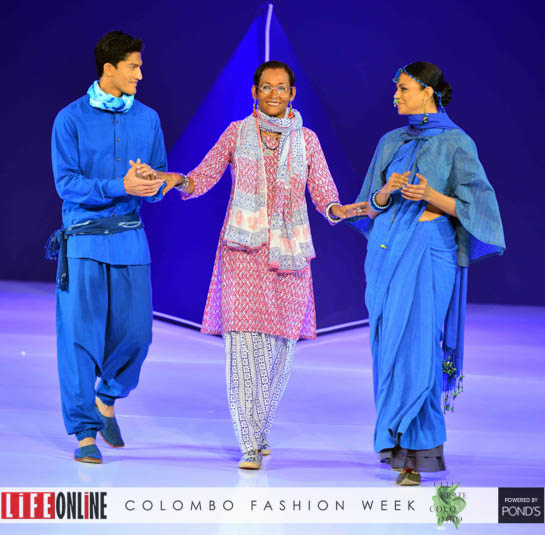 Catherine Rawson
Galle based Catherine Rawson is the British born founder of the Old Railway - a boutique which functions as a cafe cum fashion store. The Old Railway focuses on producing capsule collections with a real emphasis on understated glamour and elegance that makes the wearer special and timelessly fashionable. In her latest collection titled 'Soup', Catherine has experimented using turmeric, beetroot and other dyes to create her own quirky look on crude cotton fabrics.
"This collection was a journey of discovery, especially when I was boiling pots of turmeric and beetroot in my endeavors to perfect the dyeing process."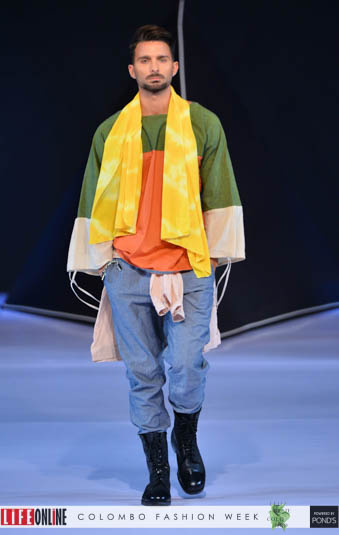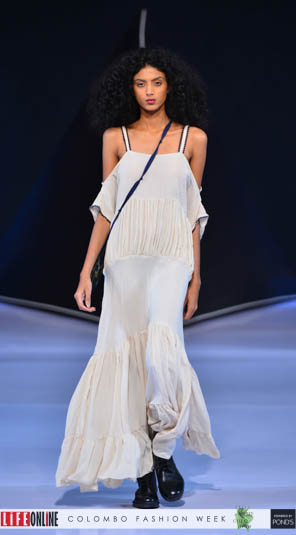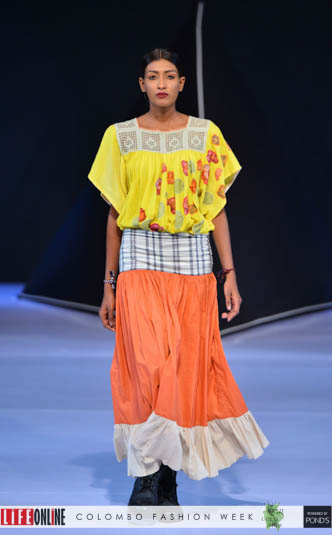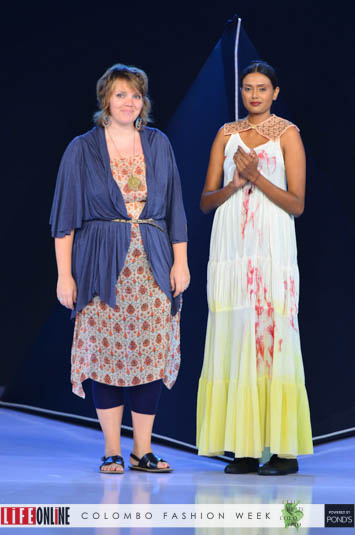 Rimzim Dadu
Indian designer Rimzim Dadu presented a playful and colourful summer resort collection using a variety of rich material. Delicate embroidery was a standout feature amongst her ensemble. The collection embodied Rimzim's style ethos of presenting structured clothing. Simple and detailed, her designs showcased craftsmanship, quality and precision.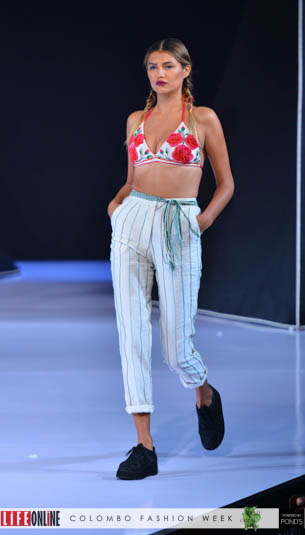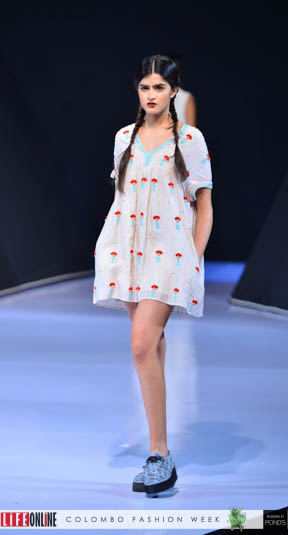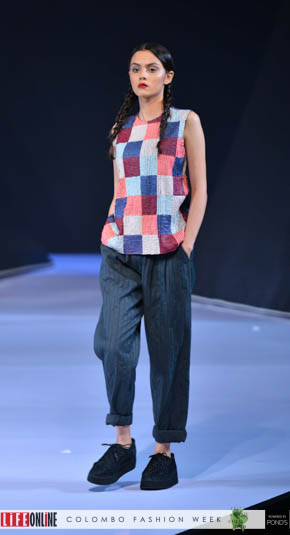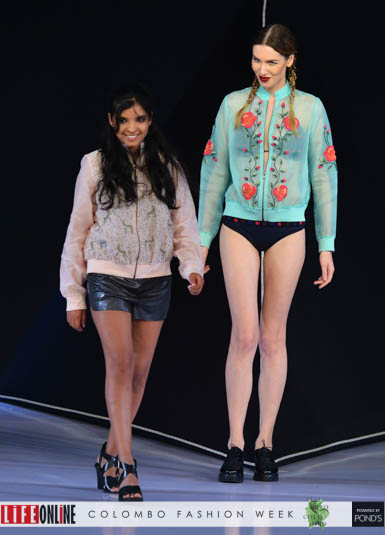 Conscience
A strong advocate of the Fashion for Good concept, Ajai Vir Singh's brand 'Conscience' is one of Sri Lanka's first ethical fashion labels. Handcrafted garments made with ethically sourced fabrics, the label promotes sustainable fashion at every stage of production. His summer collection derived its inspiration with the military at heart. A colour palette of sharp white, beige and olive took dominance in the collection. With clean cut designs and a structured colour palette, the Conscience summer collection was just another great ensemble by the brand.
"This collection is a refreshing take on military in a wearable way. It has the military at its heart, but not completely in its look. As a designer, I love humour in design and I love taking a classic and influencing it as best as I can."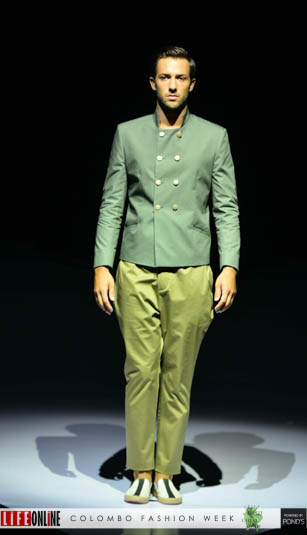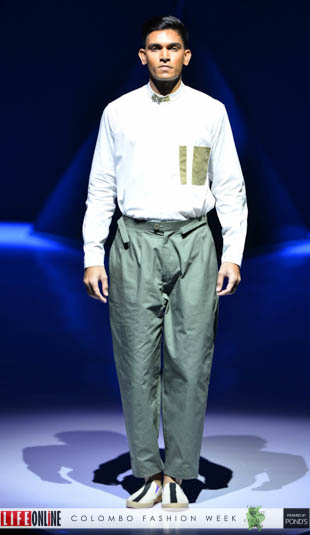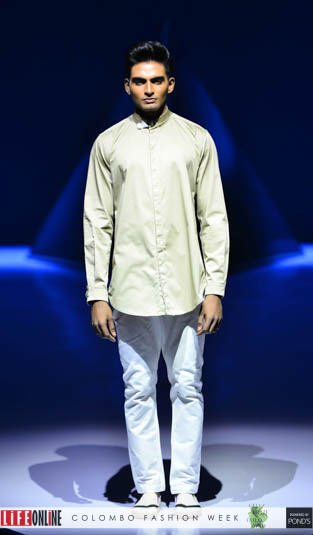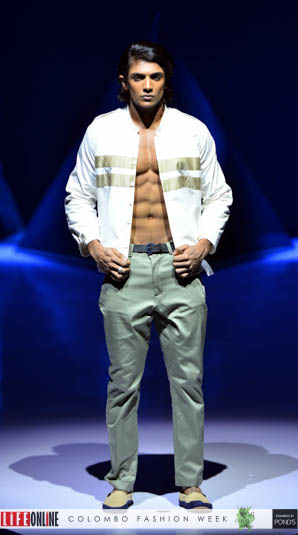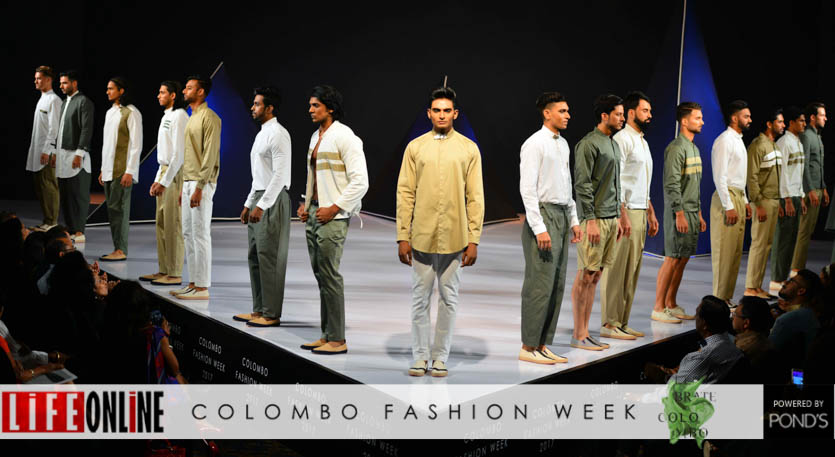 Colombo Jewellery Stores
Celebrating their 95th anniversary as one of Colombo's leading haute jewellery stores, CJS presented a collection which reflected their journey during the last nine decades. A collection that epitomized the legacy of CJS's history was displayed in exquisitely designed jewellery incorporating diamonds, rubies, emeralds and blue sapphires set in gold and even wood adorned the models who were wearing stylish clothes created by Touche.
"We are very pleased to be presenting this collection which celebrates our 95th anniversary."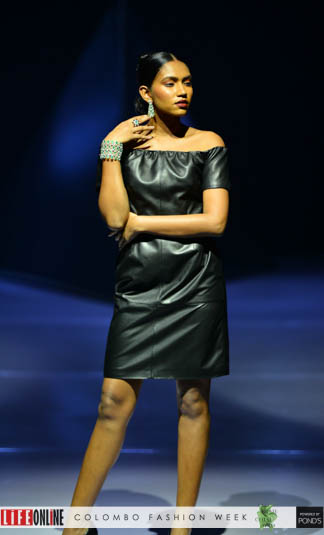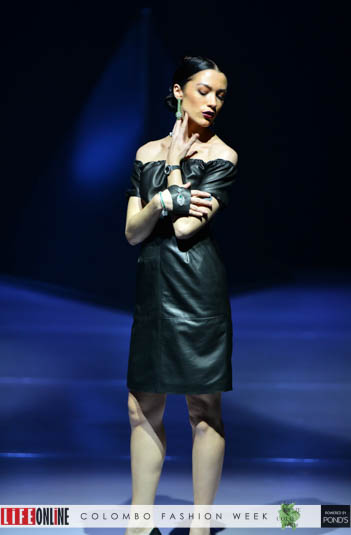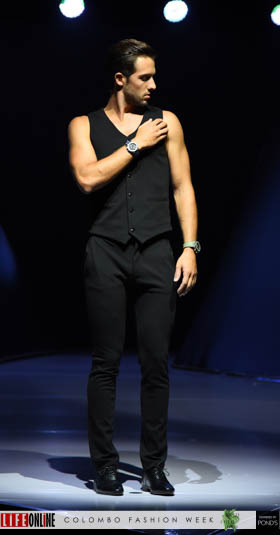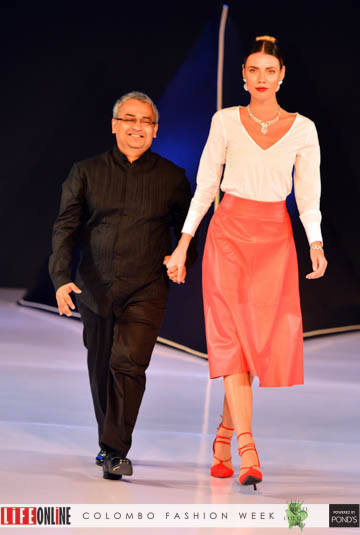 Darshi Keerthisena
Hailed as the person responsible for creating a renaissance in the batik industry in the new millennium, Darshi injected a huge dose of glam to batik by designing textiles which appealed to a generation of discerning people that want to wear high fashion batik. Her passion is sarees and she is drawn to florals which are her leitmotif.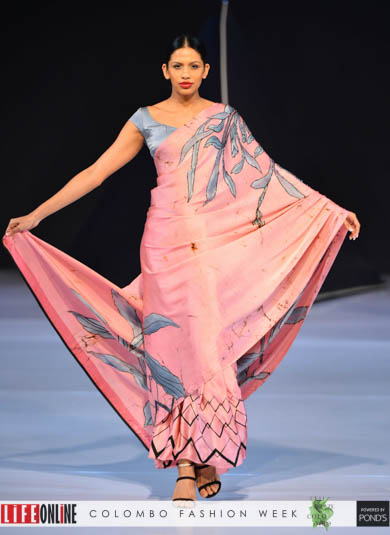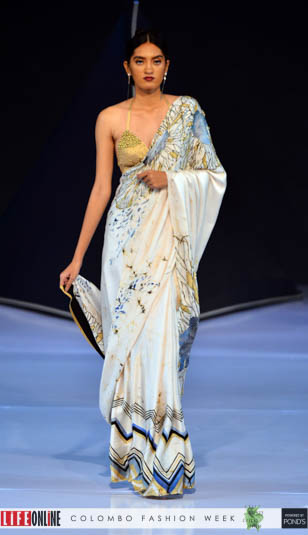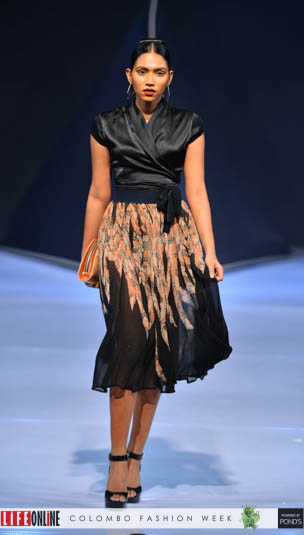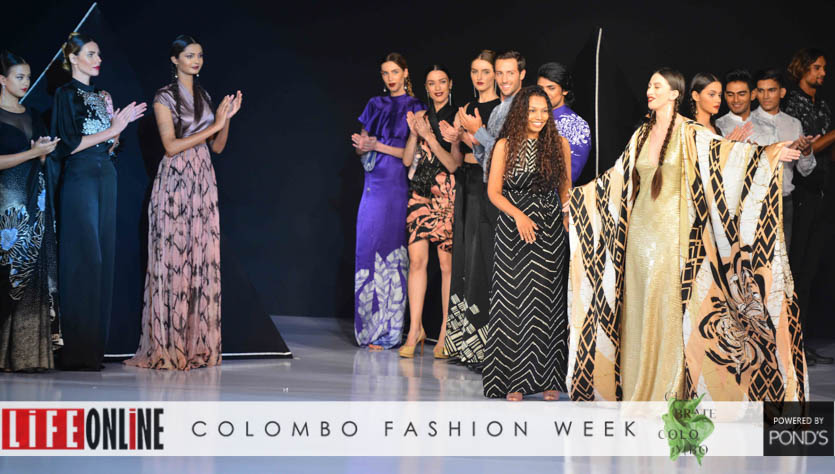 Fouzul Hameed
The gentleman's clothier, Fouzul Hameed of Hameedia has been in the Sri Lankan fashion industry for close upon three decades. A specialist in men's fashion, Fouzul leaves no stone unturned in his efforts to bring the best of menswear to Sri Lankans. Returning to CFW, Fouzul sent a collection of menswear in various tones of blues ranging from trousers, shirts, sarongs and jackets. A smart capsule collection for the modern man.
"This collection is all about the colour blue, and all proceeds from this will be dedicated to the My Friend Foundation that helps underprivileged children."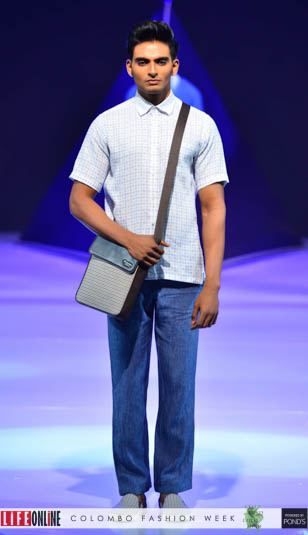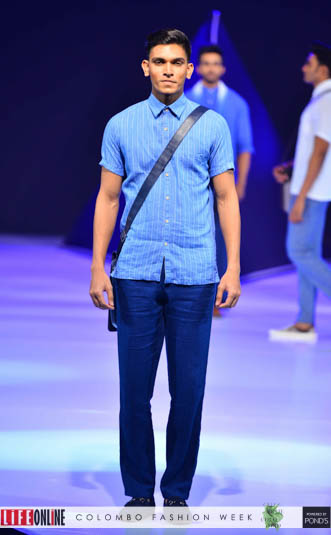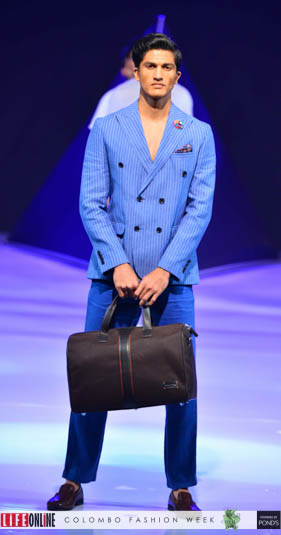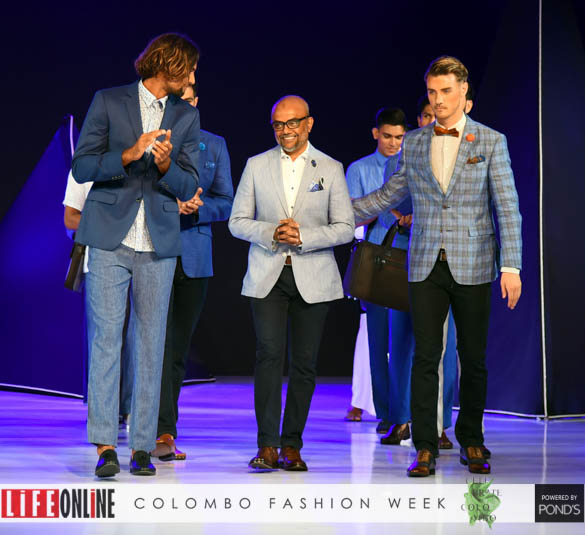 ---
TEXT by Tina Edward Gunawardhana & Panchali Illankoon
PHOTOGRAPHS by Manoj Ratnayake, Nisal Baduge, Kushan Pathiraja & Pradeep Dilrukshana