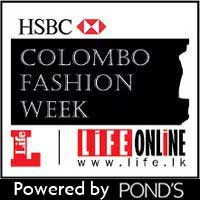 After four days of lively back to back fashion shows, the curtain came down on the 14th edition of Colombo Fashion week last night. Celebrating Colombo was the theme for HSBC Colombo Fashion Week 2017, and both the audience and as many designers as possible celebrated Colombo through fashion. Fast emerging as a notable fashion week in the Asian subcontinent, this edition of HSBC Colombo Fashion Week drew the most notable fashion designers from Sri Lanka and across the seas to showcase their collections. The final day of the Sri Lankan fashion calendar's most notable event was full of colour, couture and decadence. Both emerging and established designers strove hard to present collections that stayed true to their fashion ethos and judging by their collections, Sri Lanka's fashion future is certainly on the ascend!
"Colombo Fashion Week by God's grace has gathered momentum in leading the fashion design industry to new frontiers, a movement that fathered revival for fashion in Sri Lanka is bearing fruits. Every year we learn, gather feedback, implement and move on. 2017 was a new step up, done and dusted now on to the next one. Design development among the new generation will be key." said Ajai Vir Singh, Founder of Colombo Fashion Week
Agatha Ruiz de La Prada
An explosion of colour hit the runway as internationally acclaimed Spanish designer, Agatha Ruiz de La Prada's designs which have been shown in international fashion capitals of the world graced the fashion runways in Colombo. As the opening act on the last day of Colombo Fashion Week, Agatha's summer collection is best described as fun and youthful with its vibrant colour palette and remarkable detailing. An ensemble of flirty swimsuits added the finishing touches to her vivacious collection.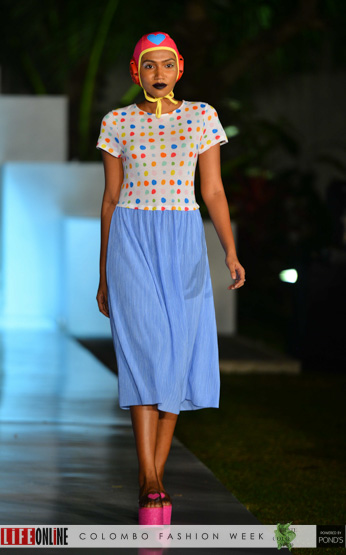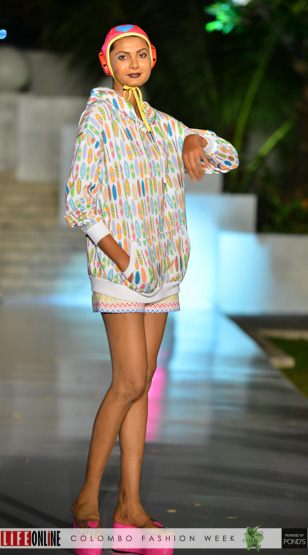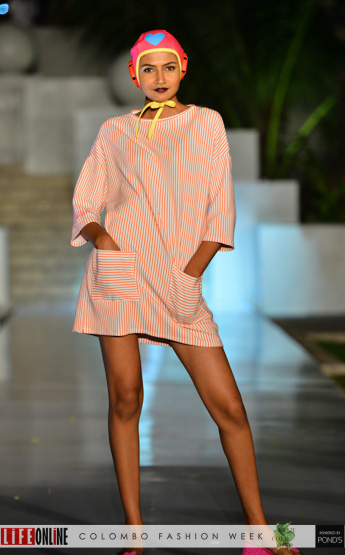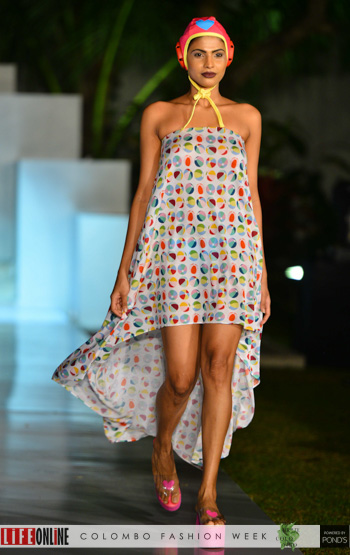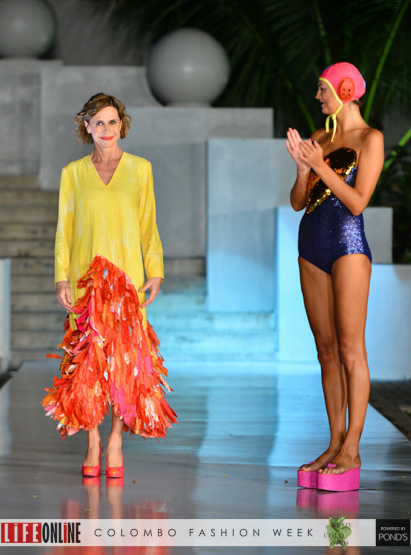 MERAKI
The designer behind the label, Sharmila Ruberu, draws inspiration from the everyday woman. Her summer collection was inspired by the Greek goddess Athena and displayed an ensemble that was elegant and vibrant with pleating playing a dominant role in her collection. Pleated dresses formed the mainstay of her collection in pastel hues with a pop of rich red as her showstopper.
"With Athena being the inspiration behind my collection I think for me, this collection is the power of femininity exemplified."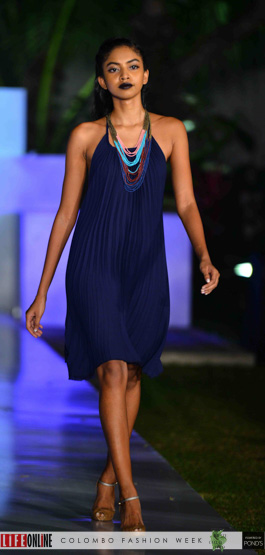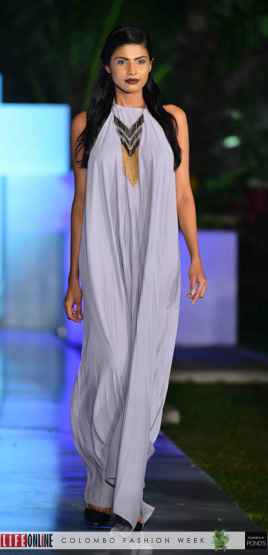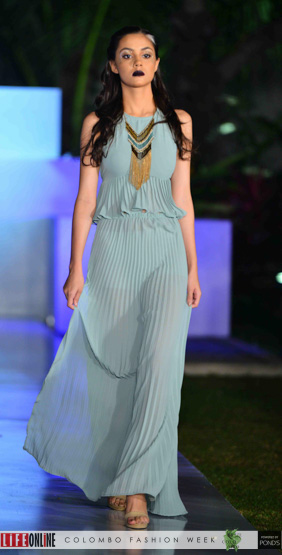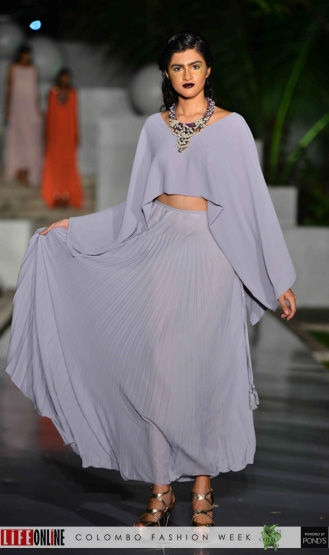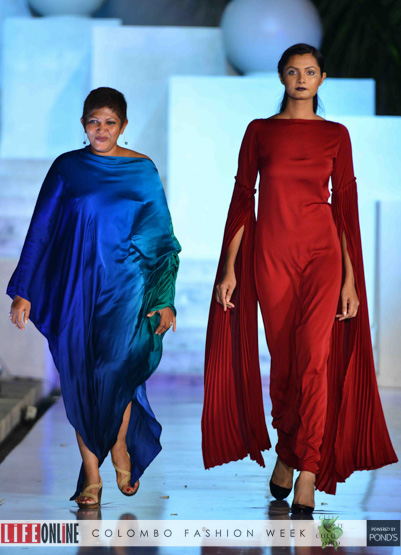 CHARINI
The award-winning brand CHARINI is an eco-luxury fashion brand retailing in Sri Lanka, Europe, Australia and the USA. Her summer collection 'Hexapoda Couture' gets inspiration from the anatomy and surface textures of insects. The collection includes a mix of cotton blends and silks done in personally printed bold prints of electric colours. Visually eye-catching in its colours and immaculately detailed, the collection presented itself as edgy with a touch of eccentricity.
"Loose fitted silhouettes are one of my main trend predictions for 2018 and I used abstract graphical interpretations of insects and their anatomy to create a collection that compliments curves."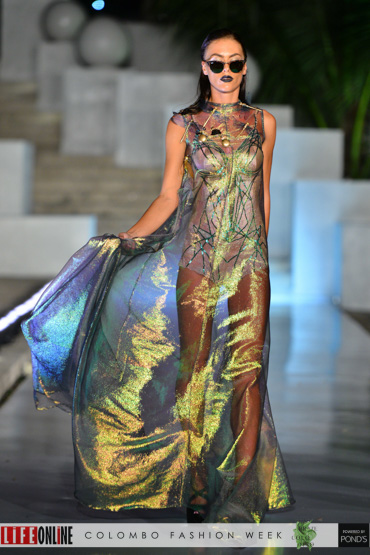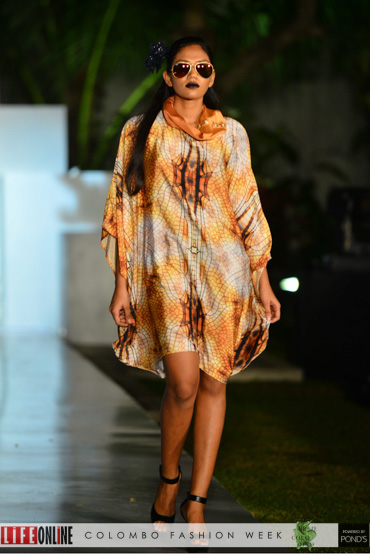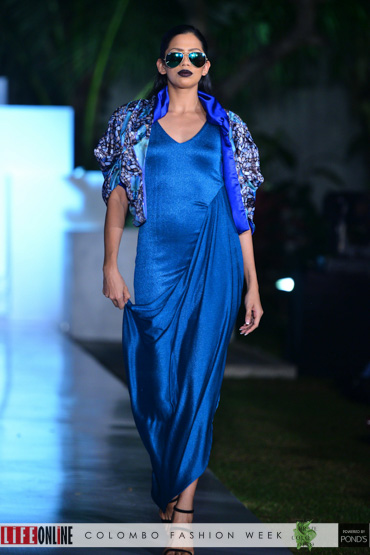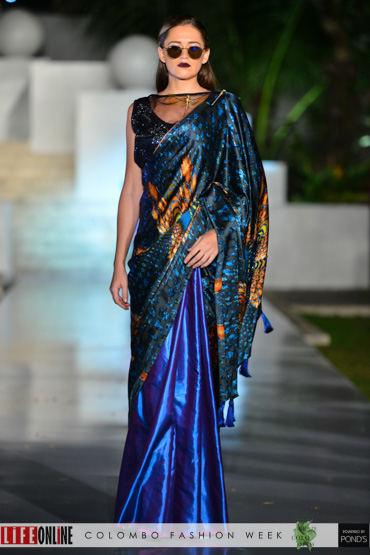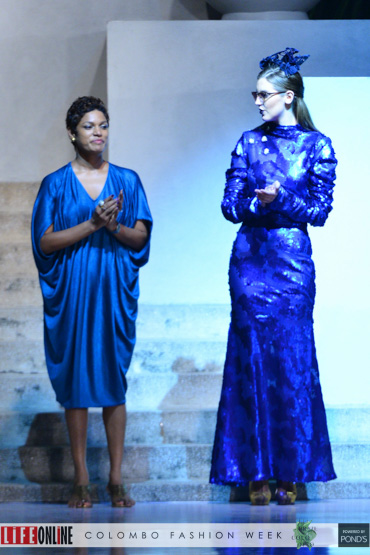 Dimuthu Sahabandu
Dimuthu Sahabandu is a contemporary Sri Lankan designer known for producing one of a kind designs. His summer collection derived its inspiration from the traditional lotus motifs used in ancient Sri Lankan art. A couture collection of evening gowns with delicate and intricate embroidery and beading presented itself in muted colours of rich ivory and black. Decadent and lavish, Dimuthu's collection showed skilled craftsmanship in manipulating fabric and creating silhouettes which complemented and accentuated the female form.
"This collection is a contemporary ready to wear collection capturing the essence of Dutch and Portuguese eras of early Ceylon."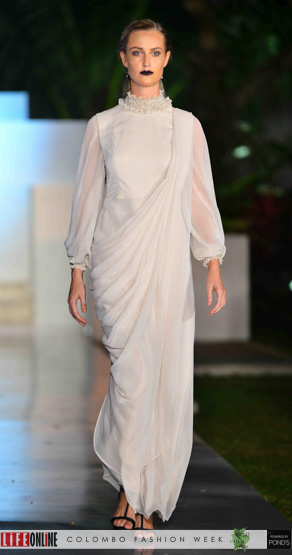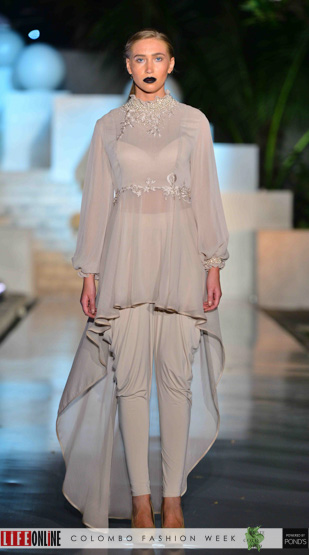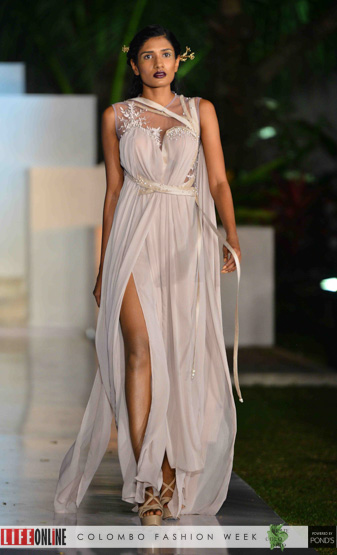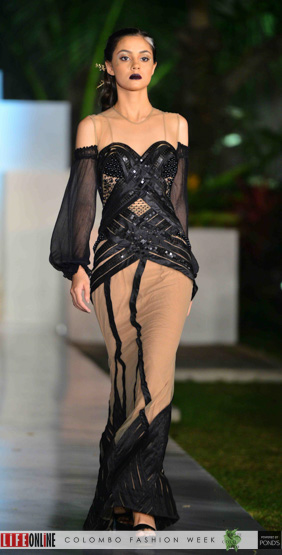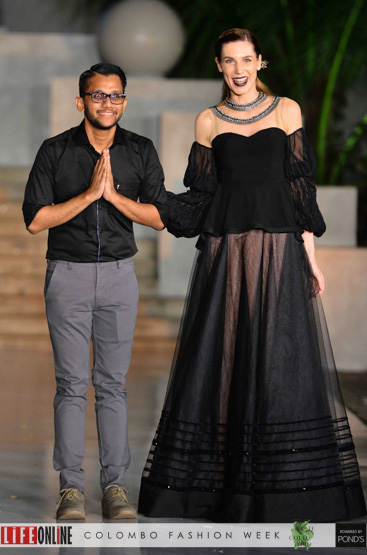 MAUS
Launched in 2013, MAUS is a brand that has a design philosophy of its own unique nature. The MAUS summer collection presented itself as largely monochromatic with its muted black and white colour palette. The block colours presented in loose, flowing silhouettes emphasized an understated elegance that is timelessly fashionable. Together with the intricate accessorizing by Papillon du Thé, the MAUS range of leather footwear of flat sandals and mules added a certain va va voom to the collection.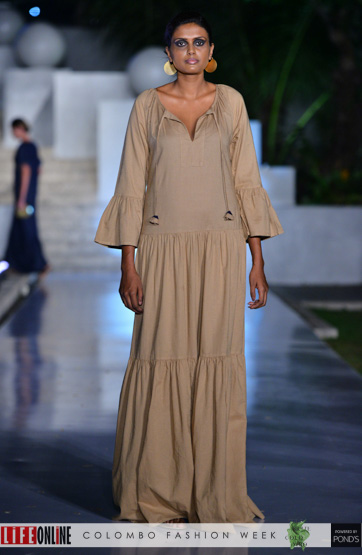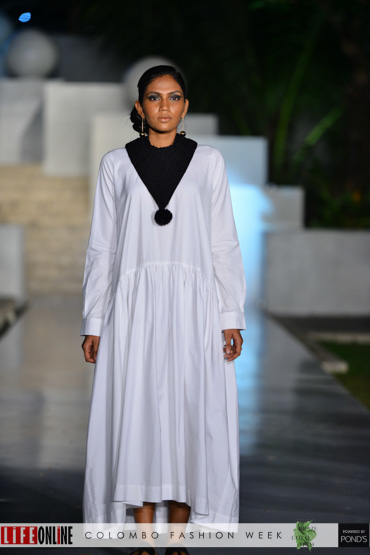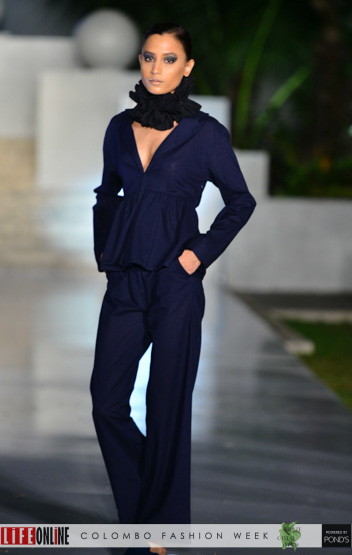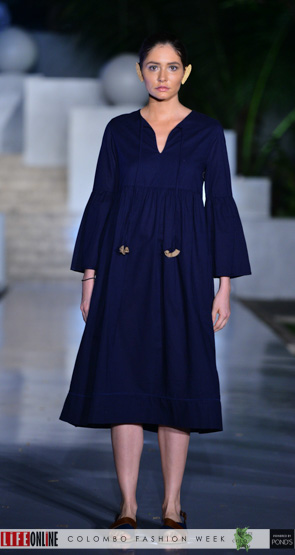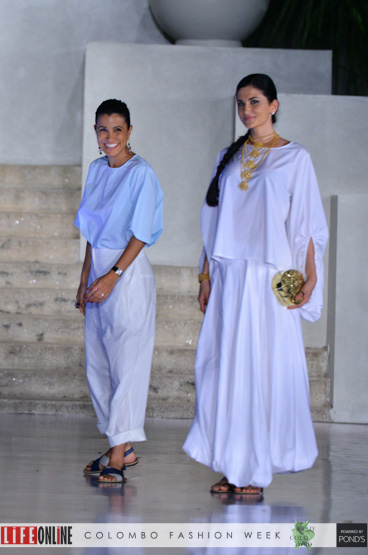 Ponds BB+
Neon makeup looks made a comeback on the catwalk as Ponds BB+ presented Neons and Nudes, makeup looks inspired by the eclectic pop stars of the eighties. Hot pinks, electric blues and yellows dominated the looks which were sent down the runway. Created by Ponds BB+ in collaboration with celebrated makeup artist Pallavi Symons, the models sported a combination of colours which added dimension to the models' faces. More suited the younger generation, the neon makeup looks gave luminous a new definition!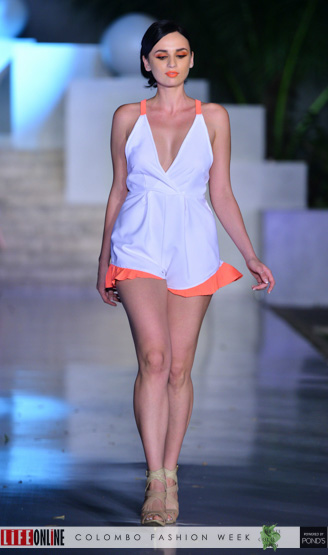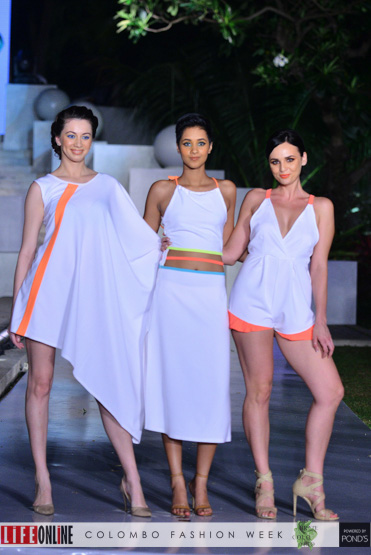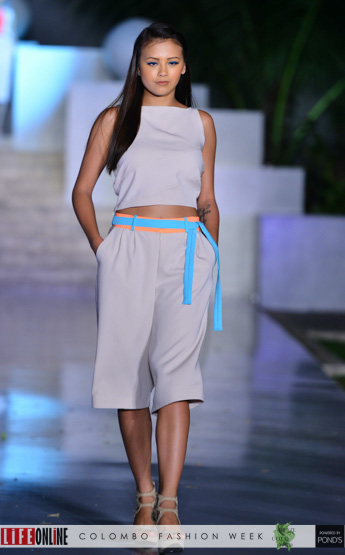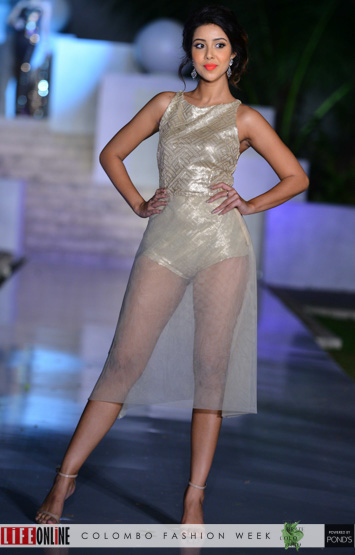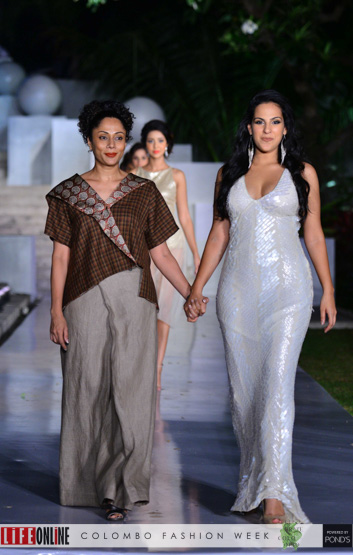 Abraham & Thakore
The grand finale of Colombo Fashion Week was presented by one of India's most successful labels 'Abraham & Thakore'. The summer collection presented by David Abraham, Rakesh Thakore and Kevin Nigli was a monochromatic collection of black in combination with white, silver and gold. Incorporating a key trend of 2017, metallics took dominance as it presented itself in each design in various forms of graphical prints and typography. An imaginative use of drapes, the collection was rich in colour with many pieces of clothing that could transition from day to evening wear with ease. Abraham & Thakore provided a fitting finale to the four day fashion extravaganza that is HSBC Colombo Fashion Week.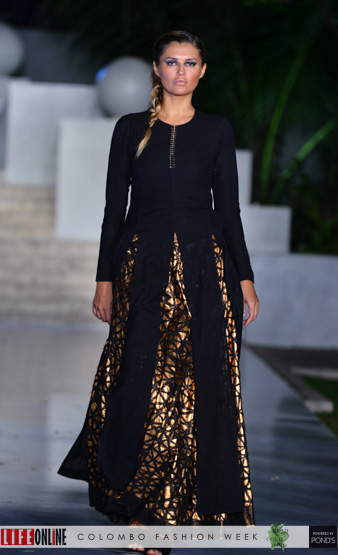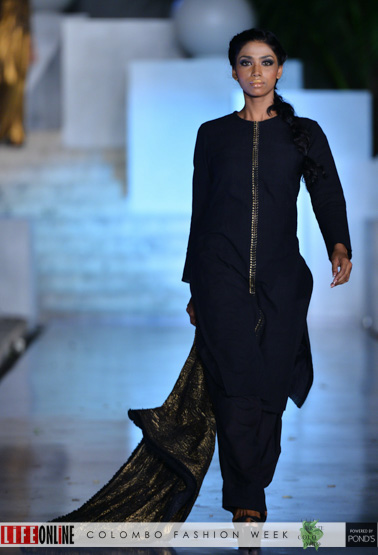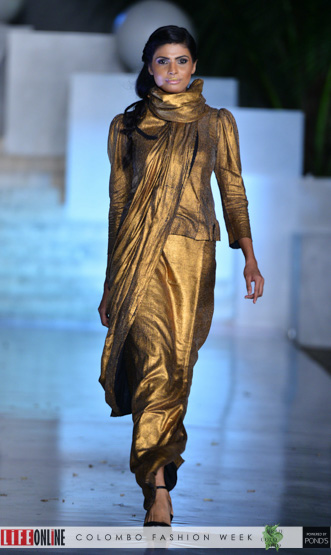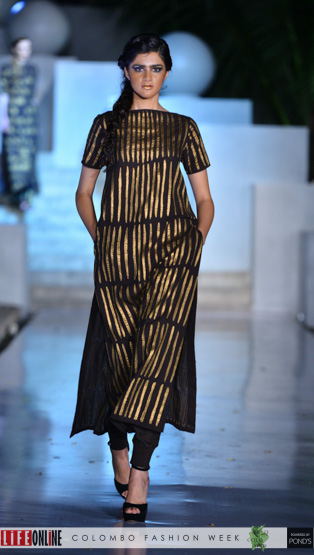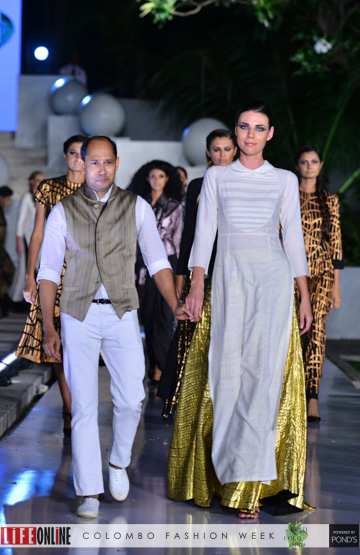 ---
TEXT by Tina Edward Gunawardhana & Panchali Illankoon
PHOTOGRAPHS by Manoj Ratnayake, Waruna Wanniarachchi & Damith Wickramasinghe